All gay porn videos and gay porn pics of Beau Reed.
Hair Color: Brown
Sign: Unknown
Eye Color: Brown
Dick Size: 7.5 inch dick
Height: 5'11"
Cut / Uncut: Cut / Circumcised
Weight: 165lbs
Sexual Positions: Bottom
Beau Reed scenes at Breed Me Raw
Seeking Seed was on Beau Reed's agenda for the weekend but he is supposed to get seed from his Daddy first and THEN get permission to get more seed from other slut tops.
For some reason, his Daddy was not responding and Beau was getting desperate by the hour. So, Beau texts his previous owner, Luke Harrington, hoping he was around and available to sink his 9″x 6″ daddy cock in his slut hole and dump a load.
Luke could not say no and before you knew it Beau was on his knees servicing Luke's cock. Beau felt so guilty for taking raw cock without his Daddy's permission that he left in a hurry as soon as he was seeded.
He knew that his Daddy was gonna find out and did not know how he was gonna deal with this. Who is Beau's Daddy?…Join them!
Beau Reed scenes at Men.com
Beau Reed gives his workers Teddy Torres, Ethan Chase and William Sawyer a little bonus in the form of a free pass to his ass…Join them!
Beau Reed services one of his workers, Ethan Chase, while on the job…Join them!
Beau Reed scenes at Next Door Ebony
As soon as Beau Reed gets his hands on client River Wilson's tense muscles, he knows River is long overdue for some serious body work, but when River's hands get active in return, it turns out that Beau is on the receiving end of the deep physical therapy.
River might be sore from his workouts but that doesn't stop him from taking advantage of the ass in front of him, and what a sweet ass Beau has for the pounding.
River tongues Beau's hole before bending him over and giving him a different kind of massage, fucking him from behind as Beau takes the dick like a champ.
River busts his nut all over Beau's face and chest, before watching Beau coat himself in his own spunk as River fingers his freshly fucked hole.
Seeing Beau covered in jizz, River suddenly realizes what Beau means when he advertises 'Full Service Massages.'…Join them!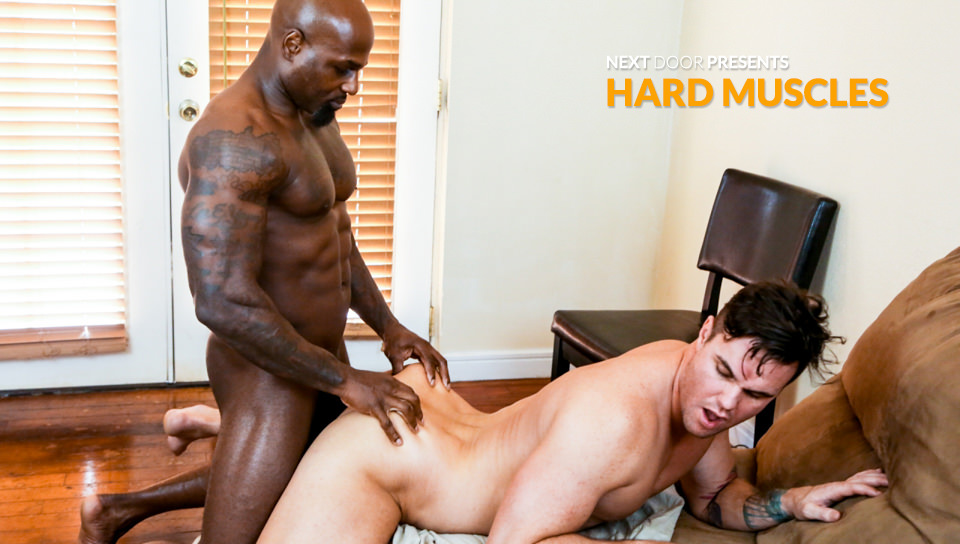 Newcomer Darion is leading Beau Reed through his normal workout regimen. All the standard stuff: stretching, cardio, push ups, crunches and Darion's body certainly shows the rewards of his hard work, but at the completion of the workout, Beau is still full of energy, and so he takes the opportunity to lead Darion in a different kind of exercise, as the two of them make their way inside.
Once there, Beau falls to his knees, sucking Darion's meatstick until it's nice and hard, then stroking him up while tonguing his hole. Darion approves of this kind of workout, and shows he's a fast learner, bending Beau over and plunging his cock deep inside, pounding Beau from from behind as his chest and arms tense up.
Beau enjoys the pounding, taking every inch of Darion's offering gladly, before spitting his load all over himself as Darion strokes off onto his face. Having covered his workout partner in cum, Darion remarks that it was one of the best workouts ever. Beau agrees…Join them!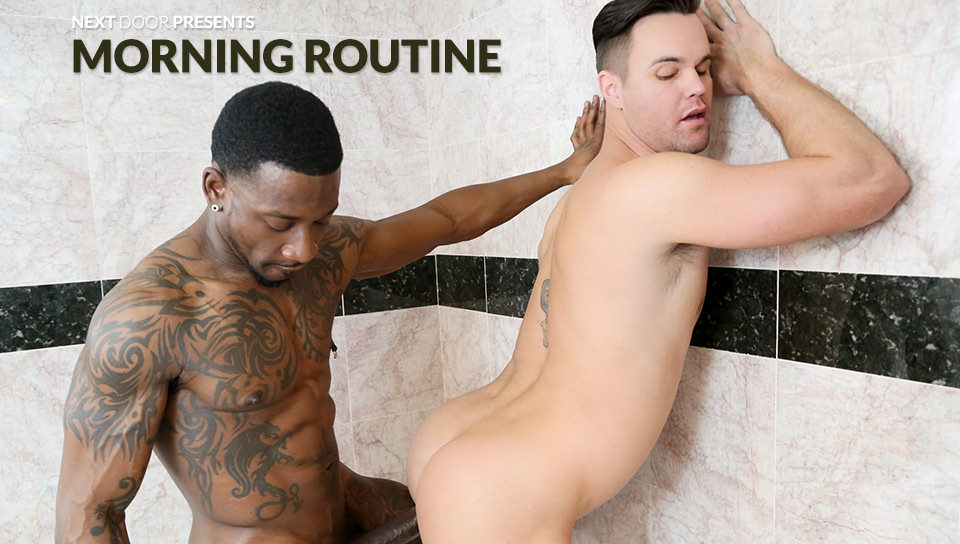 As far as Rio B is concerned, the day doesn't truly begin until he's had himself a nice morning romp. Luckily, boyfriend Beau Reed is always down for some morning activity, so as Rio soaks himself in the tub, and Beau lathers up for his shave, Rio decides to have a little fun, pulling Beau's towel off and exposing his bubble butt.
Rio gives it a smack and Beau knows what's up, bending over to give Rio a better view. Beau turns around and sucks Rio's big cock until it's nice and hard, as Rio eyes Beau's sweet ass. Plunging his cock deep inside, he pounds Beau against the vanity as Beau takes every inch.
Beau mounts Rio and bounces on his meat stick until he's nice and loosened up, and the Rio flips him onto his back and fucks the cum out of him, before pulling out and dousing Beau with his morning load.
Rio may be a little late for work, but nothing cums between him and his morning routine…Join them!
Beau Reed scenes at Falcon Studios
After a long day, JJ Knight and Brent Corrigan collapse into bed. Brent excitedly tells JJ about how he caught Alex and Dustin fucking on the job, and the sexy story inspires them into a nighttime quickie. The next morning, Beau Reed arrives to finish some work as JJ is still wrapped in a towel, finishing shaving.
Beau nervously asks if he should come back later, but JJ assures him it's no problem. Stepping into the shower, JJ rinses off the shaving cream and shows off his massive boner to Beau, whose eyes widen with surprise and lust. Stripping off his clothes, Beau walks over and kisses JJ, then eagerly opens his mouth wide to swallow JJ's anaconda cock.
Thick spit drips from Beau's mouth as he works hard to deepthroat JJ's massive meat. Bending over, Beau spreads his ass wide inviting JJ to give him a deep rim job. Using his finger, JJ works his spit down inside Beau's tight, pink hole.
Lubing up his cock, JJ slides himself inside Beau doggy style. Flipping over and putting his legs in the air, Beau jerks his cock while JJ fucks him deep and hard. With JJ still inside him, Beau explodes with a massive load that splatters across his smooth torso.
JJ pulls out and strokes out a thick, enormous load that coats Beau's cock with cum…Join them!