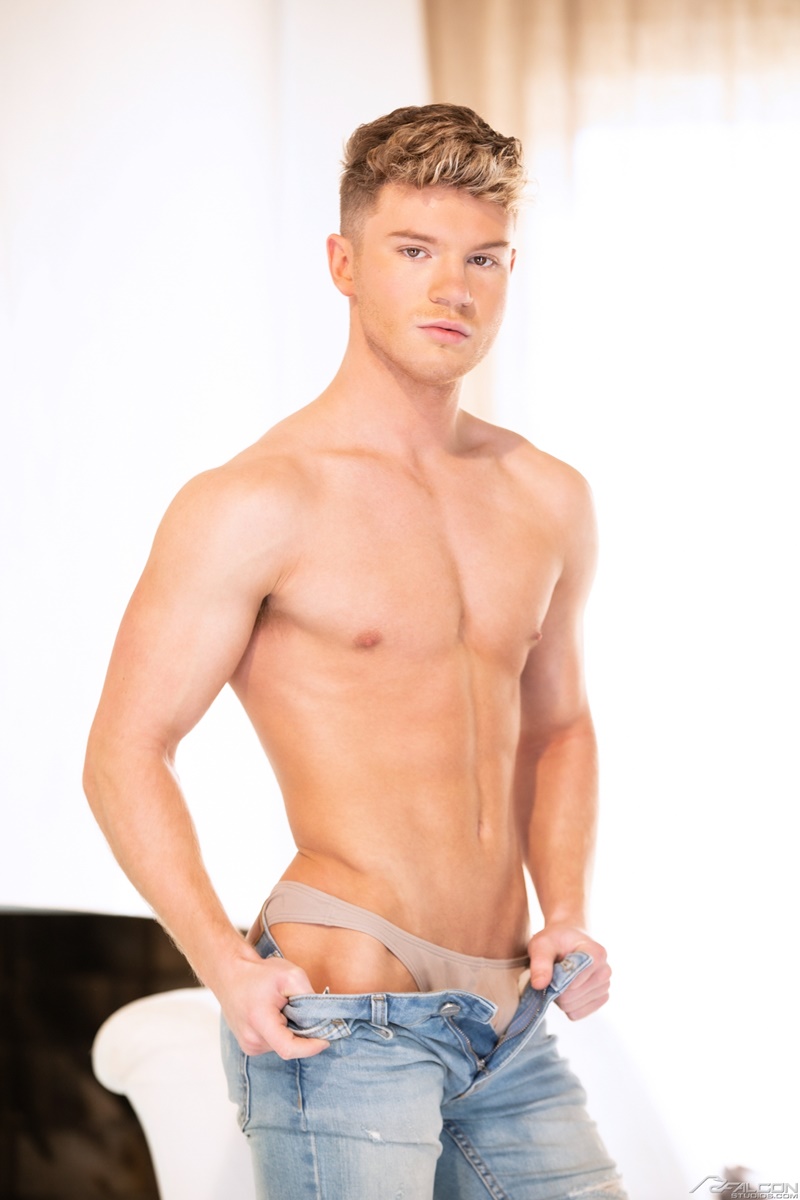 All gay porn sex pics and gay porn sex videos of young blonde jock Dean Young. Gay porn star Dean Young is naked jerking his huge cock cumming all over his ripped six-pack abs.
Hair Color: Blonde
Sign: Unknown
Eye Color: Brown
Dick Size: 8-inch dick
Height: 5'9″
Cut / Uncut: Cut / Circumcised
Weight: 165lbs
Sexual Positions: Versatile
Dean Young gay porn scenes at Hothouse
Curly haired blonde twink Dean Young bottoms for sexy muscle stud Kyle Fletcher's huge hard cock
The drenched jock turns his attention to Dean Young, who is lying on the beach, as Kyle Fletcher emerges from the ocean. Kyle reclines on the pool's sun ledge as Dean touches him and places his lips on Kyle's erection. Then Dean sits on Kyle's cock and makes a series of rhythmic splashes in the pool's shallows while his ass moves up and down on the ripped swimmer's pole, all set to be fucked by his friend's big dick. Kyle kicks Dean in the back while the California sun beats down on him, then he moves to a chaise lounge chair nearby to taste Dean's just-fucked hole and continue barebacking him. Now that Dean is lying on his back, the two men complete their backyard connection by letting loose all over the bottom's tummy and over his spotless tan.
See all Dean Young gay hardcore fuck sessions at Hot House here.
See all Kyle Fletcher gay hardcore fuck sessions at Hot House here.
Join them!

Dean Young gay porn scenes at Raging Stallion
Hot blonde curly haired young stud Dean Young's hole stretched by Sir Peter's massive uncut cock.
On a mission to discover the best places to fuck in Southern Spain, Dean Young ventures to the friendly beaches of Costa Del Sol where he bumps into a more-than-willing Sir Peter.
The hung stranger leads Dean to a private pool where the eager traveler quickly proves that his talented mouth and smooth hole can take the massive size of Sir Peter's girthy cock.
Peter barebacks Dean in two positions before heavy rain has the two moving inside to suck, rim, and fuck all over a modernist staircase.
With Sir Peter still inside of him, Dean strokes his uncut cock until he's covering himself in his own cum with Sir Peter pulling out right after to blow his heavy load all over Dean's drained balls.
See all Dean Young gay hardcore fuck sessions at gay-bareback/raging-stallion here.
See all Sir Peter gay hardcore fuck sessions at gay-bareback/raging-stallion here.Join them!
Dean Young gay porn scenes at Masqulin
Hottie Latin jocks Angel Rivera and Bastian Karim spit-roasting blonde Dean Young's raw hole.
While Tyler and Manuel were having a go at one another, the three youngest salesmen, Dean, Angel, and Bastian, kept roughhousing in the pool.
Bastian decides to get some beverages. Meanwhile, Angel doesn't waste a second in getting in Dean Young's little pot of gold ass.
He rims him and gets his juices flowing as Bastian returns more than willing to join the trio.
As they all begin to suck and prob hard cock and tight asshole, the three engage in a full-on threeway with Dean Young taking cock after cock and still seeming to be insatiable.
With a train-fuck finish, the hot trio cum in droves as they all climax one after the other.Join them!
Dean Young gay porn scenes at Men
Horny bearded hunk Kyle Fox's massive uncut cock barebacking sexy boy Dean Young's hot ass.
Handsome prince Sir Peter doesn't want to give up his hard-partying and slutty ways, not even when the prince his mom is trying to marry him off to is a hottie.
He begs his best friend, Kyle Fox, to help him get out of the wedding by seducing his "fiance," Dean Young, and getting caught!
But hot Prince Dean has a few surprises in store for Peter, like what he's wearing under his kilt, nothing but a butt plug.
Though he's tempted by the twink's hole, Peter calls in Kyle to go through with the plan, and Kyle rims the prince, telling Dean that he and Prince Peter share everything.
Dean enjoys getting fucked by the top, and when servant Justin Jett sees Kyle and Prince Dean with jizz all over them, he goes straight to report to the Queen, just as the naughty prince planned.
See all Kyle Fox gay hardcore fuck sessions at Men here.
See all Dean Young gay hardcore fuck sessions at Men here.Join them!
Hardcore gay orgy Tyler Berg, Malik Delgaty, Felix Fox, Sir Peter, Craig Marks, Dean Young, Papi Kocic.
Enjoying their simple lives of fighting, carousing, and fucking their fellows, the Norsemen have no idea that a threat is on its way that could wipe them out forever.
When a spy (Sir Peter) overhears god of chaos Loki (Felix Fox) tell a comely servant (Dean Young) about Dracock the Dragon's imminent arrival and the location of long-lost god of thunder Thor (Malik Delgaty) he hurries to inform the King (Papi Kocic).
The Viking ruler persuades Loki to find Thor, and the trickster must find a way to convince his fellow god to give up his simple, peaceful life and join him in battle once again… and that way is his divine hole.
Will the power of the gods be enough to save the Norse warriors' asses?
See all Tyler Berg gay hardcore fuck sessions at Men here.
See all Malik Delgaty gay hardcore fuck sessions at Men here.
See all Felix Fox gay hardcore fuck sessions at Men here.
See all Sir Peter gay hardcore fuck sessions at Men here.
See all Craig Marks gay hardcore fuck sessions at Men here.
See all Dean Young gay hardcore fuck sessions at Men here.
See all Papi Kocic gay hardcore fuck sessions at Men here.Join them!
The Norse king bearded muscle hunk Papi Kocic relaxes as he celebrates another victory with a day and night of feasting with his fiercest warriors as young sexy servant Dean Young sits on his lap, refilling his goblet.
That is until his chief spy Sir Peter delivers some terrible news, Dracock the Dragon is approaching, and the god Loki will do nothing but feed on the chaos and destruction.
The god himself appears, and the king begs him to find Thor, the god of thunder, to save them, as under the table Dean helps himself to a taste of the royal cock.
When Loki leaves on his quest, Papi rims the twink and spanks his ass before pounding the bottom doggy style.
Dean worships the king's muscles, sucking his chest and licking his armpit and abs, then rides the monarch before muscular Papi picks him up for a stand and carry. Dean cums as Papi fucks him on the table before bending over and taking the top's hot load on his hole.Join them!
When Norseman Sir Peter sees servant Dean Young gathering water for god Loki (Felix Fox), he sneakily follows to watch.
Loki reveals a shocking secret as Dean bathes him Dracock the Dragon is coming, and with him, destruction.
Only Thor can save them, and although Dean has heard tell of where he might be found, Loki makes a bargain he will lie with him if Dean will never tell anyone.
Peter watches, stroking himself, as the blond twink sucks the god's cock and is fucked doggy style over the bath.
The servant rides Loki's cock, then Sir Peter spills his seed in his hand as Loki fucks Dean and cums on his face.
Dean may have promised to be silent about Thor, but the Norse warrior did not…Join them!
Dean Young gay porn scenes at Falcon Studios
Sexy Latino hotties Angel Rivera and Bastian Karim's huge uncut dick double fucking blonde Dean Young.
When a few of their coworkers sneak off for some bareback play, Dean and Angel decide to have their own fun by the pool.
Once they begin exploring each other's bodies, Angel's hands and mouth become transfixed with Dean's smooth ass.
He rims the professional's hole and right as he's about to enter him with his long cock, coworker Bastian interrupts them to suggest a threeway.
The two happily accept the invitation and soon Dean is being filled at both ends with Bastian only pulling out of his mouth to kneel down for a taste of Angel's pole as it's being thrusted in and out of Dean's tight ass.
Once Dean has taken a ride on both of his peers, the three stand up to form a bareback train, where Angel tops Bastian as Bastian fucks Dean.
Angel rapidly pumps into Bastian until he's breeding his hole and watching his cum spill out of his used ass.
Angel slides his cock back inside of Bastian until both Dean and Bastian are shooting their own loads all over each other and the ground.Join them!
Sexy young stud Dean Young and hottie blonde hunk Josh Moore have arrived at their vacation apartment to enjoy a weekend away from the big city.
They've slept in late and have banned phones, internet, and TV so that they can enjoy spending quality time with each other.
These two handsome studs just can't keep their hands off each other.
When young Dean slips out of bed and heads to the pool terrace for an outdoor workout, Josh follows him there and the two just can't keep their hands off each others' ripped bodies.
As they strip off their clothes, hottie young Dean falls to his knees and sucks down hard on Josh's huge uncut cock.
Dean gags as Josh's massive erection hits the back of his throat and he caresses his balls with his hands as he sucks.
After devouring Josh's massive meat, Dean wants it in his ass, so he bends over and gives Josh easy access to dive in tongue first.
Josh takes his time savoring Dean's perfect bubble butt and loosening up his tight hole.
Fully prepped and eager to get plowed, Dean's hole eagerly anticipates Josh's thick pole.
Without hesitation, Josh stuffs it balls deep into Dean's ass.
Between switching positions up a number of times, Dean deepthroats the cock that was just inside him before hopping on top and sinking down on Josh's dick.
Josh takes control of his insatiable bottom again and relentlessly pounds a huge cum load out of him that covers Dean's abs in a hot dripping jizz mess.
With Dean covered in his own cum, Josh strokes out a thick load that lands directly in Dean's mouth…Join them!