Hair Color: Brown
Sign: Unknown
Eye Color: Brown
Dick Size: 8.5 inch dick
Height: 6'0″
Cut / Uncut: Cut / Circumcised
Weight: 165lbs
Sexual Positions: Top
Jacob Taylor scenes at Hothouse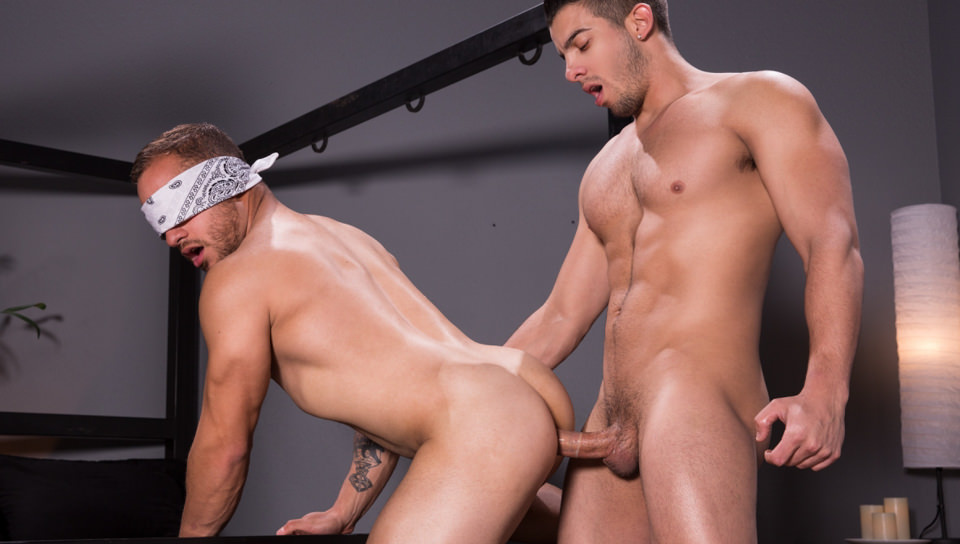 Gabe Steele is on his hands and knees with his back arched when Jacob Taylor finds him blindfolded on the bed. After massaging and teasing Gabe's body, Jacob tears a massive hole in the ass of Gabe's briefs. As soon as Jacob see's Gabe's awaiting hole, he dives in tongue first.
With his hole slick with spit Gabe is lead off the bed and down onto his knees again, where his lips are met with the pulsating cock head of Jacob's uncut tool. In swift, eager sluprs, Gabe gulps down Jacob's swollen member until he gets bent over the bedframe taking powerful thrusts from Jacob's cock.
Jacob lays Gabe down on the bed and lays down his cock into Gabe's fuck hole continuing to pump intensely. Unable to hold back, Gabe shoots his load onto his scruffy abs where Jacob adds his thick load to the mix.
Coated in cum, Jacob kisses Gabe and leaves him blindfolded waiting for more…Join them!
Jacob Taylor scenes at Men.com
After a marathon of YES, Paul Canon finds himself filled with Jacob Taylor's cock. He barely ceases pumping Paul's inviting hole full of that rock hard rod…Join them!
Jacob Taylor and Wesley Woods take each other on for a fulfilling suck and fuck…Join them!
Jacob Taylor scenes at Raging Stallion
Jacob Taylor is beefy and tall, with bulging pecs and thick arms. Derek Deluca and Jonah Fontana are definitely turned on by the stud, and they go down on Jacob's cock together, taking turns deep throating his huge shaft.
Derek then stands above Jacob, who opens his mouth to suck Derek's thick meat. Jacob stands next to Derek, and they take turns face fucking Jonah's mouth. Jonah's cock throbs as his face gets stuffed by both cocks at the same time. Bending over doggy style, Jonah makes his tight ass available for Jacob to rim.
Derek straddles Jonah, giving Jacob easy access to rim both of their asses, moving back and forth from one to the other. Lying on his back, Derek takes two cocks at once: Jonah's in his mouth, and Jacob's in his ass. Jacob thrusts powerfully, penetrating deep in Derek's ass.
Derek and Jonah bend over doggy style and make out as Jacob alternates between them. Sinking to their knees, Jonah and Derek both catch Jacob's load in their mouths. Kneeling at Jacob's feet, Derek and Jonah spill their seed on the floor…Join them!
Blond Johnny V and dark-haired Jacob Taylor are both ripped muscle studs who are ready to fuck. Eager to please, Johnny sinks to his knees to swallow Jacob's thick, uncut member. He gives Jacob's cock a thorough blow job, then trades places.
Johnny thrusts his hips and flexes his pecs as Jacob fervently sucks Johnny's tool. But nothing gets Johnny more excited than having his hole used; he bends over and Jacob takes charge with a spit-fueled rim job.
Johnny gets what he wants: Jacob's big meat inside his hole. Jacob pounds away as Johnny backs his ass up in doggy style.
Sweat begins to glisten on their bodies as they heat things up. Johnny rolls onto his back and throws his legs up, his huge cock throbbing and jousting the air.
Johnny cums while Jacob pummels his hole; then Jacob pulls out and blows his own load across Johnny's washboard abs…Join them!