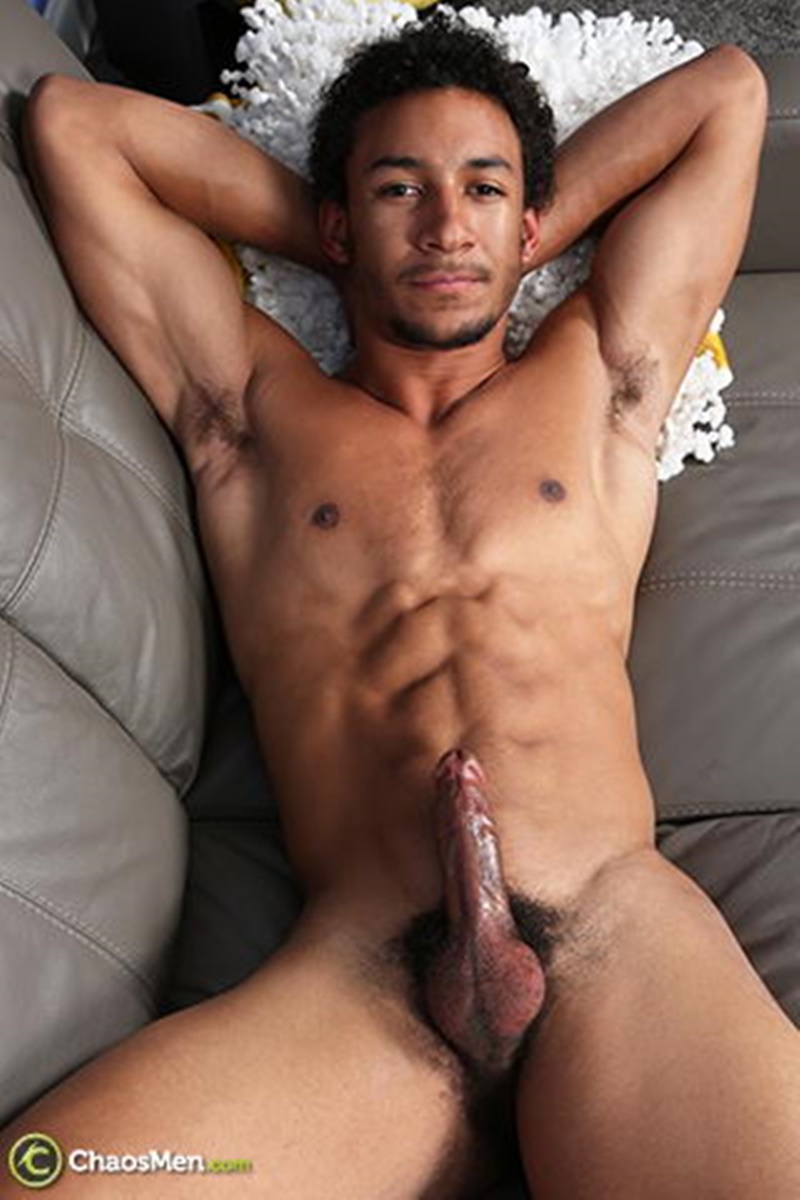 Chaos Men Jerome is just so dang adorable, polite, professional, and HORNY. I can say I have never seen his cock soft. Every time he went to strip-off his clothes, his cock would rise on up. Jerome had no worries about the solo, but the oral video the following day had him very concerned.
I kept reassuring him that rarely do I see anyone get that hard, that easy, and he should just stop worrying. For this solo, he seemed soft-spoken, but admits he likes to be the center of attention. He has no experience with guys, and has only had sex with one girl, but has gotten a lot of head and other oral experience in.
He comes from a large family, so the shower is the only place he can jerk-off, and when it came to putting some straight porn on for him, he was not a picky eater. He apparently doesn't even get a lot of chances to watch porn at home.
This is great since so many guys consume so much free porn these days, they get bored easily and want to just hunt and seek over and over again. Jerome has a great body, with a perfectly straight cock that nearly reaches 7 inches. He is half white and half black, and the dude is ALL abs.
His cum shot is intense. A thick creamy white load spills out on his beautiful skin, further highlighting those washboard abs.
Hair Color: Black
Sign: Unknown
Eye Color: Brown
Dick Size: 6.5 inch dick
Height: 5'10"
Cut / Uncut: Cut / Circumcised
Weight: 165lbs
Sexual Positions: Versatile
Jerome scenes at Chaos Men
Both these guys cum from getting fucked. Not a big deal to you? Well, this was Jerome's first time taking a cock, and he found out he loved it. Jerome practiced at home with a small toy, but was still anxious about bottoming for the first time. He is always turned-on during the shoots, and despite thinking he was completely straight, he has been enjoying the videos and really pushing his boundaries.
He has moved himself more center on the sexuality meter. I figured he would go soft while getting fucked, but he stayed hard. Once, while Phineas was fucking him and playing with his cock, we had to halt shooting or risk an early cum shot. No doubt that he was enjoying it.
Phineas is a Power Bottom, but he is actually a great Top too. This is his first time Topping for ChaosMen. It took a bit to get Phineas' cock inside Jerome, but after a few minutes, Jerome had an "Ah Ha" moment when he realized why guys like to be fucked.
We shot most of the video straight through. Lots of passion and the guys just kept going. We stopped to do photos just before the cum shot. We debated how each guy should cum. Phineas cums easiest being fucked, and Jerome claimed he could easily cum from being fucked also.
I hated to miss a chance for a cream pie, but I also wanted Jerome to experience an orgasm while being fucked. That usually has them coming back to do more and be versatile players. We decided both guys should cum from being fucked.
Phineas cums first, then uses his jizz as lube to fuck Jerome. Phineas is a little wobbly after just cumming, but we timed it perfectly. There is a little sense of urgency as we try to pull this trick off. Jerome strokes his cock until he has the most intense orgasm he has ever had.
Jerome was blown away! He fully realized why guys bottom and though I wouldn't say he is a Power Bottom, he will totally be down to experience an orgasm like that again soon. Both guys lick each other's cum, and share their loads between them as they kiss. Jerome has pushed through a lot of limits.
Kissing, rimming, eating cum, getting fucked, the dude really enjoys it all. Just watch for Jerome's reaction when he cums, you can tell it was a life changing orgasm…Join them!