All gay porn videos and gay porn pics of Mickey Taylor.
Who would have thought looking at him, that he's really a dirty boy, who loves to obey every command!
One look at Mickey Taylor and you can see how naturally he fits in at CockyBoys. He's got the piercings, the bleach blond hair, and the tattoos there's even one that extends all the way down his uncut cock! While he might seem like a tough guy, Mickey's actually very sweet and reserved in person.
He's picky when it comes to guys (which is a good thing) and when he finally finds one he likes, he completely submits himself. He loves kissing and can be gentle when it comes to sex, but he'll surprise you with how quickly he switches things up to hard and fast! Originally from the UK, Mickey might have just found his second home at CockyBoys.
Hair Color: Blonde / Brown
Sign: Capricorn
Eye Color: Brown
Dick Size: 8 inch dick
Height: 6'0″ / 183 cms
Cut / Uncut: Uncut / Uncircumcised
Weight: 165lbs
Sexual Positions: Versatile
Sexual Orientation: Gay
Nationality: English / British
Mickey Taylor gay porn scenes at Falcon Studios
As soon as the guys hit the deck it's time to sweat! After making out, Dakota Wolfe goes down on Mickey Taylor's big uncut tattooed cock.
Dakota leans back and fucks Mickey's pretty face until Mickey slams him against the wall and buries his pouty lips in Dakota's big bubble-butt.
Dakota climbs onto a lawn chair and offers his welcoming hole to Mickey who pounds it in every position possible before covering Dakota's chiseled chin with a fountain of cum. 'Summer of Sweat' is sure to get you wet..Join them!
Mickey Taylor gay porn scenes at Men
Ronnie Stone and Mickey Taylor, a British tattooed ver couple spend their alone time reading the internet and books, enjoying Candy and taking long walks in the countryside close by their home.
Some way over the other side of the world housemates-with-benefits Harri Oakland and Clayton Fox work out in the sunshine, tending their chicken coops and making bread and pastries together.
Although these couples might not be able to meet up in the flesh just yet, they set up a hot video call. Experienced Mickey kicks things off by showing the guys Ronnie's inked ass, then tells his man to get his cock hard so he can display his dick tat!
Clayton wants in on the action, sucking Harri's cock, and soon Mickey and Harri are both teasing their bottoms' holes and fucking them doggy style. Ronnie is the first to cum, and Harri and Clayton watch, jacking their cocks, as Mickey tastes it.
Clayton shoots his load just before Mickey gives Ronnie a facial, then Clayton waits in position for Harri's jizz to cover his face…Join them!
Tom of Finland imagines how the world of sex and erotica will develop in a brave new world.
He has the idea where what is virtual becomes real where sexy French gay porn actor Francois Sagat is beamed into the bio-digital sex arena and he calls on his fellow playmates DeAngelo Jackson, Ty Mitchell, and Mickey Taylor to re-enact his most enduring fantasies.
As Francois looks on, the two lingerie wearing twinks Ty and Mickey exchange blowjobs. Francois kisses black stud DeAngelo's sweet lips, directing the action and ordering the twinks to fuck for his pleasure.
Once the twinks share a hot cum facial from DeAngelo, Francois wakes up in the real world all covered in hot cum…Join them!
Tattooed punk Mickey Taylor waits impatiently in his sex dungeon for silver fox Tyler Berg.
The distinguished bottom needs to be punished for his lateness, so Mickey fucks Tyler's throat hard, then bends him over a bench and spanks his ass.
It's not long before Tyler is begging the dom for his tatted-up cock, so Mickey pounds him doggy style, then Tyler rides him reverse.
Mickey fucks the cum out of the sexy daddy before jizzing all over Tyler's chest…Join them!
Mickey Taylor scenes at My Dirtiest Fantasy
Jacob Ryan falls a sleep reading his comic book, and appears to be sightseeing the old and abandoned part of town. However, he's not alone!
The Puppeteer must have a boy radar, because as soon as the boy is noticed he goes to fetch Mickey Taylor, who tied in a straight-jacket is ready to obey the masters command!
He runs out to fetch the boy, drags him inside, strips, and ties him down to a chair. Now, Mickey guides the boy down to his cock to get some pleasure from the boy, which he does in the form of a very wet blowjob, and later on a hard face fuck!
Clearly both boys are enjoying it so far, and now Mickey takes it one step further, lubing his cock ready to get inside Jacob…Join them!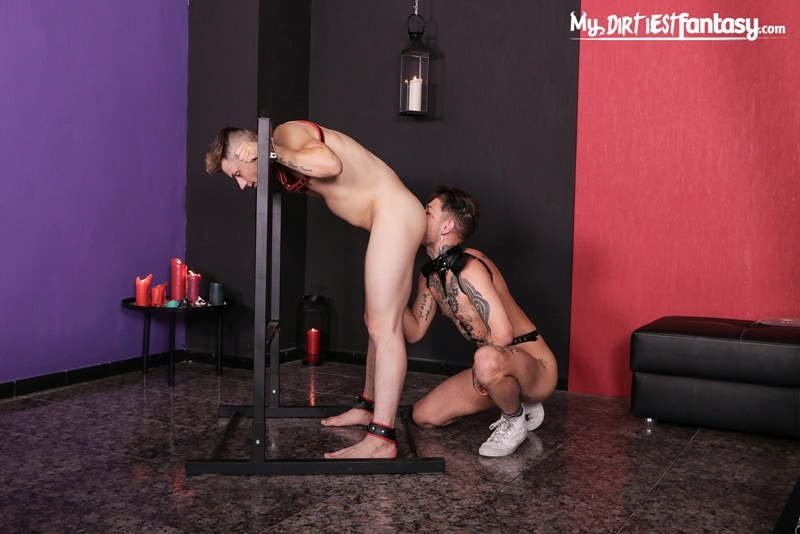 We all know that Mickey Taylor isn't someone who lets his slaves get away easily, and the handsome and oh-so innocent looking Liam Stone will be no exception to this iron rule.
With Liam's cock still safely locked away, tattooed master Mickey's first action is to tie his well used slave to a St. Andrews cross, where he eagerly removes the chastity belt to edge the youngster's dribbling cock.
No matter how good his master's hands might feel on his cock: Liam is not allowed to shoot his load yet.
No, Mickey wishes to humiliate him a bit more by using first a crop and then a whip to beat Liam, his balls and his ass in different positions; before moving over to a fuck bench where Liam is finally wanked to his well deserved climax.
However, the torture doesn't stop here, so be prepared for some post-orgasmic fun with hot wax…Join them!
Mickey Taylor scenes at UK Naked Men
Hotter than Hades, our new set is christened by stunning, real-life boyfriends Mickey Taylor and Jack Green. You've seen Jack taking a dick like pro and Mickey's no slouch in the fuck-department, so we put them together with those extra layers of kink, luv, chemistry and passion, twisted.
Mickey and Jack get straight down to some seriously hot face sucking, dick licking and arse eating, and of course they're deliciously uncircumcised. Mickey is always ready for Jack's dick and they show off their intimate bedroom skills just for you, those little tricks that get a partner ticking, revved and ready to blow a gushing load.
Mickey pushes back feeling Jack's foreskin push back with the tightness of his hole, riding it like a dog. But Jack wants to see his face, and such handsome lads who can blame them. Jack slides inside that warm hole and ploughs it good 'n' hard, slamming hip to ass until even valiant dick-pig Mickey is begging him to cum…Join them!
Mickey Taylor scenes at Blake Mason
The setting is gorgeous, but the guys even more so. Mickey Taylor is hooking up with handsome Portuguese hottie Cairo Jordan in the pool, swapping their hard uncut cocks as they wank and suck each other.
The sun beats down on their naked bodies as they make their way to the side of the pool where Mickey fingers and licks that tight hole.
His length plunges in deep, but Cairo can take it. His hole is filled with that throbbing shaft as Mickey owns his hole, moving them both to the loungers for Cairo to take a ride.
With Mickey inside him Cairo gets his cum load wanked out of his shaft and enjoys an amazing reward as Mickey blasts his face with cream…Join them!
It's a perfect pairing, two of the horniest cock loving lads ever teamed up for a session. The setting is amazing, but it's hard to care about the scenery too much when you have Mickey Taylor and Timmy Treasure wanking and sucking each other in the pool.
With stiff cocks wet and throbbing the lads take it to the loungers, perfect for some dick riding. Mickey gets it first, bent over and back arched as Timmy sinks his meat into him and gives his buddy a great fucking.
He's not one to miss out on the same kind of pleasure though, impaling his tight hole down on his friends dick as he takes his turn, wanking himself off in the process.
All that friction can only lead to one thing, and these guys really deliver as they lay back cock-to-cock, jets of cum erupting from their dicks almost in unison as they climax together…Join them!