All gay porn sex pics and gay porn sex videos of Dolf Dietrich. Gay porn star Dolf Dietrich is naked jerking his huge cock cumming all over his ripped six-pack abs.
Hair Color: Brown
Sign: Unknown
Eye Color: Brown
Dick Size: 8-inch dick
Height: 6'5″
Cut / Uncut: Cut / Circumcised
Weight: 220lbs (100kgs)
Sexual Positions: Versatile
Dolf Dietrich gay porn scenes at Gaycest/strong>
Brotherly love step bros Dolf Dietrich and Jax Thirio balls deep ass fucking.
Each deep, passionate thrust of Dolf's cock inside of Jax made the whole bed rock. Dolf placed Jax's legs over his shoulders and began to methodically push his steel-hard rod all the way in and then slowly pull back out—and repeat.
The brothers gasped and moaned in unison. Jax hoped and prayed it would go on and on like this, never stopping. Dolf did indeed try to keep sexing up his brother as long as he could, but Jax's sweet, sensuous moans and sighs inevitably got to be too hot and thrilling to bear.
Dolf could feel a mind-bending, powerful orgasm hurtling to the finish. He shouted in ecstasy as thick, hot blasts of semen filled Jax's well-fucked beefy bottom. The brothers in their youth had had some really intense and exciting fucks, certainly. But now, as men in the peak of their prime, this was something completely different.
Dolf wondered if it was crazy that he was starting to have feelings again for Jax. Or was it the orgasmic afterglow of an incredibly awesome fuck overtaking him? Either way, it seemed clear to Jax and Dolf that their rekindled brotherly love felt good. It felt right and perfectly natural.
And this was an understanding that these brothers shared without having to say the words. What was to come next? Jax certainly had no idea, but he had a feeling deep inside that this was just the beginning.
See all Dolf Dietrich gay hardcore fuck sessions at Gaycest here.
See all Jax Thirio gay hardcore fuck sessions at Gaycest here.Join them!
Dolf Dietrich gay porn scenes at Fun Size Boys
Sexy young boy Eric Charming's bare asshole stretched by muscle daddy Dolf Dietrich's massive cock.
Eric had only been soaking in the rays for a few minutes when a shadow fell over his closed eyelids.
He looked up and saw that his neighbor, Dolf, was the culprit.
Eric wasn't too put off, though; his neighbor was not only extremely tall and completely ripped, but hung like a thoroughbred as well.
Eric had always loved seeing him from afar.
And today, up close, Dolf was wearing little more than a skimpy speedo, a huge grin, and a huge hard-on nearly bursting through the fabric of his bulge.
As Eric gaped at Dolf's incredible physique and perfect musculature, the older gentleman grinned and pulled his speedo off.
At this point, why not?
If anyone came around, he could easily just pull a towel over himself.
Dolf laid back and swung his huge horse cock around.
Eric was transfixed and speechless, but in a lustful daze, he found himself on his knees and somehow, miraculously, able to take the giant man's cock almost all the way into his mouth in one hungry swallow.
Dolf yanked Eric's tiny swimming suit off and massaged his perfect bubble butt with his huge dinner plate-sized hands.
This time it was Eric's turn to moan, as he was quickly turned around, and before he could say anything, Dolf's long, thick, juicy tongue was buried deep inside his tight, pink hole…
See all Eric Charming gay hardcore fuck sessions at Fun Size Boys here.
See all Dolf Dietrich gay hardcore fuck sessions at Fun Size Boys here.Join them!
I've been wanting to get my hands all over young Marcus Rivers ever since I became his coach a year ago. Marcus is the very definition of a pocket rocket and, at 6'6", I get very excited by that size difference! Especially when it comes to sex; I love the feeling of a young guy riding my dick!
But with these young guys, it's always hard to know what they're interested in. Even when they're looking up at me wide-eyed and excited, I can't tell whether they're interested in me sexually or just enamored with the idea of former basketball player showing them how to handle their balls!
Marcus was especially difficult to read in that department. Sometimes I'd catch him looking over at me with such intensity that I assumed he'd be up for taking my dick hard and raw there and then! Other times, he'd seem shyer and reserved. My only option was to keep the charm turned on at all times and feel it out slowly…
I finally got to have a moment of clarity one evening when he asked if he could have a one-on-one training session at his folk's house. It would have been an outright "no" had he not told me in the same breath that his parents were out of town and that he had the place to himself. How could I have turned down such an enticing offer?
I got him out on the deck doing sit-ups and push-ups. He was working up a good sweat and we were getting along great. Then I managed to get him into a pretty compromising position for more situps, with his legs wrapped around my waist.
I love it when I can get a boy in that position! It instantly showed him how big I am next to him and gave him a little flavor of how hot things might get if we decide to move things to the next level…
I put him down, got him to take his top off, and started feeling him up as I complimented him on his tight little body. I could tell he was getting turned on, so I took my own top off and planted my lips rather squarely on his.
It was a fairly outrageous gesture but he responded well. Within seconds, we were kissing like a pair of horny school kids! His cute little hands were instantly all over me. He grabbed my rock solid cock through my shorts and started to tug at it. I pulled it out of its underwear cage and he dutifully dropped to his knees and started to suck.
This boy was certainly no stranger to the concept of giving a blow job! He knew exactly what he was doing–and it felt so good!
I stood him up and pulled his shorts down so the two of us were completely naked. I tried to forget that we were at his parent's place and just went with the moment. I just hoped they didn't have hidden security cameras!
I laid on my back and got young Marcus in a 69 position, him sucking me as I got my lips around his surprisingly large dick. These pocket gays often have surprisingly big packages.
Then I told him we were gonna do some special pushups I'd been eager to show him. He laid face down on a mat with his ass in the air and I hovered my body over him. He was so small I practically covered him completely! Then, with him in the right position, I lowered myself down until my cock slid right into his tight, hungry hole! After that, he was back to doing pushups with my tool sliding in and out of his body!
After getting ten bareback reps in, he collapsed down on the mat, trembling with exhaustion, but I was still inside him. I dropped on top of him and he suddenly felt the true size of my meat penetrating his guts. I don't think he could quite believe how big I was. He started squealing and whimpering as I slowly started to thrust myself into his tight little hole. Man, it felt good.
As he got more used to my size, I was able to go a little harder and deeper. It's even more fun when they start to open up a little. I was completely in charge. Dominating him. Making him my little fuck toy.
I picked up the pace, pushed his legs apart, and started to bang him hard. Judging by the noises he was making, I don't think he'd ever been fucked like that. It was a real privilege to introduce him to proper sport fucking!
Then I laid on my back and made him get on top of me, feet on my giant thighs, riding me like a jockey rides a thoroughbred horse. And he did a pretty good job! All that push-up training has given him great stamina and very good core strength. And I could feel my pre-cum going all foamy at the base of my cock.
I knew I was gonna bust my nut and decided he was riding me well enough for me to blast inside him. Cumming inside is a special treat I reserve for the best boys.
I started banging my dick into him, faster and faster until I suddenly exploded. And I shot BIG! He must have felt my dick throbbing so hard and the creamy juices literally gushing into him. It was a spectacular orgasm which I won't be forgetting for a long, long while.Join them!
Dolf Dietrich gay porn scenes at Twink Top
Dolf Dietrich looks like a badass, but he's really a big softy at heart. He's got the energy of a supportive big brother that motivates his athletes to push themselves.
Despite being a 6'6" giant and looking like a total DILF, he loves being able to relate with the younger guys and make them feel comfortable.
This was especially helpful for Jack Bailey. When he first met the big guy, he saw his complete opposite. Jack had a fairer complexion, looked like a little boy, and had no sense of what he was doing in his exercises. As much as he was intimidated by the older man, he wanted to impress him as well.
So much of Jack's personality was wrapped in wanting to succeed and be seen as achieving. With that, he gave it his all in their training session.
Dolf put him through the usual routine stretches, cardio, situps, pushups, pullups, etc. He wanted to get a sense of what the young man's baseline was so he could track his progress. He wanted to go easy on the younger guy but found Jack's eagerness to continue unflappable.
Even as Jack began to get sweaty and winded, he seemed to need Dolf to tell him to stop. The older man admired his determination… as well as the pump the young guy was getting.
Dolf is no stranger to getting a hot young guy naked, and Jack was exactly his type. He loved his bright smile and pleasant demeanor, finding himself crushing on him harder and harder as the session progressed.
Once Jack couldn't take anymore, he let the boy cool off, sitting beside him and showering him with compliments and encouragement. Jack loved it. He loved hearing the positive feedback from his trainer, but also found himself increasingly attracted to him.
Once he realized he wasn't as scary as he first imagined, he saw the exuberant, friendly, even playful personality of the older trainer. Dolf pressed his hands on Jack's chest, feeling for the swelling and pump of his young muscles.
It was common for him to do so with his athletes, but when it came to Jack, his own heart started racing as if he'd done a series of pushups. The chemistry between them seemed to increase with each passing second. As Dolf's hands moved over Jack's body, Jack opened himself up to allow the older man to explore further.
Dolf was not shy about putting his big hands up Jack's thighs to feel his groin. Jack was rock hard within seconds, tenting up his shorts in a way that Dolf could not ignore.
Dolf brought Jack in close, feeling up his chest before telling him to take off his shirt. Jack did without hesitation. Seeing Jack's response, he asked him to take off his shorts as well.
Jack's cock swelled up even tighter as he got down to just his jock. He didn't anticipate anything like this happening, but he was more than happy to see where things could go.Join them!
Dolf Dietrich gay porn scenes at Falcon Studios
The Lower East Side. While cruising around Manhattan Alam Wernik stares longingly at the glamorous window displays of the high-end designer showrooms and chic boutiques, dreaming of the lavish lifestyle he knows to be his destiny.
He returns to his shared tiny apartment on the Lower Eastside and is jarred back into reality when walks in on Dolf Dietrich being serviced by Drake Rogers.
Even an excellent blow job doesn't stop Dolf from complaining and demanding money.
Alam dashes out and leaves the two naked studs alone so they can finish what they started.
Drake rides Dolf's face, giving him a taste of his hole before bouncing back on Dolf's rock hard cock and riding it hard.
Dolf flips Drake on his side and proceeds to grudge-fuck him like he's the one who owes him money.
Just before he blows, Dolf pulls out and feeds his thick creamy load to Drake who hungrily slurps up every last drop…Join them!
Dolf Dietrich gay porn scenes at Icon Male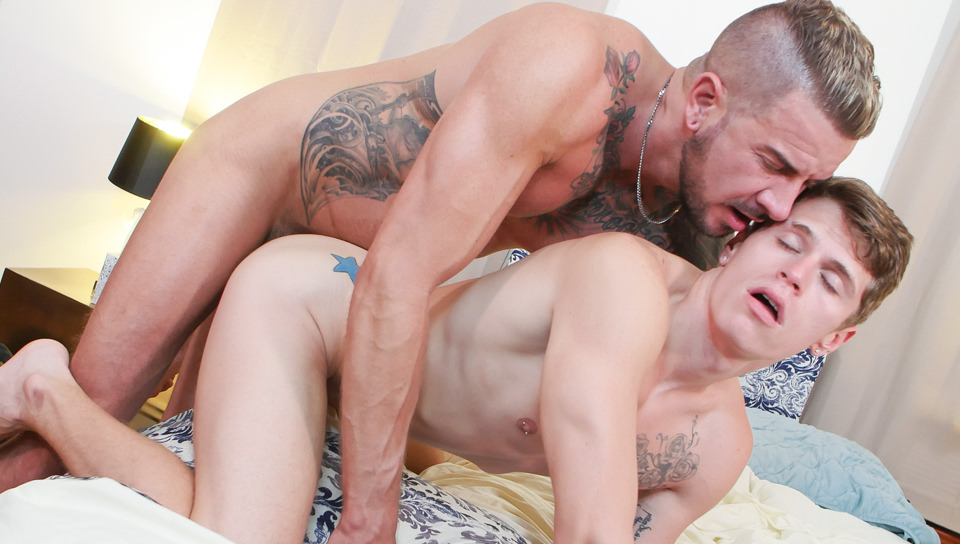 Stepdad Dolf Dietrich and sexy teen Troy Accola steal away to a hotel to escape problems at home with Troy's dad, and Troy confesses that he's always had a secret crush on the hung older man he now calls Dad.
With no one around to witness their sin, the two indulge in a forbidden tryst and finally explore each other's hot, hard cocks and tight assholes…Join them!
Dolf Dietrich gay porn scenes at Naked Sword
Greedy-ass bottoms never want one big dick; they need two big dicks at the very least. And that's just what they get in Dark Alley's Tag Team Breeders, a collection of five scenes featuring dirty sluts who want their asses plowed by two sexy, sweaty men and their huge cocks all in one sitting. Starring: Adam Russo, Cutler X, Dolf Dietrich, Dylan Hyde, Hugh Hunter, Jackson Fillmore, Justin Case, Leon Fox, Mario Cruz, Matt Stevens, Max Cameron, Owen Hawk, Sean Duran, Simon Santana.…Join them!
Dolf Dietrich gay porn scenes at Lucas Entertainment
Let's not pretend this sexual counter is something it isn't: Dolf Dietrich is very tall and Rafael Lords is rather short (the scene photography doesn't lie).
And it's exactly this reason why Dolf and Rafael wanted to give it a go they're both up for a challenge. And when these two men get together two men that love wild and kinky sex the energy explodes…Join them!