Hair Color: Brown
Sign: Unknown
Eye Color: Brown
Dick Size: 8 inch dick
Height: 5'9″
Cut / Uncut: Cut / Circumcised
Weight: 165lbs
Sexual Positions: Versatile
Will Banks scenes at Staxus
Vitali Kutcher has been studying just that little bit too hard, it seems. With his head in a book, he drifts into what can only be described as some hideous, surrealistic nightmare; before being rescued from his subconscious terrors by none other than Will Banks, who immediately comforts the boy with a hearty hug and kiss.
It's a move that quickly meets with Kutcher's approval; and in just a few moments the two lads are smooching away with real gusto. Indeed, any fretfulness that the young student was experiencing at the beginning of the scene is quickly forgotten; as Banks removes his shirt, and Vitali responds by promptly diving into his mate's jocks so that he can feast on the handsome roll of meat that's nestling inside.
It's a bold move that a fuzzy stud of Banks's proud calibre is bound to replicate, of course; and so it proves, with the manly beauty taking full advantage of the situation to slurp on his mate's salami, prior to eagerly rimming the boy's arse and finally slamming every inch of his own thick sausage deep into Kutcher's guts.
What's more, the cock-hungry pup takes it all like a professional slut, pushed up against a table whilst moaning and groaning for all he's worth. Given the warm reception that his dick receives, it's little great wonder that Banks is quickly brought to the point of no return; with director John Smith beautifully capturing the moment that the young twink gets his hole creamed with a torrent of hot jizz.
Kneeling to gobble at the spent dick, Banks finishes things off nicely by jerking his own creamy wad across the floor…Join them!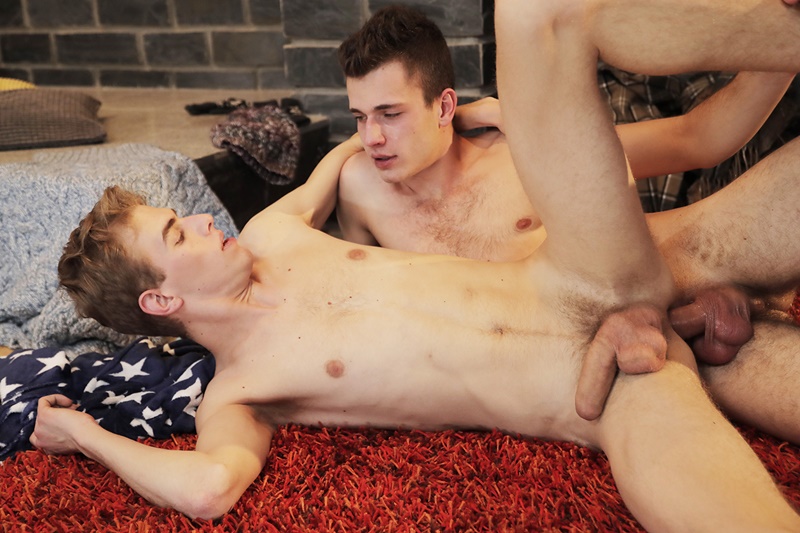 Baby, it's cold out there, as the song goes, and the forests of Czechia are a splendid winter wonderland, but that doesn't stop young Bjorn Nykvist from feeling as horny as fuck. Actually, there's pretty much nothing that stops this sex-crazed from getting the horn; and on this occasion he's ensconced himself in front of a roasting fire to enjoy a sensuous (and no doubt much deserved) wank.
His plans quickly so awry, however, when new boy Will Banks appears on the scene, a deliciously fuzzy-chested brunet who doesn't show the slightest reticence in grabbing hold of his buddy's cock so that he can greedily feast on every inch that Nykvist has to offer.
It's a move that the handsomely dicked blond clearly appreciates to the full, though why wouldn't he, not least of all because he's the sort of worldly-wise fellow who knows that it's unquestionably the prelude to a whole lot of badly needed ass-banging action.
Indeed, the way he's soon slurping on Banks's ramrod is testimony to his carnal ambitions; and it's not long before Banks is reaching (if not exceeding) all expectations by very eagerly rimming his mate's arse. Moments later, and the newbie is providing Nykvist with the kind of eye-watering gut-fucking that dreams are made of, pummelling away for all he's worth and sending his new pal into stratospheric pleasure in the process.
Little wonder that the blond bombshell is exploding like a bottle of fizz before long; leaving Banks the chance to cream Nykvist's hungry little arse for good measure. As first encounters go, a definite one to remember…Join them!