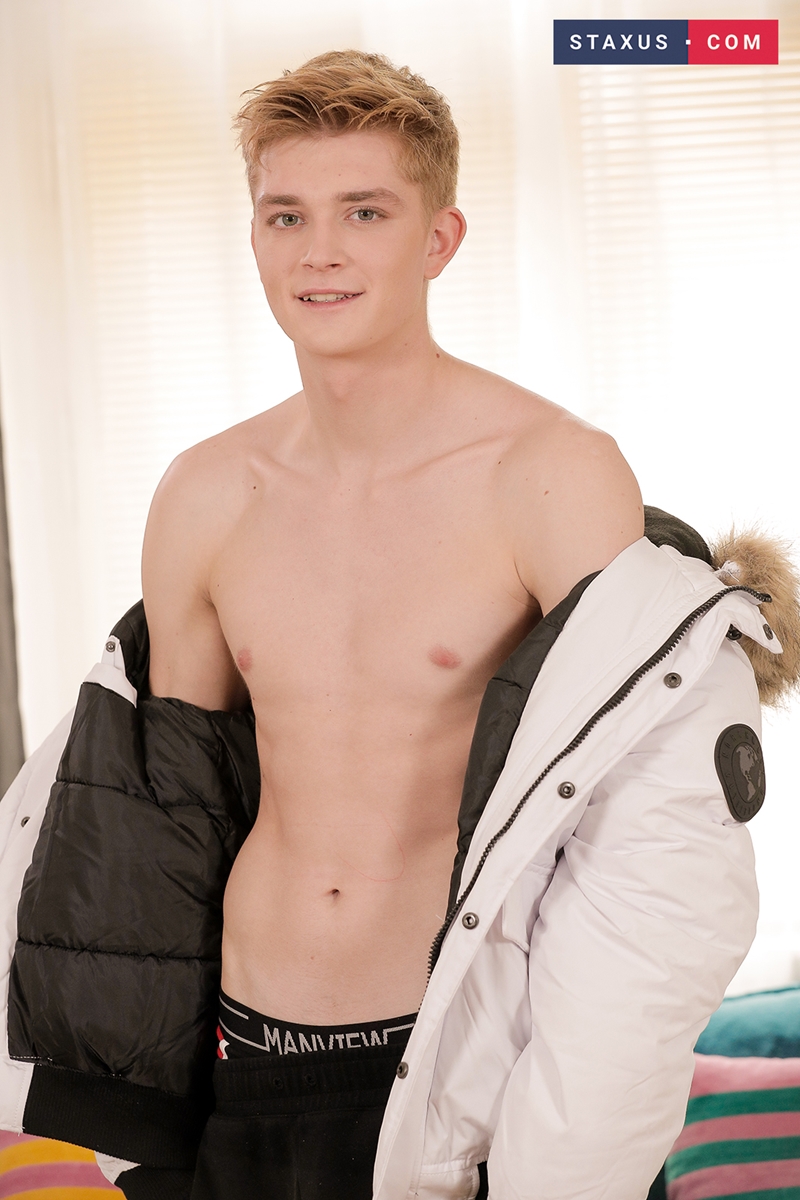 All gay porn videos and gay porn pics of Danny Jones.
Danny has got the right tool for any job you can imagine, be it DIY in and around the house, blowjobs or good deep bareback fucking.
Hair Color: Blonde
Sign: Libra
Eye Color: Brown
Dick Size: 7 inch dick / 18 cms
Height: 5'7″ / 175 cms
Cut / Uncut: Uncut / Uncircumcised
Weight: 165lbs
Sexual Positions: Versatile
Sexual Orientation: Gay
Nationality: Czech
Danny Jones gay porn scenes at Staxus
Daniel Karrington may be busy, but when Danny Jones arrives, the apple fest is only getting started, as soon these boys are both naked and enjoying each others bodies, only Danny knows too well what Daniel is able to fit in his hole.
Soon an apple is on it's way in.
But that is only to open Daniel up a bit, for Danny to go straight in with his cock.
Needless to say that Daniel will end up covered in cum, and eating an apple…Join them!
Hottie young twinks Danny Jones and John Hardy love their daily cam shows. Danny lies next to John and sucks up his big young cock in his mouth taking it right to the back of his throat.
John reaches down and returns the favor taking Danny's slick twink dick sucking it hard.
All this cocksucking leads Danny to lie on his back getting rimmed by John's inquisitive tongue and lips.
With Danny's hot ass hole lubed up John plunges his bareback dick balls deep into his hole pumping away like a hammer drill.
They switch up positions with the intensity of the fucking rising by the second until John can hold off no longer spraying his creamy cum all over himself quickly followed by John's emptying his balls all over them both…Join them!
Josh Evans may not be the perfect boyfriend, but he's for sure a great friend, after all, sleeping with your friend and girlfriend in the same bed isn't always an easy task, especially if your friend is Danny Jones.
It goes without saying that Danny will try his luck with Josh, and unsurprisingly, he gets just what he wanted.
Waking up Josh with a blowjob is only the start of what these two naughty boys will get up to whilst Lucy is sleeping next to them…Join them!
By popular demand, we have shot a cross-dressing scene. Many fans requested it, so if it is not your thing please move on.
It is one scene and if it's not popular we won't do it again, so no need to bombard us with negative feedback if you don't like it.
To the fans that did request it, I hope you enjoy it!
Danny Jones is home alone and bored, he finds his roommate's girlfriends underwear and he can't resist trying it out.
His straight roommate Johny Walsh encourages him to go all the way, and what follows is an explosive sexual domination/submission fantasy that both models totally got into…Join them!
Danny Jones is fed up with being home alone for 3 weeks so he wants to jerk off together with his young mate Timmy Williams.
But of course, Danny won't just want to jerk off, and soon they're both jerking each other off before Danny leans in to kiss Timmy.
It's no surprise that moments later Danny is sucking off Timmy's cock, before leaning back and enjoying Timmy's lips wrapped around his own cock.
Soon Danny is laying on his back, leaving his pink hole on display for Timmy to lick out, and with some natural lube, it slides right in…Join them!
Sexy young boys, Rami Ferris and Danny Jones, just love their webcam shows.
Danny is in the shower whilst Rami is warming up his audience online, waiting for him to return for a full-on sex show.
The fun begins as Danny returns he removes Rami's sexy undies and plants his wet tongue deep between his ass cheeks rimming his hot boy hole.
Danny wraps his hand around Rami's thick cock and he sucks it deep to the back of his throat.
It's no surprise that these two are soon on top of each other in a 69 position, too soon after having Danny on all fours, leaving his ass exposed to Rami's playful tongue and more…Join them!
Young blonde stud Danny Jones is in big trouble for stealing. He's lucky as young cutie Jake Williams is too tired to argue and fancies a deep muscle massage instead.
Danny pulls out the massage oil and quickly wraps both hands around Jake's big twink dick. He is soon joined by David Hollister who rubs the oil into Jake's ripped abs.
The three boys kiss passionately before David slides his wet hole against Jake's rock hard cock as Danny and David 69, sucking each others' big young dicks. Jake spots Danny's bare ass exposed and he goes in for the kill.
Jake rims his asshole then slides his rock hard dick between his raw ass cheeks getting it balls deep into his hole. Jake's bareback fucking continues until both boys are on the edge of orgasm and David's jerking releases a load of cum all over the boys as they cum too.
The three boys lie back in each others' arms their horny sexy energy sated for now…Join them!
Young Danny Jones has been out for an evening of drinks with his friends, but his best mate Nick Fox is upset that the invitation wasn't extended to him. He's feeling a little bit left out.
Danny is determined to make up for this lapse and he knows just the way to get back in Nick's good books.
Danny catches sight of Nick in just his sexy underwear, and he leans in to unleash his already hardening big twink dick. Sucking down hard on it until it is sliding in and out of his sweet lips.
Then Danny turns Nick around to get access to his bare ass. Danny rims his soft pink butt hole getting his tongue deep between his smooth ass cheeks.
Once he is all lubed up Danny then presses his big cock into Nick's freshly rimmed hole. Pushing harder and deeper until Nick's moaning chimes with his hard strokes.
Nick takes every inch of Danny's big raw dick until he can hold off no more and gushes a load of hot boy cum all over them both.
Danny Jones gets his workout with David Hollister, and upon returning home and falling asleep David can only make the situation go his way, after biting Danny's ass cheek to wake him up.
With David on top of Danny, making out, Danny is all hands on deck, touching Davids balls and ass, which only provokes David more.
It's no surprise to say that after working his way down on David's body he soon at the height of Danny's cock, which in no time he's busy sucking on…Join them!
Danny Jones is quick to get his date sorted, after a night out, both boys return home, and the action is promptly started.
Without doubt Jake Williams is eager to get a taste of Danny's cock, as he does, making Danny moan in pleasure, this is of course before his mouth is filled by Jakes now rock hard cock.
With Jake's underwear out of the way, they soon adopt a semi 69 position where both boys get a fait taste of each others hard rods.
Soon after Jake sits on Danny, and rubs each others cocks whilst Danny gets a wonderful view of Jakes hole, which soon after he rimms before going all in…Join them!