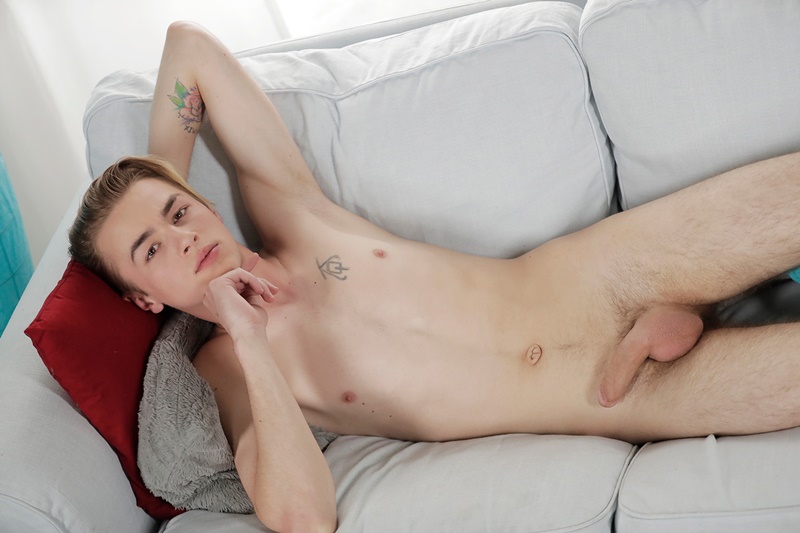 All gay porn videos and pics of Casey Flip at Staxus.
Hair Color: Blond
Sign: Unknown
Eye Color: Brown
Dick Size: 8 inch dick
Height: 5'9″
Cut / Uncut: Uncut / Uncircumcised
Weight: 150lbs
Sexual Positions: Versatile
Casey Flip scenes at Staxus
Hot young skater boys Casey Flip and Connor Rex our two handsome young boys are now boyfriends in real life. John Smith, presents a grand finale to the world of young skater-boys. Check out the boys smoking, skating plus all the hard hot cocks and creamy boy spunk.
Of course, the fact that you've got this pair of dick-loving pearls in front of the camera means that you're pretty much assured a classic right from the off; with a brief explanation of their personal decision by Rex promptly followed by some top-notch fellatio on the part of both buddies.
It's pretty much self-explanatory at this point as to why these boys have become so insanely popular with our fans in recent times; and it's a demonstration that only intensifies when Flip finally turns his eye to his boyfriend's delicate little fuck-hole and begins to rim the sweet (and well-worked) pucker for all it's worth.
It's but a rehearsal to the main event, naturally; and before you know it Flip is sliding his thick, handsome ramrod deep where it belongs – and, no doubt, where it's going to be going much, much more in future when the cameras are no longer rolling.
So savour the sight of these two fuck-angels in full rut; as Rex takes every hard inch of his lover in a whore ruck of positions, maintaining a wry smile of satisfaction with every penetrating thrust.
Little wonder that both boys are soon squirting for all they're worth; before exchanging a lengthy, spunk-laden smooch that just tells you that the lads are set to enjoy one hell of a fucking time together in private…Join them!
It's arguably no great wonder that Casey Flip and Johnathan Strake should be somewhat on the competitive side, after all, when you're racing together like these two buddies then it's only natural that an element of one-upmanship begins to take over.
It's what drives both parties to perform their best, after all. Whether that level of competition should drive them to try and push each other over in the dirt mid-race is quite another matter, however; and the rivalry only continues when they're subsequently back home and dealing with the resultant laundry.
Nevertheless, you can't help but get the impression that all this jostling for superiority is but a means of disguising the sexual frisson that clearly exists between these buddies; with matters finally coming to a head when the two lads tumble onto a padded massage table together.
Then Strake makes an immediate grab at Flip's now badly swollen cock and each mate is taking it in turns to feast on man-meat like it's going out of fashion.
It's an arguably rather convoluted introduction to the main action, but if anything it only makes the ensuing set-piece all the more energised; with Flip quickly turning his attention to Strake's ever-insatiable rump, which he promptly attempts to fist, before replacing his hand with his cock.
Seconds on, and with jockstraps finally off, the two mates proceed to rut like a pair of animals, Strake riding Flip's shaft in a series of positions for maximum effect, before getting an arse-load of jizz as his due reward.
Little wonder the fellow is soon jerking out a terrific wad of his own…Join them!
Oh, to be young and carefree! It's as sure as fuck to be hoped that Casey Flip and Chester Owen realise that these are the best days of their life, as they play and cavort in the woods and waters of their native Czechia.
But whether they do or not, one things for certain, and that's the sight of them enjoying the joys and freedoms that only youth can ever provide is bound to attract a whole load of interest from our legion of fans.
Not least of all because they look so fucking gorgeous in their lustful prime. To be honest, it comes almost as something of a sweet relief when the pair finally make it back to their tent after their energetic high jinks; at which point, of course, things quickly turn decidedly carnal, with both buddies taking it in turns to greedily feast on each other's hairless knobs.
Given the sheer intensity of everything that's gone before, it's perhaps not at all surprising that the urge to move on from oral to anal quickly overtakes these lads; with Flip turning his keen eye to Owen's tight little pucker and rimming it for all he's worth.
Moments later and he's balls-deep inside his mate's guts, heaving away like his very life depends on it; with director, John Smith, taking full advantage to capture a close-up view of the magnificent display.
Just seeing Flip's arse as it bounces back and forth into that pert little arse will almost be too much for most viewers to bear; but the action only gets even more intense when Flip bundles his pal up against a tree to complete the performance.
All of which finds a magnificent climax when Owen gets his face splattered with cum…Join them!
It's very much with a distinct sense of pride that floppy blond-haired beauty, Casey Flip, strolls through the countryside hand-in-hand with his luscious new beau, Greg Noll.
And who the fuck would deny him his pleasure? New boy, Noll, is without doubt a very handsome fucker; and it's even easier to understand the attraction when Flip pulls his mate's handsome dick out of his shorts at the very first opportunity.
After all, who could ever resist a curved wonder like that when it comes into play? Flip takes full advantage, that's for sure; slurping on every delicious inch, whilst Noll lies back in the hammock they've discovered, no doubt savouring the tight clench of his pal's lips on his straining ramrod.
It's not at all long, however, before both lads clearly wish to take their adventures to the next level; and heading to a nearby barn, Flip continues his clear adoration of Noll's schlong, before the roles are reversed and Noll enjoys his first taste of cock.
If the newbie thinks that his mouth is the only orifice that's going to get totally violated, however, he can think again.
For by this point Flip's dirty little mind is turning inexorably to the thought of giving his pal's pucker a very much well-deserved stretching; and having eagerly rimmed Noll's arse-hole, he takes full advantage to bang his buddy over a nearby table.
Not content, young blondie then buggers the new lad on the floor; slamming away like an express train and making a sticky crescendo totally inevitable. It's a hot, sweaty, cum-inducing fuck-fest that will surely drain you of almost as much jizz as these hot bastards…Join them!
The transition from playing in the junior squad to taking a position in the senior team is always a major moment for any wannabe footballer, and it goes without saying that it's vitally important that the player maintains the encouragement and support of managers and agents to ensure as smooth a changeover as possible.
Guys like Milan Sharp, who have their hands on the purse-strings, and whose support is vital if a young man like Casey Flip stands any chance of living out his dream of making it big in the sport.
Fortunately for Flip, it seems that he is well versed on how to win the heart of a fellow like Sharp; and suffice it to say that before you know it the young lad is quite literally sat on the guy's lap, demonstrating his willingness to do whatever it takes to turn his ambitions into reality.
Which to Sharp, of course, means getting his lips around the youngster's handsome cock, not to mention ensuring that Flip does the same to his own notoriously oversized schlong.
As such, it's not long before the two fellows are eagerly 69-ing each other like a couple of cheap whores; until Sharp's insatiable urge for dick quite literally overcomes him and he slaps himself down on Flip's lap so that he ride the cute twink's buttpicker for all he's fucking worth.
What follows is a terrific escapade of hard anal boy-sex, with Flip working his buddy's pucker so hard that it's left proudly gaping as a result.
Little wonder that Sharp is soon spraying all over his own tummy; whilst Flip sounds the final whistle to a deal by merrily dumping a magnificent spew of hot spunk all over Sharp's face…Join them!
It's no wonder that sporting buddies Casey Flip and new boy, Rudy Stone, are in need of a drink.
Kicking a ball around together in the hot weather is very thirsty work, after all; but if you think they won't have any energy left to fool about then you're in for a big surprise.
Fact of the matter is that more water goes over each other than actually gets drunk, which in turn leads to both lads having to take their shirts off.
This, being porn, naturally only leads to one thing; and before you know it the two mates are exchanging a hungry smooch, with Flip taking an early dive onto Stone's already badly swollen ramrod.
Unfortunately, a public park is not exactly the best place to enjoy a blow-job, unless, of course, you want to end up being arrested or something, so the two lads head back home to take off exactly where they left off outside.
As such, it's a case of kits off and cocks out; with both lads taking it in turns to feast on the meaty shafts they had stuffed inside their soccer shorts, before Stone finally turns his eye to his mate's pert little rump.
Cue a rigorous session of rimming and fingering of Flip's tight hole; before Stone, who, like his mate, is still donning his sporting jocks, thrusts his meaty shaft inside.
Ever the sharing pair, however, all this is but a prelude to a flip-flop turnaround, with Stone promptly plonking himself down on Flip's cock and riding his buddy in return.
Indeed, there's no denying the fact that it's Stone who probably enjoys most of the anal action here; before both team-mates call it a score-draw by creaming off to a gooey crescendo…Join them!
Having a boyfriend who's a courier has its benefits, not least of all the fact that he can bring you all kinds of exciting things in his delivery sack at the end of his delivery round. Which is something that young newbie, Casey Flip, discovers when Martin Rivers drops in to present the fellow with a little surprise.
No, not an engagement ring, although you'd be forgiven for thinking that by the shape and size of the box that Rivers hands over, but rather a tiny blue tablet that has the miraculous potential to boost their sex-life.
Minutes later, and both boys are sporting the kind of hard-on in their shorts that would get even a eunuch worked up into a sexual frenzy; and it's little wonder that the lads are quickly smooching away like a couple of whores in anticipation of some hardcore action to come.
Of course, it comes as no surprise that those monstrously over-swollen dicks are soon on full display; with the lads top-and-tailing on the sofa to enjoy a sultry session of 69-ing.
But experience tells us that it won't be long before the urge to have his guts filled to the brim with man-meat will soon prove way too much for a guy like Rivers; and it really comes as no great surprise when he finally presents his arse to Flip, so that his buddy can first energetically rim the hairless beauty and then finally pound it with his dick for all he's worth.
Suffice it to say that nothing is left to the imagination as Rivers is pummeled in a series of positions; before Flip quite literally fills his pucker with fresh teen cream. A beautifully sordid display, topped off by Rivers jetting goo all over his own belly…Join them!
Anyone with anything of a foreskin fetish is gonna be seriously in tune with the opening minutes of this massive monster dick inspired duo, given that Adam Webb really does seem to have massively blessed in the prepuce stakes.
Indeed, his buddy, Casey Flip, can't really get over how much skin he has, although given what we already know of Webb's over sized dimensions, the fact that he's got such a generous fold of foreskin shouldn't really come as too much of a surprise.
After all, big cock heads must come in big packages, and let's be honest they don't really come much bigger than this. A fact that Flip is clearly only too willing to make the very most of; as he finally starts to suck on Webb's generous lengthy cock, gobbling away and drooling as he does so.
In comparison, it has to be said that Flip's own dick is something of a disappointment, although lined up against a super cock like Webb's that was always destined to be the case.
What's more, the differential is only made all the more obvious when the two guys begin to dock their dicks, Webb rolling out his skin to quite literally consume his mate's dick shaft in the process.
What Flip lacks in length and girth, however, he more than makes up for in gusto; not least of all when Webb proceeds to first finger and rim the lad's asshole, before fucking it with a dildo and then his monster dick.
By this point, of course, the floppy-haired blond is literally biting his lip in a heady mix of pain and pleasure; culminating in him pumping out a quite unbelievable multi-shot of jizz, before Webb wraps things up by dumping over the boy's face…Join them!