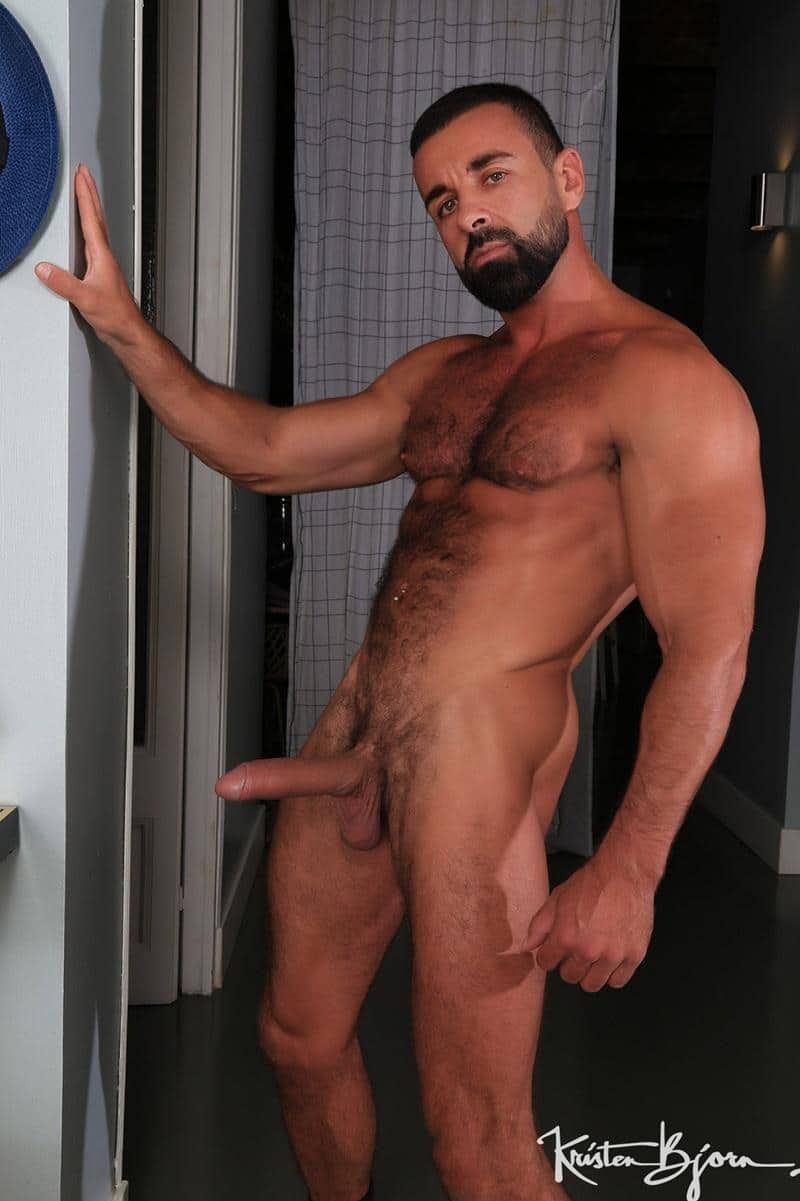 All gay porn sex pics and gay porn sex videos of Italian muscle stud Giuspel. Gay porn star Giuspel is naked jerking his huge cock cumming all over his ripped six-pack abs.
Giuspel is a handsome, muscular, big dicked daddy from Italy. His green eyes are an exciting contrast to his dark hair and complexion. Giuspel is perfectly versatile, and he loves to get fucked by sexy, masculine men as much as he likes fucking them. There is nothing that Giuspel enjoys more than having hot, juicy sex!
Hair Color: Brown
Sign: Virgo
Eye Color: Brown
Dick Size: 8-inch dick / 20.32 cms
Height: 5'8″
Cut / Uncut: Uncut / Uncircumcised
Weight: 155 lbs
Sexual Positions: Versatile
Sexual Orientation: Gay
Nationality: Italian
Giuspel gay porn scenes at Men
Hung tattooed muscle stud Papi Kocic's massive cock stretching bearded hottie Giuspel's bubble butt asshole
Papi Kocic and Giuspel are working out together at the gym, and as the two of them eye-fuck each other while they lift weights, the guys' muscles aren't the only thing that is getting harder. Strong climax After eventually being unable to stand it any longer, Papi kisses Giuspel and forces him to bend over so that he can lick his armpits and nipples. Papi teases Giuspel's hole and gets it good and wet before fucking him doggystyle. The bottom gets on his knees to suck Papi's balls and give the top a passionate blowjob. Papi then fucks Giuspel in the doggystyle position. The top makes use of the chance presented by Giuspel sucking him to perform a few sets of bicep curls before fucking him while he is seated on the bench. Giuspel rides that massive dick till Papi cums on his face, and then he jacks himself off while he sucks himself dry of every last drop of liquid.
See all Papi Kocic gay hardcore fuck sessions at Men here.
See all Giuspel gay hardcore fuck sessions at Men here.
Join them!

Giuspel gay porn scenes at Kristen Bjorn
Smooth young muscle dude Joe Sting's bubble butt raw fucked by Giuspel's huge uncut dick.
Sexy, Italian muscle daddy Giuspel is about to induct Joe Sting into the Kriste Bjorn Society of Select Men.
The guys quickly unleash their growing cocks and Giuspel wastes no time in exploring Joe's muscular body. Giuspel takes a seat and begins sucking on Joe's hard, uncut cock, taking it all the way to his balls.
Joe gently guides Giuspel onto his cock with his hand atop of his head. Joe is unable to resist Giuspel's expert cock sucking skills and blows his load deep inside of Giuspel's hungry mouth.
Joe takes his opportunity to devour Giuspel's big cock. Joe chokes, gags, and pleasures himself and Giuspel with his exquisite cock sucking skills.
Giuspel is eager to put his cock to some pleasurable fucking and spins Joe around and begins fucking his smooth ass with his hot tongue.
With Joe's ass sufficiently drenched in spit, Giuspel rises up and rams his cock deep inside of Joe's insatiable ass. After a short time of fucking Giuspel pulls out and goes back to eating Joe's ass.
Giuspel takes in the aroma and flavor of his own cock lingering on Joe's hot hole. Giuspel rises again and continues with his hot ass fucking.
The guys swap it up again and this time Joe lowers his ass down onto Giuspel' awaiting cock. Joe grinds up and down on Giuspel's cock, causing his hairy balls to begin flooding full of his hot load.
One last flip and Joe is lying on his side with Giuspel coming in from behind. Giuspel gives Joe a smooth, rhythmic fucking, forcing his cock hard and deep into that smooth, wet ass.
Joe's ass is giving Giuspel's cock a milking that he can no longer resist as he showers Joe's smooth ass with his thick load of cum. Giuspel rams his cock back inside of Joe, dumping the remainder of his hot load.
It's a good day when everyone gets a load of cum.
See all Joe Sting gay hardcore fuck sessions at Kristen Bjorn here.
See all Giuspel gay hardcore fuck sessions at Kristen Bjorn here.Join them!
Ripped hairy chested muscle hunk Giuspel's huge uncut dick barebacking hottie stud Favio Vador.
Being a park sex pig brings a whole range of excitement of being outdoors, enjoying the fresh air, the smell of nature, the high risk of being seen or caught and that is just part of the reason Giuspel and Favio Vador are in the park today.
What starts out as exercising in the park leads to a secluded area where Giuspel chews on Favio's pert nipples while his hand fondles his growing cock. Favio drops to his knees and takes Giuspel' growing, Italian cock deep into his mouth, and begins sucking on it with his hot, hungry mouth.
A quick swap and Favio beats Giuspel in the face with his growing cock before Giuspel begins sucking on it. While their cock sucking outdoors reaches its peak the guys decide to move it indoors and to a higher level of seductive pleasure.
After stripping down Giuspel quickly moves in on Favio's amazing, muscular ass and begins a feast he does not want to relinquish. Giuspel teases Favio's ass with the head of his cock but decides that he needs to continue with his feast a bit longer.
With Favio's ass dripping wet, Giuspel plunges his hard cock deep inside of Favio and begins a smooth, rhythmic fucking that continues to build with passion and pleasure. Giuspel reaches a impassioned pace as he slams his cock in and out of Favio's wet hole while slamming his balls against that hot, smooth ass.
While still bent over the chair Favio raises one leg, giving us a terrific view of Giuspel's cock fucking his ass, and apparently this is the position that strikes Favio in all the right places as he begins showering his hot load of cum everywhere it will fly.
One last flip and this time Favio is on his back with his meaty legs spread wide open and Giuspel grabs onto his ankles and continues his fucking without skipping a beat. Giuspel finds that Favio's ass is much tighter than before and is milking his cock perfectly.
Giuspel is unable to hold off any longer and quickly changes position and feeds Favio his hot, creamy load of cum.
See all Giuspel gay hardcore fuck sessions at Kristen Bjorn here.
See all Favio Vador gay hardcore fuck sessions at Kristen Bjorn here.Join them!
Gay interracial Latino muscle hunk Giuspel and Sergey Blue hardcore big uncut dick flip flop fucking.
It is time to explore hardcore gay porn sex with Sergey Blue as he inducts Giuspel into the Kristen Bjorn Society of Select Men, as daddy vs. daddy unfolds. As the guys enter the room, they seductively reveal their hairy, muscular torsos and embrace with deep, aggressive kissing.
Furry torso exploration continues until things start moving down the torso in search of a throbbing member that declares desire and lust. Sergey releases his rigid cock first as Giuspel takes it into his hand and squeezes it, feeling the life force grow. Giuspel then unleashes his sheathed, fat cock and begins to dock with Sergey.
Giuspel seems to be quite knowledgeable in foreskin play as he slips his forefinger under Sergey's hood, stimulating his cockhead. This stimulation causes Sergey's cock to grow stronger and in mass. Giuspel retracts the hood and Sergey's cock is coated with his pre-cum.
Unable to resist the temptation, Giuspel drops to his knees and begins sucking on Sergey's throbbing cock, making sure to pay special attention to his cock head and being rewarded with the sweet taste of precum.
Giuspel's fetish for foreskin has brought his own cock to full attention, rising like a granite sphere from its restless slumber. Sergey has not missed any of this growing pleasure in Giuspel's cock and takes a knee to worship the imposing cock demanding his attention. As Sergey sucks and drools all over Giuspel's cock, both men are pinching and stimulating their nipples, raising pain/pleasure to a higher level.
Sergey gets bent over and Giuspel begins fucking his furry hole with his strong, darting tongue. Lapping, licking and pushing harder and deeper as he goes. Giuspel stands and rams his raw cock into Sergey's wet, hairy hole. Giuspel slows his pace of fucking, so that both men can feel the full length of pleasure building deep within.
With his balls drawing up tight, Giuspel changes positions and squats his hairy ass down onto Sergey's throbbing cock. Giuspel starts with a slow grind before picking up the pace and slamming his ass down hard onto Sergey as his fat cock flops around with each thrust.
Another flip and Giuspel teases Sergey's ass with just the tip of his cock before lunging forward and impaling Sergey's hungry hole. All the power and pleasure that has built up can not last long and Giuspel blows his hot load all over Sergey's hairy torso. With the feel of the hot cum on his body Sergey shoots his thick, creamy load of cum and Giuspel leans in and catches it in his mouth, sucking the last drops out of Sergey's mushroom cockhead.
See all Giuspel gay hardcore fuck sessions at Kristen Bjorn here.
See all Sergey Blue gay hardcore fuck sessions at Kristen Bjorn here.Join them!