All gay porn videos and gay porn pics of Blake Hunter.
Hair Color: Brown
Sign:
Eye Color: Hazel
Dick Size: 7 inch dick
Height: 5'8″
Cut / Uncut: Cut / Circumcised
Weight: 200 lbs
Sexual Positions: Versatile Top
Blake Hunter gay porn scenes at Raging Stallion
Blake Hunter discovers that guys in his building are being filmed without their consent. He enlists the help of Brian Bonds, and the two go to 'The Super' of the building, Riley Mitchel, to find some answers.
Brian and Blake quickly discover that Riley is behind the whole secret perverted operation. To show how upset they are, the duo pins Riley down and pull off his clothes. Brian gets deep in Riley's ass to probe it with his tongue as Blake continues to hold the crooked Super down.
Blake wants a taste of Riley's sweet ass and takes his rightful place behind him. With Blake's tongue buried deep in his hole, Brian opens his pants and sticks his cock in Riley's mouth. Brian can see that Riley is ready for his ass to be filled with cock and lines up behind the stud.
With Blake's cock down Riley's throat, Brian slides his shaft deep into Riley's crack to spit-roast the tatted hunk. Blake pulls out his phone to record the threeway and then takes his turn plowing Riley.
Now, Riley wants to get his dick wet and shoves his cock into Brian's hungry ass to fuck him hard. The stud pounds away until he blasts a load all over Brian's fuzzy ass. After seeing all that cum, Brian and Blake are ready for release and stand above Riley to cover his face and beard with their thick, creamy loads…Join them!
'The Super', Riley Mitchel is working on the vents in his building when he stumbles on Carlos Lindo and Blake Hunter naked in bed. Riley watches them through the vent as he pulls out his dick with one hand and hits record on his phone with the other. Blake is hungry for cock and gets down between Carlos' open legs to take him all the way down his throat.
Carlos is happy with the reception his cock is getting but wants more control. Carlos gets on his knees with Blake still in front of him and face fucks the hungry cocksucker. Blake is revved up from the throbbing dick in his throat when he tells Carlos to take his turn sucking his dick. Carlos is happy to get in front of the hard hunk and gets to work polishing his pole.
It's a cock-sucking frenzy as the two studs keep swapping warm mouths on hard dicks. Blake is up at bat with Carlos planted deep down his throat when Carlos decides to let loose and give Blake what he wants.
Blake chokes down the entire load cum Carlos has to offer and then stands up to return the favor. Carlos gets on his knees in front of the ready-to-burst stud and waits for the load he's about to receive.
Blake busts a nut all over Carlos' chest and beard, leaving both hunky studs satisfied and drenched in cum…Join them!
Blake Hunter gay porn scenes at Next Door Buddies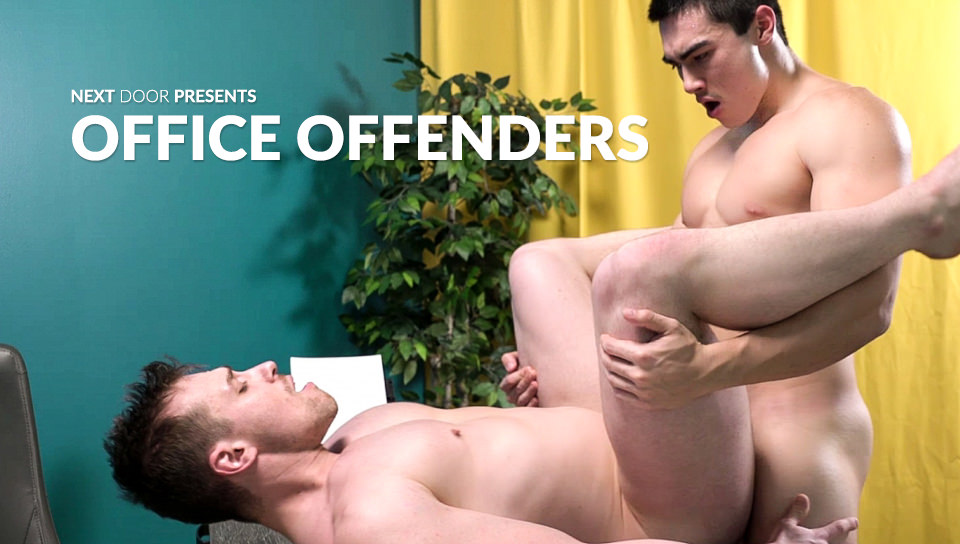 Blake Hunter is a good employee but his private life has seeped into his professional environment, and boss man Axel Kane has hard proof that Blake has been fucking on the job.
Blake is mortified at the thought of losing his job, but luckily Axel likes what he sees in Blake, and so he gives Blake a chance to 'take the fall' for his work transgression.
Blake is willing and ready to do as Axel tells him, falling to his knees and taking Axel's cock into his mouth, deep throating it and gagging on it as Axel begins to take off his shirt.
Blake gets his boss' cock nice and hard when Axel bends him over the desk. Blake isn't certain what will happen next but as he feels Axel's cock slide into his raw hole, he closes his eyes and enjoys the ride.
Alex pounds him from behind, fucking Blake's bubble butt bareback, watching his throbbing head go in and out of Blake. He flips him over and spreads his legs wide, fucking Blake until he's ready to cum.
He pulls out and tells Blake to get back on his knees, unleashing his workload all over Blake's face as Blake strokes himself clean, jizzing all over the carpet.
Axel tells him to clean up the mess and get back to work, secretly hoping Blake will have to be 'reprimanded' again soon…Join them!
Blake Hunter gay porn scenes at Next Door Studios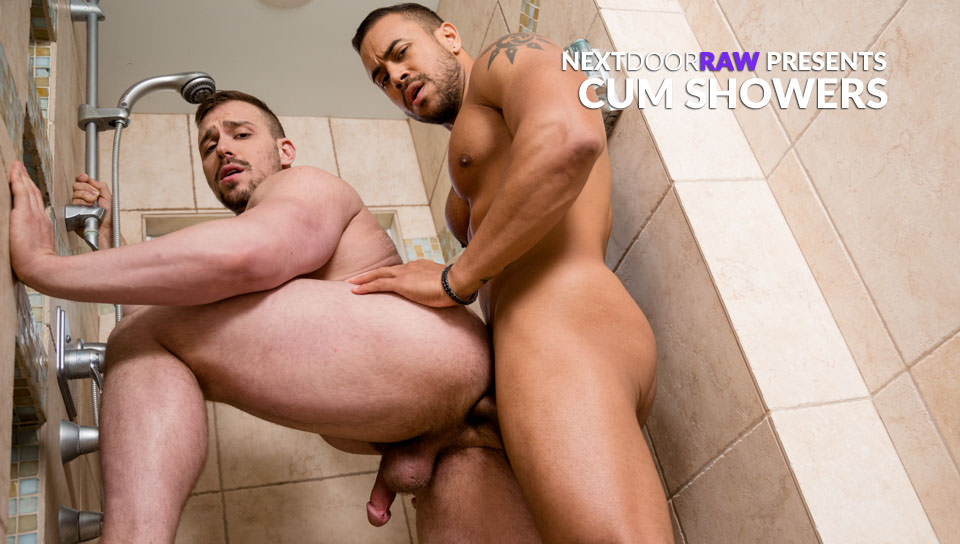 As Blake Hunter showers himself off, he doesn't realize his front door has blown open from the wind. Nosy neighbor Julian Grey sees the open door and thinks something might be wrong, so he takes it upon himself to check on Blake.
When he finds him naked in the shower, Blake is shocked and covers himself up, telling Julian that everything is fine. But as Julian moves closer and closer, Blake realizes Julian didn't just drop by to check up on him.
Julian reaches out and kisses Blake, pulling him in closer, as Blake slips his hand inside Julian's waistline, running his fingers over the bulge in Julian's pants. They make their way to Blake's bedroom and Julian kisses his way down Blake's body, wrapping his lips around Blake's cock as he lay on his stomach and spreads his legs.
Blake runs his fingers down Julian's crack as his dick gets hard inside Julian's mouth, and after returning the favor and getting Julian rock and hard, Julian tongues Blake's hole before standing up and sliding his dick deep inside his neighbor's hole.
He fucks Blake raw from behind as Blake reaches back and strokes himself simultaneously. Blake decides one good turn deserves another, so once Blake tires a bit, they switch places and Blake positions himself behind Julian's perfect bubble butt.
He's fantasized about fucking his neighbor so many times, and now that it's finally happening, Blake seizes the opportunity, pounding Julian all over the bed, until he's ready to burst. He pulls out just in time to coat Julian's cock with his load, which makes Julian lose his nut just as suddenly.
Coated in jizz, Julian asks Blake if he'd like to head back to the shower…Join them!
While Blake Hunter and boyfriend Dalton Riley make their way home, they can't help but notice the stranger that seems to be following them.
As Zay Hardy tails them all the way into the elevator, they exchange a look of concern, but secretly, both of them harbor fantasies about having their way with this tall, dark and handsome stranger.
When Dalton catches Zay spying them at their door, he leaves it ajar and looks back at Zay, inviting him in with his eyes.
And while cheating is never good, is it really cheating if everybody gets their rocks off?
Perhaps Zay will spark something new in Dalton and Blake's love life, inspired by a night sharing a stranger.
There's only one way for Zay to find out what awaits behind the door…Join them!
Playing by the pool and soaking up the sunshine is nice, but Johnny Riley and Blake Hunter are looking for an activity that's a little more hands on, so they get out of the water and get into each other.
First, Johnny shows Blake how adept he is with a cock in his mouth, then they move on to see how well he does with one in his ass.
If you ask Blake, Johnny gets high marks in both areas, as Blake shoves his rock hard cock deep inside Johnny's hole.
Blake fucks him raw missionary before flipping Johnny over and stuffing him reverse cowboy style.
Johnny strokes his dick as Blake continues to pound, pushing him onto his hands and knees as Blake proceeds to fuck him doggy style.
He pulls out and blasts Johnny's back, then flips him over and sucks the nut out of him.
Johnny gives him a massive facial as the sunlight begins to fade outside, with just enough time for one last post-coital splashdown…Join them!
Blake Hunter gay porn scenes at Men.com
Blake Hunter and Justin Matthews are in the pool relieving some tension when a horny Will Braun spots them and walks over so he can get in where he fits in, and that is between both men sucking dick and taking dick…Join them!
Michael Roman tests Blake Hunter's skills to the max when he has to train him hard. He finds that Blake is more than up for any challenges beyond boot camp…Join them!