My gay porn pics and gay porn videos of Woody Fox.
Hair Color: Brown
Sign: Unknown
Eye Color: Green
Dick Size: 8.5 inch dick
Height: 6'0″
Cut / Uncut: Uncut / Uncircumcised
Weight: 176lbs
Sexual Positions: Top
Woody Fox gay porn scenes at Raging Stallion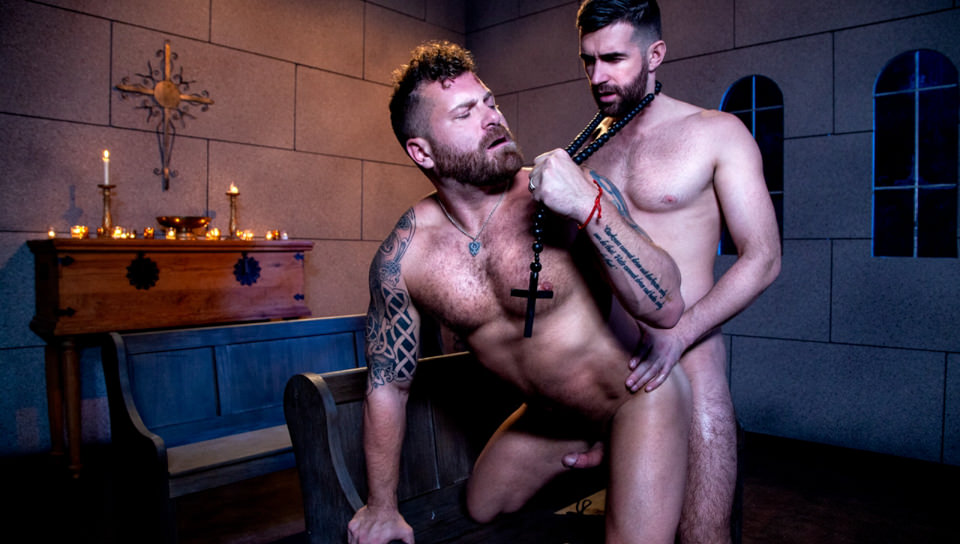 Riley Mitchel has survived his run-in with two armed robbers and has questions about the ordeal. In his moment of need, Riley turns to The Church and Father Woody Fox for spiritual guidance.
Riley gets what he came for and more when Woody throws back his cassock to reveal a massive uncut dick. Riley takes one look at the giant cock and opens his mouth wide to worship The Fathers holy member. Woody can't control the temptations of the flesh and takes his turn in front of Riley, getting his face fucked deep until he's ready to get his dick wet again.
Riley knows what the priest seeks and offers up his ass to be sacrificed for forgiveness. Woody can't clean Riley of sin fast enough and plunges his cock in to start pumping. Riley moans with each thrust of the long cock but needs to feel it even deeper.
The priest sits back in the church pew to let Riley ride it down to the base. Riley sits on Woody's big pole and rides it up and down as his ready-to-burst cock flops against his stomach. Riley's tight ass feels amazing surrounding Woody's dick and he can no longer hold off.
Riley gets down between Woody's legs to let the priest unload his holy cum on his face. With a fresh load in his beard, Riley lets loose and pumps his cock until it spews cum all over his own heaving, sweaty body…Join them!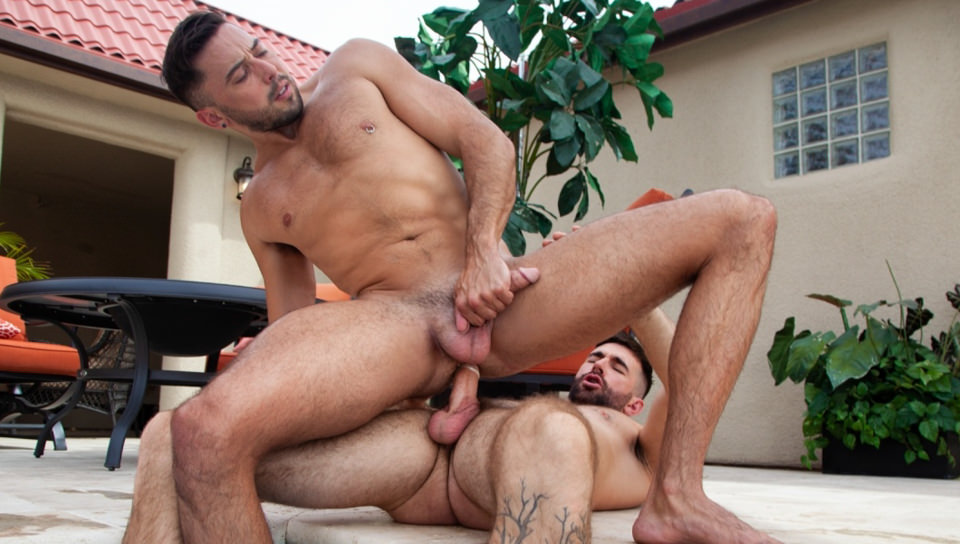 Drake Masters wants to film Woody Fox and Shane Jackson for his fan page and invites them over to take a dip in his pool. He installs a camera in the backyard and lets the guys go at it.
The two studs get in the water and Shane immediately bends over to let Woody eat him out. Woody laps up Shane's hairy hole until he decides he wants Shane to suck his uncut dick. Shane can't resist such a nice cock and happily takes it in his mouth and down his throat.
He services the hung stud until Woody can no longer fend off his desire for Shane's tight hole. Woody pushes his pole in Shane's ass from behind until Shane wants to take a ride. Woody lies back on the edge of the pool as Shane hops on and rides the big dick.
Shane's ass feels amazing surrounding Woody's cock and it brings Woody all the way to the brink. Shane is hungry for Woody's cum and Woody is eager to give the stud what he wants. Woody pulls out and stands over Shane as he pumps his hard cock.
Woody's balls tighten and his body tenses as his dick explodes all over Shane's face. Shane eagerly sucks what's left out of Woody's dick as he jacks himself off and blasts his own tight abs with cum….Join them!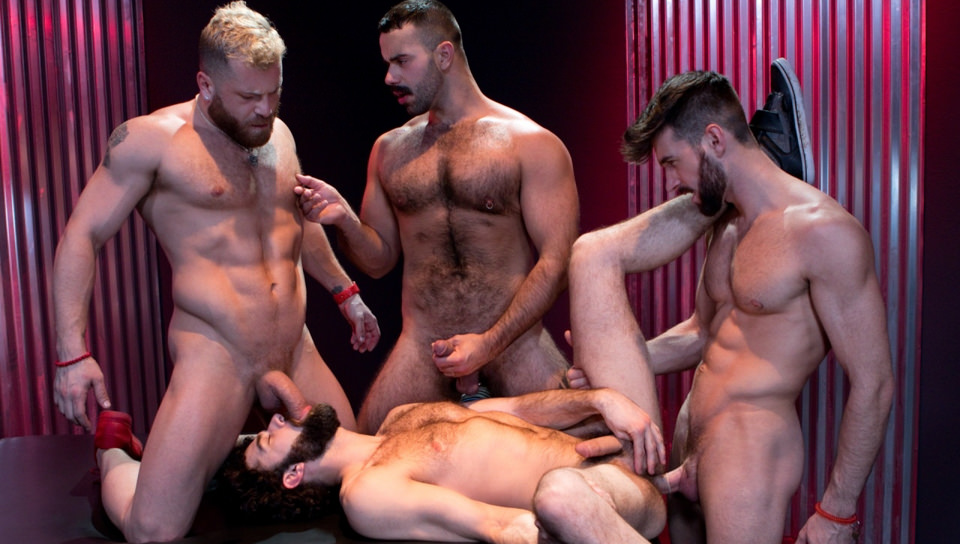 Tegan Zayne finds himself home alone and decides to hit the sex club. He's barely gets in the door when he runs into Woody Fox standing by the lockers with his uncut dick in his hand.
The two exchange glances and soon Tegan is on his knees servicing the hung stud's big cock and balls. As Tegan continues sucking on Woody's dick, they can hear another couple having sex nearby.
They decide to explore the club and come across Teddy Torres getting railed by Riley Mitchell. Woody and Tegan find a spot near the new couple and as Riley pounds away on Teddy's ass, Woody gets behind Tegan to fuck him deep.
Teddy and Riley don't wait for an invitation to join the fun and soon Riley and Teddy have their dicks down Tegan's throat as Woody continues to fuck him.
Tegan loves being the hole to be used by every other dick in the room as the guys all take turns on his face and asshole, pounding away to get their own satisfaction.
All the hot action surrounding him makes Woody the first to blow. He dumps his load all over Tegan's face and as Riley laps it up; he's the next to go.
Watching Tegan get his face doused in cum is all it takes for Teddy to let loose. He covers Tegan's hairy patch of pubes with creamy white ropes before Tegan is the last to blow.
Tegan is left as a sloppy, sticky mess covered in the loads of four extra-hung studs…Join them!
Woody Fox gay porn scenes at Hothouse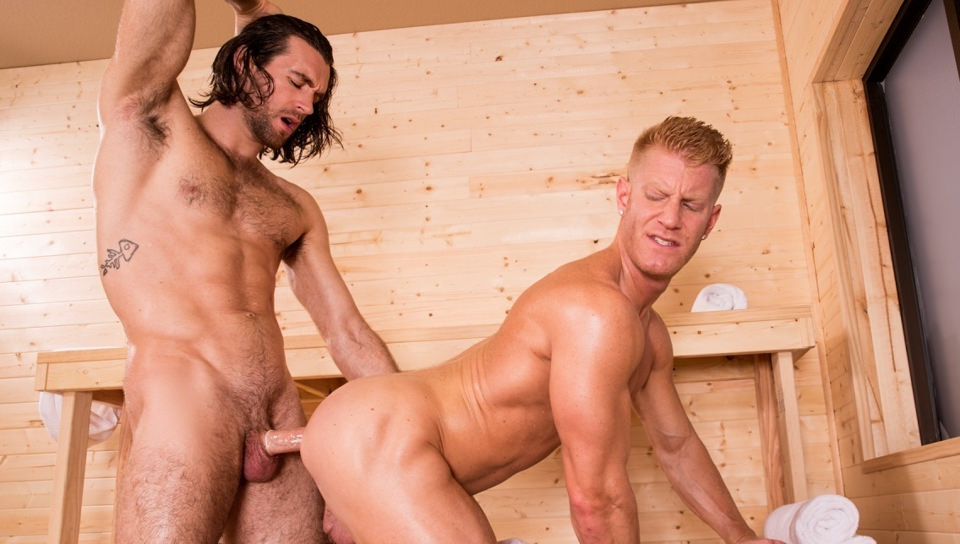 With beads of sweat across their chests, things are heating up with Woody Fox and Johnny V in the sauna. Pulling the towel off his hairy, muscled body, Woody Fox reveals his enormous, throbbing boner.
Eager to show himself off, ginger-haired muscle man Johnny V reveals his own enormous manhood as he leans over to swallow Woody's cock. As Woody's cock massages the back of Johnny's throat, Johnny's cock starts leaking precum in a long, dangling strand.
Eager to get a taste of that, Woody goes down and wraps his lips around Johnny's cock while stroking himself. Thick spit lubes the shaft of Johnny's thick cock as Woody sucks, and Woody uses some of that spit to lube up Johnny's ass.
Bending over, Johnny gives Woody full access for a slobbering rim job as even more precum drips out of Johnny's cock. Sitting down on the bench, Woody invites Johnny to go for a ride on his cock, and Johnny uses his thick, muscular legs to raise and lower himself on Woody's enormous dick.
Switching to doggy style let's Woody show off his athletic thrusting as Johnny's hard meat swings through the air. As Woody fucks faster and faster, Johnny strokes his cock and shoots a massive, spurting load.
Woody grabs his cock and blasts an enormous cumshot onto Johnny's firm ass cheek. With their session complete, Johnny heads off to hit the showers as Woody catches his breath in the sauna…Join them!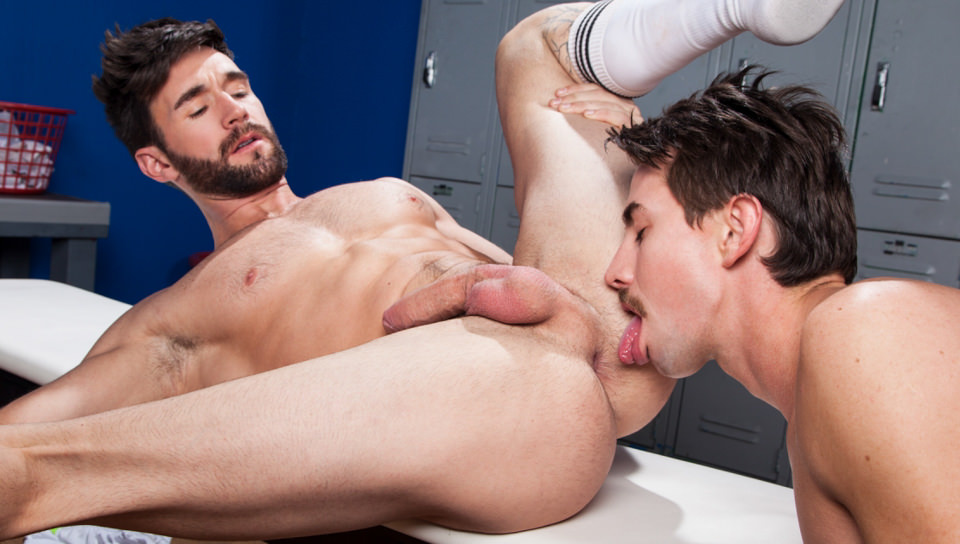 Jack Hunter hurts his ankle playing soccer when Woody Fox comes to his aid and helps him back to the locker room. Woody makes a slip of the tongue when he offers to rub Jack out.
Despite the mistake in wording, Jack likes what he hears and sits back on the bench to let Woody have his way. The two jocks lock lips to get each other revved up before Woody peels off his uniform and offers up his thick, uncut cock.
Jack can't believe his eyes and opens his mouth to wrap his lips around his teammates giant boner. All the sucking makes Jack hard as a rock, which doesn't go unnoticed by Woody who helps Jack out of his uniform.
The studs take turns sucking each other until Jack decides he wants to play center on Woody's massive pole. Jack rides it deep as his own thick cock and low-hanging balls flop up and down with each plunge from Woody's dick.
Woody overpowers his teammate and bends Jack over the bench to shove his cock into his goalpost even further. With Woody above him fucking his ass, Jack jerks his cock until he shoots a load all over his own leg.
Not to be outdone, Woody pulls out and stands over Jack's face, who takes a thick load all over his tongue…Join them!
Woody Fox gay porn scenes at Falcon Studios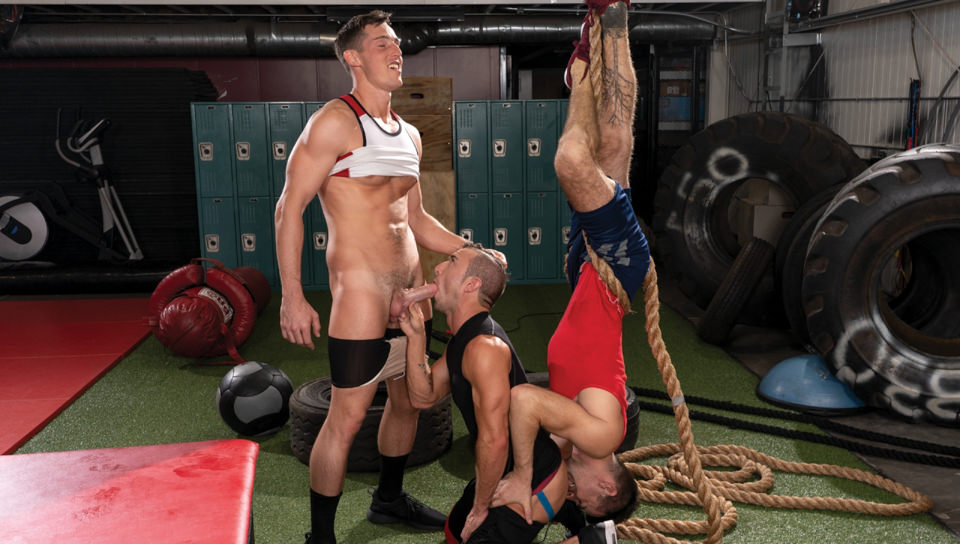 Grant Ryan, Woody Fox and Steven Lee are all working out separately at the gym. When Woody gets upside down on a rope and drops his phone, Steven helps him out and hands it back to him. Woody thanks Steven with a kiss that catches Grant's attention.
Eager to join the action next to him, Grant jumps in to start sucking Steven's raging hard-on. The three studs take turns kissing and sucking cock until Grant hops on top of Woody to get his ass eaten while he sucks two dicks at the same time.
Steven kicks it up a notch when he gets behind Grant and slips his thick pole deep into Grant's hole. Woody has a front row seat with his face positioned under the action so that he can eat Steven's ass while the stud continues fucking Grant.
Woody wants his turn with Grant, and the studs change it up again to spit-roast Grant with Steven plugging his face with cock and Woody fucking him from behind. Woody and Steven keep pounding away on Grant's holes until they're ready to blow their loads.
Woody is the first unleash when he pulls his uncut rod out of Grant's mouth and covers the stud's face with a fresh load. With his face covered in cum, and Steven still pounding his hole, Grant is the next to go and coats his own body full of more jizz.
That's all it takes for Steven to give way and he finishes up the threesome with a load of his own to leave Grant sticky and covered with cum….Join them!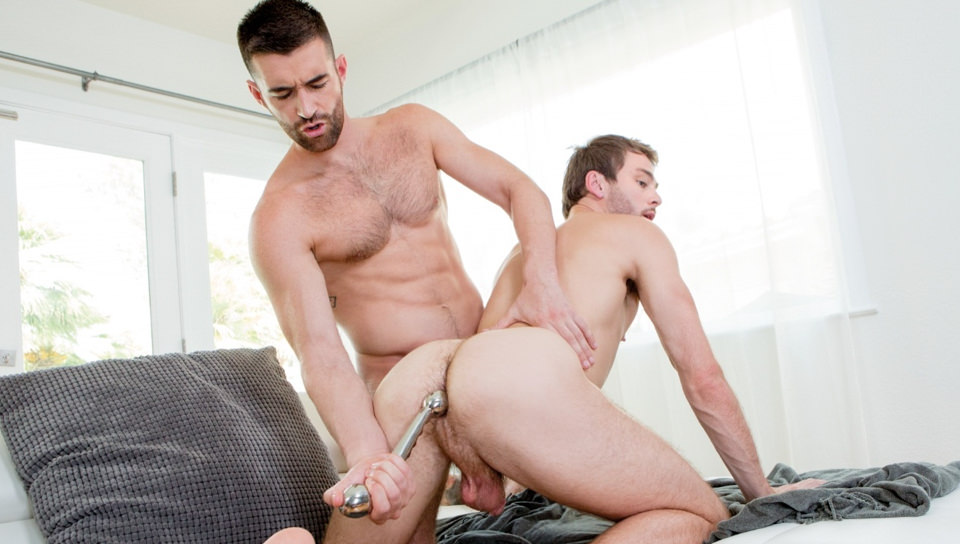 When Woody Fox starts his new job writing about consumer products, he's in for a big surprise when he discovers the products are actually sex toys. He immediately calls his buddy, Max Adonis, to help him try them out and the two waste no time getting to know the new toys.
The studs ditch their clothes and Max gets on his knees to service Woody's big, uncut hard-on. When Woody is as hard as he can be, he caves to his urges and decides to play with the toys. He bends Max over and plunges his hole with a big stainless-steel dildo.
It feels amazing to Max as it stretches his ass and prepares him for Woody's giant cock. When Woody senses that Max is ready for the real thing, he stands up and slips it deep into Max, pumping harder as he goes deeper on the ripped stud.
Max is fully open when Woody asks Max to ride his dick. Max is happy to give Woody what he needs and hops on to take the giant dick. The two switch it up one last time with Max getting plowed on his back until Max decides he needs to taste Woody's cum.
He rolls over and finishes his sexy buddy off with a hand job pointed right into his own mouth. After Woody blasts his cum into Max's mouth, he helps Max out one last time by shoving the dildo back into his ass until he blows his hairy cock all over his own writhing body…Join them!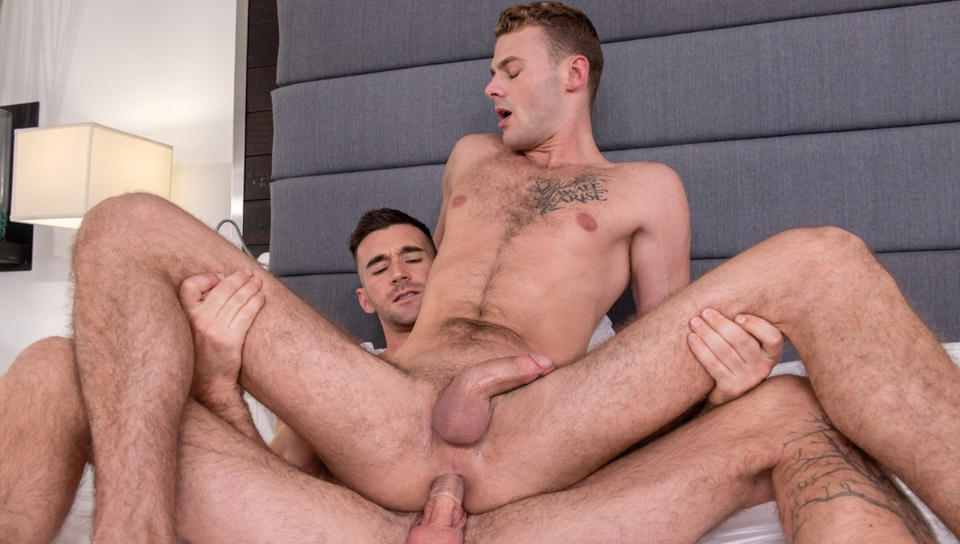 Dave Slick is on the verge of getting kicked out of the cam house by taskmaster, Woody Fox due to his low numbers in previous shows. To keep his place in the house, Dave needs to get his viewer count up with a live sex show.
Woody gives Dave an ultimatum that leads the two hunky studs to the bedroom where Woody turns on the camera and unzips his jeans. Dave is eager to dive in and takes Woody's big, powerful, uncut dick in his mouth until he's ready for more.
Dave wants to get fucked and opens his legs wide to let Woody tongue-fuck his smooth hole. Woody can see what Dave needs and instructs Dave to bend over and spread his cheeks. Dave does as he's told and soon Woody slides his long dick deep into Dave and starts pumping.
Dave's dick flops back and forth and Woody's ripped abs flex while skin slaps. Woody wants Dave to do some of the work and tells his housemate to site on his uncut fuck-stick. Dave hops on and bounces on the hung Aussie's giant cock as Woody slides balls deep into Dave's hole.
Both hung studs are working their way towards the ultimate climax when Woody throws Dave onto his back for one last pump sesh. Woody pounds away until Dave shoots his load all over his own hairy chest.
That's Woody's cue to stand up and cover Dave's body with thick ropes of cum that leaves the heaving stud drenched and wet with jizz…Join them!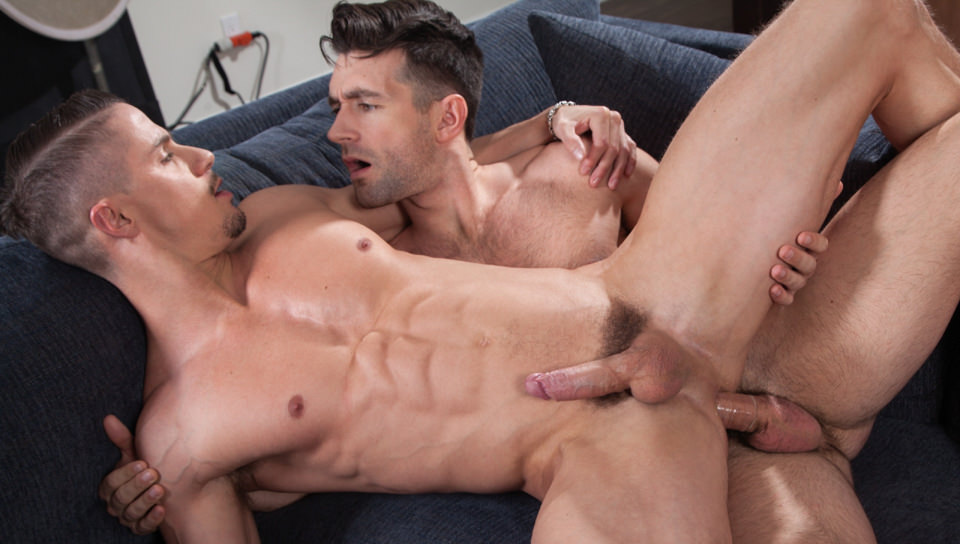 Skyy Knox has left the set after a dispute with another performer and when Zack (Woody Fox) chases him down to console him, the comfort quickly turns to lust as the two lock eyes and start making out.
Skyy's towel quickly drops to the floor and Zack's pants are soon to follow as Skyy goes in for a taste of what his producer has to offer. Skyy loves the taste of Zack's massive cock and could stay between his legs for days if he could.
As much as Zack loves the oral attention, he's not going to let Skyy's ass slip away from him so easily. Zack bends his star over the back of the couch and goes directly into his hole with his tongue, giving long broad strokes from balls to back until Skyy is begging for a dick up his ass.
Zack isn't one to let his guys down and slides his dick into Skyy, going slowly at first and building to a frenzied fuck as Skyy demands harder and faster pumping. Skyy wants Zack's dick even deeper inside of him and after getting plowed on his side, hops on to finish himself off as he rides Zack's pole.
Skyy is rock hard with a dick up his ass as he blows his load all over his own cut abs. Skyy is still hungry for more and opens his mouth wide as he hops off Zack's cock to take a massive creamy facial before he gobbles up all the cum….Join them!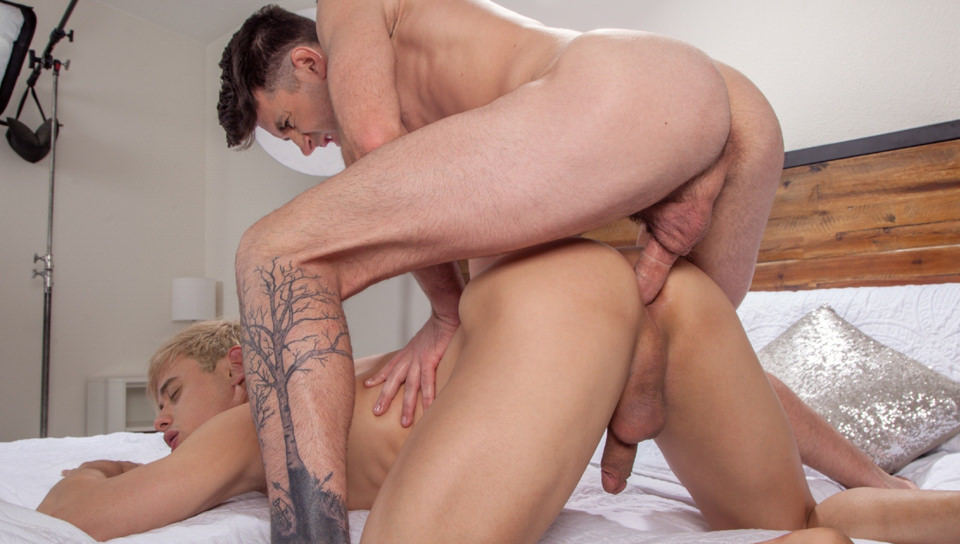 With the crew on break from Zack and Jack's porn production, Zack (Woody Fox) finds himself alone on set with social media superstar, Alam Wernik. Alam is eager to show off his assets and asks Zack if he wants to touch it.
Zack can't resist the temptation and soon finds himself tongue-deep in Alam's smooth hole. Alam opens up with each probing flick from Zack's tongue. It's all the invitation Zack needs to rip off his clothes to see what else Alam has to offer.
Alam turns around to get Zack's giant cock in his mouth and works it until Zack is hard and ready to go. Zack is fixated on Alam's perfect tight ass and can no longer resist his instincts as he slips his extra hard dick into Alam's hole.
The muscle stud pounds away on his porn star's butt, opening him up and making him beg for more. The guys mix it up when Alam rides Zack pole before he gets on his back to let Zack drill even deeper.
With Zack in complete control, he slams Alam's hole until he makes the young stud blast his load all over his tight body.
With the sight of all that cum dripping everywhere, Zack has Alam suck his dick one last time until he creams all over Alam's face…Join them!
Muscle stud Woody Fox hits the outdoor showers at the campgrounds. Hidden beneath enormous redwoods, the area offers up some instant excitement when Woody spies Seth Santoro naked under the water. Slowly stripping down, Woody casts subtle glances towards Seth, and Seth looks over his shoulder to return eye contact.
As Woody turns on the water in the next shower stall, he turns around to show off his swelling cock. Working the soap into a thick lather, Seth scrubs his muscular butt, then invites Woody to help wash his back. As Woody walks up from behind, his massive boner thrusts into Seth's ass cheeks.
With the water running over their bulging muscles, Seth and Woody turn to each other and kiss passionately. Sinking to his knees, Seth inhales Woody's enormous uncut cock. The oral service works Woody up to the point where he's eager to get a taste of Seth's tight hole.
Spreading Seth's meaty ass, Woody dives in tongue first for an epic rim job that has Seth eager for more. Moving to a nearby bench, Woody alternates between rimming Seth's ass and sucking his thick cock. Legs in the air, Seth eagerly awaits Woody's massive tool inside of him, and Woody delivers.
With powerful thrusting, Woody dominates Seth's tight hole. Turning around and bracing himself against the shower wall, Seth takes Woody's cock doggy style. When Woody sits down on the bench, Seth lowers himself down on Woody's meat and uses his powerful legs to ride it up and down.
Woody starts to thrust up from beneath Seth, which makes Seth's hard cock shoot a massive load. Kneeling down, Seth opens his mouth and catches Woody's load in his mouth…Join them!
Walking down a woodland path, handsome Woody Fox searches for some remote cruising grounds. Reaching into his shorts, he fondles his long, hard dick, waiting for a hot piece of ass to come his way. Along comes muscled jock Jeremy Spreadums.
For a moment, Jeremy lingers in the brush, staring in awe at the beautiful man exposing himself out in the open. As Woody strokes his cock invitingly, Jeremy emerges from the brush and cops a feel. They strip as they make out, and Jeremy falls to his knees to service Woody's huge meaty cock.
With long strokes of his tongue, Jeremy spreads his thick spit up and down Woody's long, curved shaft. Strings of spit connect the tip of Woody's cock to Jeremy's lips every time he pauses to take a breath. With his hands guiding the back of Jeremy's head, Woody flexes his six-pack abs and thrusts his hips.
While using his hand to rub the tip of Woody's cock, Jeremy uses his mouth to suck on Woody's heavy balls. Pulling down Jeremy's shorts, Woody falls to his knees and gulps down Jeremy's rod. As Woody's lips pass over the sensitive tip of Jeremy's cock, Jeremy's bulging pecs and rippling abs flex in the forest light.
Trading places again, Jeremy strokes his cock while sucking Woody off faster and faster. Reaching down, Woody jerks his cock until it explodes with gushing jets of cum. His load drips off Jeremy's chin and down his chest, which sets him over the edge.
As he strokes himself, Jeremy explodes streams of cum that splatter onto the hard-packed trail…Join them!
Republished by Blog Post Promoter