All gay porn videos and gay porn pics of Vincent OReilly.
Hair Color: Brown
Sign: Unknown
Eye Color: Brown
Dick Size: 8 inch dick
Height: 5'9″
Cut / Uncut: Cut / Circumcised
Weight: 165lbs
Sexual Positions: Versatile
Vincent OReilly gay porn scenes at Men.com
As his sexy masseur Vincent Oreilly runs his talented hands all over his oiled-up body, all Nic Sahara can dream of is feeling those fingers on his hard cock.
Luckily, Vincent has just the same thing on his mind as he reaches under the towel and begins massaging Nic's hard meat.
Nic enjoys the sensations as Vincent works his shaft while kissing his chest, and soon he's massaging that dick with his mouth instead.
Next it's Vincent's turn to hop up on the table as Nic eats his ass and fucks him doggy style and spoon before Vincent rides that cock.
Vincent cums hard as Nic pounds his hole before the top pulls out and shoots his load…Join them!
Dalton Riley is really excited to have some fun on set with tanned and tattooed hottie Vincent Oreilly.
Dalton describes how he got into the industry, a few of his favorite things, and everything he wants to do with Vincent today before his sexy scene partner enters and takes a seat in his lap.
The guys' arousal ramps up as they kiss, and Vincent gets right down to sucking Dalton's big dick. Dalton wants to taste Vincent's hard cock and his ass, then fucks him deep in bareback doggystyle.
Vincent rides Dalton and begs for every inch of that dick as he cums, before Dalton leaves a massive load all over Vincent's face…Join them!
Vincent OReilly gay porn scenes at Guys in Sweatpants
My favorite videos are when you have two guys who just love to fuck/get fucked, who love it raunchy, and who get so into it that they forget they're being filmed just like this video.
If you couldn't tell, eating ass is one of Dario's favorite things to do, especially when it looks like Vincent's.
And I made sure Dario knew Vincent loves getting choked out while getting fucked, which was right up Dario's ally so they were both in heaven…Join them!
Vincent OReilly gay porn scenes at Reality Dudes
I pulled up to the park and caught sight of a super hot dude with a big butt doing calisthenics, so I just had to go see if he would talk to me.
Vincent Oreilly said he's working on training before signing up for the army, and since's he's trying to save up for college he didn't even hesitate when I offered him some cash to take off his shirt and flash that juicy ass.
I even got him to give me a peek at his dick, and that big thick cock made me want more.
We headed to a hotel room where I got him to start jerking off while I watched, and soon he was letting me rub his cock and even giving me head.
That big ass felt so good stretched around my dick.
It must have felt pretty good for him too, because once I pulled out to cum on his chest he shot a big load right after…Join them!
Vincent OReilly gay porn scenes at Hothouse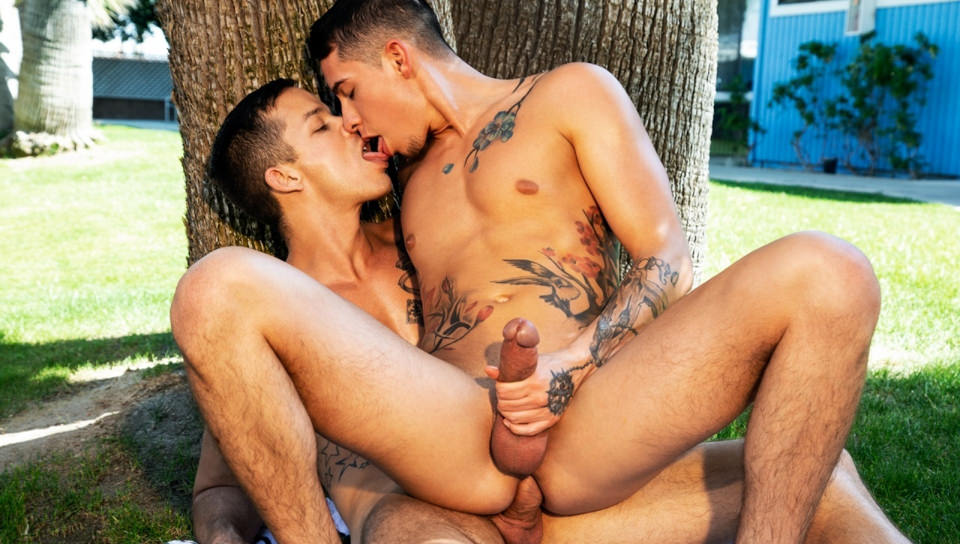 Nic Sahara is checking out the scene at the pool of the resort when he comes across horny stud, Vincent O'Reilly. Nic wastes no time as he walks over to Vincent to feed the waiting stranger his hard cock.
Nic works fast and straddles a lounge chair to face fuck Vincent hard, gagging his mouth with his big uncut cock. Nic can't get enough of the ripped hunk deepthroating his rod and bends Vincent over to inspect his hole.
He slips his fingers into Vincent's ready ass, teasing the stud until he's ready to give Vincent something more. Vincent braces himself on a palm tree as Nic slides his thick, bare hard-on deep into Vincent's slick hole.
Nic starts out slow, then picks up the pace as Vincent moans from the intense bareback pounding that Nic is delivering. Vincent loves every inch of Nic inside him and moves to sit on Nic's hard cock.
Vincent rides, keeping both of them on the brink until neither hunk can hold off any longer.
Both hung studs let loose and shoot their loads all over each other's panting, hard bodies.
Nic isn't quite done yet and scoops up their cum to lube his still-hard cock before shoving it back into Vincent's ass to feel the inside of his hole one last time…Join them!