All gay porn videos and gay porn pics of Vadim Black.
Hair Color: Black
Sign: Aries
Eye Color: Green
Dick Size: 6.5
Height: 5'7″
Cut / Uncut: Uncut
Weight: 150
Sexual Positions: Versatile
Vadim Black gay porn scenes at Falcon Studios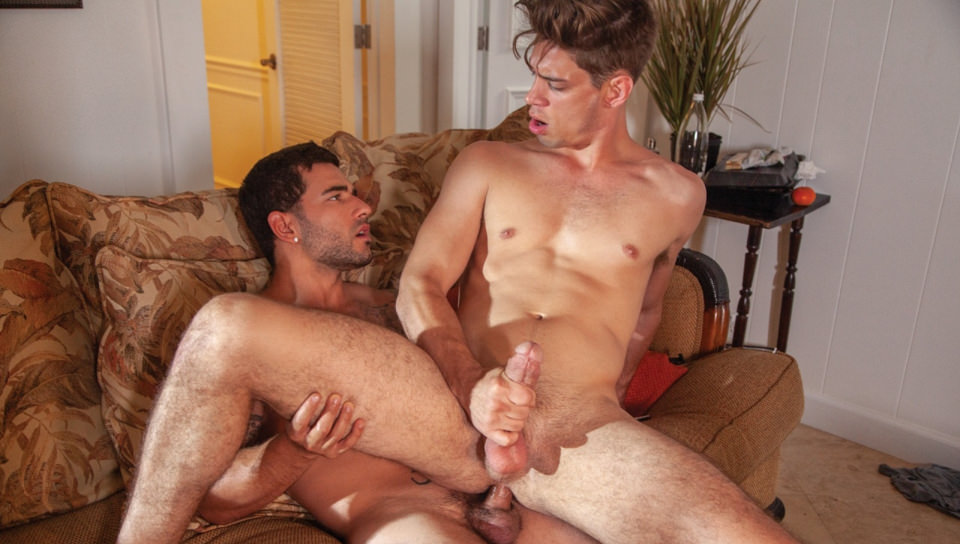 Michael Delray is skating down the Boulevard when he runs into Vadim Black hanging by the beach. The two buds head off to burn and soon one thing leads to another. Vadim makes the first move and reaches up Michael's tight shorts to feel his thick meaty hard-on.
Michael doesn't waste a second and peels of his shorts to grant Vadim full access to his big cock. Vadim sucks it hard until Michael decides he wants a taste of his buddy. Michael gets on his knees to take Vadim down his throat.
Rock hard, Vadim pulls out his phone to film this buddy sucking him off. After feeding Michael his cock, Vadim bends Michael over for a quick taste of his ass before he slides his big, bare pole deep into Michael and pumps hard, while he pumps him for info on where he got the weed.
Michael is horny as hell and takes over the work riding Vadim's dick. He rides it deep as his own hard cock flops up and down. Vadim wants to fuck Michael his way and flips the stud over onto his back and continues the raw fuck session until he makes Michael spill his load all over his own tight body.
With Michael covered in pure white jizz, Vadim blasts off his own load. He pulls out and shoots thick ropes all over Michael's ass before he shoves his dick back inside to enjoy one last feel of Michael from the inside.
With information spilled by Michael, does Vadim have more sinister plans?…Join them!
Vadim Black gay porn scenes at Men.com
Chiseled hottie Vadim Black loves working in the auto body shop, and being surrounded by greasy men all day.
His horny juices get so revved up at the mere thought of leather and metal. Hung and ready to fuck, he takes full advantage of beefy hunk Daxx Carter and ripped, cute Aspen as they swap spit and blowjob duties in this hot threesome….Join them!
Sexy, dark-haired Vadim Black and athletic, good-looking Grant Ryan are both revved up and horny after taking a ride in a sweet red convertible.
They waste no time stripping out of their leather driving gear, and sucking each other off. Chiseled Vadim gets all up in Grant's tight hole, and rims him wide open so he can drive his big, thick cock deep into his bottom….Join them!
The boys are being sent off to war, but not before one last hot and sexy romp. Slender Zach Country, beefy Damien Stone, chiseled Vadim Black, fit Brandon Evans and muscular Blaze Austin partake in some deep dick sucking before designating who's bottom will get dominated.
These hard-bodied men know just how to please each other, and can't wait to let off a satisfying creamy load.
Vadim Black gets stopped for speeding while on a suspended license and can't afford to pay the tickets or time. Ashton McKay, the cop, is corrupt enough to take in some ass in exchange for a pass go…Join them!
Vadim Black is practicing his magic tricks for a show when his roommate Derek Bolt interrupts. Vadim asks him to be his test audience and Derek gets just what he wished for in the grand finale…Join them!
Vadim Black and Tobias have no problem sharing Max Wilde's willing hole to a triple cum bursting conclusion…Join them!
Dark forces and sensual secrets are afoot in the secluded mountain town of Twink Peaks. Doomed lovers
Vadim Black and Noah Jones waste no time expressing their lust with puckered holes and raging hard-ons.
They have no idea where it will lead them, but they know it will yield a pleasure both wonderful and strange. Noah pumps his cock far into Vadim's darkest chambers, sending orgasmic shockwaves through both of their cores…Join them!
Vadim Black gay porn scenes at Bromo
Just getting over his ex, John Delta goes back for more fun. Only this time, three mysterious guys show up. When he finds out that his ex (Wesley Woods) is one of them, he decides to show him just how much he's over him by taking on Roman Todd, Vadim Black and Leon Lewis' huge raw cocks as Wesley watches in envy.
John then motions to Wesley to come join the fun and these five guys proceed with one of the hottest, mouth-watering bareback orgies they'll ever have…Join them!
More Vadim Black gay porn scenes at Broke Straight Boys
Vadim Black and Brandon Evans share some similar experiences with their work history, but past experiences aside, these two sexy dudes are ready to bring some fresh flavor to us today. They admire each other's perfect, muscular bodies as they make out, and when they get naked they go down on each other, sucking those big dicks and 69ing while they get harder in each others mouth.
After that oral Vadim bends Brandon's legs over his head and slowly pushes his huge cock into Brandon's ass, gently thrusting that bareback dick in and out as Brandon jerks his own hard member. Vadim goes balls deep in Brandon's tight ass, pounding him as Brandon moans for more and Vadim kisses him while they fuck raw.
Vadim turns Brandon around and takes him from behind, making Brandon's sore ass bounce as he shoves that fat prick in and out until Brandon busts a nut, shooting a huge load across his chest. Vadim pulls out and gives his own dick a few good strokes before he adds his own cum to the mess on Brandon's chest…Join them!
Kaden Porter is still a little nervous about being in the studio, but today he's with Vadim Black, who is a well-known natural at all things sex-related, so he's about to help Kaden relax and take a load off and shoot a load off.
They kiss for a few minutes before Vadim makes the move down to Kaden's cock, working that dick with his mouth and hands as he massages Kaden's balls while he blows him.
When Kaden's cock is hard, Vadim is up next for some oral and Kaden gets right to sucking Vadim's sweet cock, 69ing with him as they both get their dicks worked. Kaden's prick is hard and ready for Vadim's tight ass, and he takes it, sliding his bareback cock in nice and slow while he spanks Vadim and then fucks him harder.
Kaden grabs Vadim's sexy ass as he plows it, trying him in a different position as Vadim bends around for some kisses while getting his ass stretched. Kaden lets Vadim ride his long shaft next, lying back on the bed as Vadim straddles him and bounces up and down on that thick, throbbing cock while he strokes his own dick hard and fast until he unloads his cum all over Kaden.
Vadim leans forward and lets Kaden finish himself off and shoot his load all down his leg and ass as Vadim and Kaden exchange a few last kisses…Join them!
Get ready for some hot cock-sucking and ass-pounding action as Vadim Black and Zeno Kostas get down and dirty in this sexy scene!
Vadim Black, Zeno Kostas, Blake Savage and Brandon Beal are 4 very horny hotties who can't wait to get this fuckfest started! Watch as these boys fuck and suck the cum right out of each other!
Tyler White and Vadim Black get a little kinky in the hot tub as they discuss some of their fantasies and they might just be lucky enough to cross some of those fantasies off their list after this hot scene!
Vadim needs cash, so watch as he sucks Aydens hard-big cock.
Ayden and Vadim are a very hot pair, easy on the eyes and even hotter when they're fucking! Enjoy these two as they give some head and Vadim gets his tight little ass pounded!
Watch as tall and handsome Sergio fucks Vadim's tight Russian ass raw in this super hot scene!
These hot-bodied, well-slung studs are ready to fuck, and Jj wastes no time making that happen as he tops Vadim!
Our little Russian hottie, Vadim, gets his ass-cherry popped by Romeo before seeing what it feels like to be the top lots of hot bareback action in this scene!
Vadim Black returns to plug some male tail. Tate Thompson's hole is stuffed with the newbie's uncut meat. First kisses and blowjobs are shared. When it's time for the fucking, Tate gets on his side. Vadim breaks the ass seal and pounds to the creamy end!
Today we bring you a very sexy scene from Paul Canon and the new guy Vadim Black. Paul shows Vadim what a great blow-job feels like. The newbie is hooked from the start, moaning and groaning. Look for the end, when Paul drinks Vadim's man milk!
Sexy boy Vadim Black will make you cream your pants! His face, body, and uncut dick are made to eat. The newbie doesn't even mind showing off his delicious backside. He strokes his pole and pops a hefty load. Watch for the end when takes a taste of jizz.
Republished by Blog Post Promoter