All gay porn videos and gay porn pics of Tyler Roberts.
Hair Color: Brown
Sign: Unknown
Eye Color: Brown
Dick Size: 8.5 inch dick
Height: 6'0″
Cut / Uncut: Cut / Circumcised
Weight: 189lbs
Sexual Positions: Top
Tyler Roberts gay porn scenes at Falcon Studios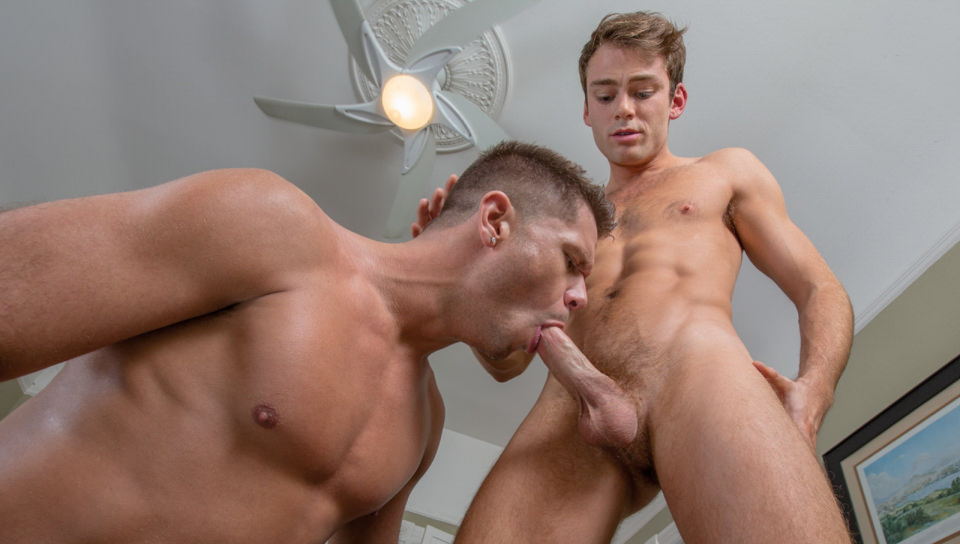 Tyler Roberts is delivering a pizza to Max Adonis when Max comes up short on cash. Tyler takes notice of Max's cute ass and body and throws out a few alternative options for payment; Tyler suggests that Max suck his dick.
With no other way of paying, and with a raging hunger for cock, Max agrees and gets on his knees. Max's mouth feels amazing wrapped around Tyler's impressive thick dick and soon the delivery guy is balls deep in Max's throat. He face fucks the eager hunk as he closes his eyes and enjoys every second.
Tyler wants a taste of Max's ass and throws him back on the couch to see what the fit stud has to offer. Tyler works his way up Max's hairy balls to his throbbing cock and takes it in his mouth to return the favor by sucking Max's dick.
Max plows the mouth of the hung delivery stud before lying back one last time to let Tyler eat him out to a creamy finish. As Tyler gets in deep with his tongue, Max blasts his load all over his own ripped body.
That's Tyler's cue to feed the hungry stud and with Max underneath him, eyes and mouth wide open, Tyler lets go and showers Max's face with cum…Join them!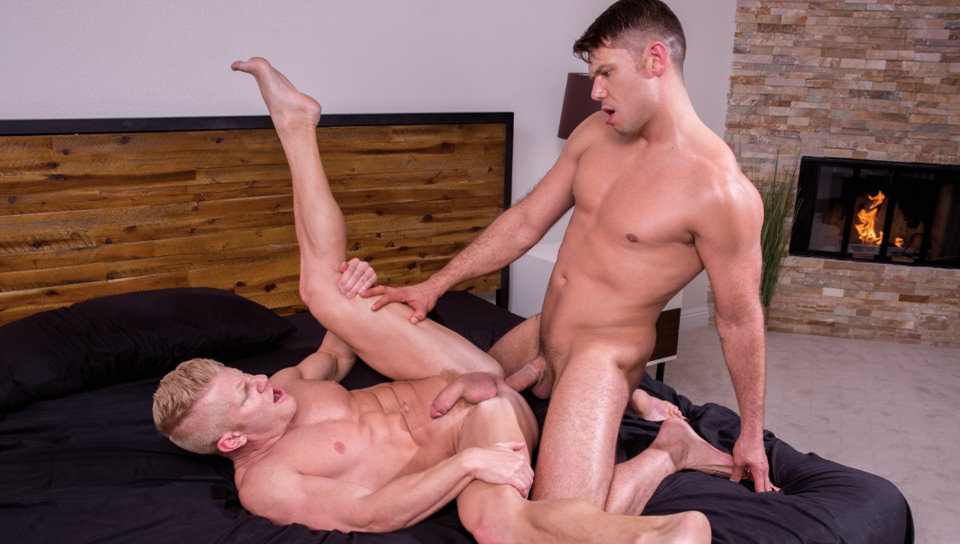 Tyler Roberts rings the doorbell to deliver a package to Johnny V's house. It's been raining and Johnny invites Tyler in to dry off.
Johnny asks, 'is that package for me?' and reaches for Tyler's bulge in his shorts. It's not long before Johnny has Tyler's shorts around his ankles and sucking his thick cock down to his balls.
Tyler likes the service Johnny is performing on him and moves him to the bedroom for more oral action.
With the taste of Tyler's cock on his lips, Johnny bends over and lets Tyler lick his way in and around Johnny's hairless hole. Tyler can tell he likes it and brings things up with a couple fingers in Johnny's ass.
Tyler wants that ass and positions himself behind Johnny and drills him deep.
Johnny takes it from behind before getting on his back to take a prostate pounding so hard it makes him shoot thick ropes of cum onto his ripped abs.
When it's Tyler's turn to release, he delivers one last gift of cum into Johnny's open mouth…Join them!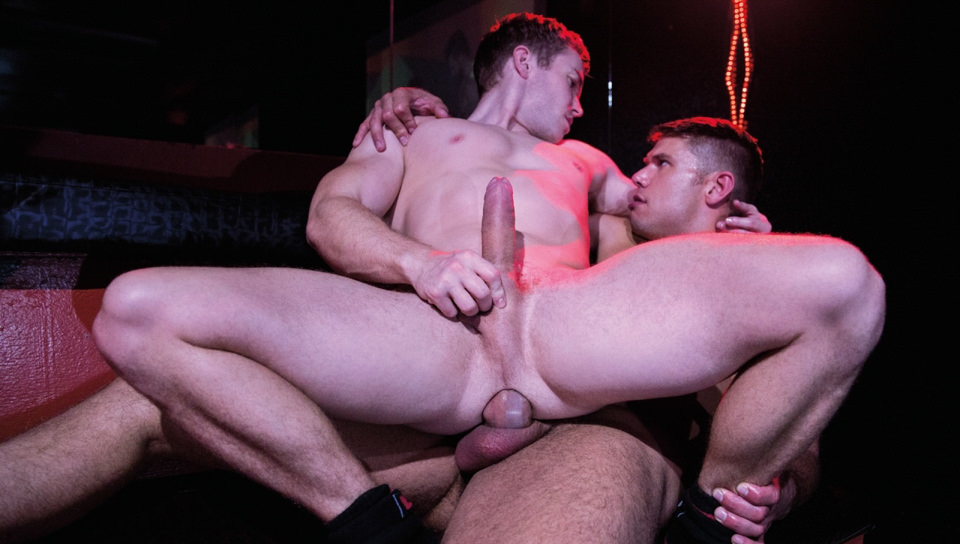 Gabriel Cross is jacking his thick, uncut pole watching porn at the sex club when Tyler Roberts walks by to lend a helping hand.
Without words, Tyler pops a finger into Gabriel's tight hole and opens his pants to show Gabriel what he's about to receive.
Tyler is already fully hard and Gabriel can't wait to wrap his lips around the massive dick.
After giving Tyler a sopping wet hummer, Tyler flips Gabriel around so the two hung studs can 69.
After both guys get their throats fucked, Tyler takes the action to a new level by bending Gabriel over to open his ass with his mouth.
When Gabriel is lubed up and ready, Tyler bends the hunk over and sinks his fat cock inside as Gabriel moans out with delight.
Tyler goes slow at first to let Gabriel get accustomed to his dick, then all bets are off.
Tyler's rhythm speeds up and soon he's pounding Gabriel with all 8.5′ of rock hard cock.
Gabriel wants to watch Tyler fuck him as he cums and rolls onto his back to continue taking the pile drive from the big dick.
With Tyler plunging in and out of him, Gabriel blows a massive load that gets Tyler ready to burst.
Tyler pulls out and drops his load all over Gabriel's ass that he promptly licks up with his tongue…Join them!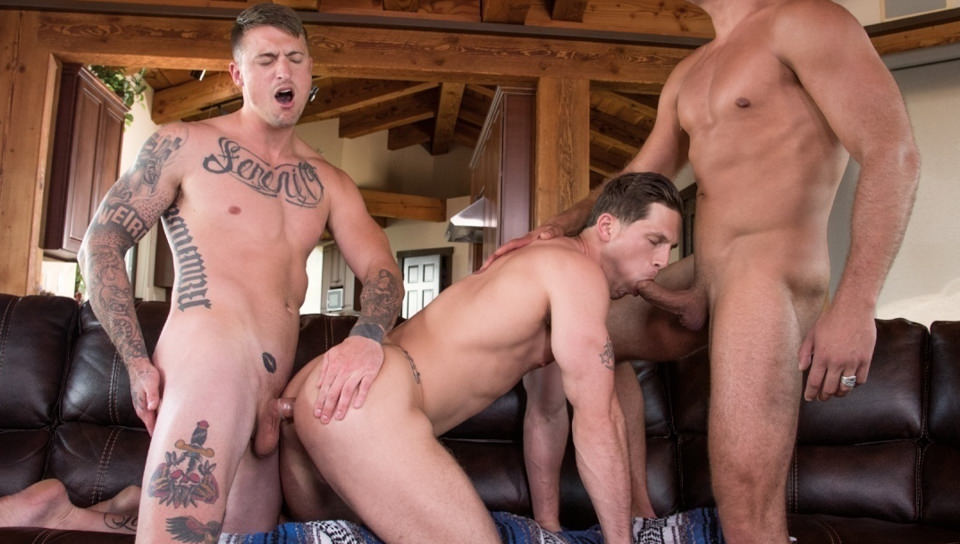 After a day of surfing, Dane Stewart and Tyler Roberts are chilling on the couch watching some football when Roman Todd enters and sits between them.
Roman notices that Dane is watching porn on his phone and decides that it's way better than the football. He reaches out and puts each hand on a crotch and soon all three buddies are naked and throbbing hard.
The sight of the massive dicks in front of him gets Tyler in the mood to suck and he's the first to go down on Roman. The guys take turns sucking each other off with no one left out of the action.
Tyler wants a taste of Roman's sweet hole and spreads his legs for better access to rim him deep. After Roman is fully opened up, Dane steps up to be the first one inside.
He slips his dick deep inside and fucks the stud as Tyler gets him from the front. After getting reamed from behind, Roman wants to test the waters with Tyler's big dick.
Tyler sits down on the couch as Roman rides him. The studs take turns tag teaming Roman's willing ass and finally, as Dane is is back inside, Roman lets loose and blows his load all over his tight body.
When Tyler sees the pleasure that Roman is feeling, he steps up to his buddy and offers up his load to cover the panting stud. Dane is the last to go, and when he finishes, Roman is dripping wet.
Now, all three are grateful for a satisfying day at the beach…Join them!
Republished by Blog Post Promoter