All gay porn pics and gay porn videos of Ty Thomas.
Hair Color: Blond
Sign: Unknown
Eye Color: Brown
Dick Size: 8 inch dick
Height: 5'9″
Cut / Uncut: Cut / Circumcised
Weight: 165lbs
Sexual Positions: Versatile
Ty Thomas gay porn scenes at Next Door Studios
When Ty Thomas arrives at the location given to him by the masseuse's assistant, he never expected such swanky digs, but he has to admit it's kind of a nice change, and when his massage accommodations are upgraded to the master suite, Ty is feeling pretty lucky.
But his luck has only just begun, as Dalton Riley slowly eases Ty into a relaxed state of arousal, pushing all the right buttons to unlock Ty's buttoned up disposition.
And when Dalton makes his move on Ty's beautiful hole, Ty doesn't resist, so Dalton dives in head first and gives Ty the full service attention that Ty so desperately needs.
They work out all the kinks in a very kinky way, as the two of them suck each other off, before Ty lets Dalton fuck him any way he wants.
By the time they've both cum, Dalton decides that Ty can have his massage free, and maybe a whole lot more in the future…Join them!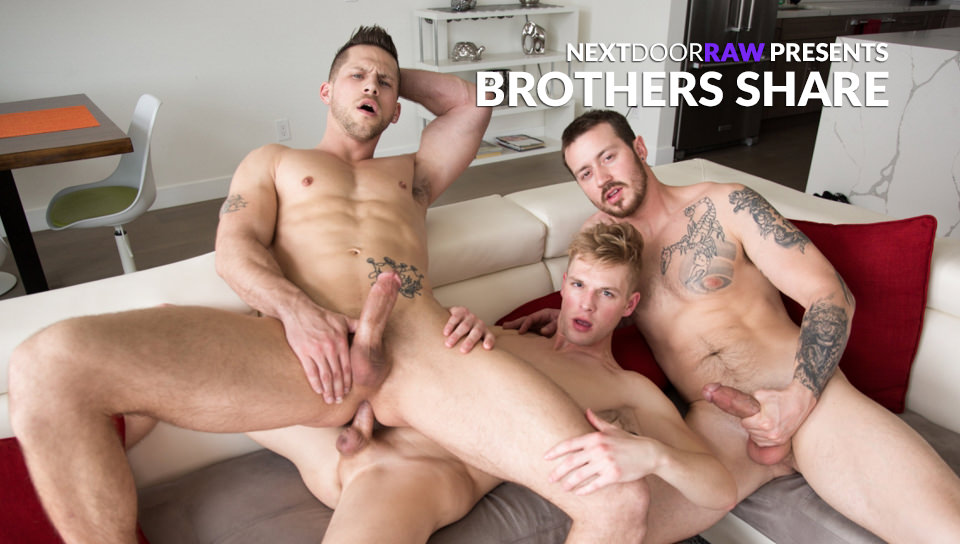 With his latest fuck buddy set to come over later, Mark Long asks step-brother Roman Todd if he's interested in a little tag team action. Roman is always down but he asks Mark if his dude will be into it.
Mark tells Roman to just wait until they start and then to join in, and that they'll figure out the logistics later. So when Roman hears the sounds of pounding ass going on upstairs, he takes that as his cue and creeps up the stairway.
As he gets to the top, he sees Mark banging Ty Thomas from behind, with Ty's head buried in a cushion. Mark motions for Roman to come over and undress, and once he does, Mark silently directs him to switch places with him.
Mark pulls out and Roman shoves his cock in, and Ty is none the wiser as both brothers take turns having their way with him. Mark watches Roman get all up in Ty's ass and decides to nudge up behind Roman, slipping his cock inside Roman's raw hole as Roman continues to fuck Ty.
Soon enough, Ty discovers whose cock is pounding him, and though he's intially stunned and upset, he quickly agrees that whoever has been fucking him has been doing it right.
So the three of them move over to the sofa where both brothers take a turn riding Ty's cock. Mark barely gets Ty's cock inside of him when Ty has to spit his load, so Mark decides to mount Roman, but Roman can't hold his nut either, losing it all over himself.
Mark feels left out so both Ty and Roman sit him down on the couch and suck him off together.
He's saved the best load for last, as he spits his massive batch all over himself, and the three of them fall back onto the couch together…Join them!
With his step-brother, Leo Luckett, in a tough jam, Ty Thomas tries to help him come up with a way to find a place to stay.
Ty tells Leo about an incident that took place when he was in college and ran up his credit card bills, relating a story about a guy who helped Ty out in exchange for a little personal attention.
Leo seems slow to make the connection Ty is hinting at, so Ty just comes out with it, telling Leo he can stay with Ty if he sucks Ty's dick.
Leo wonders if Ty is serious, but glancing over at the bulge in Ty's jeans gives him a definitive answer. He realizes he's caught between a rock and a hard-on, and opts for the lesser of two evils, falling to his knees as Ty whips out his cock.
Ty has clearly been waiting for this for some time, as Leo can barely fit the girth of Ty's rock hard cock in his mouth. It chokes Leo as he tries to deep throat it, but he sucks Ty off with vim and vigor, working Ty's balls with his tongue as he inches up and down the shaft.
Ty flips him over and returns the favor, downing Leo's dick before flipping his step-brother over and eating his ass. He tongues Leo's fresh hole, stroking himself all the while.
Now that Leo's hole is primed and moist for the intrusion, he mounts his step-brother's raw cock, mounting Ty and riding him reverse cowboy as Ty bounces his perfect ass up and down.
Ty has been waiting for this his whole life, and now that he has the opportunity, he seizes it completely, flipping Leo onto his hands and knees and plowing him from behind, fucking Leo bareback doggy style before flipping him onto his back and fucking the jizz out of him.
Leo's load flings all over Ty's couch as Ty pulls out and blasts his step-brother with a brotherly load of spunk, and as Ty shoves his cock back inside Leo's cum-dripping hole, Leo realizes there will be at least one extra fringe benefit to his new living situation…Join them!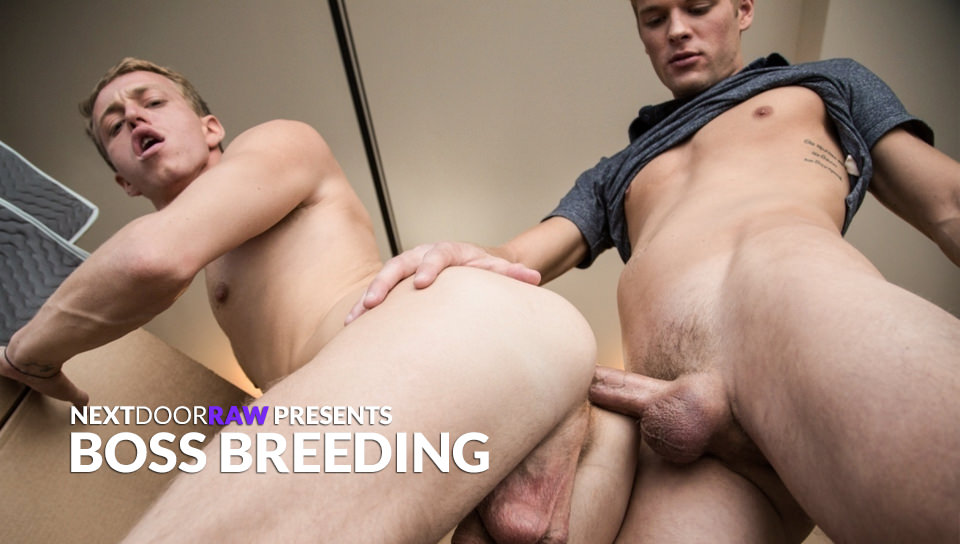 As new homebuyer Ty Thomas monitors his moving company, he notices one guy seems to be doing all the work. Checking him out, Ty likes the way Donovan Kane looks in his coveralls and appreciates the hard work Donovan is putting forth.
They start to talking and Ty tells Donovan that he could use a good worker like him, asking him if he'd like to double his salary by quitting the moving company and working for him. Donovan is intrigued and asks Ty what sort of jobs he has in mind.
With that, Ty moves closer to give Donovan a hands on demonstration of the duties he'd be expected to perform, and true to his instinct, Donovan turns out to be not only willing, but also very able, taking Ty's cock deep into his mouth as he sucks his new boss off.
Ty realizes he's made a good choice when Donovan turns around and offers up his ass to Ty. Ty plunges his raw cock deep inside his new employee, fucking him from behind as they lean against the garage.
Ty sits down and bounces Donovan on his dick before laying him out on a flattened box and fucking the cum out of him, pulling out and blasting his hole with his load before shoving it back inside, giving his new employee a nice and formal breeding initiation…Join them!
With the rest of the crew on lunch break, Ty Thomas and his buddy find Quentin Gainz taking a little 'personal time' in the back of the warehouse break room. Flogging the knob right out in the open, Ty assumes Quentin won't mind the company so he and his friend decide to see if they can film it without him knowing.
Ty busts through the door of the break room and Quentin is pleasantly surprised when Ty offers to blow him. Ty's buddy sneaks behind some boxes and proceeds to film Ty and Quentin having a lunch break fuck fest on company time.
Ty blows Quentin then fucks him hard from behind, then lets Quentin mount his hard cock before busting his nut all over Quentin's face, all while the camera sneaks around and watches it all…Join them!
Just when you think things are calming down, Quentin Gainz discovers that his roommate and his girlfriend were a bit careless in their sexual adventures and managed to live cast Jimmy Clay and Mark's sexual adventure.
Overwhelmed by the responses from viewers and the amount of money it made, he convinces Jimmy to keep the video up and think about keeping the business going. Unfortunately, Mark doesn't feel the same way about the situation when Ty Thomas gives him a call and let's him know about the now viral video.
Ty's aroused and his curiosity is at a peak as he watches the video and decides it's time he get's in on the action. 
With the success of this unexpected chain of events, Quentin finds himself with a blessing in his lap as he makes the decision to not be used by the casting director, Dean Phoenix, when he notices him kissing another actor at the studio.  
The timing couldn't be more perfect considering Mark wants the video deleted immediately and it was done without his knowledge.
Ty joining forces with Jimmy and Quentin prove to be the magic that sets the internet on fire as they quickly rise to the most viewed live webcam show in internet history…Join them!
Inspired by the film, The Talented Mr. Ripley, we take a peek into an alternative outcome when our Talented Mr. Bubbles played by Ty Thomas and a son of a wealthy businessman, Mark Long. A reenactment of their bathtub scene leaves the viewer lusting for a visual of what would happen if they two moved past their reservations during the intense chess game while Mark soaks in a warm bath.
When the question of if the other has ever shared a bath before arises, we see what seems to be an uneasy Mark questioning the intention of the question from Ty. He quickly rewords the question to seem he wants to get in after Mark to which Mr. Long offers him the tub and proceeds to grab them both a drink. 
As Ty soaks in the tub, Mark brings the drink back to him and asks him if he wants it. Ty is confused… the moment is filled with sexual tension as Mark's enormous dick hangs by Ty's face as he soaks. A shy Ty finds himself in a life changing moment as Mark takes Ty's hand and places it on his hardening dick.
A first time male on male encounter that fulfills your ever lustful dream of two testosterone filled men exploring their sexual curiosities for the first time with each other in this reenactment of a classic film…Join them!
As Scotty Zee sets off on his run, he wonders if the cute blonde guy will be in the park like he usually is, and towards the end, he spots him over on a trail path. Cruising by him, Scotty shoots him a look, wondering if the guy will pick up on its meaning, and whether or not the guy is even into the idea.
Ty Thomas has also noticed Scotty on his runs, and when Scotty passes, he decides to follow and see where it leads. Scotty non-nonchalantly returns to his house, leaving the sliding door open, and waits. Moments later, Ty enters silently, walking right up to Scotty and kissing him hard against a wall, running his hands down into Scotty's pants and taking off his shirt.
Falling down to his knees, Ty begins to suck Scotty off, flipping him around and eating his ass before pulling out his cock and standing up. 'I'm gonna fuck you raw,' he whispers into Scotty's ear, before plunging his cock all the way inside, slowly fucking Scotty from behind as Scotty nudges his ass back into it with every thrust.
Scotty wonders if Ty takes a dick as good as he gives it, and finds out he does, fucking him on the table as Ty lay on his back stroking himself. Scotty is ready to burst but wants to get fucked while he busts his nut, so he mounts Ty one more time, riding him as he spits his load all over the floor, then getting down on his hands and knees as Ty blasts his face.
Sucking the last drop dry, Scotty smiles up at Ty who smiles back down at him, asking him what time he plans on running tomorrow…Join them!
Ty Thomas gay porn scenes at Next Door Buddies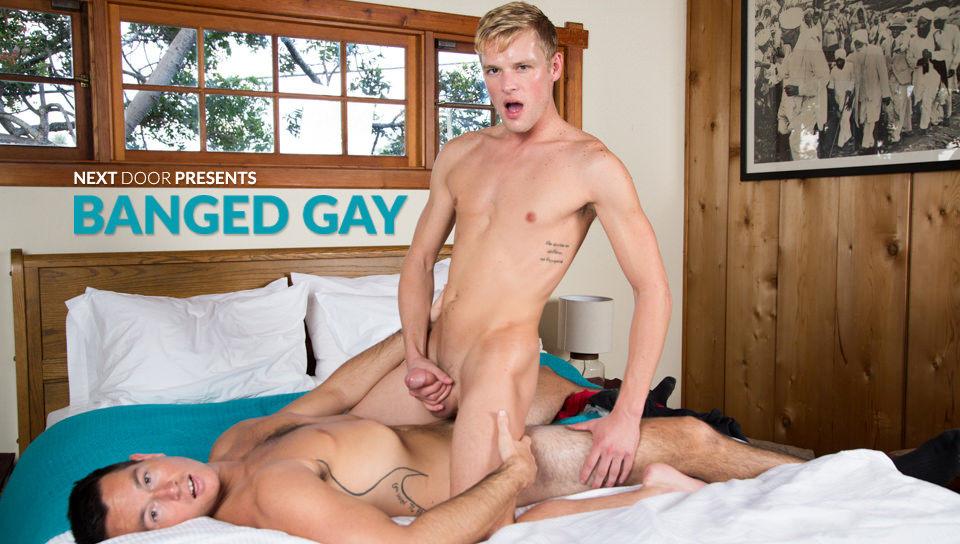 With a fresh bump on the noggin, Ty Thomas is sort of out of it, as buddy Ryan Pitt tends to his injury. Ty seems fever pitched as he tells Ryan how much he likes him.
Ryan thinks Ty is acting kind of weird considering how long they've been friends, but he just dismisses it as a side effect.
But when Ty tells Ryan he really likes him, Ryan decides to go with it, and in no time, Ty has him stretched out on the bed with his pants around his ankles as Ty services his cock.
Once Ryan is nice and hard, Ty tells him to stick it in, and Ryan obliges, sliding his bareback cock deep into his best friend's hole.
Ty takes his first dick like a seasoned pro, as Ryan eases him into it, before picking up the pace and proceeeding to pound Ty all over the bed.
Ryan fucks the cum out of Ty, who spits his load all up his chest, pulling out and coating Ty with his load afterward.
Ty lay there covered in sweat and jizz, barely even remembering how badly his head was hurting just minutes before. Seems like Ryan's dick was the perfect cure…Join them!
For teammates Daniel Flores and Ty Thomas, playing on the same team is just the beginning of their bond. Best buds for quite some time, they decide to celebrate after a big win by raiding Daniel's parents' liquor cabinet.
With the drinks taking effect, Ty drifts off to sleep, sporting a massive sleep hard on that peeks out from the side of his shorts. Daniel steals a glance and notices the head poking out, and temptation gets the best of him. Ty has no idea he's into guys but Daniel decides to take a shot, rubbing the tip of Ty's penis lightly, trying not to stir him as he slowly takes it in his hand.
Stirring awake, Ty is stunned to see Daniel fiddling around in his pants, and though his initial reaction is to recoil, he finally admits he hasn't been getting any at home. Daniel sees his opening and tells Ty to close his eyes and blame it on the alcohol, which works for Ty, as Daniel begins to deep throat his cock.
Shocked at how good it feels and how good Daniel is, Ty pushes Daniels head further down onto his dick, telling Daniel that they have to keep this a secret. Daniel smiles as he sucks on Ty's balls, asking Ty if he wants to try it. Ty is hesitant but feels curious, taking Daniel's cock in his mouth, Ty does his best to please his friend, but what Ty really wants is Ty's hard cock deep inside him.
Ty obliges, shoving his dick inside Daniel's hole and pounding him from behind as Daniel etches a grin across his face. Ty is a quick study, and they fuck all over Daniel's living room, finally concluding with Daniel on his back stroking himself to orgasm as Ty blasts his face with his virgin load.
Ty laughs when Daniel tells him his parents won't be home all weekend…Join them!
Ty Thomas scenes at Next Door World
As he showers alone, Alex Tanner A wonders if this random dildo in the corner belongs to anyone, but continues to go about his routine. Midway through, new arrival Ty Thomas enters the shower, and at first glance, Alex assumes he must've doubled back for it.
From his perspective, Ty finds it pretty bold that Alex would bring his dildo to a community shower, and both guys commence to showering assuming the other is keeping a secret. Ty finds it strange that Alex is so openly advertising, but he has to admit Alex has a nice little ass and is cute as hell.
Alex still can't tell if Ty is into guys or just playing coy, but as they continue to shower, it becomes obvious what is on both guys' minds. After making eye contact, Ty boldly inches closer to Alex, staring at him as he takes Alex's hand and rests it on his cock.
Alex grips it and slowly massages it as Ty gets hard in his grasp. They kiss as the shower rains down upon them, and Ty pushes Alex up against the wall, kissing down his back and spreading his cheeks wide, tonguing his hole as Alex leans against the wall.
Rock hard, Ty plunges his cock deep inside Alex and fucks him standing up from behind. Alex takes every thrust that Ty delivers before they move over to the bench, where Alex spreads his legs and rides Ty reverse, bouncing on his cock as steam fills the room.
Flipping him over onto his back, Ty fucks Alex missionary as Alex strokes himself off, spitting jizz all over himself as Ty pulls out and messes Alex's clean body with his own load. As they talk afterwards, they each discover that the dildo doesn't belong to either one of them, which prompts them to suddenly wonder who set them up in the first place…Join him!
Ty Thomas is all set to open his gym tomorrow, and it's not a day too soon, as he has membership pledges already chomping at the bit to get started. But there's a snag: turns out Ty's gym isn't ready to pass fire inspection, and inspector Jake Davis won't be able to come back for a week at least.
Ty is absolutely beside himself at the news, and immediately kicks into damage control to try and fix the situation. He promises Jake and his staff free memberships, but Jake is unmoved by Ty's bribery. Desperate, Ty offers the only thing he can think of, grabbing at Jake's snake as the inspector jumps back.
Jake tells Ty he doesn't swing that way, but Ty persists, telling Jake he can tell he needs the release. Jake doesn't immediately resist and that's all the lead Ty needs, falling instantly to his knees and pulling Jake's cock out of his uniform.
Jake's cock hits Ty's tongue with a thud as Ty downs it. Deep throating it, Ty feels Jake get hard inside his mouth as Jake realizes he's really doing this. Ty asks Jake if he wants to be sucked off but Jake tells him he's gotten all horny now, and he tells Ty to get ready to have his ass fucked.
Ty gladly bends over his new incline bench as Jake unravels his hose, plunging it into Ty's ass and pounding him hard from behind. Ty takes all of Jake's pent up heat as they fuck all over the gym, ending up on a regular bench as Jake fucks the cum out of Ty, stroking him as he jizzes all over himself, before pulling out and spraying his load all over this independent business owner.
Cum covered and out of options, Ty is further relieved as Jake tells him to open his gym and keep his mouth shut…Join them!
Republished by Blog Post Promoter