All gay porn pics and gay porn videos of Tex Davidson.
Hair Color: Brown
Sign: Unknown
Eye Color: Brown
Dick Size: 7 inch dick
Height: 5'10"
Cut / Uncut: Cut / Circumcised
Weight: 175lbs
Sexual Positions: Top
Tex Davidson scenes at Titan Men
Spotting Jacob Durham across the street, Tex Davidson gives a nod—getting motioned over by the blue-collar stud, who leads him into a building.
"Wow, man!" marvels Jacob as Tex releases his monster, which gets shoved deep down the sub's throat. Tex slams his steel slab on the sucker's chest, then makes him gulp it down.
Tex swallows Jacob's big dick, then feeds him again as Jacob moans "Give it to me!" They share a deep kiss as Tex grips the beefy sub's nipples.
Tex eats his ass and pounds him senseless—grabbing on to Jacob's shirt as he slams him from behind, then turning him over ("Yeah, fuck me!") before squirting on his bush…Join them!
After breaking ground on their latest site, two hard hat studs decide to celebrate—and beefy Lorenzo Flexx knows exactly what he wants, dropping to his knees to worship Tex Davidson's monster. "Fuck yeah!" moans Tex as his knob gets slobbered.
Lorenzo works up steady streams of spit that cling from his mouth to the shaft, dripping down to the floor from his scruffy face and Tex's sac.
"Get down on that mother fucker!" moans Tex as he whips his dick on the sucker's chest. "Yeah baby!" Tex sucks his bud back, his own dick throbbing in excitement.
He then fucks Lorenzo ("Gimmie that big dick!"), whose cock twitches as he gets pounded before they squirt…Join them!
Tex Davidson scenes at Raging Stallion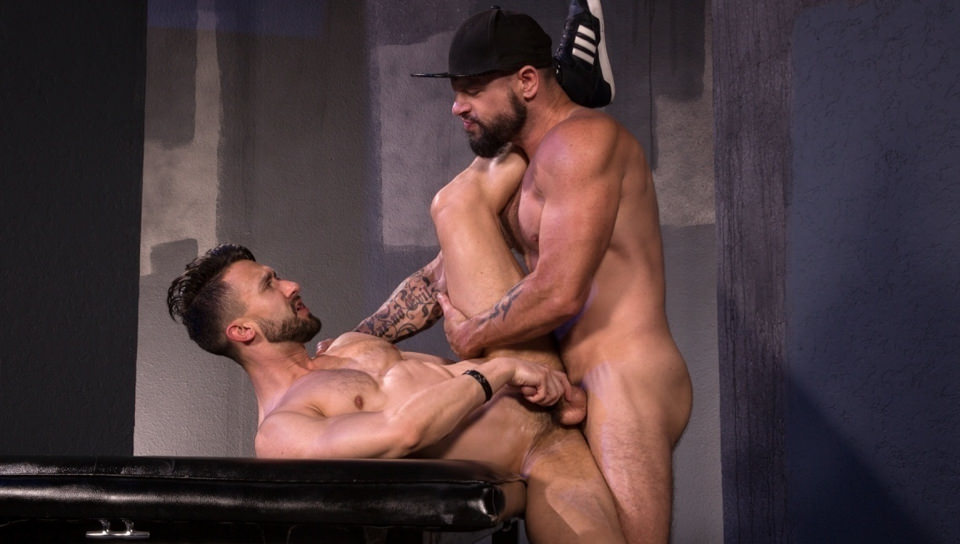 Tex Davidson and Ryan Finch don't fuck around when it comes to getting dirty. The hairy, rugged studs kiss and rub beards for a hot second before Ryan lies back with his legs in the air and offers up his fuzzy asshole.
Tex gets in deep with his tongue and fingers to get the tight, pink hole dripping wet with spit. Tex loves sucking on a nice asshole and he takes his time, savoring every lick he can get from Ryan's ready hole.
Ryan can't wait for Tex to stretch him out even more with his giant cock and hops on to ride the tatted stud's thick dick, taking it all the way down to Tex's big, tight balls. Ryan's wet, hairy dick and loose sack flop with every thrust from Tex.
The hunky muscle studs grunt and groan as they fuck and work their way to the final round of hairy man love. The more Ryan gets his hole plunged, the harder his big cock gets. He jacks the throbbing shaft up and down and massages his lubed-up head before the guys change up the fun.
Ryan submits and gets on his back for Tex to take charge and fuck his hole the way Tex likes it. The aggressive top pounds Ryan harder than he's ever been fucked before and keeps up the relentless reaming until he fucks the cum right out of Ryan's big pole.
Ryan sprays his own hairy crotch and then begs for Tex to do the same. Tex pulls his giant slab of meat out of Ryan's stretched out asshole and slathers Ryan's spent balls with every last drop of cum he can muster.
Ryan is a sticky mess of jizz, sweat, and spit by the time Tex is done having his way…Join them!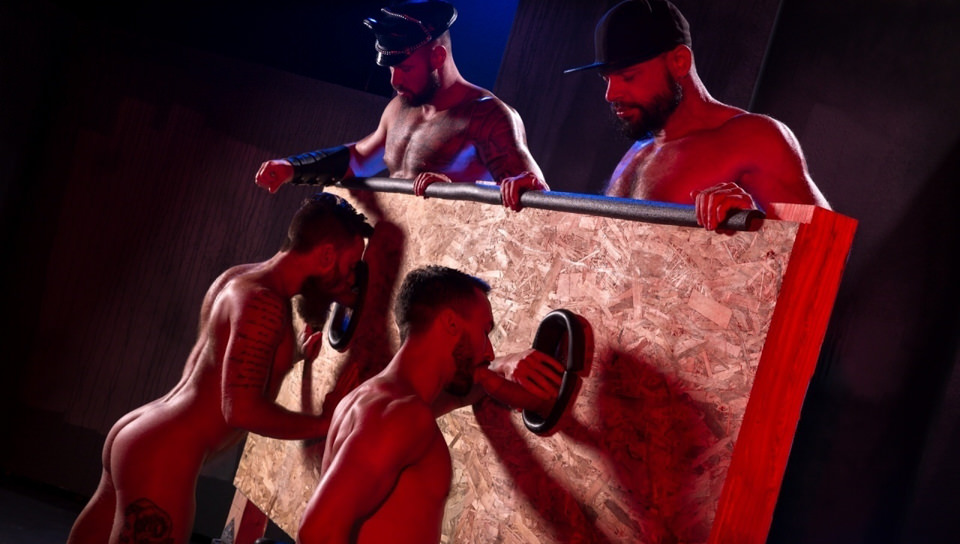 Tatted leather daddy Michael Roman and bearded muscle hunk Tex Davidson stick their big hard cocks through a double glory hole. They don't have to wait a second before Ryan Finch and Hoytt Walker come in and offer up their hungry mouths to suck them off.
Hoytt takes on Michael, and Ryan gets Tex's massive curved cock. The horny studs both suck dick like it's the last one they'll ever see. They gag and spit as they get their faces fucked and their throats stretched. Hoytt walks over to give Ryan a helping hand with Tex's tasty meat.
They take turns sucking him off and give him a double blowjob with a slobbery, wet mouth on each side of his big sweaty cock. Tex thrusts his pole between their mouths until Michael steps in to offer up a third mouth. Tex pounds Michael's mouth through the glory hole until the guys pair up again.
Snagging Hoytt away to a bench, Michael sits down to let the bearded stud suck his cock one more time. Hoytt's big balls hit the floor as he bobs up and down on the tatted daddy's cock. Hoytt tickles Michael's big hairy sack with his tongue and begs for cum in his face.
Michael lets go and slathers Hoytt's bushy beard and wide-open mouth with a massive load of jizz. Hoytt gobbles up every last drop and sucks what didn't land on his face off the tip of Michael's still throbbing cock. Michael returns the favor to the bearded stud.
He sucks him off and tugs his nuts until Hoytt blasts his own load on Michael's face, beard, chest, and in his mouth. The studs rub beards and swap cum as they catch their breath from the eye watering, thirst quenching, cock sucking marathon…Join them!
Tex Davidson grabs the back of Jack Vidra's head and presses it into his crotch, and Jack eagerly opens his mouth to swallow Tex's immense sword. As Jack crouches on his knees to service Tex's meat, Jack's ass parts to reveal the smooth, pink hole in the center. Eager to get a taste, Tex dives in tongue-first to give Jack a wet, slippery rim job.
Using his fingers, Tex drills his spit into Jack's hole, then follows with his cock. As Tex pounds Jack's backdoor, Jack braces himself doggy style and flexes every muscle in his body, heightening their state of arousal. Rolling over, Jack puts his legs high in the air and Tex drills Jack's hole with full power.
They move to a sit-fuck position with Jack raising and lowering himself on Tex's fat meat. When he's not jerking his meat, Jack's hard cock slices through the air. Returning to missionary, Jack blows his load as Tex slams his cock into Jack's prostate.
Tex beats his meat until his cum explodes in an arc that splashes all over Jack's inner thigh…Join them!
Tex Davidson scenes at Dylan Lucas
Kyler Ash doesn't respect his Stepdad at all and it's finally come to a boiling point where Tex Davidson can't take it any longer. Tex has been demanding respect from Kyler but he hasn't put his foot down until today. Tex sits Kyler down and has a talk with him about respect.
Kyler isn't really listening as he plays with his phone but once Tex grabs Kyler's face demanding he call him Dad things change dramatically. Tex seduces Kyler and soon enough Kyler is very much respecting that big dick. On his knees, he's sucking Tex's fat big dick using both hands to hold the heavy beast.
Kyler is packing some heat as well as Tex takes his turn with that young cock in his mouth. The two are laid out on the couch sucking and stroking until Tex flips up his legs and begins to lube that hole up with his wet tongue. Kyler is in heaven as he can feel his stepdads tongue swirl around his tight hole.
Tex bends Kyler over the couch and somehow squeezes his big cock balls deep inside of Kyler. The moans from Kyler get louder as Tex stretches that cute hole wide and far with his throbbing cock.
Tex uses a variety of positions to fuck his son's ass just the way he likes it. Finally after all the hostility and arguments they both release their built up loads…Join them!