All gay porn videos and gay porn pics of Liam Stone.
Liam is a handsome Belgian beauty, who actually enjoys dressing up as a drag queen and discovering his feminine side. He enjoys sports of all kinds, but especially jogging and figure skating. In addition, he can ride a horse – almost as well as he can ride cock!
Hair Color: Brown
Sign: Sagittarius
Eye Color: Brown
Dick Size: 7.5 inch dick / 20 cms
Height: 6'0″ / 183 cms
Cut / Uncut: Cut / Circumcised
Weight: 165lbs
Sexual Positions: Submisive Bottom
Sexual Orientation: Gay
Nationality: Belgian
Liam Stone gay porn scenes at My Dirtiest Fantasy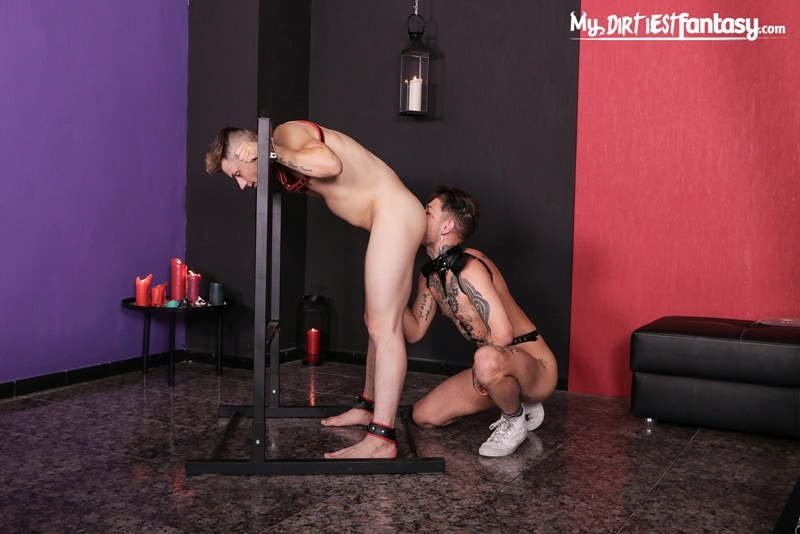 We all know that Mickey Taylor isn't someone who lets his slaves get away easily, and the handsome and oh-so innocent looking Liam Stone will be no exception to this iron rule.
With Liam's cock still safely locked away, tattooed master Mickey's first action is to tie his well used slave to a St. Andrews cross, where he eagerly removes the chastity belt to edge the youngster's dribbling cock.
No matter how good his master's hands might feel on his cock: Liam is not allowed to shoot his load yet.
No, Mickey wishes to humiliate him a bit more by using first a crop and then a whip to beat Liam, his balls and his ass in different positions; before moving over to a fuck bench where Liam is finally wanked to his well deserved climax.
However, the torture doesn't stop here, so be prepared for some post-orgasmic fun with hot wax…Join them!
Liam Stone gay porn scenes at Staxus
David would admit he is not very good at art, but no-one would contradict him when he says he loves big young cocks.
Liam Stone gets down on his knees blowing and wanking both Jake Williams and David Hollisters' big dicks. David then gets down to suck on Liam's cock whilst he, in turn, is sucking Jake Williams' rock hard cock.
It's not long before both boys are adoring Jake's meaty shaft, and these boys sure know how to share a cock.
Liam for sure is a lucky boy as soon he is getting rimmed by Jake and his sucked by David, but the fun is far from over as soon Liam is riding on both boys' cocks at the same time…Join them!