All gay porn pics and gay porn videos of Ryan Rose (aka Sean Cody's Pierce)
Hair Color: Brown
Sign: Unknown
Eye Color: Blue
Dick Size: 8 inch dick
Height: 6'3″
Cut / Uncut: Cut / Circumcised
Weight: 192lbs
Sexual Positions: Versatile
Ryan Rose (aka Sean Cody's Pierce) gay porn scenes at Hothouse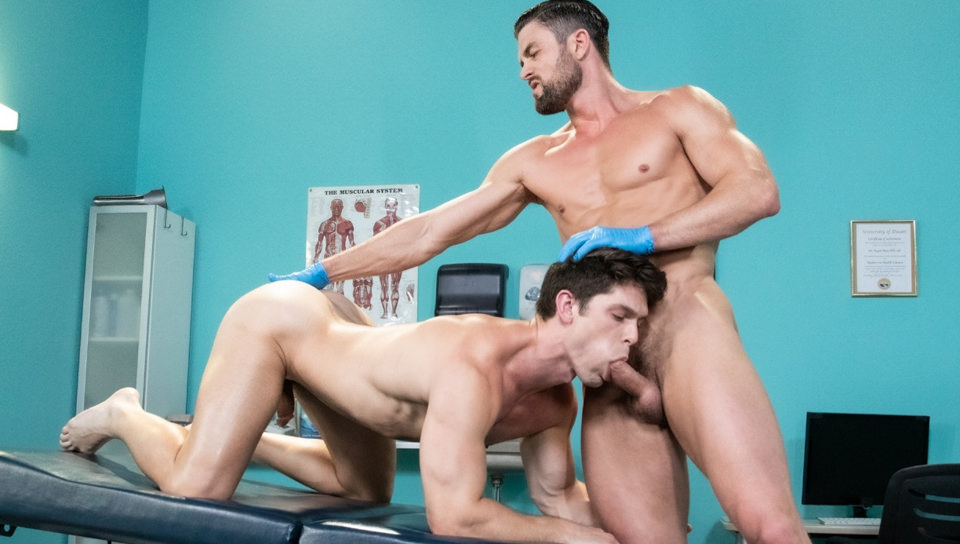 At the doctor's office, Devin Franco is asked to change into a hospital gown by the RN and wait for the doc to see him. When Dr. Ryan Rose finally makes his way in, Devin explains that he's having stomach pains.
Ryan begins his examination by placing pressure on different parts of Devin's body before asking him to lay back so he can take a closer look. With Devin's legs hoisted in the air, Ryan examines Devin's ass.
When Ryan finds a blockage, he investigates and finds multiple toys lodged in Devin's tight ass. One by one, the doctor begins to pull out the toys stuck in Devin's ass. To confirm his insides are clear of any foreign bodies, Devin pushes out his rosebud to show the doc.
It doesn't take long for Ryan to shed his scrubs and slide his raw cock fully into Devin's deep ass. The hunky patient lays back on the exam table and takes every powerful thrust that Ryan delivers.
Going ass to mouth, Devin gets on all fours and sucks the sweaty doctors throbbing meat. Ryan makes sure Devin's hole doesn't get a break as he finger-fucks his patient while feeding him his rod.
Devin makes Ryan's pole disappear down his throat before bending over and taking a bareback pounding from behind. In the heat of the moment, Devin gets on his back to take Ryan's powerful thrusts until the doc coats Devin's sore hole with his warm seed.
Dr. Rose shoves his cock back in and tells Devin 'cum for daddy' causing Devin to erupt with a thick blast of cum that lands all over his abs…Join them!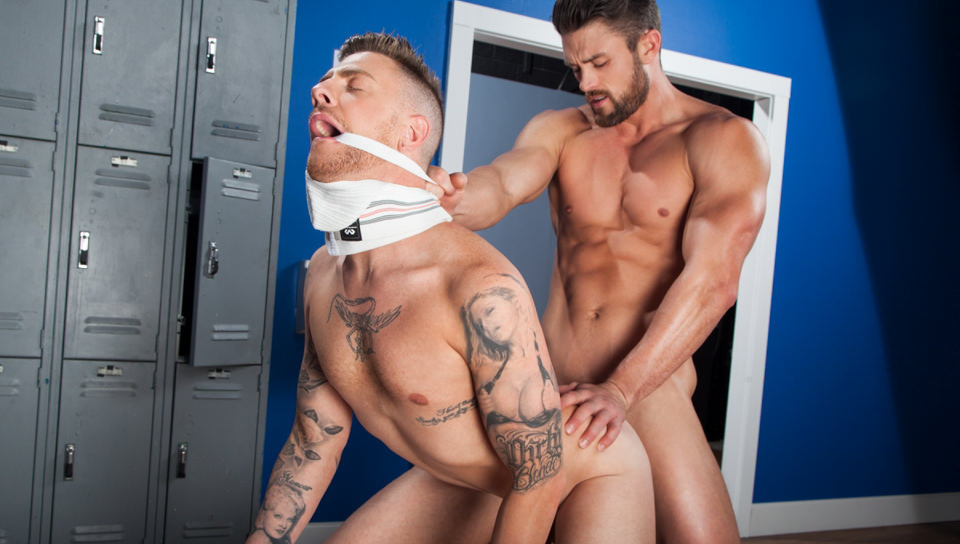 The teams assistant Danny Gunn, is cleaning up the locker room when he finds a couple of used jockstraps.
He can't resist burying his face deep into the crotches to breath in the musky scent of the random studs that used them.
The smell of the sweaty used jocks gets him rock hard so he starts jacking off until coach Ryan Rose catches him.
Coach Ryan demands to smell Danny's handful of jockstraps and after taking a whiff, helps Danny out of the rest of his clothes.
Danny obeys the coach and gets on the floor in front of Ryan's bulging crotch to help himself to a taste of his throbbing cock.
All the sucking makes Ryan ready for more and he gets behind Danny to eat his smooth ass.
Ryan gets Danny nice and opened up before he declares that he wants that hole.
Without hesitating, Ryan slams his cock into Danny's hole and pumps away as Danny begs for the coach to go deeper.
Ryan gives Danny what he wants and turns the young stud around to fuck him from behind.
With a used jockstrap dangling from his mouth, Danny gets a hard pounding as the coach continues to destroy Danny's ass.
Danny wants to give a little back to the coach and hops on to ride Ryan's extra thick cock.
That's the perfect position for Danny to cum and he blasts a creamy load all over Ryan's sweaty abs.
Danny is still hungry for cum and lets the coach finish up by squirting his wet load directly into Danny's open mouth…Join them!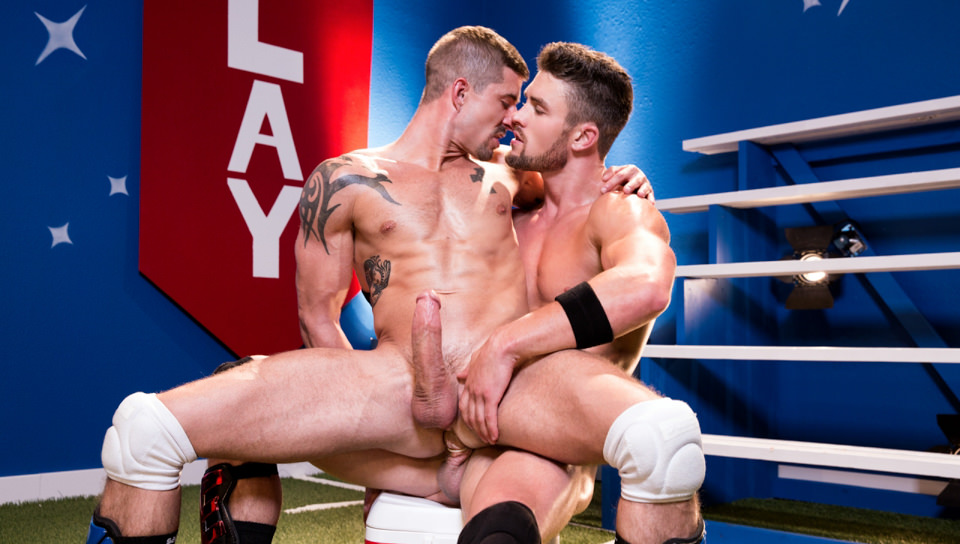 Lacrosse players Sean Maygers and Ryan Rose don't need spectators to take their competition to the next level.
With the bleachers empty and their cocks hard, they get down and dirty when their bulges get a meet and greet through their sweaty uniforms.
Ryan can't control his urges and gets on his knees in front of Sean's thick cock. Sean happily caters to Ryan's whims and face fucks the eager stud by going pubes deep down his stretched-out throat.
Ryan keeps a steady pace until Sean wants in on the action. Sean takes a taste of Ryan's throbbing dick before he bends him over to eat his ass.
The taste of Ryan's sweet hole keeps Sean rock hard, and with nothing more than spit for lube, Sean rams his cock into Ryan's eager ass. He pounds the panting stud with his massive pole until he decides it's time to get some cock for himself.
Ryan sits back and lets Sean slide down on his lubed up stick. Sean does all the work and rides Ryan up and down, taking it deep in his ass as his cock flops back and forth.
Sean is the first to blow his load and he lets it go into Ryan's hand who quickly uses the fresh warm load as lube to get himself off.
Ryan lets out a final guttural moan and lets the cum fly all over Sean's still-dripping boner…Join them!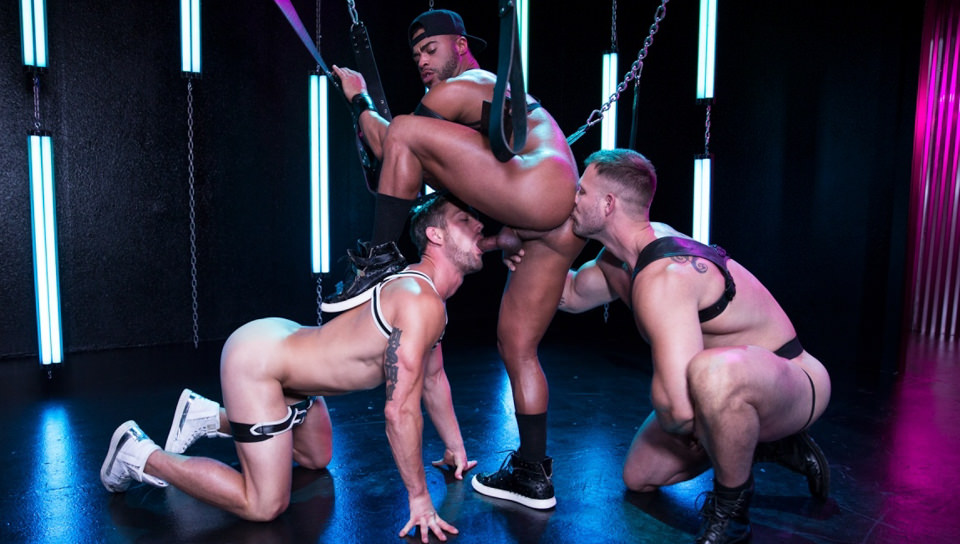 Micah Brandt is hanging out in the sling waiting for someone to come along and make some action happen. Ryan Rose enters through the door and the two muscle studs start making out.
As they kiss, Austin Wolf joins the fun and makes himself the main attraction as he takes his place between the two horny hunks to round out the threesome.
It's not long before Micah and Ryan give into their temptations and get on the floor to suck on Austin. When Austin is rock hard, he bends Micah over the sling and plants his cock deep inside his bubble butt.
Ryan takes his place in front to suck Micah's dick. Ryan can only hold off for so long and after watching Micah get plowed, he steps in to take over and fuck the stud.
Austin refuses to be left out of the action and makes Ryan take his fat cock from behind. Before the action is done, Ryan makes sure his hole gets some attention and lies back in the sling to let the other two studs tag team his ass.
Micah and Austin plow Ryan's sweet hole until all three studs let go and cover Ryan's cock with seed.
Micah is thirsty and doesn't let it go to waste. He licks every last drop of all three men from Ryan's sticky hot body…Join them!
Super stud Ryan Rose takes notice of the frame full of muscles that is Micah Brandt. Hanging out next to a sex swing, Micah's eyes invite Ryan over to join him. After an exchange of cruising, Ryan heads over and locks lips with Micah.
The making out has Micah hitting the floor and swallowing all of Ryan's cock down to his balls. Intensifying the oral ecstasy, they alternate spit-dripping and tongue-drilling rim jobs. Micah moans out 'I'm ready for your cock' and Ryan is instantly on it, jamming his hefty, rock-hard meat into Micah's hungry hole.
Completely dominating his bottom, Ryan leads Micah to the swing and secures his legs in the straps before grabbing hold of Micah's shoulders and pounding him like he's never been drilled before.
Screams of euphoric pleasure echo as they both spew huge loads onto Micah's washboard abs…Join them!
Ryan Rose (aka Sean Cody's Pierce) gay porn scenes at Belami Online
This is the finale of our quartet of American Lovers scenes this season, and there could not be a better way to go out than with our own Christian Lundgren and Falcon's Ryan Rose before his retirement.
There is no denying that Ryan is one hell of a top and the perfect scene partner for Christian, who loves to bottom.
We start the scene with Christian showing Ryan some of his favorite places in Prague before we head back to the bedroom and Christian gets to experience his first American Lover….Join them!
Ryan Rose (aka Sean Cody's Pierce) gay porn scenes at Falcon Studios
Wesley Woods has been pining for superstar underwear model Ryan Rose all weekend long, but the whole time it seemed like Ryan was more interested in Euro studs Ken Rodeo and Brute. After several hours of partying and reveling in the spectacle of San Francisco Pride, Wesley and Ryan suddenly bump into each other on the street, and something clicks.
Ryan reaches out and pulls Wesley close for a kiss, and they quickly head back to the house to go all the way! They make out passionately, and their throbbing boners burst out of their tight briefs. Ryan falls backwards on the bed and Wesley eagerly deep throats Ryan's huge, stiff cock.
Ryan's incredible washboard abs flex as Wesley bathes Ryan's cock in spit. Rising up on his knees, Wesley enjoys expert oral pleasure as Ryan returns the favor. Before long, Wesley has his ass in the air with Ryan's face buried in his tasty ass.
After teasing Wesley by rubbing his cock along Wesley's crack, Ryan finally slides his huge dick into Wesley's hole. Wesley's dick swings in the air as he rides Ryan reverse cowboy style. Ryan thrusts up from below, then puts Wesley on his side for intensely deep penetration.
Pulling Wesley to the edge of the bed, Ryan stands and unleashes the full power of his pounding, delivering an intense fuck that brings Wesley to an immense orgasm. Pulling out, Ryan jerks his cock and blasts a massive, spurting load directly into Wesley's face.
Afterwards, they go up to the roof and make out high above the Castro. Looking up from the street below, JJ sees his two best friends and cheers them on: 'Yes, I knew it.' They all laugh as Wesley exclaims, 'Oh my god, I love Pride.'…Join them!
Two hot, athletic studs stand toe-to-toe and cock-to-cock. The striking Ryan Rose and irresistible Jacob Peterson caress each other with intense passion. It's not long before scruffy Jacob gets to his knees and gives Ryan a spit-dripping blowjob, gargling on his entire shaft.
Ryan returns the favor and deepthroats Jacob's long, uncut cock and nibbles on his tons of foreskin. Things heat way up when Jacob bends over and exposes his hairless hole and invites Ryan's tongue inside. After a sopping wet rim job, Ryan stuffs his meat into Jacob's eager fuck-hole and pounds him doggie-style.
Jacob's in his sexual groove, hard as a rock and he wants more, so he turns the tables flips Ryan on his back and snakes his hefty cock into Ryan's extra-eager hole. The energy intensifies and Jacob keeps thrusting in and out of Ryan's ass until Ryan sprays his load all over his washboard abs.
Jacob pulls out and adds his spunk…Join them!
Republished by Blog Post Promoter