All gay porn videos and gay porn pics of Dillon Diaz.
Hair Color: Black
Sign: Unknown
Eye Color: Brown
Dick Size: 7-inch dick
Height: 5'9″
Cut / Uncut: Cut / Circumcised
Weight: 185 lbs
Sexual Positions: Versatile
Dillon Diaz gay porn scenes at Falcon Studios
Hot young boy Avery Jones has just started work collecting the dirty sweaty laundry from the locker room.
He fantasizes about his sports heroes, stealing their dirty underwear from the laundry, and jerkin off to their dirty jockstraps.
Avery thinks he is alone in the deserted locker room and he is sniffing and sucking on sweaty jockstraps, he gets busted by Coach Dillon Diaz.
This isn't the first time, and Avery was warned what would happen: buff Coach Dillon slowly strips down to nothing but his whistle, feeds the boy his thick hard dick.
Dillon eats Avery's ass upside down, tonguing him deep to get him wet and ready.
He then delivers a slow and intense raw, bareback fuck that leaves Avery a quivering heap of grateful cum covered power-bottom..Join them!
Dillon Diaz gay porn scenes at Icon Male
Casey Everett is getting ready to watch TV, but he's got something much better on his mind, his stepfather Dillon Diaz's big cock.
Casey's stepmom is out of town and Dillon decides to keep Casey company in front of the TV.
Things start to get a little uncomfortable when Casey moves in for the kill, or should I say for the cock.
These two horny men take care of each other's needs with lips, tongues, assholes, and cocks. Popcorn anyone…Join them!
Dillon Diaz gay porn scenes at Noir Male
Dillon Diaz works as a personal protection officer for a mega-wealthy client. He's just clocked off exhausted from working after a very long day.
When he arrives home his boyfriend Ricky Larkin rubs his shoulders and massages away the stress of the day.
Feeling horny Dillon makes a move towards Ricky's huge cock. Ricky reciprocates taking Dillon's sizeable man meat between his lips. Moving swiftly to lick and rim their hot muscle ass holes.
These two alpha males take care of each other's huge cocks and lickable holes before some intense Flip Flop Fucking.…Join them!
Newcomer Dillon Diaz's sister has to step out, leaving her new boyfriend, Floyd Johnson, with her brother.
The two men engage in a little small talk, which soon turns into horny fucking man sex. The two hot studs ravage each other with no regard for sister dearest. Dillon has a way of seducing all of his sister's boyfriends…Join them!
Newcomer Jake Waters seems to have some sort of medical issue that needs attending to.
He goes to see his favourite doctor, Dr. Dillon Diaz.
As Dillon is examining Jake's beautiful body, the two men become very horny for each other.
After some poking and prodding from the doctor, stethoscopes are replaced with mouths, and fingers are replaced with hot cocks.
Dylan slams his huge cock into Jake's tight little hole. The two men explode all over the doctor's office…Join them!
Dillon Diaz is the new intern and he's learning the ropes from Dr. DeAngelo Jackson. The two men are quite alpha but DeAngelo soon shows who's boss. These two hot men mix it up and take care of each other's bodies, dicks and asses like only a good doctor could…Join them!
Avery Jones has been spending a lot of time at his boyfriends house and it's getting on his roommates nerves.
The only thing is, Dillon Diaz has a crush on Avery and Avery's young tight ass.
After some shuttle flirting Dillon goes to take a bath and Avery follows.
What happens next is some fucking hot sucking, rimming and fucking…Join them!
Dillon Diaz gay porn scenes at Raging Stallion
Businessman Dillon Diaz checks in and starts taking off his work clothes and hops in the shower. The motel makes a mistake and gives Chris Damned the same room as Dillon's.
When Dillon comes out of the shower, he's shocked to find Chris naked on the bed. Figuring they might as well make the best of the situation, Dillon gets between Chris' legs and deepthroats his uncut cock.
Chris returns the favor, throwing Dillon on the bed and giving him a sopping wet hummer. Chris moves from Dillon's cock down to his hole to tongue-fuck it before sliding his raw meat into Dillon's ass.
Dillon takes Chris' bare cock on his back, flipped over, up on top and then back in missionary while he strokes out his load all over his stomach.
After destroying Dillon's hole bareback, Chris pulls out and coats Dillon's hole with his seed before shoving it back inside his new motel buddy…Join them!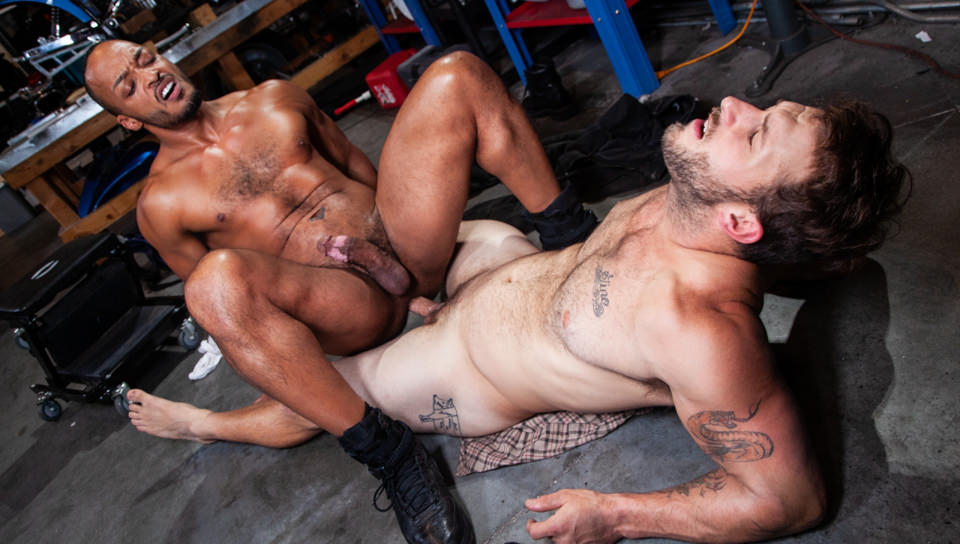 Nicolas Ryder is fixing bikes in the shop when Dillon Diaz comes in looking for a repair. Nicolas isn't up for helping and instead decides to pull down his pants and drop to his knees to start sucking the hung stud in need.
When Nicolas has had his fill of dick in his mouth, he sits back and lets Dillon take over.
Dillon works Nicolas' huge cock and giant balls with his mouth until he's ready for more. Dillon gets Nicolas on the floor and bends the mechanic's legs over his head to eat his hairy ass.
He makes it nice and sloppy wet before he gets down to business and slams his cock deep inside Nicolas' tight hole. Dillon relentlessly pounds away until he's ready to get his hole drilled.
Nicolas is happy to let Dillon hop on his cock and lies back on the floor to let Dillon take a ride. Dillon keeps riding as Nicolas hits just the right spot with his stiff cock.
With Nicolas still pounding his hole, Dillon's cock explodes all over Nicolas' ripped, hairy body. Dillon's warm load is still dripping from his abs when Nicolas stands up and feeds his load to the broke-down customer.
Something's not right in this motorcycle shop and this customer just put his ass on the line. Is Dillon in danger or is this mechanic just one more bizarre notch in the oil pan?…Join them!
Dillon Diaz gay porn scenes at Men.com
Take a trip to Puerto Rico with Latin hotties Brock Banks and Dillon Diaz.
Brock and Dillon agree that their fellow Puerto Ricans are all about intensity, excitement, and drama, and love nothing better than getting their passions inflamed with some sexy dancing to get in the mood before progressing to other things… like passionate kissing on the bed.
Dillon sucks top Brock's cock, then Brock licks and fingers Dillon's hole before giving him a deep dose of dick in pile driver.
The studs 69 before Brock pounds Dillon's ass till the bottom cums, then finishes with a hot facial…Join them!
Horny hunks Diego Sans and Dillon Diaz meet up in an alley for some fast and raunchy fucking. Dillon gags on Diego's long cock, licking and kissing it from base to tip as Diego runs his hands over the back of his head.
Diego flips Dillon into a deep recline with his ass up in the air, the perfect height for Diego to give it a deep tongue fucking. Once it's nice and wet Diego shoves a nice thick dildo into Dillon's ass, teasing him and getting him ready for a hot and heavy pounding.
Diego fucks the cum out of the eager Dillon before he shoots his own thick load all over himself…Join them!