All gay porn videos and gay porn pics of Next Door Studios Gunner.
Hair Color: Brown
Sign: Unknown
Eye Color: Brown
Dick Size: 8 inch dick
Height: 5'11"
Cut / Uncut: Uncut / Uncircumcised
Weight: 174lbs
Sexual Positions: Versatile
Gay porn scenes of Next Door Studios Gunner
As Mathias and Gunner spend their anniversary with a weekend getaway, they can't help but marvel at the amenities: the view, the accomodations, and especially the service of cabana server Ty Mitchell.
It's not technically company policy to engage in fraternization with the guests, but Ty always goes above and beyond the call of duty. And besides, getting double stuffed by these two hot guests is worth the consequences.
And after taking turns fucking Ty's little bareback hole, then cumming all over him, Mathias and Gunner are sure to give their stay only the highest praise possible…Join them!
Gunner gay porn scenes of Active Duty
Dirk has them all come into the room and without many words they get straight to the point and begin to take their clothes off which leads them all into one nice 69. As Dirk looks on we get a great eagle eye view from above with all three of these sexy men intertwined sucking cocks and feeling each other's sexy bodies.
They move from a 69 into a great rimming position with Gunner filling his mouth with Cole Weston's hard cock while Laith Inkley buries his face deep into Gunner's smooth beautiful hole licking and sucking on it making him moan with that throbbing dick balls deep in his wet mouth. Cole looks on in amazement as he kicks back enjoying his great BJ.
Gunner is first up as he bends over and lets Cole push his hard dick into his smooth tight ass until his balls touch and you can see how amazing Gunner's bubble ass looks. Cole Weston loves the tightness and while he fucks Gunner Laith Inkly is stuffing his hard dick down his throat making sure his moans are stifled.
Gunner and Cole both fuck Laith's tight tanned ass making him squirm all over the bed. The action becomes hot and sweaty as they get closer to shooting their hot loads out and with a few more pumps from Cole he blasts his sweet warm load all over Laith's chest as well as Gunner.
Laith continues to stroke his cock with his cum drenched chest until he finally releases his nut all over his own chest as well…Join them!
Gay porn scenes of Next Door Buddies Gunner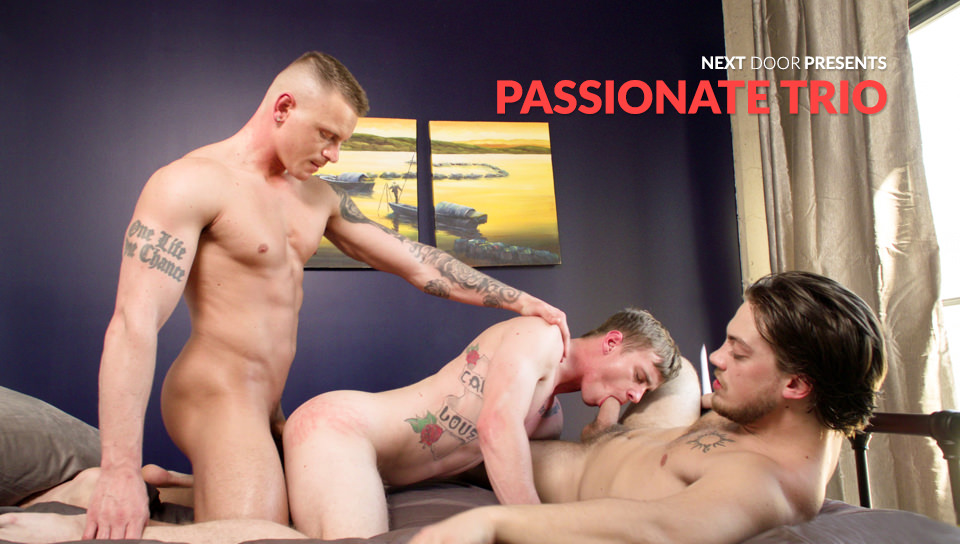 Gunner, Ryan Jordan and Scotty Dickenson are stripped down to the bone and ready for intense action. Laid out on the bed, Ryan sucks Gunner off while Scotty does the same to Ryan. Ryan's big dick fills Scotty's mouth Gunner bends over to return the favor to Scotty.
Ryan helps himself to Scotty's dick as Gunner sits up and plunges his rock hard cock deep inside Ryan's hole. He fucks him bareback from behind while Scotty continues to face fuck him, and once he's been properly stuffed, the guys switch.
Now it's Scotty's turn to take the dick, as Ryan and Gunner take turns pounding him. Scotty strokes his cock as Ryan slams him missionary, and in no time he busts his nut. After getting the cum fucked out him, Scotty takes a load to the face as Gunner unleashes a gusher all over him.
He sucks Gunner dry as Ryan continues to pound away, pulling out and blasting him with yet another load.
Seeing Scotty cum covered, the other two guys clean him up as they all fall back into bed to rest up for another go round…Join them!
Gay porn scenes of Next Door Studios Gunner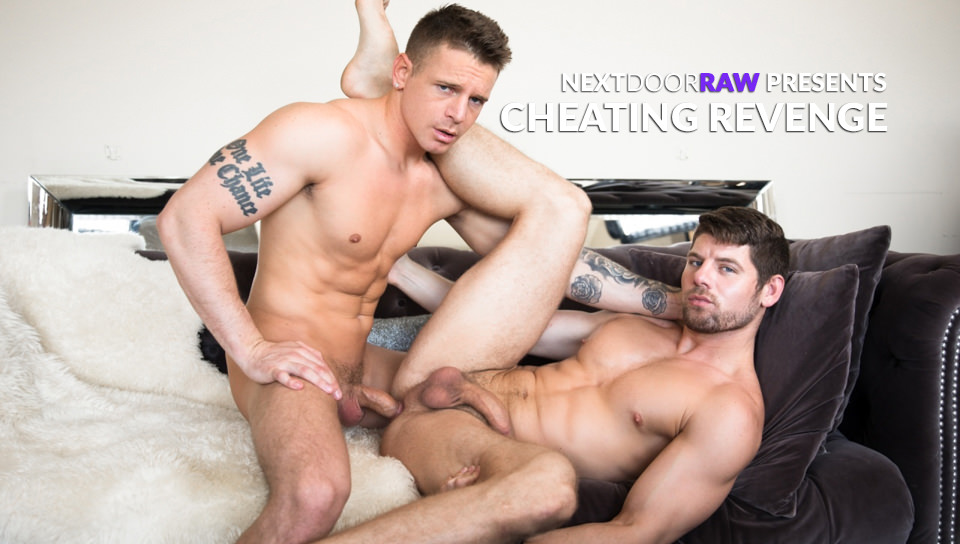 When Connor Halsted finds out his boyfriend is cheating on him with some slut from the internet, he gets mad at first, but quickly decides to get even instead.
Locating and setting up a meeting with Gunner was easy, especially when he brags to Connor about how much fucking he does. But experienced or not, Gunner isn't ready for a man unleashed with revenge on his mind, but that's exactly how Connor goes at him.
Hungrily, he sucks Gunner's cock before Gunner returns the favor, only to find Connor already rock hard. Connor mounts Gunner and gives him the ride of his life, bouncing up and down on Gunner's cock like a man possessed.
Gunner flips him over and fucks him from behind as Connor moans with delight. With both guys ready to cum, Connor flips the script on Gunner and lays him down on his back, shoving his hard on raw into Gunner's hole.
Gunner strokes himself as Connor gives him everything he has, fucking the cum out of Gunner before pulling out and covering him with a load of retribution.
As Gunner wipes the jizz off, he comments that Connor is the best fuck he's had in years…Join them!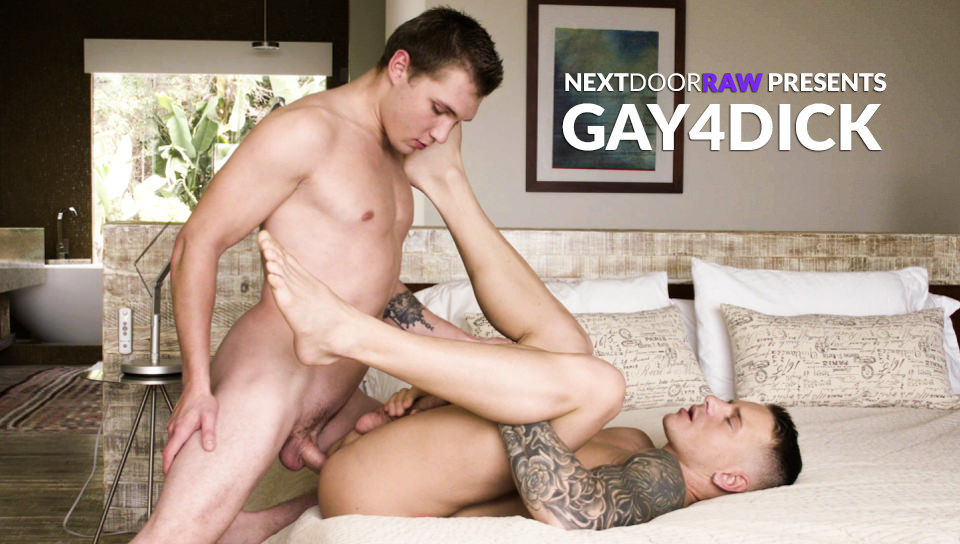 For Elye Black, casual internet hookups are a regular thing, just one way he gets his regular rocks off.
But for closeted Gunner, secret meets with strangers is the only way he feels comfortable expressing his true desire.
By day, he has to play the straight soldier with a girlfriend, but every now and again he lets himself indulge in in what he really wants, and today is Elye's lucky day.
He can't wait to get inside Gunner's perfect ass, and even though Gunner seems nervous, Elye knows that soon enough he'll forget all about his reservations.
He has his way with Gunner, fingering his hole as he tongues it, before plunging his thick cock deep inside.
He slowly works his giant dick in and out of Gunner's raw hole, before picking up the pace and pounding him as Gunner strokes his dick and watches Elye go in and out.
Gunner is rock hard as Elye continues to fuck him. They flip over and Gunner rides Elye's meaty prick, leaning back as Elye fucks him and jerks him off at the same time.
Once Gunner has had his fill, he flips onto his back and tells Elye to fuck the cum out of him.
Elye obliges and begins to pound as Gunner strokes himself off, losing his load in a messy explosion as Elye pulls out and coats his hole with his own load.
He plays with the the cum with the tip of his dick before shoving it back inside of Gunner, leaning down to kiss him before sending off this soldier back into duty…Join them!
With all the hot water in the house sitting in Sean Maygers bathtub, there's not much left over for Gunner to shower with.
He quickly goes through what little Sean has left him, and freezing cold, decides to hop in the tub with Sean to warm up.
Sean is a little uncomfortable with the arrangement and decides to get out, but Gunner's already got his sights on Sean's major laser.
They play grab ass all the way to the bedroom and Sean realizes how Gunner gets down, so he quickly hops on board, letting his cock slide all the way down Gunner's throat as he fingers Gunner's hole.
Gunner feels tight to the touch, but that's nothing compared to when Sean tries to work his cock inside. He slowly inches it all the way in, as Gunner grips the bedsheet and takes it all in.
Sean pounds Gunner from behind slowly but firmly, his hard on growing by the second inside Gunner's sweet ass. Gunner's cock gets hard as Sean continues to pound, and Sean tells him he'd like to switch, flipping Gunner over and mounting him.
He rides Gunner's bareback dick like a pro as Gunner strokes him off. Sean spreads his legs and thrusts Gunner deeper and deeper inside of him, his rock hard cock about to blow.
Before he does, he takes one last turn at Gunner's ass, pounding him missionary as Gunner spits his load all over himself.
Sean pulls out and blasts Gunner before rubbing the head of his cock in the puddle of jizz, slipping it back inside Gunner and continuing to go at it for round two.
Looks like our shower boy got exactly what he was gunning for…Join them!
With a knock at the door, Dalton Riley is ready for action. Journeyman Gunner, answering an ad for day labor, just happened to knock on the wrong door at the right time, so when he shows up looking hot and rugged, Dalton just assumes he's the escort he called.
Gunner seems confused when Dalton whips his cock out, but takes one look at Dalton's impressive member and decides he can still be of service here. Immediately he falls to his knees and begins to work Dalton's cock with his mouth, as Dalton goes from semi-chub to full on diamond cutting hard on in no time.
Flipping the script, he services Gunner before flipping him over and tonguing his hole. With Gunner nice and moist, Dalton proceeds to plunge his bareback cock deep inside the stranger in front of him, and Gunner takes the dick like a seasoned pro, as Dalton slides in and out of Gunner's tanned and toned ass.
He fucks Gunner all over the bed, flipping him onto his back and pounding him before switching up and mounting Gunner's cock for one last ride. Once he's on board, Dalton proceeds to ride Gunner's cock to completion, spitting his load as Gunner fucks from below, then falling off as Gunner spits his load into Dalton's mouth.
Dalton is smiling to himself for his afternoon liason when the doorbell rings. Answering it, Dalton sees a hot stranger waiting in his doorway, and he suddenly realizes he just made the best 'mistake' of his life…Join them!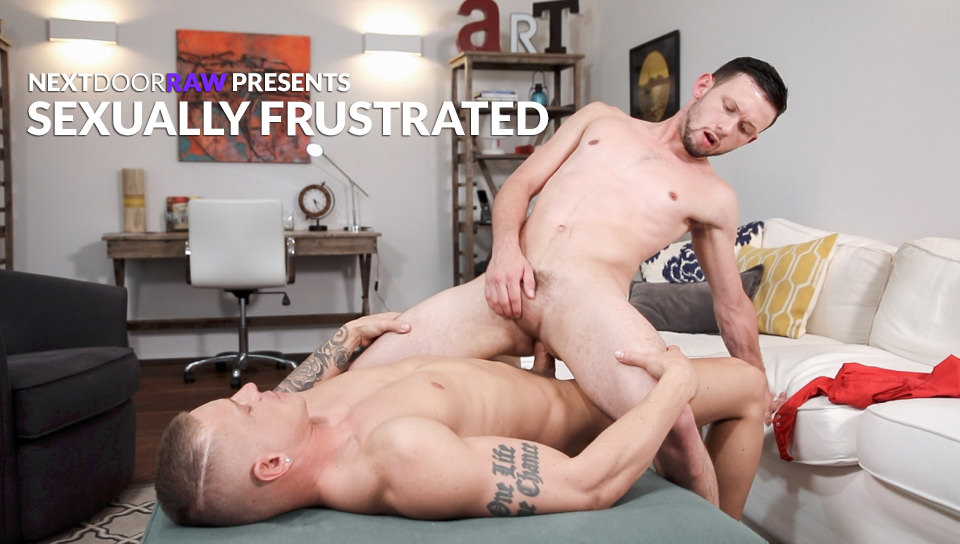 When club bros Mikey Junior and Gunner go out to try and score, they end up instead drunkenly passed out on the couch at the end of the evening. When he wakes the next morning, Mikey's still crazy horny, and the bulge in Gunner's pants seems to indicate that he's needing some sexual release as well.
Mikey carefully unzips Gunner's pants and feasts his eyes on Gunner's cock, slowly handling it delicately as Gunner stirs awake and watches him out of the corner of his eye. Startling him, Gunner asks him if he wants to suck his cock now that he's sober.
Mikey looks confused and Gunner tells Mikey all about the night before, when in a drunken state he proclaimed himself to be horny enough to fuck his bro. Now with the offer right in front of him, Mikey cannot resist, downing Gunner's cock and licking it up and down.
Gunner exhales a satisfied moan as Mikey deep throats his hard on, and he stands up to face fuck Mikey even deeper. Mikey proves he knows how to suck a dick, but he's surprised when Gunner offers to return the favor.
Still, he jumps at the chance, and Gunner works his shaft before sucking on Mikey's head, working his way down to the balls and tonguing Mikey's hole before standing and telling Mikey to ride him. Mikey does as he's told, mounting Gunner and giving it his all.
He takes every inch of Gunner's meat stick and grinds harder and harder, his own hard dick slapping against Gunner's rock hard abs.
Gunner lets him ride for a bit before flipping Mikey over and arching his ass to pound him doggy style, pulling out and shoving it back in just to watch the tip of his bareback cock going in and out of such a sweet ass.
Mikey and Gunner are both ready to cum, so Gunner flips Mikey over and fucks the cum out of him, he spits it all over his chest as Gunner pulls out blankets his hole with his load.
Mikey lay there with the evidence all over him that both guys really need to do this more often…Join them!