All gay porn pics and gay porn videos of Mike Stone.
Hair Color: Brown
Sign: Unknown
Eye Color: Brown
Dick Size: 8 inch dick
Height: 5'9″
Cut / Uncut: Cut / Circumcised
Weight: 165lbs
Sexual Positions: Versatile
Mike Stone scenes at Next Door Studios
With his boyfriend studying downstairs, Paul Canon and contractor Mike Stone make their way towards the guest bathroom to discuss potential alterations to some of the fixtures, but on the way up the stairs, Paul boldly decides he'd rather do a different kind of pipe cleaning, as he throws Mike up against the wall and whips out his cock.
Mike is down to get dirty, but he's worried Paul's boyfriend might hear them. This doesn't deter Paul, who begins sucking Mike's cock until he's rock hard and ready to fuck.
Throwing Paul up against the wall and cupping his mouth to keep him quiet, Mike plunges his raw cock deep inside Paul's hole, fucking him doggy style as the boyfriend thinks he hears something a room away.
He makes his way to the stairwell just as Mike and Paul move up one floor higher, and Paul mounts Mike reverse, bouncing on his pipe as he strokes his own dick hard.
As Mike turns Paul over and fucks the cum out of him, Paul tells him to breed his hole, and Mike obliges, soaking Paul with his load just as Paul's boyfriend makes his way up the stairs.
They duck into the bathroom and get dressed in a hurry so as not to get caught…Join them!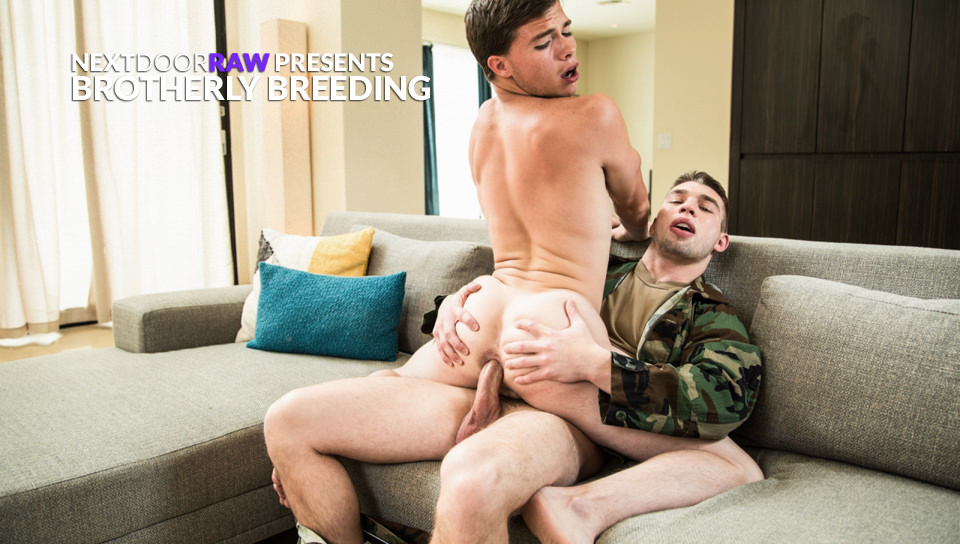 Taking advantage of a surprise break in deployment, soldier Mike Stone wants to surprise his step-brother Dakota Young with his arrival. With step-father off on errands, Mike creeps through the back door and pounces on Dakota in the kitchen.
Dakota is shocked to see Mike but quickly elated to be reunited with his step-brother. When Mike asks Dakota if he missed him, Dakota nods, and tells him he wants to show him just how much, as they embrace and make their way over to the sofa.
Once there, it becomes obvious why the two are so close, as Mike rushes to strip his brother out of his jeans. Dakota immediately begins to suck Mike off, as Mike begins to play with Dakota's ass. Fingering his hole, he can tell it's been a while for Dakota, so instead of depriving him any longer, Mike turns Dakota around and lets him mount his rock hard dick.
Dakota bounces on Mike's raw cock, grinding his ass against it as Mike pumps him full of brotherly love. Bending him over, he fucks him from behind and then flips him over. With both of them close to cumming, Mike fucks Dakota harder than ever and Dakota loses his load all over his stomach.
Mike keeps pounding away, pulling out to blast Dakota's hole with is long overdue load, before plugging his cock back inside and breeding his brother's hole, good and proper. With every thrust, Dakota realizes just how much family means to him…Join them!