All gay porn videos and gay porn pics of LeeRoy Jones.
Hair Color: Brown
Sign: Unknown
Eye Color: Brown
Dick Size: 8 inch dick
Height: 5'9″
Cut / Uncut: Cut / Circumcised
Weight: 165lbs
Sexual Positions: Versatile
LeeRoy Jones gay porn scenes at Next Door Taboo
With their parents gone for the weekend, Leeroy Jones and Elliot Finn both have party visions in their future, but before they can make the invite list, there's a bit of a pre-party happening already.
With no one to interrupt them, the two step-brothers engage in a little familial bet with some hard stakes and a potentially messy outcome.
And when Elliott loses, he learns that sometimes you have to pay the piper even if it means going deep in a hole…Join them!
LeeRoy Jones gay porn scenes at Next Door Studios
Dakota Payne is starting his own 'Fans' channel where he'll be sharing all of his thoughts and feelings.
He wants to connect with his fans but is surprised when he finds that he only has one, Leeroy Jones.
When Dakota meets up with Leeroy, he thanks Leeroy for being his only fan, in the best possible ways. Join them!
With a pool hangout in the plans, you'd think Leeroy Jones would be much more relaxed, but as the guys change into their trunks, his anxiety is running high as he tries to hide the bulge in his pants.
Justin Matthews sees what's going on and tells Leeroy he doesn't have to be ashamed of little wood.
Then grabbing it, he realizes this isn't just a little wood, but a great big boner.
By now Carter Woods has gotten himself a handful and they both agree the pool can wait but this hard on definitely cannot, so they make their way to the bed and show Leeroy how friends help each other in situations like this.
Justin and Carter take turns helping Leeroy out, trading blowjobs, and by the time Leeroy takes his turn fucking them both, he's no longer the only one in the room with a rock hard dick.
This is one cum fest that the whole group can sorely use…Join them!
Married life keeps Jake Porter from exploring his gay fantasies as much as he'd like, but one look at handy man Leeroy Jones has Jake bulging in his pants, and he throws caution to the wind to indulge in a deep desire.
Leeroy is an expert handy man but his specialty is pipe work, and he can tell with one look that Jake is in need of some deep basement renovation.
No complaints here, so long as Leeroy hurries up and zips out of that coverall that's keeping Jake from that rock hard dick…Join them!
LeeRoy Jones gay porn scenes at Active Duty
Enjoy this compilation of Active Duty Favorites: Big Dicks. Starring: Markie More, Richard Buldger, Donte Thick, Quentin Gainz, Elye Black, Marc Montana, Princeton Price, Johnny B II, Zack Matthews, and Spencer Laval.…Join them!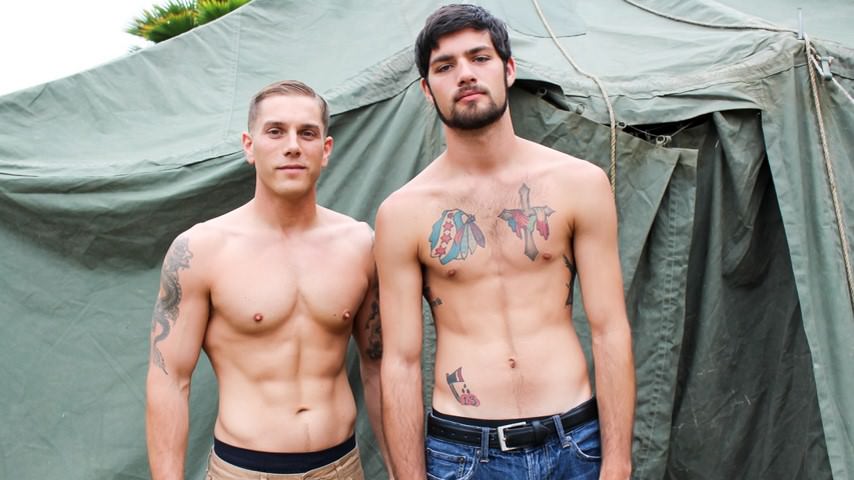 Mike OBrian starts sucking on LeeRoy Jones' cock almost instantly. He loves how big that dick is and the feel of it throbbing in his throat.
Once he gets that dick nice and hard he bends his tight ass over for Leeroy so he can have his way with him. Leeroy pushes his big cock into Mike's little as and begins fucking him in several positions until he flips him on his back and starts to fuck him hard and deeper.
He grabs Mike's cock and strokes it as he fucks him with his thick dick. Mike fucks Leeroy hard and deep making him grab the sheets and moan with pleasure yet at some times pain.
Mike fucks him all over the bed until he pulls his raw cock out of Leeroy's bare ass and cums all over his chest. Leeroy follows only second behind as his nut oozes out all onto himself…Join them!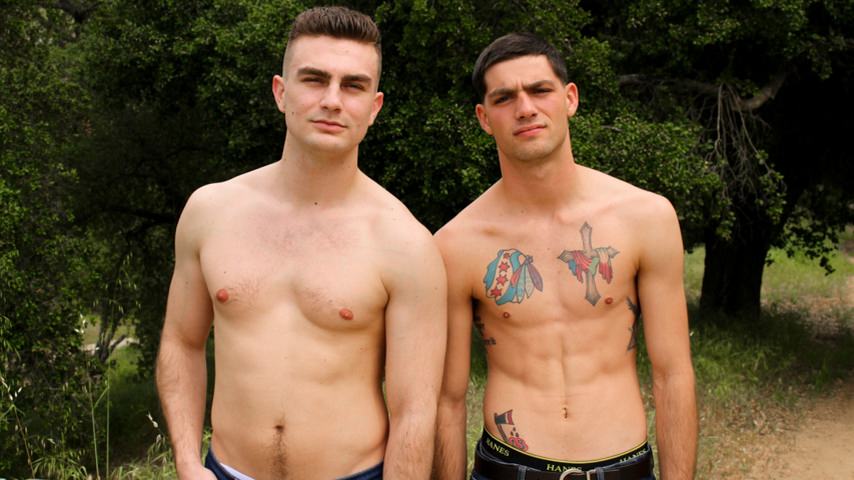 LeeRoy Jones being the alpha he is kicking back on the bed while Sammy Nicks services his thick dick. Every inch goes down his throat as Leeroy looks on and uses his hand to push his head down even further.
He smiles with a soldier's delight as Sammy can't take his mouth off his cock. Sammy can't take the anticipation any longer and wants that big dick in his ass. Leeroy bends him over the bed and spreads his legs wide as he slowly pushes his thick meat into that tight hairy ass.
Once that ass sucks him right in Leeroy begins to pound that tight hole with his throbbing cock. With each thrust, you can hear the balls slapping as this friendly fire is nothing but pure intimacy. Leeroy continues to fuck that ass as he moves Sammy into multiple positions.
Once he gets Sammy on his back that's where the war ends. Leeroy pounds deep and hard as Sammy strokes his own dick making himself blow his creamy load all over his chest.
Leeroy sees all the cum and slides his raw cock out and strokes his massive nut out onto Sammy's cumed on the chest…Join them!
Right out the gate all the boys (Blake Effortley, LeeRoy Jones, Mike Johnson and Mike OBrian) take turns sucking on each other's cocks.
Leeroy has one big piece of meat and some of the studs had a hard time taking every inch down their throat Once their cocks are nice and hard they take turns fucking each other.
It's one big orgy with cocks pounding each and every hole. They all flip flop and take turns pounding each other's sweet tight asses.
Leeroy once again is the star here as his big dick makes for a great fucking and he even bottoms as well.
There is really just to much to talk about for this scene with all the amazing action going on especially at the end where cum loads end up on the sheets and on backs as they each finally release their nuts all over the place.
Have a blast watching this AD battle…Join them!