All gay porn pics and gay porn videos of Jackson Traynor.
Hair Color: Brown
Sign: Unknown
Eye Color: Brown
Dick Size: 8 inch dick
Height: 5'9″
Cut / Uncut: Cut / Circumcised
Weight: 165lbs
Sexual Positions: Versatile
Jackson Traynor gay porn scenes at Men.com
Michael Jackman has evaded capture, escaping from the interrogation room, and now he's close to getting out of the country and away from the law.
The chiseled hunk and his accomplice, the full-lipped cutie Jackson Traynor take a moment of respite before taking flight, sensually celebrating their freedom with a hot and heavy fuck in the living room. Jackson drills Michael's tight hole, moaning with pleasure as he brings him to climax.
But, they should have known it would never be so easy…Join them!
Jackson Traynor gay porn scenes at Next Door Studios
After a long day at work, Jackson Traynor is beat and bushed, but luckily for him, boyfriend David Blake knows how to pamper his man, so when Jackson gets home, it's David's turn to go to work.
He massages Jackson in all his sore spots, then gets to rubbing out the stiffness Jackson seems to have developed in his pants.
Jackson approves of this kind of reception, telling David he'd have knocked off of work much sooner if he knew what was waiting for him at home.
David smiles and tells Jackson he hasn't seen anything yet, and Jackson smiles at what a lucky day it has turned out to be…Join them!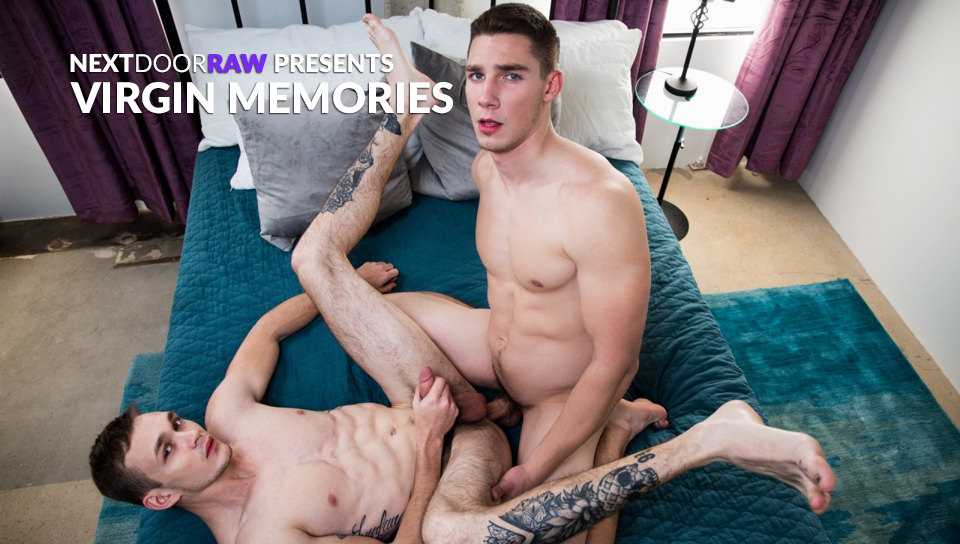 As Jackson Traynor sits at the desk in a familiar hotel room, he reminisces about an event he engaged in, just over his shoulder, on the bed behind him.
With word that his guest, Spencer Laval, will not be joining him for the weeked, Jackson is forced to settle on reliving the torrid affair the two of them shared so long ago.
Jackson remembers every touch, every kiss, and every thrust of Spencer's lustful cock.
Jackson hasn't had it so good since then, and as he sits in the room where so much passion transpired, the memory is visceral and real, and he can remember every inch of Spencer's perfect penis at it filled him up and fucked him silly.
Jackson realizes now that he'll have to keep that memory close, since it seems that his fantasies are the only place he and Spencer will ever be re-united…Join them!
Just killing time on a lazy Saturday, Michael Del Ray and boyfriend Jackson Traynor stumble upon an open house showing at a gigantic house.
With no real intention to buy, they show themselves around as the property manager tends to business in another room.
Upon entering the kitchen, Michael gets a sneaky little idea in his head and convinces Jackson to go for it right there in the kitchen.
Jackson checks over his shoulder and sees that she's far too preoccupied, so consents, and Michael quickly pulls off his pants and begins to suck his cock as he leans against the custom made granite countertops.
Michael remarks on the quality of the craftsmanship as he downs Jackson's cock, then he stands up and bends Jackson over, plunging his giant cock deep inside as he raw dogs his boyfriend against the floor to ceiling cupboards.
Michael continues to pound, lifting Jackson's legs over his shoulders and holding him steady as he fucks him deep and hard. Then, just to test the sturdiness of the fixtures, Michael climbs on top of the counter and perches his ass up for Jackson to have a go.
Jackson slaps his the head of his cock against Michael's hole and then shoves it in, giving Michael some nice bareback action as Michael strokes his cock and jizzes all over the dishwasher.
He bends down just in time to catch all of Jackson's load, sucking him dry as Jackson's throbbing cock quivers inside his mouth, before cleaning themselves up to get dressed before the agent comes through again…Join them!