All gay porn videos and gay porn pics of Marcus Tresors.
Hair Color: Brown
Sign: Unknown
Eye Color: Brown
Dick Size: 8 inch dick
Height: 5'9″
Cut / Uncut: Cut / Circumcised
Weight: 165lbs
Sexual Positions: Versatile
Marcus Tresors gay porn scenes at Bromo
Fit and young Marcus Tresor needs to be shown how to fuck and beefy Spencer Whitman is just the man for the job. Hairy Spencer tells Marcus to undress so he can get a look at that sweet, little ass.
If dark-haired Marcus is going to prove he's a good boy, he's going to have to do exactly what Spencer says. In the end, Marcus turns out to be a perfect, obedient bottom, and hot and hung Spencer rewards him by cumming all over his tight, little hole….Join them!
Marcus Tresors gay porn scenes at Next Door Buddies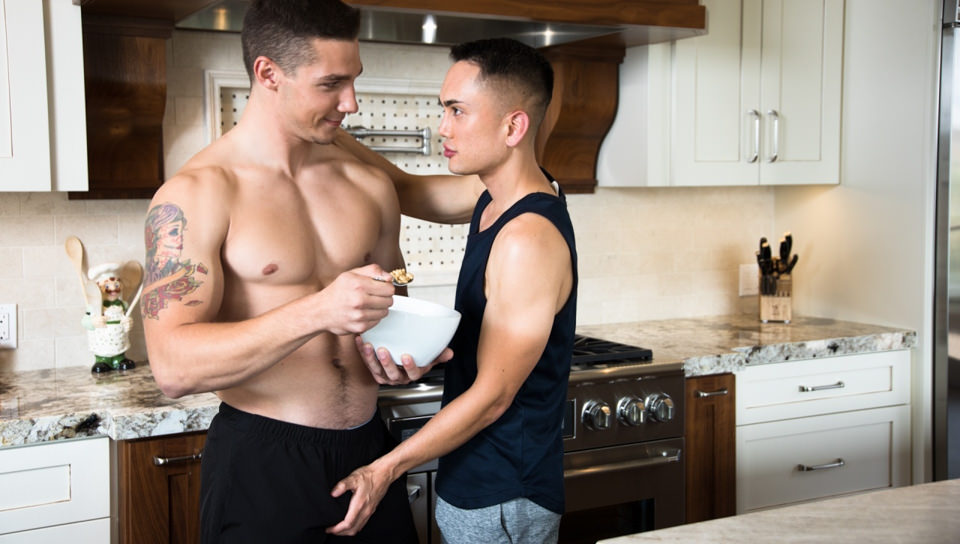 Unaware that his brother had company over the night before, Spencer Laval is just a man trying to eat his breakfast in peace and quiet, but when Marcus Tresor finds him in the kitchen, standing alone with his morning wood raging, things become a little awkward.
Marcus tells Spencer he's not really into cold cereal, and instead prefers a little breakfast sausage, eyeing the bulge in Spencer's shorts. Spencer tries to play it off, but Marcus persists, and before he knows it, Marcus is gripping his cock and staring him dead in the eyes.
Spencer's mind is telling him to walk away, but his throbbing cock is telling him something else entirely, and when Marcus flips Spencer's waistband down and begins to suck him off, Spencer realizes there are worst ways to spend the morning.
Suddenly, Spencer's hunger is no longer in his stomach, as his cock gets rock hard in Marcus' mouth. He bends Marcus over the island and plunges his raw cock deep inside Marcus' hole. Marcus proves this isn't his first-morning sausage, as he takes every inch of Spencer's dick willingly, fucking him all over the kitchen.
They move to the floor where Marcus gives Spencer the ride of his life, then Spencer flips him over, fucking the cum out of Marcus before hosing him off with his morning load.
They clean up just as Spencer's brother stirs awake upstairs…Join them!
Marcus Tresors gay porn scenes at Next Door Studios
With time running out on their group project, Marcus Tresors and Johnny B only have so many hours left until it is due. Johnny tries to convince Marcus to do his part for him in exchange for some personal attention, but Marcus tells Johnny that he's never rough enough for it to be worth Marcus' while.
Johnny promises to do a better job if Marcus will do his class work, and Marcus tentatively agrees. With that, Johnny pushes him back onto the bed and hovers over him as they kiss. Johnny strips Marcus out of his clothes and begins to suck Marcus off.
Marcus moans as Johnny services him and then they switch places as Johnny pushes Marcus' head down onto his cock, gagging him with his hard on. Marcus smiles and tells Johnny that's how he likes it, but Johnny is only getting started.
He leaps up to his feet and spins Marcus around, perching his ass high in the air as he plunges his rock hard dick deep inside Marcus' hole.
He pounds Marcus from behind, fucking him so hard he fears Marcus will break, but Marcus proves he can take the dick as Johnny fucks him all over the bed, finally making him spurt his load as Johnny pulls out and soaks him with his nut.
Cum-covered and satisfied, Marcus exhales as Johnny tells him he's still got a lot of work to do….Join them!