All gay porn sex pics and gay porn sex videos of young dude Alex Tanner. Gay porn star Alex Tanner is naked jerking his huge cock cumming all over himself.
Hair Color: Blond Brown
Sign: Unknown
Eye Color: Brown
Dick Size: 8-inch dick
Height: 5'9″
Cut / Uncut: Cut / Circumcised
Weight: 165lbs
Sexual Positions: Versatile
Alex Tanner gay porn scenes at Next Door Raw
Dalton Riley knows how to drill and he makes Alex Tanner's hungry hole super happy in this sexy Raw.Join them!
Alex Tanner gay porn scenes at Next Door Taboo
Chris Damned is fresh out of prison and back in the family home with his mom, stepfather, and stepbrother, Alex Tanner.
Alex is a goodie-goodie and Chris thinks his stepbro needs some corrupting to make it in the real world.Join them!
David Skylar is getting married and Alex Tanner thinks he's making a big mistake marrying his boring sister. Nonetheless, Alex decides to give David a proper sendoff into married life by bedding his sister's soon-to-be husband.Join them!
no images were found
Alex Tanner gay porn scenes at Next Door Studios
Hottie hunk Alex Tanner spit roasted by Jayden Marcos and Danny Parker's huge young cocks.
Jayden Marcos is getting along with Alex Tanner, but Jayden's roommate, DannyParker, called dibs on him first.
So what's Jayden supposed to do when he finds out Alex is into him?
See all Alex Tanner gay hardcore fuck sessions at Next Door Studios here.
See all Jayden Marcos gay hardcore fuck sessions at Next Door Studios here.
See all Danny Parker gay hardcore fuck sessions at Next Door Studios here.Join them!
Brandon Anderson can't get enough of Alex Tanner's tanned and toned body so he takes him for a ride in this raunchy, Raw masterpiece.Join them!
Alex Tanner has a secret, and his name is Charlie Pattinson. Alex's parents don't know about Charlie, and that's exactly how he'd like to keep things for the moment, but Charlie's cock sure is tempting.
Alex doesn't want to get caught, but he can't stop imagining Charlie's thick meat inside his mouth, sliding down his throat, then flipping him over and pounding him until he can't take it any longer.
He decides to sneak Charlie in for a quickie, and Charlie proves to be quite the back door man, stripping Alex out of his clothes and sucking him off before fucking his brains out all over the bed.
Alex doesn't know why he waited so long to invite Charlie in, but now that he's there, he's making it his. He fucks the cum out of Alex, who moans without fear of getting caught as Charlie blasts him with his back door load, before sneaking out the same way he came…Join them!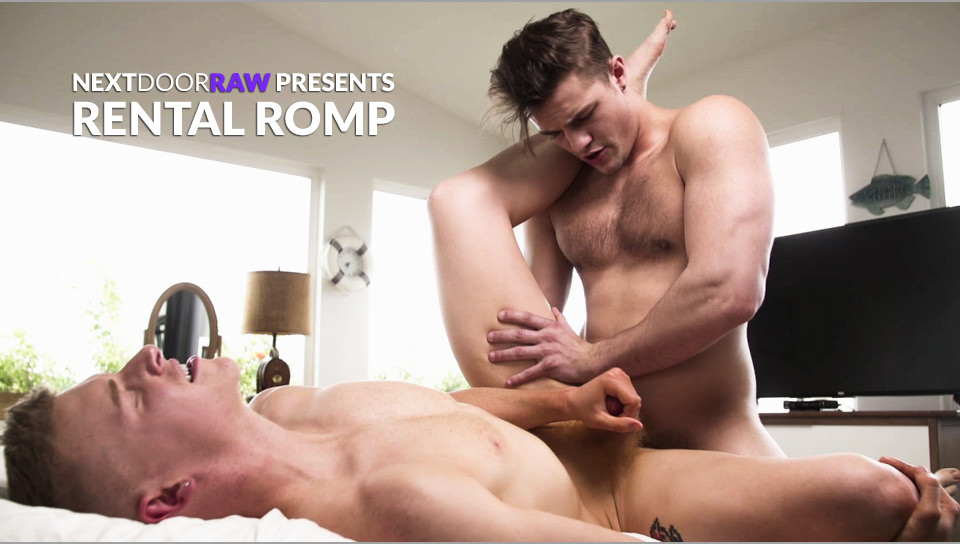 One look at his rental guest and Alex Tanner realizes he's made a good decision.
His renter, Charlie Pattinson, is only in town for a night or two, and Alex intends on making his stay as pleasurable as possible.
Charlie was just looking for a nice spot to rest his head at night while he's in town, but when he comes home and finds Alex nose deep in his underwear, Charlie realizes he's about to get a lot more than he bargained for.
Alex proves to be quite the gracious host, and he proceeds to take care of Charlie's every need, downing his cock in his mouth and working Charlie's hole with his finger before turning around and giving Charlie all the ass access he could hope for.
Charlie doesn't squander the offering, plunging his raw cock deep inside Alex' hole, pounding him all over the bedroom. Alex rides his dick like a champ, and Charlie wonders if Alex treats all his guests this way.
Charlie, in turn, gives Alex a healthy helping of that good dick, fucking the cum out of him as Alex moans and squirms on the tip of Charlie's cock.
Charlie pulls out and shoots a massive load all over Alex, who rubs the cum into his skin and smiles at the setting sun.
'We still have the rest of the night to go,' he says to Charlie, who realizes he might have to extend his stay a little longer…Join them!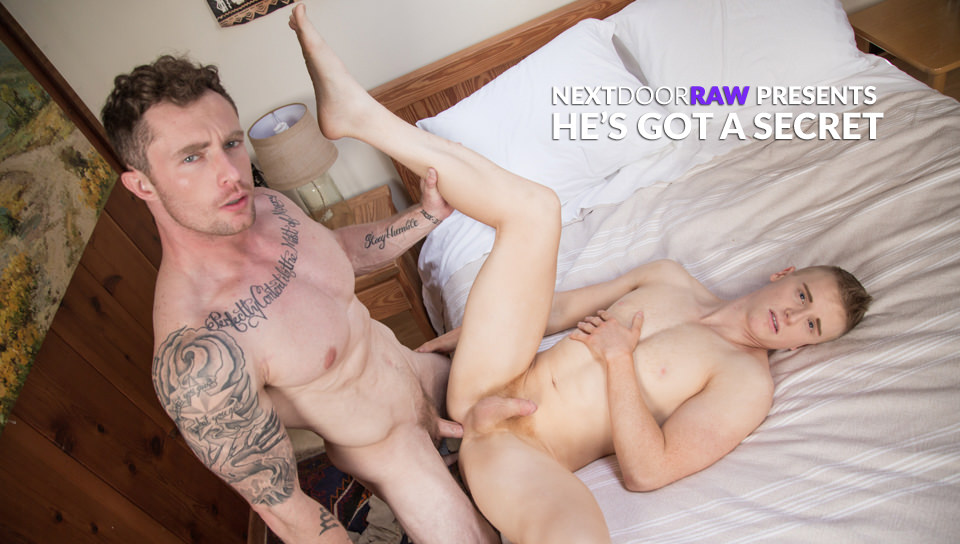 As he watches his wife pull away for a day of errands, hubby Markie More struggles with his conscience and his desire.
Fumbling with his wedding band, he decides to give in to his desire, and shortly after, Alex Tanner A arrives at his house.
Alex knows all about Markie's straight life, but he doesn't care. As long as Markie gives him that good straight boy dick, Alex is just fine with the arrangement.
Markie obliges, sucking Alex off with a hunger that only exists in being deprived. Unleashed, Markie feasts on Alex's cock before tonguing his hole in anticipation.
Once it is nice and moist, Markie plunges his raw cock all the way inside, filling Alex up with his nice hard on and taking Alex to pound town.
He fucks Alex all over the bed as Alex moans his approval. Alex takes the lead and mounts Markie's cock, bouncing up and down on it before falling off to his side, where Markie fucks the cum out of him.
Alex jizzes all over the bed where Markie and his wife sleep at night, but Markie isn't thinking about that at all anymore.
Instead he watches Alex lose his nut before pulling out and blasting him with his own pent up load.
It coats Alex nice and thick and they both laugh as Alex asks Markie when his wife will be gone again…Join them!
Alex Tanner A gay porn scenes at Next Door World
As he showers alone, Alex Tanner A wonders if this random dildo in the corner belongs to anyone, but continues to go about his routine. Midway through, new arrival Ty Thomas enters the shower, and at first glance, Alex assumes he must've doubled back for it.
From his perspective, Ty finds it pretty bold that Alex would bring his dildo to a community shower, and both guys commence to showering assuming the other is keeping a secret. Ty finds it strange that Alex is so openly advertising, but he has to admit Alex has a nice little ass and is cute as hell.
Alex still can't tell if Ty is into guys or just playing coy, but as they continue to shower, it becomes obvious what is on both guys' minds. After making eye contact, Ty boldly inches closer to Alex, staring at him as he takes Alex's hand and rests it on his cock.
Alex grips it and slowly massages it as Ty gets hard in his grasp. They kiss as the shower rains down upon them, and Ty pushes Alex up against the wall, kissing down his back and spreading his cheeks wide, tonguing his hole as Alex leans against the wall.
Rock hard, Ty plunges his cock deep inside Alex and fucks him standing up from behind. Alex takes every thrust that Ty delivers before they move over to the bench, where Alex spreads his legs and rides Ty reverse, bouncing on his cock as steam fills the room.
Flipping him over onto his back, Ty fucks Alex missionary as Alex strokes himself off, spitting jizz all over himself as Ty pulls out and messes Alex's clean body with his own load. As they talk afterwards, they each discover that the dildo doesn't belong to either one of them, which prompts them to suddenly wonder who set them up in the first place…Join him!
Weary traveler Alex Tanner A has found his way to Madam Hostel's lodge and is ready for a good night's rest. Trying to save a few bucks on his trip, he's both anxious and excited to be staying in the hostel, and even though the Madam seems a little odd, Alex tells himself it's worth the money.
Plus, the hostel's porter, Damien Hyde, is no eye sore. Alex isn't sure if Damien is flirting with him or if everyone here is just a little forward, but nonetheless, he turns the key and unpacks in his room. After a nice shower, Alex is ready to rest his road legs, and so he falls asleep.
Sometime later, Damien checks on Alex to see if he needs turn down service, and finds him ass out and ass up in the air. Damien can't resist the temptation and begins to stroke himself, fixated on the idea of pounding Alex's sweet little ass to his heart's content.
As he fondles his cock, Damian decides to risk it, and slips a finger inside Alex's hole, massaging it as he continues to get hard. Alex wakes up and looks over his shoulder, asking Damien what he's doing. Incredulous, Damien doesn't even stop to answer, asking Alex if he likes it.
Alex concedes that he does, and Damien asks him if he wants him to stop. Alex tells him no and Damien lowers his head, plunging his tongue deep down into Alex's hole as Alex grabs the sheets and bites the pillow. Once he's nice and ready, Damien eases his giant cock into Alex, who takes it like a champ, as Damien proceeds to pop Alex's cherry.
Alex begins to understand what Madam Hostel meant by 'giving something back' as Damien proceeds to own his ass in every possible way, fucking him from behind, underneath, missionary, doggy, etc. Alex strokes himself off as Damien gets closer and closer.
Alex loses his load as Damien pulls out and blasts his face, and as he lays there cum covered and still exhausted, Alex asks what other amenities the hostel provides. Damien just smiles a knowing, sly grin…Join him!
Alex Tanner A gay porn scenes at Next Door Buddies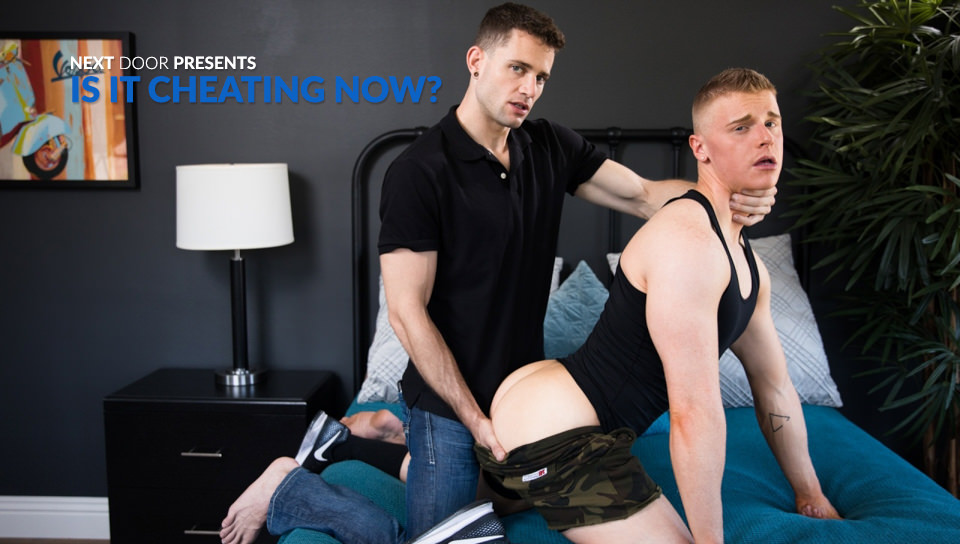 Since their impromptu threesome, Quin Quire hasn't seen much of Alex Tanner lately, but when he finally tracks him down, he notices Alex is wearing a pair of fuck me shorts that just scream for attention.
Quin tells Alex he's ready to do it again, and Alex tells him it was a one time thing, but his eyes say something else entirely, and Quin follows him upstairs, throwing him down on the bed as he rips off Alex's shorts and dives into his pink little hole face first.
He tongue fucks Alex and then sucks him off, and once he's satisfied his craving, he face fucks Alex and then bends him over, shoving his hard cock deep into Alex Tanner, fucking him all over the bed before pulling out and feeding him his load.
Quin tells Alex he can be in a relationship as long as Alex will still be his little fuck slut, and Alex, covered in jizz, licks his lips and agrees…Join them!
As the build up to election draws near, it's serious business in Dylan Knights campaign office. Stumping hard for their man, Dylan's office of interns have been working around the clock and at least one of them, young Alex Tanner A, appears to be feeling the effects of the non-stop bustle.
Fellow intern Brett Beckham has noticed Alex getting a bit flustered all day, and he's also noticed that Alex is packing a sweet little ass beneath his khaki dress slacks. When Alex steals away to make copies of the speech he's edited, Brett takes it upon himself to do a little informal polling, telling Alex he needs to relax and already easing his hand up Alex's tie as he slips his other hand on Alex's ass.
Alex tells him they should set up a night and have drinks, but Brett is way ahead of him and is already unbuttoning his shirt, pushing Alex down to his knees as he starts to unzip his fly. Alex takes Brett's cock in his mouth and begins to suck him off, downing his cock and feeling him deep in his throat.
Brett puts his hand on Alex's head and pushes him further down his shaft, before pushing the new intern up against the desk and eating his ass out, fantasizing about what he's going to do to it. Alex closes his eyes and can see stars as Brett strokes his cock, spitting on his hole as he stands up to enter from behind.
Brett moves Alex over to a small ottoman and grabs him by the tie, plunging his cock deep into Alex as he bends on all fours. Brett pounds Alex from behind as Alex takes every inch, before they switch and it's Brett lying on the ottoman as Alex rides him, his hard dick slapping against his stomach with every push.
Brett flips him onto his back as Alex strokes himself off, cumming all over his stomach as Brett pulls out and wets him with even more jizz, leaving Alex cum-covered but much more relaxed than he was when he entered the closet…Join them!
Alex Tanner A is about to get a taste of the real world, as landlord Bridger Watts has served him with a 7 day notice to either pay or vacate the premises. Alex is taken unawares, as his parents normally fund his lifestyle, but Bridger has just informed Alex that his parents have instructed Bridger they will no longer be financing Alex's debt, which leaves Alex between a rock and a hard place.
Luckily for Alex, that hard place is located in Bridger's pants, which is something Alex knows all about. As he slides his hand across Bridger's thigh, he assures his landlord they can work something out, and as he unzips Bridger's trousers, it seems as though reality isn't the only thing young Alex will be tasting today.
Bridger's cock falls out of his pants, semi-hard and ready for action. Alex takes it into his mouth and downs it as Bridger begins to come out of his clothes. Alex checks out Bridger's ripped arms and chest and gets horny just thinking about those big strong arms wrapped around him.
But he doesn't have to imagine it for very long, as soon after, Bridger is bending Alex over, pounding him from behind and making sure he gets his money's worth.
Alex takes every throbbing inch that Bridger has to dish out, mounting him and grinding his ass against Bridger's thrusts, as Alex jerks himself off and spews his load onto the floor below, before Bridger pulls out and coats his face with a load that just earned Alex at least 30 more days of occupancy…Join them!