All gay porn scenes and pictures from Myles Landon.
Hair Color: Brown
Sign: Unknown
Eye Color: Blue
Dick Size: 8.5-inch dick
Height: 5'10"
Cut / Uncut: Cut / Circumcised
Weight: 165lbs
Sexual Positions: Top
Myles Landon AKA President Lewis gay porn scenes at Missionary Boys
President Lewis has booked a meeting with Alder Taylor Reign for what is called a worthiness exam.
The meeting starts with President Lewis asking Taylor some personal questions starting with, "do you have unclean thoughts?"
Young Taylor answers truthfully, "yes sir."
"Any sexual contact with your companion?" Again, Taylor replies, "no sir."
"Do you ever wonder what it would feel like?" questions President Lewis.
"No sir," comes back the reply from godly young Taylor.
President bends over and undoes Taylors pants and sucks down on his soft cock. It immediately gets hard and fills the President's mouth. He slowly slides the young boy's erect dick deep to the back of his throat.
Alder Taylor gasps and moans in delight at the feeling of a man's tongue on his hard cock.
President Lewis stands and unfastens his pants as Alder Taylor kneels before him and opens his mouth to receive the President's huge thick dick.
He can hardly manage to take it in, the whole way. Gagging on it several times as he forces it back.
President Lewis then lifts Alder Taylor's bare legs and plants his hard erect dick right between his pure white ass cheeks.
He gets his cock balls deep into Taylor's virgin boy hole filling him till he can take no more.
President Lewis bare fucks him until he is ready to shoot his full cum load inside Alder Taylor's asshole until cum is dripping out of his well fucked hole.
President Lewis has given Alder Taylor a worthy lesson that he won't forget….Join them!
Myles Landon gay porn scenes at Hothouse
Myles Landon is hard at work in the garage when Micky Jr stops in to deliver some parts.
After Myles receives the package, he gets Micky to stay and give him a quick hand with a van he's working on.
After Micky helps out, he heads for the door, but Myles grabs the delivery boy, pulls him into his throbbing package and gropes his firm ass.
Micky's libido is 'Overpowered' by the ripped mechanic, Mickey drops to his knees deep throating Myles 9-inch tool.
Myles fills Micky's mouth with cock before returning the favor with a sopping wet hummer.
Myles continues to please the delivery boy when he bends him over against the van and lathers Micky's hole with his long tongue.
Myles uses his tank top as leverage around Micky's neck as he parks his big meat in Micky's open hole.
Micky gets drilled doggy style until he falls to his knees one last time to catch Myles' thick load into his open mouth.
Covered in cum, Micky uses the cum on his face as lube to shoot his load out onto the shop floor…Join them!
Myles Landon gay porn scenes at Raging Stallion
Hot muscle stud Myles Landon is hard at work in his home workshop, but he keeps getting interrupted by Aspen who won't stop messing with him.
After a time, Myles gets bored with all the horseplay and he grabs ahold of Aspen, overpowering him and bends the muscular stud over and rims his hot asshole.
Now that he's finally getting the attention he wanted, Aspen submits his hole to Myles' tongue and fingers.
To show Aspen who's in charge, Myles spreads his ass and shoves his thick cock in Aspen's hairy hole.
Aspen lets Myles drill him bareback balls deep before getting on his knees to suck the fat rod that was just pounding his prostate.
After deepthroating Myles, Aspen lowers his hole down onto Myles' pole.
Switching positions one more time, Myles pumps into Aspen's hole, making him shoot his load all over the shop.
That's Myles' cue to finish as he glazes Aspen's hairy hole with his seed….Join them!
Myles Landon knows he's here to do a scene with Men.com, but he doesn't know who he'll be fucking bareback.
His scene partner also hasn't been told who to expect, but when Colby Tucker arrives, the hunks are very pleased to see each other.
After discussing their turn-ons, the guys start kissing, stripping off their layers and getting to know one another… carnally.
Colby sucks Myles's nipples and then his cock, and Myles eats Colby's ass before sliding his dick inside doggy style.
Myles loves bottoms who love to be pounded, so he gives Colby what he craves in pile driver before a nice deep missionary fuck as Colby cums.
Then Myles adds his big load to the mix…Join them!
Myles Landon gay porn scenes at Bromo
This is like no auction you've ever been to before, because what's going up on the block is a set of four hot twinks.
One by one, the masked auctioneer unveils Austin Young, Cole Blue, Jay James, and Danny Wilcoxx, each clad only in a bow tie and silken thong, playing with their bodies to make their cocks hard and fingering their tight holes as he displays them to best advantage.
The interested buyers get a chance to sample the merchandise as the twinks kneel, compliant, while the rich and powerful men stroke and kiss them.
Finally, the high bidders get to claim their prizes, and the other twinks watch in turn as each boy is fucked in a hot orgy…Join them!
Myles Landon gay porn scenes at Raging Stallion
Talon Reed is out on patrol in the post-apocalyptic 'Wasteland'. He stumbles across supplies, food rations and water, that must have been abandoned in a surprise attack. Talon brings the loot back to base and shows his find to Myles Landon.
'You know what this means, right? It's reward time,' says Myles as he removes his codpiece to reveal his fat, heavy cock. Grinning devilishly, Talon leans in and sucks Myles' rock hard cock until it's dripping with spit. Myles bends Talon over and rims his ass, parting the furry cheeks and pushing his saliva in with his tongue.
With Talon's ass wet and willing, Myles stands up and fucks him doggy style. Grabbing Talon's harness, Myles pulls him backwards, which drives Myles' cock even deeper inside. Myles' six-pack abs ripple as he thrusts his hips, and Talon revels in every motion.
Lying on his back, Myles invites Talon to go for a ride. Grinding up and down, Talon fucks himself on Myles' rod, picking up speed and intensity every second. Flipping into missionary position, Talon jerks out his load as Myles uses his throbbing cock to stretch Talon's ass.
Pulling out, Myles strokes his cock and delivers a gushing stream of cum that drenches Talon's stomach…Join them!
Myles Landon gay porn scenes at FalconStudios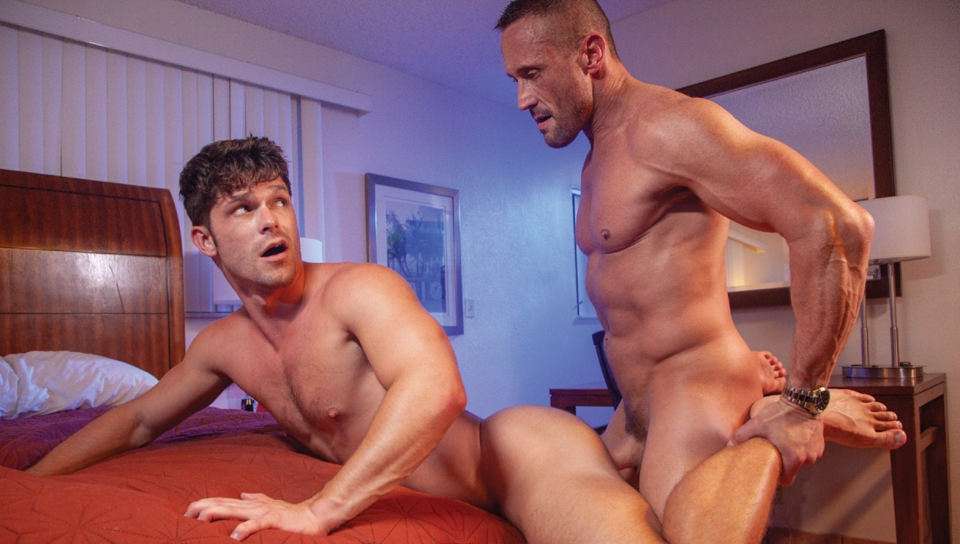 Devin Franco is chillin' by the beach when his buddies drop by looking for some weed. None of them have enough cash so they hatch a plan to roll a local hotel to get some money. After the heist, Devin is down on himself for being a part of the plan when he receives a text from muscle daddy Myles Landon and heads on over to his hotel for a quick fuck.
The two meet with no words at all and Devin lies back on the bed while Myles pulls out his massive cock to cram it down Devin's eager throat. After face fucking the toned Beach Rat for a bit, Myles flips Devin over and shoves his tongue up his ass to open it up for his giant dick.
When Myles has had enough of the foreplay, he slides his raw dick deep into Devin's ass. Devin receives the massive member with pleasure and loves the feeling of the muscle daddy pounding in and out of his hole. After throwing Devin around in multiple positions, Myles is ready to blow.
He fucks Devin a little faster and drives a little deeper until he unleashes a geyser of cum all over Devin's hairy hole. Myles shoves his bare cock back inside and keeps Devin's ass full until Devin shoots a load of his own all over his muscled-up beach bod….Join them!
Myles Landon gay porn scenes at Fisting Central
Head Prison Guard Myles Landon is showing his newest inmates to the ways of Dorchester Correctional Facility, where he rules the roster with an iron fist and a rock-hard cock and uses and abuses his power on the prisoners for his own selfish amusement.
Back in restraints and with his nuts crushed in a C-clamp, Nate Grimes watches with a mix of fear, revulsion and arousal as his fellow inmate Drew Dixon is chained to a desk with a boot strapped around his neck and repeatedly violated by Officer Myles' thick nightstick of a cock.
Myles wrecks the British brat's butt hole, all the while taunting and tormenting Nate with threats of even worse treatment. Nate is soon told to kneel and eat his buddy's freshly fucked ass, as Drew wisely surrenders to the hopeless situation and starts finding pleasure in his brutal punishment.
Myles makes Nate stand up and pound Drew till they all reach a thundering orgasm and the two little prison bitches are put back in their places in their holding cell to await whatever wicked new ideas Myles can whip up for them tomorrow and contemplate their new prison life that is both stir crazy and 'sir' crazy…Join them!