All gay porn pics and gay porn videos of Damien Kyle.
Hair Color: Brown
Sign: Gemini
Eye Color: Green
Dick Size: 7 inch
Height: 5'11"
Cut / Uncut: Cut
Weight: 150lbs
Sexual Positions: Bottom
Damien Kyle gay porn scenes at Next Door Buddies
For anyone who missed his solo debut, Florida stud Matty Strong is back for his official introduction, as he has his first male experience on camera.
Matty is visibly nervous, having never messed around with a guy before, even in his personal life, but luckily, Damien Kyle is here to take control and break him in slowly.
Damien guides Matty through the preliminary movements, sucking him off and smiling when Matty gets hard and tells him it feels great. The feeling is mutual when Damien backs up on Matty's cock, taking it all the way to the base as Matty pounds him from behind.
And after getting fucked all over the bed, Damien is ready to spit his load, so Matty fucks the cum out of him before spitting his first gay load all over Damien, promising to come back soon if every shoot goes like this one…Join them!
Damien Kyle gay porn scenes at Next Door Studios
Sexy cutie Elliot Finn starts off by sucking down hard on long haired young hunk Damien Kyle's huge dick.
As Damien lies back on the sofa Elliot on his knees swallows his big cock whole choking it right to the back of his throat.
While Damien appears to be sleeping Elliot takes full control hovering over Damien's hard erection pressing his hot hole down fully balls deep onto it.
The sexy guys switch up positions with Elliot bracing himself as Damien's huge cock pierces his hairy ass hole in long firm strokes.
Elliot changes positions a few times so Damien's cock gets deeper and deeper into his hot hole.
Damien loves the firm grip of Elliot's bubble ass around his thick dick as he moves in and out, the sensation brings him close to orgasm.
Elliot works his ass back onto Damien's dick before lying back and taking a full-throttle ass pummelling before Damien pulls out and showers them both with his cum.
He's quickly followed by Elliot who sprays his jizz all over his stomach as Damien fucks his cum back inside of Elliot's freshly fucked hole….Join them!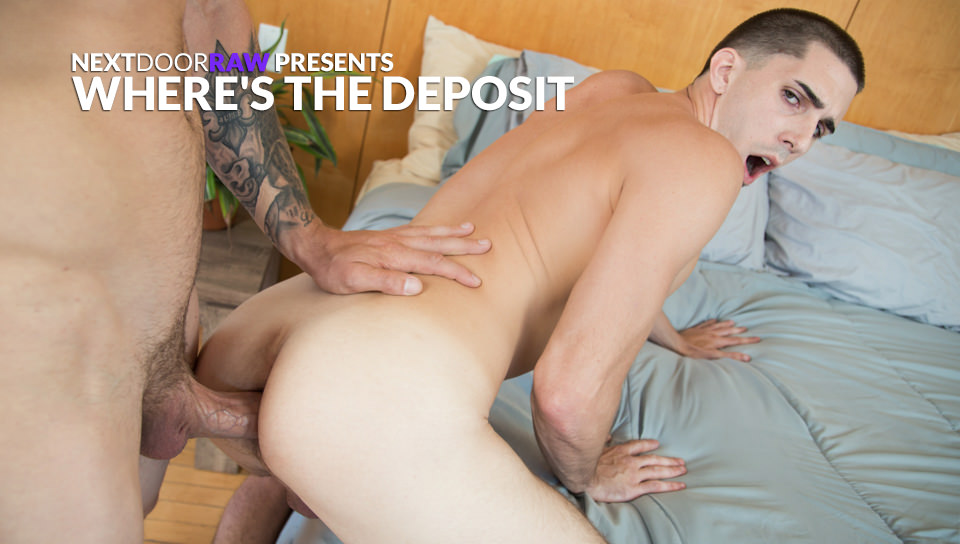 When Mark Long hears what Damien Kyle is asking up front to move in, he realizes he's way out of his range. As he gets up to leave, Damien notices the bulge in Mark's pants and asks him if he's ok. Mark is embarrassed, and tells Damien he doesn't know why his dick is hard.
Damien, sees an opportunity and tells Mark as long as he's open minded, there may be another way for him to make his deposit. Moments later, Damien is unzipping Mark's pants, and when he whips out his cock, he lights up, realizing he's hit the jackpot.
He downs it hungrily as Mark pushes his head further, sucking Mark's dick and getting it nice and hard before mounting it slowly. Mark eases his hammer deep into Damien, and once he hits the bottom, he begins pounding.
Flipping him over, he slides his raw cock in and out of Damien's sweet ass, pulling out just to plunge it back deep inside him. Damien takes every inch as Mark flips him over onto his back and fucks the cum out of him.
He spits his load all over his chest while Mark continues to fuck him hard, pulling out and telling him to flip onto his stomach, spreading his legs wide so Mark can seed his hole.
He unleashes his load all over Damien's ass and then slowly slides his swollen head back into Damien, filling him up from behind with more than enough deposit to cover the utilities…Join them!
Damien Kyle gay porn scenes at Men.com
If you had the time and the funds to travel the world doing whatever your heart desires, you might follow in the footsteps of Southern redhead Calhoun Sawyer, globetrotting ass aficionado.
Calhoun's had his eye on Damien Kyle for a while, the only dude who travels even more than Calhoun does.
The guys have finally met up in the same city, and Calhoun's a little nervous to finally meet Damien in the flesh, but that nervousness turns to pure excitement the minute Damien wraps his lips around Calhoun's cock.
Calhoun fucks Damien's hole in doggy style and piledriver, and the bearded bottom can't get enough of that big fat dick.
Calhoun strokes Damien's cock as he fucks him missionary, then pulls out and covers him with cum…Join them!
Slackers Damien Kyle and Tim Hanes don't find Professor Scott DeMarco's Lessons of Love class any more interesting the second time around, but they are interested in each other.
Professor DeMarco spots the chemistry that's keeping his students from concentrating and calls them to the front to give them some personal instruction, starting with making their makeouts more passionate.
Scott tells Damien to suck Tim's cock and gives him some pointers, then advises Tim on the best way to fuck Damien's ass before taking over to show the students how it's done…Join them!
Professor Jax Thirio offers mock interviews to prep his students for the real world, but college senior Damien Kyle has no experience, no strengths, and no idea how to make a good first impression.
Jax decides to try a different approach, bending the naughty Damien over his desk and spanking him with a ruler.
Damien loves it, and shows the prof that there is one thing he excels at: sucking dick.
Jax teaches Damien how to take it hard in his ass, and Damien wants to impress his professor by riding his cock and taking a huge load on his face…Join them!
This groom isn't looking for a wife, he's looking for a cock to suck and a hole to fuck. Cliff Jensen offers his massive cock to Damien Kyle's groom…Join them!
Ashton McKay returns home after a long absence and is greeted by a horned up Damien Kyle. No time is wasted once Ashton whips that dick out. Damien opens wide and swallows that rod, lubing it up for his rear-entrance. His tight hole embraces Ashton's shaft as he pumps it into him…Join them!