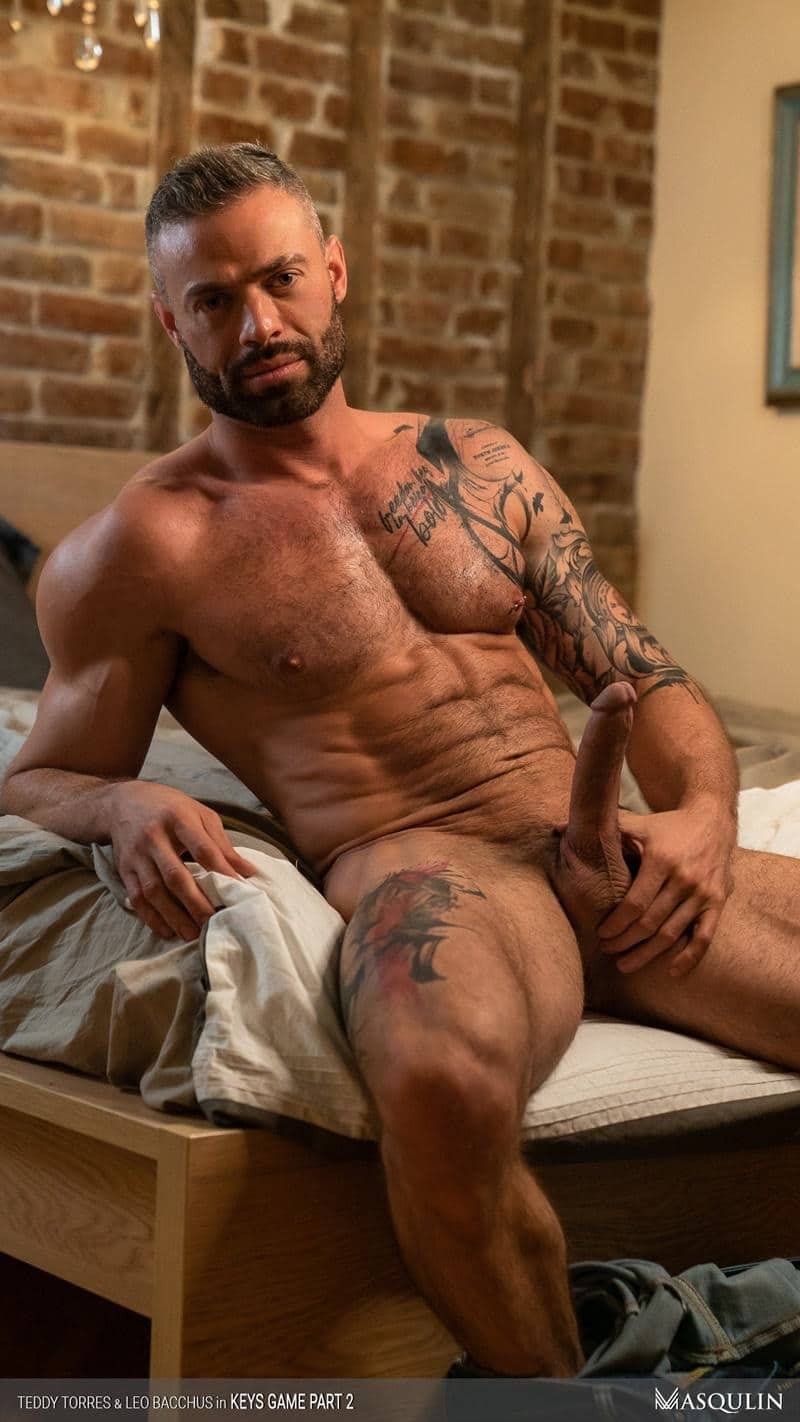 All gay porn sex pics and gay porn sex videos of Leo Bacchus. Gay porn star Leo Bacchus is naked jerking his huge cock cumming all over his ripped six-pack abs.
Hair Color: Brown
Sign: Unknown
Eye Color: Brown
Dick Size: 8-inch dick
Height: 5'9″
Cut / Uncut: Cut / Circumcised
Weight: 165lbs
Sexual Positions: Versatile
Leo Bacchus gay porn scenes at Men
Sexy young boy Leo Louis's huge dick bareback fucking hottie muscle dude Leo Bacchus's bubble ass.
While Leo Louis's secret boyfriend is upstairs getting railed, he has to sit with his prom date and her family in the living room acting normal.
He offers to help his date's dad, Leo Bacchus, make some snacks, and can't stop checking out the silver fox's bubble butt.
Mr. Bacchus gets on his knees to suck Leo's cock, then the college student bends the sexy daddy over the counter and fucks him doggy style.
Enzo catches them and it's his turn to sulk as Mr. Bacchus rides the top on the floor.
Leo fucks his date's dad on the counter and cums on him right before the limo arrives.
See all Leo Louis gay hardcore fuck sessions at Men here.
See all Leo Bacchus gay hardcore fuck sessions at Men here.Join them!
Leo Bacchus gay porn scenes at Lucas Entertainment
Older muscle hunk Leo Bacchus's bare asshole fucked balls deep by young muscle pup Bruno Galvez's huge 9-inch uncut dick.
Bruno is a hulking hunk of a man, and best of all, he is all top.
Bruno loves another guy who is more than comfortable being on the bottom and taking dick as his pleasure.
Speaking of that, Leo has only been in a couple Lucas Entertainment scenes so far, but he has made himself known and has already built a reputation by being a muscular jock who knows how to take dick.
That is perfect for Bruno Galvez because he likes his bottoms to be manly on the streets and pussy bitch bottoms in the sheets.
First Bruno and Leo talk during a bareback audition before the action starts.
When they start their passionate encounter, they are feeling each other's bodies and admiring one another's muscles.
But soon it's the hard dick of Bruno Galvez that requires the most attention, and Leo Bacchus is on it.Join them!
Jeffrey Lloyd and Leo Bacchus's hardcore anal fuck fest.
You might be fooled by your initial impression of Leo Bacchus.
The guy is a butch and muscular gym rat who takes a great deal of pride in working out and shaping his incredible Adonis body.
But when he is in the bedroom with another man, Leo is a submissive bottom and he likes to get his asshole fucked like a pussy ready for breeding.
Jeffrey Lloyd is all for that, but he also wants to experience the muscles of Leo before pounding him out.
So he gives Leo a nice massage, especially his ass cheeks and the tiny little hole between them.
Before long, Leo Bacchus is ready for action, and he takes full control of the huge fat uncut cock between the legs of Jeffrey Lloyd.Join them!
Young hotties Paul Cassidy and Riis Erickson get naked outdoors to be snapped by the legendary photographer Benno Thoma whose lens captures their perfectly sculpted nude bodies under the Greek sun.
Besides the fact that these two could easily take part in the ancient Olympic games, both of them have nice, fun personalities and we thank our team for capturing it too.Join them!
Leo Bacchus gay porn scenes at Masqulin
In part 2 of the Keys Game, Leo Bacchus and Teddy Torres discover they've been paired up and find their way to bedroom number 2.
Leo and Teddy have been eyeing each other all night, and Leo is more than excited to have been paired with his hairy masculine fuck-partner.
Secretly, he's been wanting this to happen for a long time and is happy to finally get a chance to fuck no-strings-attached with Teddy.
Teddy is an epic cock-sucker and he swallows Leo's cock deep.
Leo enthusiastically licks Teddy's sack and takes a rough face-fucking before climbing up and riding his face.
Teddy tongue-fucks him deep 'til his hole is nice and slick.
Teddy flips him over, and thrusts deep into his buff muscle-bottom, tweaking his nipples before spraying his hot load on his chin.
Teddy wraps his big hands around Leo's neck, and Leo cums uncontrollably, shooting his load all over his ripped abs.Join them!