All gay porn videos and gay porn pics of Max Konnor.
Max Konnor is a New York City-based alpha top who fucks his bottom bitches without remorse — and that says a lot when you consider the 10-inch big black cock he has between his legs.
Max's idea of the perfect lazy day is relaxing at one on the couch and bingeing Netflix. "I'm quite the homebody." When he's fucking, he loves fucking little twinks; the difference in body types turns him on big time.
Max Konnor enjoys fucking on the sofa, and when asked what his favorite sexual activity is, he responded: "There's nothing like that first penetration." Well said, Max.
Hair Color: Black
Sign: Unknown
Eye Color: Brown
Dick Size: 10-inch dick
Height: 5'6″
Cut / Uncut: Cut / Circumcised
Weight: 185lbs
Sexual Positions: Top
Max Konnor gay porn scenes at Noir Male
Don't you hate it when people don't knock?
Jigz Castelo certainly doesn't hate it when his big dick cousin Max Konnor barges in all he's trying to rub one out.
The two guys talk a lot of shit and ask each other if the other one can take it it's not long before the Jigz is taking Max's huge cock down his throat and up his tight thick ass.
Not before Max gets a taste of that juicy booty…Join them!
Max Konnor and Titus McMasters are off on a business trip together.
They're best friends so they always stay together.
They arrive at their rental house and decide to christen their trip.
Max had something in mind but Titus wanted to do a couple shots.
The two men joke and laugh and when they've had enough tequila, They start to tell each other secrets.
After confessing how much they really like each other outcomes the huge cocks to be taken care of.
Superstar Max takes care of newcomer Titus's Willing hole.
And when these two studs are through it's a completely successful business trip…Join them!
Max Konnor gay porn scenes at Cockyboys
Cockyboys firm fan favorites Max Konnor and Clark Davis are sharing their personal live cam show where they show off online to their adoring fans. Both studs give their all in this hardcore webcam show that is definitely NSFW.
From the start, Clark can't get enough of Max's muscled bod and he's rewarded by Max sensually seducing him right back.
Max kisses his ripped body and turns Clark around to dry hump him and rub up against him.
Then, after sucking on Max's nipples Clark goes down on Max's giant cock.
Clark takes up the sucking challenge and deep throats Max and takes some face-fucking on the way to eye-watering pleasure-giving.
In response, Max flips him over and takes his time to deep rim Clark relentlessly.
After some sweet kissing Max slides into Clark and pounds him from behind and drills him down to the bed…and almost off the edge of the bed.
When Max resumes fucking Clark on all fours they develop a rhythm which includes Clark fucking himself on Max's long, hard cock.
But soon Max is on top of Clark again driving into him harder, working up a sweat and with Clark's vocal prodding Max cums inside him.
Still, hard Max fucks him on his back until Clark shoots his load.
As they both come down from their intense release they share more kisses….One truly exciting show…Join them!
Max Konnor gay porn scenes at Men.com
Michael Roman comes across Max Konnor naked and stroking his huge cock. The shaved headed stud can't resist and gives Max a long wet blowjob.
Max takes off Michael's clothes and the two studs passionately kiss each other's mouths and bodies until Michael can't wait any longer.
Max tongue's Michael's muscular ass, getting it ready for the hardcore pounding that's coming to it.
Max fucks the cum out of Michael, making the muscle hunk spray it all over his lightly stubbled torso…Join them!
Max Konnor gay porn scenes at Raging Stallion
Bruno Bernal, Papi Suave, and Max Konnor are all naked and making out rubbing rock hard bodies together when Bruno decides to service the other two studs' cocks with his mouth. It's no easy feat, since both dicks are massive, but Bruno makes them fit all the way down his throat. The guys even cram both thick dicks in Bruno's face at the same time.
Bruno is already in complete ecstasy but knows he wants their cocks deep up his ass. When the studs switch it up, Max gets on his back to let Papi suck him off while Bruno sits on Max's face to get his asshole lubed and opened up. Bruno is ready to have Max's uncut monster destroy his eager ass and he hops on to ride every inch that Max can slam into his tight hole.
Papi joins in on the action and takes his turn pounding Bruno's talented backside. He slides in deep and fast, hitting Bruno in all the right spots. Max wants one last turn on Bruno and slips inside again to fuck the cum out of the tatted stud.
When Max sees all the thick, white jizz covering Bruno's stomach, he pulls out and shoots his own thick load on Bruno. Papi is the last to add to the mix and shoots a massive load, leaving Bruno a wet, sticky mess…Join them!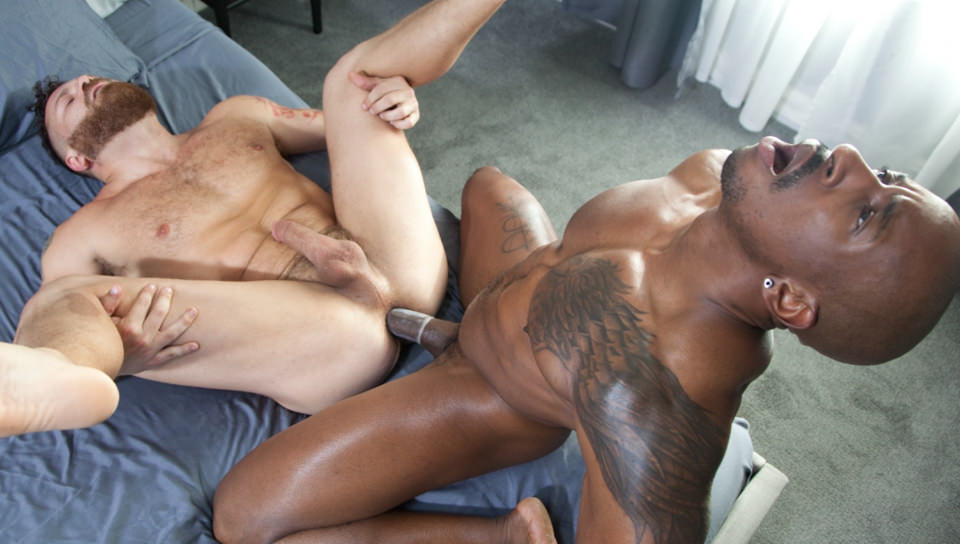 Max Konnor called a 'Rideshare' that's still a few minutes away. He's in his towel taking a dick pic to send to a buddy when he accidentally sends it to his driver, Riley Mitchel.
Riley gets upset and pounds on his passenger's door but when Max shows up in his towel, Riley decides to get on his knees and suck on Max's monster cock. Riley is up to the challenge of taking the whole thing down his throat and chokes and gags as he whips out his own hard dick to jack.
Max wants to see if Riley is able to take it in his ass and bends the driver over to eat his hairy hole. That's all it takes for Riley to admit that he needs Max inside of him and he bends over even further to let Max stuff his ass. Riley is filled completely with cock as Max pounds his driver relentlessly.
Max wants to switch it up so Riley can get the full experience and throws Riley onto his back to stuff his hole even deeper. Riley grabs the sheets in ecstasy as Max works up a sweat filling up Riley's stretched-out ass.
Feeling Max's giant dick ramming his insides is what tips Riley over the edge and he blasts a load up over his head and onto his own face and chest.
When Max sees Riley's massive release, he pulls out and feeds Riley his cum by blasting into his mouth…Join them!
Max Konnor gay porn scenes at Lucas Entertainment
When I asked Max Konnor some questions for his model profile on the Lucas Entertainment website, I ask him what kind of guys he likes having sex with.
He said he's really turned on by slender guys because of the huge difference in body types. Aaron Perez loves jacked guys, especially dominant ones who rough him up and show him who is boss.
Aaron and Max have an awesome time together: Aaron loves riding Max's cock, and Max loves holding his bottom boy while he fucks him without mercy…Join them!
Over the years, Devin Franco has proven time and again his lust for taking lots of raw dick up his ass. But here's his ultimate conquest: a double dose of raw black cock.
Devin puts his throat and ass in the hands of two hung black hunks: Andre Donovan and Max Konnor. Andre, an exclusive model, has plenty of fun sharing Devin Franco's holes with Max, who is a hulking beefcake with a rock-hard, battering ram of a black penis between his tree-trunk thighs…Join them!