All gay porn pics and gay porn videos of Johnny V.
Hair Color: Blonde
Sign: Unknown
Eye Color: Blue
Dick Size: 7.5 inch dick
Height: 5'9″
Cut / Uncut: Cut / circumcised
Weight: 180lbs
Sexual Positions: Bottom
Johnny V gay porn scenes at Raging Stallion
Blond Johnny V and dark-haired Jacob Taylor are both ripped muscle studs who are ready to fuck. Eager to please, Johnny sinks to his knees to swallow Jacob's thick, uncut member. He gives Jacob's cock a thorough blow job, then trades places.
Johnny thrusts his hips and flexes his pecs as Jacob fervently sucks Johnny's tool. But nothing gets Johnny more excited than having his hole used; he bends over and Jacob takes charge with a spit-fueled rim job.
Johnny gets what he wants: Jacob's big meat inside his hole. Jacob pounds away as Johnny backs his ass up in doggy style.
Sweat begins to glisten on their bodies as they heat things up. Johnny rolls onto his back and throws his legs up, his huge cock throbbing and jousting the air.
Johnny cums while Jacob pummels his hole; then Jacob pulls out and blows his own load across Johnny's washboard abs…Join them!
Johnny V gay porn scenes at American Muscle Hunks
The hunks welcome Seth Knight into the ranks this week and he does not waste any time before pouncing on Johnny V's ass. They make out for a bit until Johnny cannot wait any longer to devour Seth's hot cock.
Giving Seth head like only Johnny can do, Seth finds it difficult to resist Johnny's ass and bends him over the bed. Pounding his hole gets Seth close to blowing his load so he flips Johnny over and finishes Johnny off by making him blow a huge load all over himself and Seth follows with a massive load himself…Join them!
Johnny V gay porn scenes at Hothouse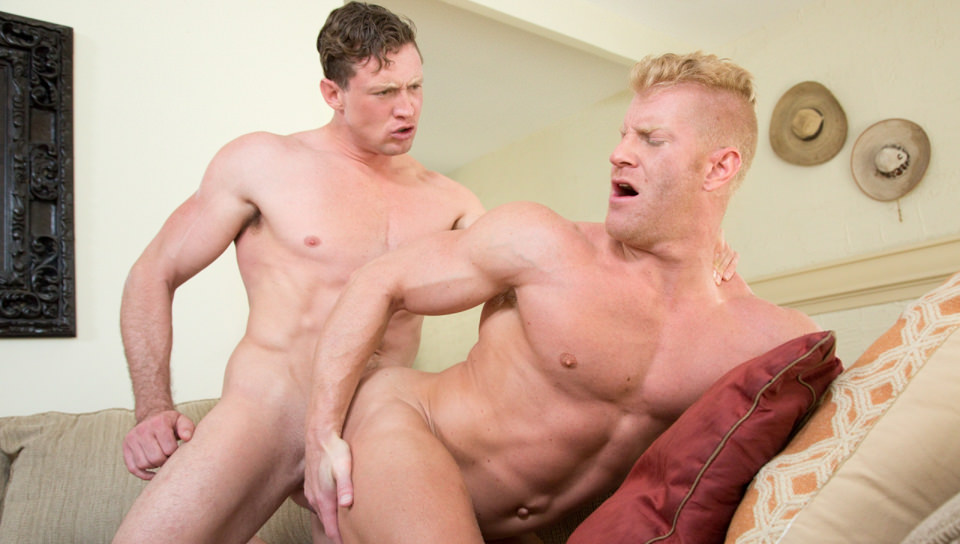 Johnny V and Pierce Paris are having a competitive workout in the back yard and finish up with a quick dip in the pool. To cap off their day, Johnny cools Pierce off with the garden hose before they hit the coach's couch.
Both studs are horny but when Johnny comes onto Pierce, he hesitates to get involved with a teammate. Eventually, Pierce gives in and stuffs his massive throbbing cock down Johnny's tight throat.
It barely fits in Johnny's mouth but he's not a quitter and keeps up the pace as he chokes and gags on Pierce's thick monster. Pierce wants to taste what Johnny has to offer and gets down between his buddy's legs to work his veiny cock.
That's all it takes for Pierce to get rock hard and after lubing up Johnny's hole with his lips and tongue, slams his thick pole deep into the throbbing ass in front of him. The studs switch it up a few times and eventually end up with Johnny getting pummeled on his back with his legs in the air.
Pierce hits all the right spots inside Johnny's ass and makes him spray as he continues to fuck the moaning stud.
The sight of all of Johnny's load oozing out makes Pierce lose control and he pulls out to finish off on Johnny's abs.
Pierce scoops up the cum and feeds it to his buddy, who eagerly laps it up…Join them!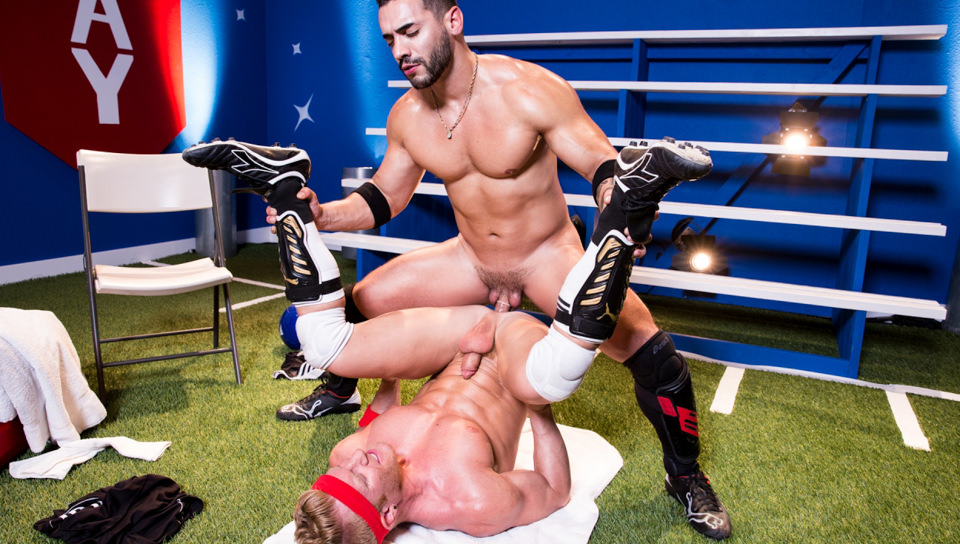 Arad Winwin is cooling off after a soccer match by dumping water all over his tight, sweaty muscles when his fellow teammate, Johnny V, steps onto the field.
Johnny cuts right to the action when he pulls down Arad's bulging soccer shorts to reveal an extra hard dick and a giant set of balls.
Johnny takes every inch of Arad's veiny cock down his throat to get the stud even harder.
After a nice long sucking session, Arad is ready for a piece of ass and bends Johnny over a chair to plant his face firmly between Johnny's cheeks.
Arad gets the stud open and ready for dick with plenty of tongue action, deep fingering, and lots of spit.
All the rimming makes Arad ready to fuck. He stands up and stuffs Johnny's hole with his big pole, pounding him from behind as Johnny moans and begs for more.
Johnny wants to see Arad's ripped abs and muscles as he gets pounded and rolls over on his back to get the eyeful he needs.
The sight of the hung, hot stud pounding his ass is all Johnny needs to shoot his load.
He lets loose and covers his own muscles with jizz before Arad pulls out and unloads on Johnny's face and body with his own thick, white ropes…Join them!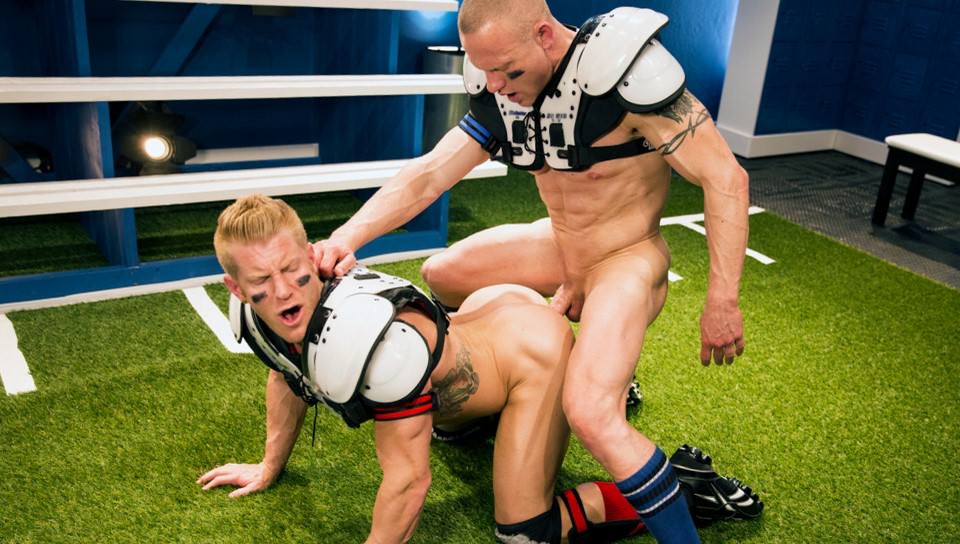 Beefy football players Johnny V and Aaron Savvy get more than a little practice in when Aaron tackles Johnny on the field.
After rubbing crotches and locking lips, Johnny satisfies his curiosities by pulling down Aaron's bulging jockstrap and getting a nice big stiff one down his throat.
Johnny gets his face plowed as he coughs and gags with strings of spit that run down Aaron's thick shaft and off his big tight sack.
With his dick hard and his mouth hungry, Aaron stands Johnny up to get a face fucking of his own. The faster Johnny plows his throat, the harder Aaron's cock becomes and finally it's all too much for Aaron to take.
He bends Johnny over on the AstroTurf and crams his massive cock deep into Johnny's round tight end. Aaron doesn't hold back and pumps away like a jackhammer on the wide receiver as he works to achieve his goal of stretching Johnny's seasoned ass.
After switching up positions a few times, Johnny hops on to ride Aaron to the end zone and is the first to bust his nut.
His creamy load blasts all over the field and when Aaron sees the mess Johnny has made, he stands over his spent teammate and jacks his own ready-to-burst cock into Johnny's hungry mouth.
Johnny eagerly takes every last drop before the two lock in a final embrace to kiss the cum away…Join them!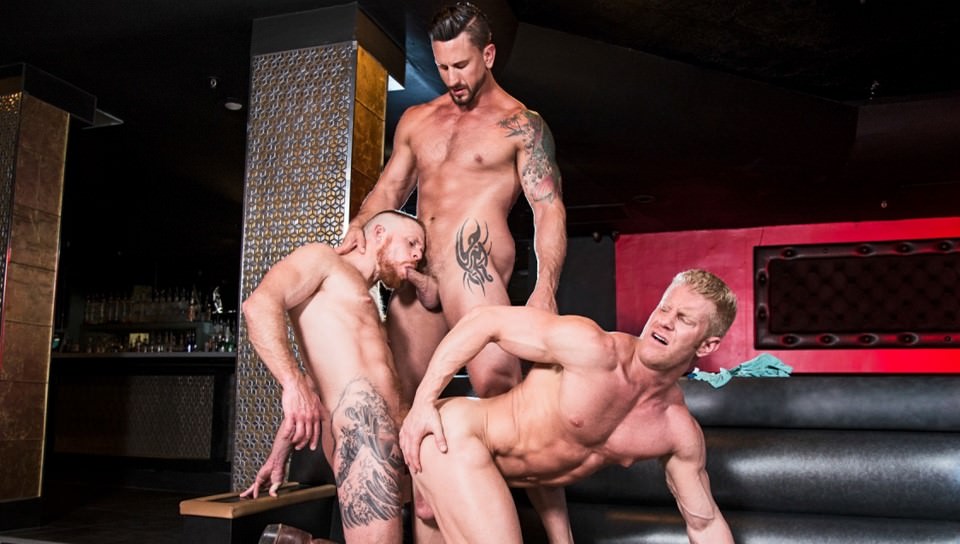 Jack Vidra is the bartender at the Ready Bar and he's seen a lot of action come and go on his watch. He never gets to join in on the action and usually has to live vicariously through all the other patrons.
When he has to kick Johnny V out at closing time, Johnny wants to give something special back to Jack for all his hard work. His surprise is Dakota Rivers, a hunky stud with a body full of muscles who's ready to please the bartender and his friend.
Jack is riled up and ready for fun and can hardly peel off his apron fast enough as he and Johnny worship every inch of Dakota's bulging body. Jack is horny after watching everyone else get action all night and is the first to take a taste of Dakota's raging boner.
Johnny doesn't like to be left out and takes turns with Jack sucking on the stud's hard cock. Jack needs a bit more to satisfy his cravings and bends Johnny over to lick his ass. As Johnny keeps sucking Dakota, Jack slips his cock inside Johnny and pounds away.
Johnny gets spit roasted until Dakota decides he wants to have a go at Jack. Jack is happy to please the stud and hops on for the ride of his life. The threesome can't get enough different cocks and asses and they switch it up until they've all had a taste of each other.
Johnny is the first to let loose when he sprays Jack's face with his massive load. The sight of Jack getting doused with jizz is all it takes for Dakota to go with the flow and give the lucky bartender a second load of fun.
With his mouth full and his face dripping, Jack gives himself permission to unleash the day and sprays his own hairy body with his bartender's special blend…Join them!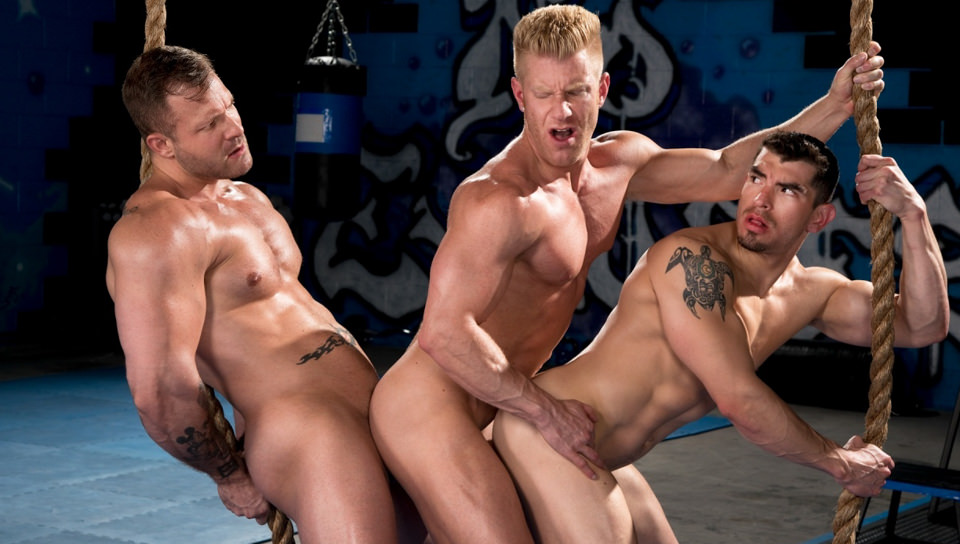 Austin Wolf is training Johnny V and Jeremy Spreadums at the gym. He has them doing all the regular things to stay in shape like climbing rope, doing chin-ups and lifting weights. Austin pats them on the ass with every good rep.
All the physical contact and exposed muscles gets the threesome ready for fun and they peel off their shirts as they kiss and feel each other's boners through their gym shorts. Jeremy can't take the suspense of what the other cocks must taste like and he gets on his knees to suck off his two gym buddies.
He takes turns slurping on each of their growing cocks and gets the guys ready for more action. Austin is horny as hell and wants to explore more of what Jeremy has to offer. Austin has Jeremy bend over, and like a true trainer, tells Jeremy what to do as he fingers and licks his client's fuzzy hole.
Jeremy gets on the ground and spreads his legs wide open to let both Johnny and Austin rim his ass. Once the guys have Jeremy's hole nice and opened up with their tongues and fingers, Austin crams his thick cock inside Jeremy's back door.
Johnny doesn't want to be left out of the fun and takes his turn with Jeremy when Austin steps aside to let him have a turn. The muscle studs tag team Jeremy's asshole as they pile drive the young jock. Johnny hops in the middle of the sandwich to fuck Jeremy as he gets his hole plunged from his trainer.
The three horn dogs form a chain with Johnny in the middle getting the best of both worlds until all three are ready to blow. Jeremy lies on the ground with the two other studs above him. Johnny lets loose and drains his balls all over his buddy, slathering his nipples with cum.
The trainer is the next to go and lets loose all over Jeremy's face before Jeremy finally gives himself the go ahead to get the relief he needs all over his own muscled-up body.
The three spent hunks writhe on the floor with their cocks dripping as they kiss and bask in the afterglow of the benefits of a healthy workout…Join them!
While on the late-night shift, horned up officers Johnny V and Brian Bonds take some down time to watch some porn on the job. As Officer Johnny starts to stroke his cock, Office Bonds takes notice and wraps his warm mouth around Johnny's swollen member.
The sex-hungry cops take turns gagging and choking on each other's meat. Officer Bonds bends over his desk and spreads his ass wide open for Johnny. Wasting no time, Johnny loosens up Brian's hole with his talented tongue.
Officer Bonds desires something thicker, so Officer Johnny stiffs him with his rod. After pounding Officer Bonds' hole, Johnny's wants the same treatment. He positions himself to have his colleague eat his hot hole and fuck his ass with the same intensity.
Officer Johnny rockets his spunk all over his ripped abs and Office Bonds adds his creamy load to the mix…Join them!
Johnny V gay porn scenes at Falcon Studios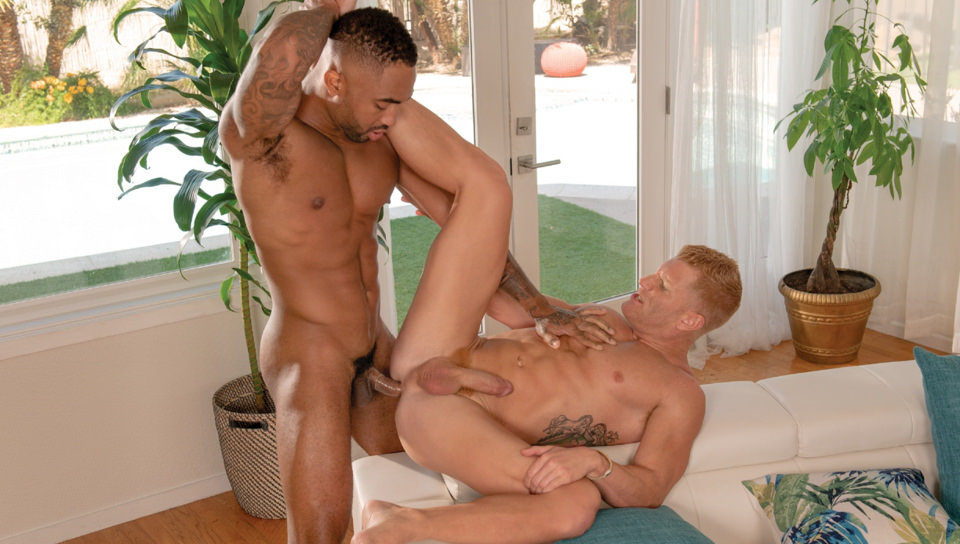 Remy Cruze is enjoying a quick dip in the pool before going inside to find a sleeping Johnny V in the sunroom. Remy swirls around Johnny's nipple once with his tongue to wake up the jacked stud.
Johnny V comes to right away and starts kissing all over Remy's body. It's not long before Johnny makes his way down to Remy's briefs and pulls them down to suck Remy's giant cock.
Remy feeds Johnny his cock until Johnny is left gagging and begging for more. Remy returns the favor when he bends Johnny over and plants his tongue in the center of Johnny's crack. Remy licks from crack to taint, making sure to taste all of Johnny's fine ass.
At first, Remy teases Johnny's hole by pressing his cock against it before getting on his back so Johnny can ride his fat pole with abandon. Remy switches it up when he puts Johnny on the floor, and pile drives his asshole.
When that's not enough for Johnny, Remy picks him up and puts him on top of the couch to fuck him deep until Johnny explodes all over his washboard abs. Johnny lays next to his worked up top and gets down by his cock to receive his load straight to the face.
After Johnny takes some in his mouth, the two finish with a cummy kiss…Join them!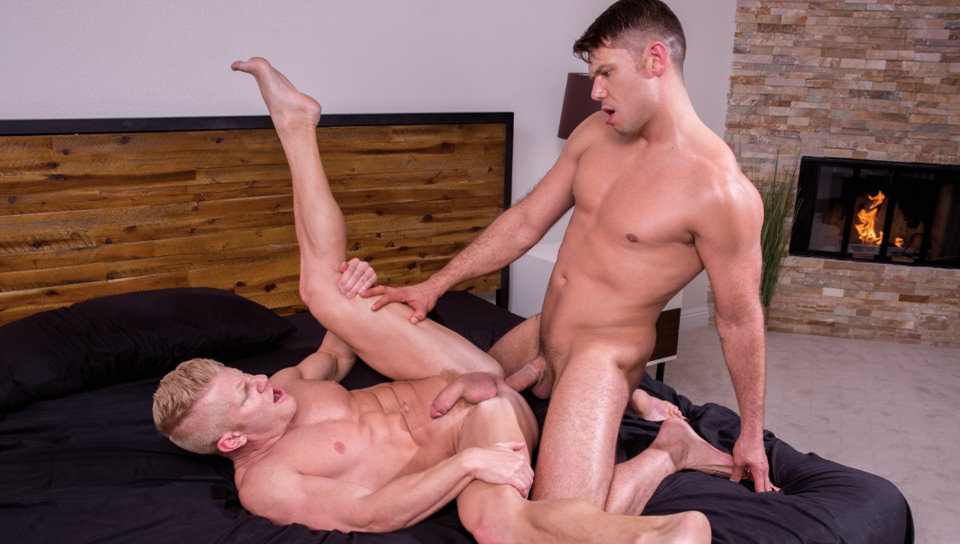 Tyler Roberts rings the doorbell to deliver a package to Johnny V's house. It's been raining and Johnny invites Tyler in to dry off.
Johnny asks, 'is that package for me?' and reaches for Tyler's bulge in his shorts. It's not long before Johnny has Tyler's shorts around his ankles and sucking his thick cock down to his balls.
Tyler likes the service Johnny is performing on him and moves him to the bedroom for more oral action.
With the taste of Tyler's cock on his lips, Johnny bends over and lets Tyler lick his way in and around Johnny's hairless hole. Tyler can tell he likes it and brings things up with a couple fingers in Johnny's ass.
Tyler wants that ass and positions himself behind Johnny and drills him deep.
Johnny takes it from behind before getting on his back to take a prostate pounding so hard it makes him shoot thick ropes of cum onto his ripped abs.
When it's Tyler's turn to release, he delivers one last gift of cum into Johnny's open mouth…Join them!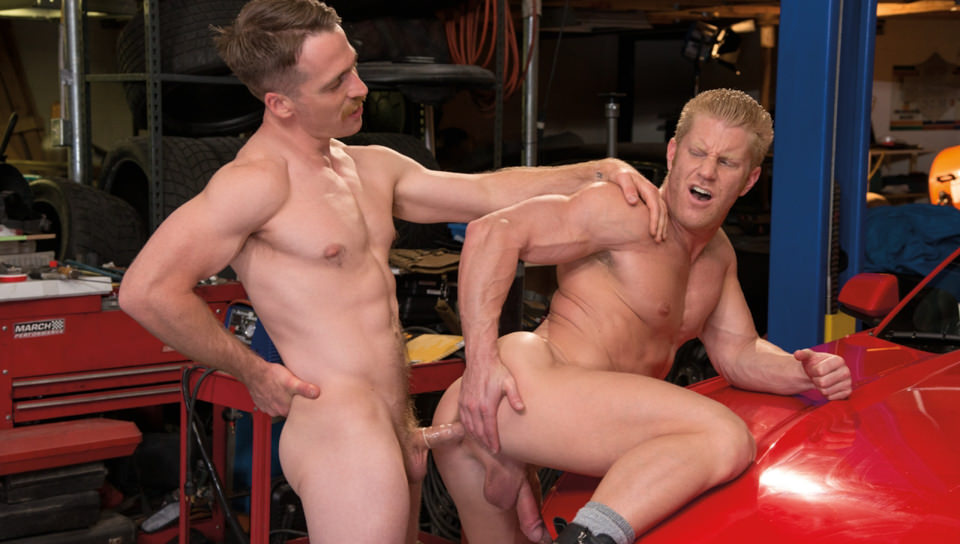 Fane Roberts and Dustin Holloway have been riding on fumes, luckily the happen upon and lone gas station in the middle of the desert on Route 66. The smoking hot gas attendant equipped with his very own 70s handle bar mustache, Nate Stetson offers to fill them up, the pair eagerly agree.
When Nate notices that the car is running a little hot, he has the guys pop the hood where he and the mechanic, Johnny V, take a look at what's wrong. After discovering that the dip stick is missing, Johnny drives the car into the garage where all the suggestive car talk gets Nate revved up.
The two studs start making out and getting naked as Fane and Dustin look on in amazement. Nate is hard as a rock and can't wait to get some full service from Johnny's eager mouth. Johnny is hungry for what Nate has to offer and gets down on his knees to suck on the thick stick in front of him.
Nate loves all the attention he's getting but doesn't want to be left out of the dick licking action. After sucking on the nice hard dick, Nate throws down the hood and bends Johnny over to give him a rim. When Nate senses that Johnny is ready to take him on, Nate shifts gears and pops his crank shaft deep inside Johnny's tight cylinder.
It's a perfect fit and Johnny moans out in approval with every thrust that Nate doles out. After throttling Johnny over the car, Nate decides to go a little deeper inside Johnny's trunk and lays him out on the garage floor.
Nate slips his dick deep inside and pumps away until Johnny blows a gasket and leaks a load all over his rock-hard body. That's all it takes for Nate to go with the flow as he pulls out and covers Johnny's ripped abs with a load of fresh, warm fluid…Join them!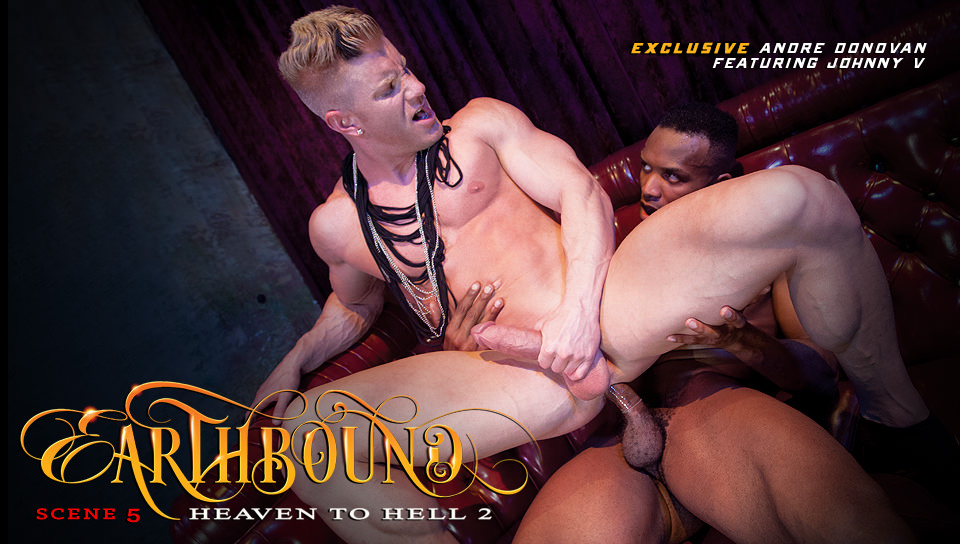 The Devil's Dark Angels have been sent to a sinful nightclub to capture and return Rogue who abandoned their master. In his quest for information, one of the Devil's Dark Angels, Andre Donovan, encounters a bar patron, Barfly.
After learning what he needs to know, Andre decides to have some fun with Barfly. A single kiss snowballs into writhing and groping, which then turns into Barfly sucking Andre's massive cock. Moistening his fingers with spit, Andre probes Barfly's hungry hole, eager to sample its pleasures.
Spreading Barfly's ass wide, Andre dives in tongue first and delivers a frantic rim job. Removing all his clothing, Andre slaps his huge cock across Barfly's ass, then presses it inside. As sweat glistens on their bodies, Andre picks up speed, pounding the hell out of Barfly.
After doing it doggy style, Andre positions Johnny V in a seated position, using gravity to bounce him up and down. Barfly's huge balls flop up and down as he rides Andre's thick fuck stick. When he climaxes, Barfly shoots a hot, white load across Andre's muscular thighs.
Kneeling before Andre, Barfly eagerly licks the Dark Angel's cock and balls. His reward is a blast of cum to the face, and he gratefully uses his tongue to clean Andre's throbbing cock…Join them!
Accusations fly between Johnny V and Alex Mecum about business problems, stolen boyfriends, and sexual power games at the club which quickly escalates to a brawl. Usually, the outcome would be sex, but Alex's unexpected declaration of love gives the connection a different vibe: this is something they've both wanted.
The need for flesh to touch flesh competes with the need to get naked. Muscular torsos emerge as shirts are discarded Johnny smooth and blond, Alex dark and furry.
Alex grabs Johnny's cock and sucks it, gripping his balls in the opposite hand. Johnny reaches for Alex's cock, a fat, straight, 9-inch cut cylinder of meat.
His mouth fits it like a glove, but Johnny's muscle-butt is more to Alex's liking. Alex's tongue worships his hole; his fingers pry the crack open wider and he drives his cock in. He leans forward to plant kisses all over Johnny's back while he fucks him, then tells Johnny to flip onto his back so he can watch him cum.
Johnny's load is hefty, coating his chest and ridged abs. Alex cums in hard pursuit, spraying his load all the way across the room…Join them!
Johnny V, a stripper and bartender, is turned on by the new dancer, Scott Riley. Warned to keep 'hands off,' Johnny jokes that he'll just use the rest of his body.
He propositions Scott in the dressing room, grabbing him by the wrist and guiding Scott's hand onto his cock. They are both smooth and muscular, both blond, and both glistening with perspiration from the dance floor.
Johnny yanks Scott's trunks off and sucks him in deep, hungry swallows, paying full attention to Scott's plum-sized balls. He pushes Scott backwards onto the counter and slams his tongue into Scott's twitching hole.
Scott is breathless and temporarily immobilized with ecstasy. He kneels to suck Johnny's fat cock, alternately pumping it with his hand and face-fucking himself with it.
Johnny shouts and whitewashes Scott's chest and chin with a warm wad. Scott licks Johnny's pulsating cock clean, then aims his own erection at Johnny's face and sprays his load…Join them!
Republished by Blog Post Promoter