All gay porn pics and gay porn videos of Johnny Hill.
Hair Color: Brown
Sign: Unknown
Eye Color: Brown
Dick Size: 8 inch dick
Height: 5'9″
Cut / Uncut: Cut / Circumcised
Weight: 165lbs
Sexual Positions: Versatile
Johnny Hill gay porn scenes at Next Door Studios
When Johnny Hill's ex shows up at the door, he knows something is up with his dickhead boyfriend… again. Connor Halsted has been having trouble with his boyfriend for quite some time, and Johnny has often lent a sympathetic ear to his troubles, but today, it seems Connor wants a little more than just a good listener.
He asks Johnny if he ever thinks about the two of them, and Johnny says he does from time to time. Connor smiles and Johnny smiles back, as they inch closer towards each other. When they kiss, all the old sparks are set off, but Johnny isn't ready for the new heat Connor is bringing.
He bends over and Connor tongues his hole with a passion he doesn't remember, and when he slides his cock deep inside Johnny's hole, it's new and familiar all at the same time. Connor fucks his ex all over the sofa, and Johnny takes every inch willingly, losing his nut as Connor pulls out and blasts his hole with his load.
As he slips his cock back inside Johnny, Johnny asks about his boyfriend. 'What boyfriend?' Connor asks…Join them!
All Nathan Styles wanted was a nice fuck from a stranger, but now that he's come over, he finds himself caught in a love triangle, as lovers Donte Thick and Johnny Hill both seem to have some kind of vendetta to prove.
Donte and Johnny waste no time trying to make each other jealous, and Nathan is the beneficiary of all that attention, as they take turns sucking him off in attempts to get a rise out of the other.
Nathan doesn't mind being caught between this rock and a hard on, so long as they deliver the goods. And boy, do they.
They take turns long dicking Nathan and using him to their hearts content, fucking him all over the living room as they pig roast him from both sides, trading turns fucking his tight, bareback hole, then using him like a cum rag as they both empty their loads all over him.
As he lay there covered in their spiteful cum, Johnny and Donte vow to include each other in their secret fantasies from here on out….Join them!
Plagued with self doubt, Dante Colle stands at his neighbor's door, attempting to summon the courage to knock and confront both his feelings and his crush publicly. At the last moment, he chickens out and turns to leave, turning right into the chest of none other than his neighbor, Johnny Hill, who has been watching this unfold for several moments.
Now that they are face to face, Johnny smiles, but says nothing, as he unlocks the door and leads Dante inside. Leading him to the bedroom, Dante realizes Johnny has been secretly eyeing him from across the building as well, and as he strips Dante out of his clothes and begins to suck him off, Dante's hesitation turns to unbridled passion.
He pushes Johnny further down onto his cock before flipping him over and returning the favor. Johnny dick gets rock hard and he tells Dante he wants to fuck him, but Dante has his own ideas, and tells Johnny he wants to fuck him first. Johnny is unsure but agrees, so Dante slowly works his cock into Johnny's tight hole.
Johnny is so tight Dante can barely get it in, but once he manages, Johnny looks over his shoulder and moans his approval, so Dante picks up the pace, fucking Johnny hard before pulling out and nutting all over Johnny's back. Johnny smiles and says, 'My turn'. Dante shakes from his orgasm and climbs on top of Johnny, mounting his cock and giving it a ride.
He grinds against hard on Johnny's rod, taking it all the way to the base as he strokes his dick while Johnny watches. Johnny tells Dante how nice his hole feels, flipping him over and spreading is legs as he fucks Dante harder.
Dante strokes himself off, spitting a second load all over his stomach as Johnny's dick swells up ready to spit.
He pulls out and soaks Dante with his batch as Dante moans in delight…Join them!
Fresh out the shower and into his man's arms, Trevor Miller and boy toy Johnny Hill sure do make a clean pair, but rest assured they're about to get down and dirty with each other. Taking turns fucking and sucking each other off, there's nothing but eye candy to see here.
Watch as Johnny begs Trevor to fuck him, spreading his legs wide with inquisitive eyes, before turning the tables and mounting Trevor's bubble butt as he fucks his hole raw.
And when Johnny bends Trevor over and fucks the cum out of him, then coats him with his own load, it's pretty clear this clean pair is gonna need another round of showers…Join them!
When Markie More shows his crew the video bottom boy Dante Martin made requesting a few well-hung studs to come over and take advantage, the three of them immediately feel a stirring in their pants. Just watching Dante beg for the dick has these three guys fantasizing.
Luckily for them, Dante isn't just talking, and when he makes his way over to Markie's place and finds Johnny Hill and Carter Woods are already naked and waiting, he dives in face first, drowning himself in men.
The three of them have their way with Dante's holes, shoving cocks into whichever one is available, and to Dante's credit, he relishes every moment of it, letting each of them fuck his hole bareback and taking all of their loads one after another.
When it's finally his turn to bust, Dante has earned his relief, and when the three of them see the size of Dante's nut, it's obvious how much of a turn on it was for him, prompting all of them to make arrangements for a second coming…Join them!
Johnny Hill has a newbie in his bed, and he intends on taking his sweet time before snatching Dominic Green's cherry.
Dominic's sweet sucker is already unwrapped for Johnny, so he helps himself to a nice long lick, working it in his mouth before flipping Dominic over to see the rest of the goods.
Dominic is ready for Johnny's lollipop, so Mr. Hill plunges it deep inside, long dicking Dominic from behind before grabbing him by the waist and pounding him.
Dominic proves to be every bit as sweet as Johnny imagined, giving it up to Johnny however he wants it. Johnny fucks Dominic all over the bed, mounting him as Dominic rides him reverse.
Dominic strokes his dick as Johnny fucks the cum out of him, pulling out and jizzing up into Dominic's sweet hole before sliding it back inside for a round of seconds…Join them!
When intern Chris Blades returns the reports he'd assigned him, Johnny Hill recognizes he has a real go getter on his team.
Johnny commends him and Chris tells him it wasn't hard, asking Johnny if he's got anything else that needs his attention. Johnny tells him he does, but that this assignment is much, much harder.
Chris smiles at the implication and moments later he's underneath Johnny's desk as the big boss man fills is hole with raw cock.
Johnny pounds Chris under his desk and the two of them are really going at it when fellow employee Mark Long bursts into Johnny's office unannounced. Mark surveys the situation and quickly puts two and two together.
He tells Johnny that he's gonna need quite the promotion to keep this a secret. Johnny agrees and Mark tells him there's one other thing he wants, looking down at Chris' pretty mouth.
Moments later, Chris has a face full of Mark's thick cock as Johnny continues to pound him from behind. The two of them take their turns trading in and out of Chris' hole, fucking him from behind before letting him mount Johnny's dick and take a ride.
Johnny fucks the cum out of Chris as he pulls out and unleashes his own load, leaving just Mark, who immediately plunges his cock into Chris, fucking him from behind before pulling out and blasting his hole with one last load of jizz.
Chris has surely earned his pay today, but tomorrow is a whole 'nother day…Join them!
Now that Grayson Lange and his brother's friend, Johnny Hill, have hooked up, Johnny is back for more. This time Grayson is the hesitant one, as Johnny tries to initiate with him while he sits in the living room.
Grayson is nervous because his step-brother, Chad Piper, is in the next room, but Johnny assures him Chad wouldn't care. In fact, Johnny thinks Chad might be into it. Grayson is skeptical so Johnny tells him to ask Chad himself, as Grayson turns and finds his step-brother standing there, cock in hand, ready for action.
Grayson laughs and then shrugs, thinking why not. He quickly bends over and begins to suck Chad off, while Johnny tongues his hole and shoves a finger deep inside. Grayson shows his pure cock lust as he lets both Johnny and Chad face fuck him at the same time.
Chad never knew that his brother was such a cock pig, but now that he realizes it, he decides to take full advantage, bending Grayson over and plunging his meaty cock bareback into Grayson's waiting hole. He pounds Grayson doggy style before giving Johnny a turn.
Johnny mounts Grayson onto his cock, fucking him from beneath while Grayson bounces on his hard dick. After taking both of them separately, Grayson is still not satisfied, so he tells them both to fuck him at the same time. Johnny isn't even sure it's possible, but sure enough, he watches Grayson mount Chad's pole before sliding his in too.
They double penetrate his hole as Grayson smiles and takes it willingly. Johnny feels his cock up against Chad's and the sensation causes him to pull out and blow his load.
Chad follows suit, standing up and blasting Grayson's face with his jizz, as Grayson strokes himself off and lauches all over himself…Join them!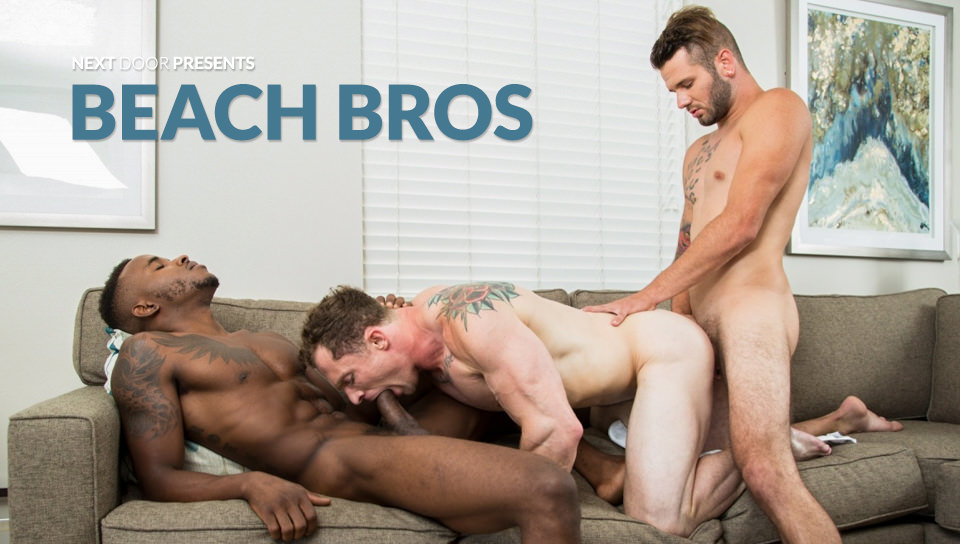 As the three of them relax on the beach, Markie More catches a glimpse of a guy with a nice sized cock and asks his buddies Johnny Hill and Pheonix Fellington if they can see how big it is.
Johnny is instantly impressed by what he sees, and remarks that Markie must be really horny to spot such a specimen from so far away. Pheonix is less impressed, and instantly draws skepticism from his two bros, who tell him his cock can't be as big as that.
Markie, horny as ever, declares that there's only one way to solve this dilemma. With that, the three of them head back to their flat to have it out, and Pheonix and Johnny sit with legs spread, as Markie surveys the options in front of him.
He quickly begins to service them both, and immediately he sees that both Pheonix and Johnny are packing some hefty weight inside their pants.
Alternating between the two massive cocks in front of him, Markie gets them both nice and hard, deep throating Pheonix's python of a dick as Johnny plunges his meat stick deep into Markie's hole.
Johnny fucks Markie bareback, getting him nice and ready for Pheonix, and once he's broken in, they flip around and Pheonix takes his ass for a ride, long dicking Markie's raw hole and filling him up.
The two of them take turns abusing Markie's hole before Johnny spits his load all over Markie's chest.
Markie rides Pheonix until he's ready to spit his load, letting it fall all over the floor as Pheonix pulls out and blasts Markie's hole with his massive nut, as the three of them fall into a giant cuddle puddle on the sofa…Join them!
Johnny Hill gay porn scenes at Next Door Buddies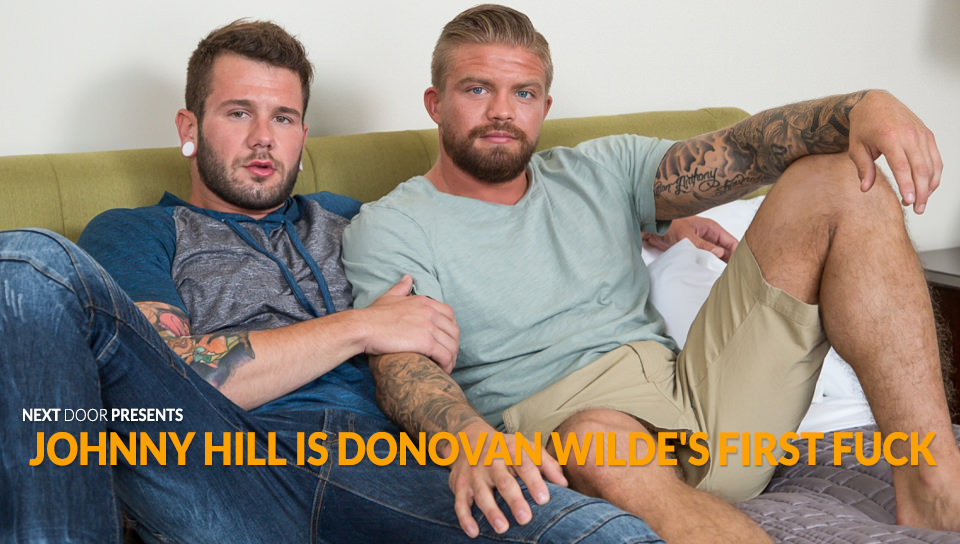 Stationed in the bed this time around, Rocco has found himself a couple of muscle studs. Johnny Hill makes his debut showing in the captain's chair, and today he gets the chance to break in fellow muscle hunk Donovan Wilde.
Donovan is an open-minded guy with piercing eyes and a gorgeous ripped six pack abs body, and this MMA fighter is ready to get down and dirty with Johnny. Donovan has prior light fun experience with guys, but Johnny's here to crank that up a gear, promising he'll break in Donovan slowly.
True to his word, Johnny shows his passionate side as he slowly presses his big dick deep down into Donovan's smooth asshole, taking his man's anal sex cherry as he slowly begins to long dick fuck the new boy. Donovan's ass takes the dick like a pro, so Johnny fucks him harder and deeper.
Fucking him missionary, Johnny can see that Donovan is a natural born top, and as both guys lose their cum loads in a race to orgasm, it's obvious that this won't be Donovan's last time he'll be here for cock…Join them!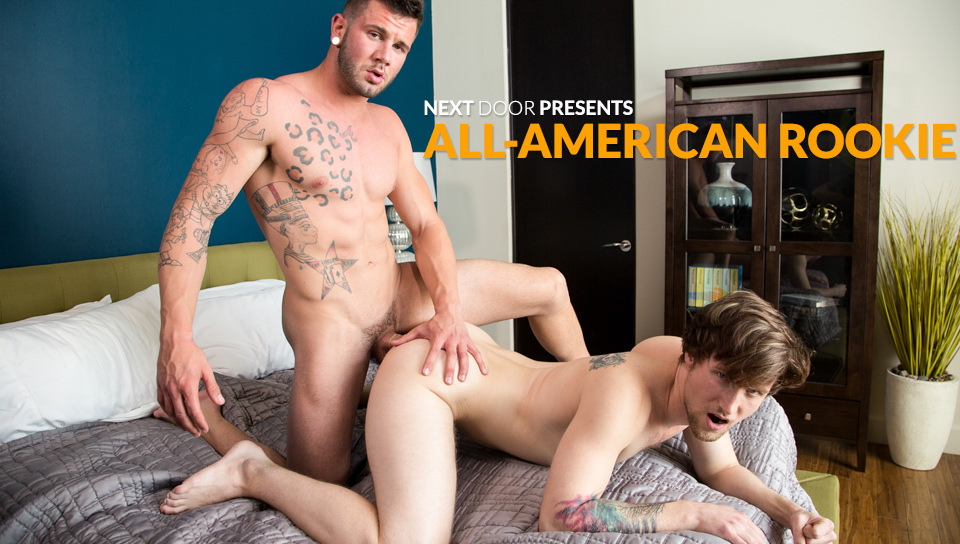 Scotty Zee is mysteriously quiet leading up to his scene with Johnny Hill, perhaps in anticipation of breaking in the new stud. Johnny is a thick chested hunk with a can-do attitude and a penchant for anal, so there's a really good chance he and Scotty will get along great.
Scotty is chomping at the bit to get a piece of this man-meat, wasting no time in stripping him out of his clothes and devouring his big cock, sucking him off as Johnny takes off his clothes.
Once he's nice and hard, Johnny takes control of the situation, telling Scotty to bend over as he plunges his cock deep inside, and commencing to give a Scotty a nice hard pounding from behind.
Johnny proves adept no matter the position, and Scotty is more than happy to take all the dick Johnny has to give. After bouncing Scotty on his dick, Johnny flips Scotty over and fucks the cum out of him.
He pulls out dousing him with a facial, proving that he's a natural performer, and vowing to come back real soon…Join them!
Johnny Hill gay porn scenes at Next Door Male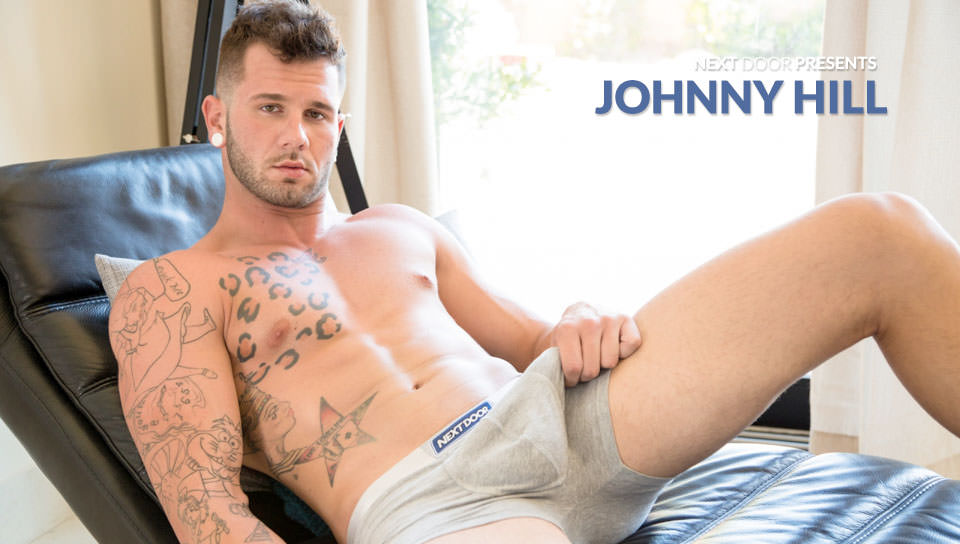 Johnny Hill is a muscular Carolina boy into all things Southern. A self-described exhibitionist, Johnny makes his screen debut for you as he strips down and shows off his wares, from his sculpted arms to his massive chest, all the way down to his thick and meaty cock.
He spits on the head and rubs it gently as it gets harder for you, before making his way over to the window for a little show and tell, spreading his cheeks as he spanks himself, before leaning against the window and bringing himself to climax.
With his cock dripping cum, he gives a final look into the camera, but with any luck, this won't be the last we see of this sultry, Southern stud…Join him!
Republished by Blog Post Promoter