All gay porn pics and gay porn videos of Jacob Peterson.
Hair Color: Brown
Sign: Unknown
Eye Color: Hazel
Dick Size: 8 inch dick
Height: 6'3″
Cut / Uncut: Uncut / Uncircumcised
Weight: 192lbs
Sexual Positions: Versatile
Jacob Peterson gay porn scenes at Next Door Studios
Even though Jacob Peterson has never played pool in his life, he gives it a go, but quickly is out-classed by Princeton Price's experience. But once the last ball is sunk, Princeton shifts his focus to a different set of balls, and all of a sudden, Jacob shows just how proficient he can be with a stick in his hands.
He shows all the form of a polished pro, as he polished Princeton's prick with his mouth, before letting Princeton go deep into his pocket. Princeton sinks his shot and gives Jacob the game of his life, before pulling out and busting his rack all over Jacob's ass.
As they fall back onto the table, exhausted and fulfilled, Jacob asks him if he wants to go best 2 out of 3. Princeton laughs and grabs his stick for another go round….Join them!
We cannot display this gallery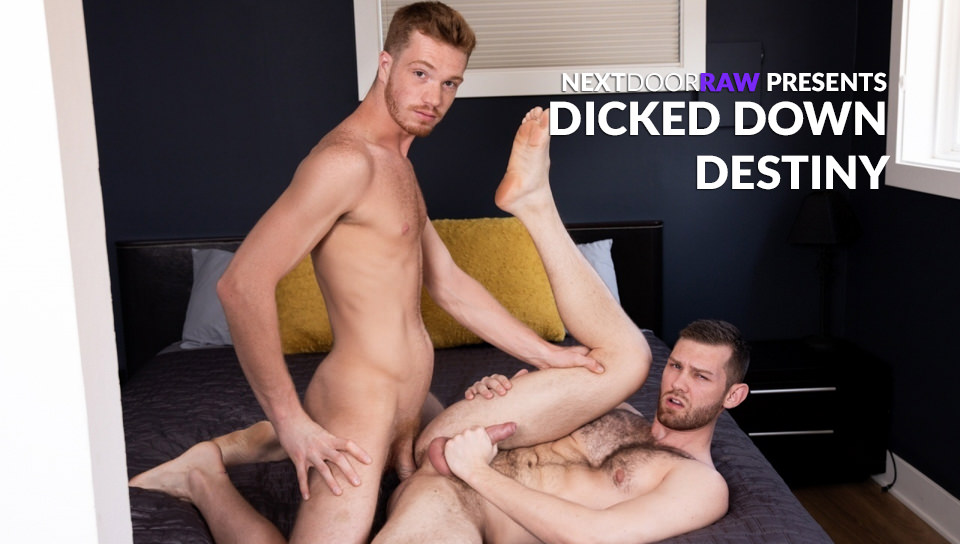 We've all been there. Caught up in a moment of horniness, taking nude selfies in the mirror and sending them off in a sext. But when Dacotah Red hits send, he unwittingly sends it to his friend, Jacob Peterson.
When Jacob receives the text, his mind quickly runs the gamut of all the things he'd like to do to that body, so he wastes no time making his way over to Dacotah's place. When he gets there, Dacotah is confused, but Jacob quickly shows him why he came over so fast.
Dacotah tells him to just delete the text but Jacob tells him he wants to experience it firsthand, so he throws Dacotah back on the bed and begins kissing him down his body. Dacotah puts up minimal resistance to Jacob's advances, and before he knows it, he's pounding good buddy Jacob on the bed.
Jacob proves he can take a dick, and Dacotah proves his pictures only tell half the story. He fucks Jacob bareback every way he can think of, and both guys work up a sweat as the fuck. Finally Jacob is ready to cum, and he tells Dacotah to fuck him as hard as he can.
Dacotah does as instructed and Jacob spits his load all over his hairy stomach as Dacotah pulls out and absolutely soaks him with a massive load. As Jacob lay covered in cum, he tells Dacotah they'll have to meet up like this again.
Dacotah agrees that wouldn't be such a bad idea…Join them!
We cannot display this gallery
With his sister's boyfriend showering in the bathroom, freshly single Jacob Peterson sneaks a peek thru his clothes, fantasizing about that good dick his sister is getting.
Boyfriend Zay Hardy catches him in the act, but rather than be freaked out by it, he's flattered, telling Jacob he knows someone who might want to hook up, provided Jacob can keep a secret.
Jacob assures him he can, and Zay immediately whips off his towel, revealing his hard cock. Jacob seems confused, but he quickly figures out what Zay is talking about as Zay guides his head down to suck his cock.
Jacob does as prompted, getting Zay nice and hard with his mouth before mounting him on his sister's bed. Jacob rides him reverse, suddenly realizing just how good his sister has been getting it.
Zay pumps him full of bareback cock as he pounds Jacob from underneath, finally flipping him over to pound him from behind. He gives him a nice fuck doggy style before flipping Jacob over onto his back and fucking the cum out him.
Jacob spits his pent up load as Zay pulls out and unleashes his morning nut all over Jacob's freshly fucked hole, and as Zay gathers his clothes up to head out to work, the two of them agree to keep their little secret from Jacob's sister…Join them!
We cannot display this gallery
Jacob Peterson gay porn scenes at Next Door Buddies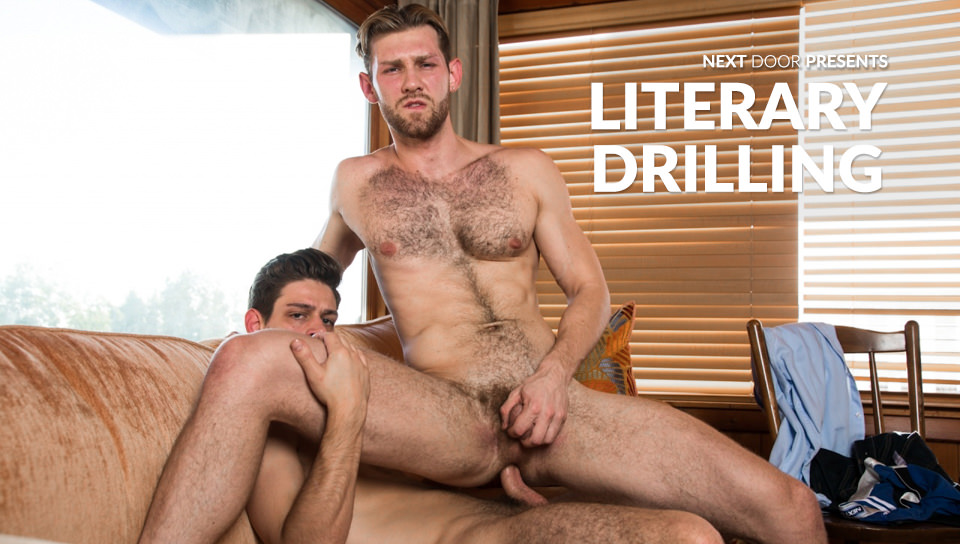 As Michael Del Ray and Jacob Peterson try to maintain their studies, Michael grows impatient and restless, and looks over at Jacob in an attempt to engage in a little distraction.
Jacob seems intent on finishing his reading, but Michael persists, and in no time, the two of them have cast their books aside for some more hands on training. Michael and Jacob take turns giving each other head, and then Jacob bends over the sofa for Michael to eat his ass.
Michael obliges, before standing and sliding his raw cock deep into his study partner. Jacob takes the cock like a champ as Michael fucks him all over the room, pounding him from behind and below, then hovering over Jacob as he spreads his legs wide and fucks the cum out of him.
Jacob spits his load all over himself as Michael pulls out and jacks off all over him, dousing him with a nice batch of spooge to power both guys through the rest of their study session…Join them!
We cannot display this gallery
Jacob Peterson gay porn scenes at Men.com
After a night of chatting it up with a beautiful girl, John Magnum decides to text the number she gave him for some after-hours action. The text goes to Jacob Peterson and he just can't help playing along to get John for himself…Join them!
We cannot display this gallery
"I like him. I like his body. I love that he's a little guy, toss him around a little bit." starring: Jaxton Wheeler, Bennett Anthony and Jacob Peterson.…Join them!
We cannot display this gallery
A yoga class gets real hot when the students can't control themselves after Arad shows them how to move their bodies for maximum pleasure, starring, Wesley Woods, Arad Winwin, Jacob Peterson, Leon Lewis, Casey Jacks and Leo Luckett.…Join them!
We cannot display this gallery
Just before Will Braun enters college, he hires Jacob Peterson to help prep him for what's ahead. Jacob learns quickly that Will means practice sucking his thick veiny cock over hitting the books…Join them!
We cannot display this gallery
Griffin Barrows is keeping off the streets where they're policing who you can fuck. Roman Todd's
underground Prohibition Sexhibition is the best place for any man to get-off in these tough times.
Jacob Peterson is willing to give Griffin the training he needs to get off low-key, working both the pole and the hole. Griffin is truly learning from the best in the biz.
We cannot display this gallery
Noah Jones explores Jacob Peterson's cock and hole. For a couple hundred, anyone can enjoy a good fucking time fueled by that slut cash. Noah pumps Jacob full of his raging hard-on, working that ass to orgasm…Join them!
We cannot display this gallery
To Jacob Peterson's surprise, the man who left him at the altar has appeared in his hotel room Justin Matthews. Can the two rekindle the love after their public falling out? A big dick with a warm hole to stick it in can cure just about any issue…Join them!
We cannot display this gallery
Jacob Peterson may have been left at the altar, but he refuses to let his honeymoon go to waste. After spotting Jordan Levine coming in from the surf and sporting his hot manly physique, Jacob strikes. Soon they're back in Jacob's room, with Jordan deep inside him…Join them!
We cannot display this gallery
Diego Sans, Darin Silvers, and Jacob Peterson are masters of getting what they want no matter what the risk…Join them!
We cannot display this gallery
There is a lot of money in the world of secrets. The agents need some time to clear their heads in order to complete the mission. What better way than a quick suck and fuck? Diego Sans dips his dick into Jacob Peterson, fucking him hard and getting his head back in the game…Join them!
We cannot display this gallery
The assignment: find the mole working in the Russian intelligence section of the FBI. Step one: Dirk Caber infiltrates Jacob Peterson's tight ass with his smooth cock…Join them!
We cannot display this gallery
Jake Ashton is let go by the authorities in order to help track down Trevor Long and Jacob Peterson. The three outlaws strip down in the desert and get it on as they may never have another chance.
Jake takes Trevor's cock in his mouth as Jacob preps his dick for a good sucking. Trevor enters Jake's hole first, who then switches off for Jacob…Join them!
We cannot display this gallery
Jacob Peterson gay porn scenes at Naked Sword
The day started out like any other on the Ridge Family Farm. Duke (Rocco Steele), his son Ryder (Colton Grey), brother-in-law Fredrick (Trenton Ducati) and nephew Beckett (Jacob Peterson) head out for a long, hot day of hard labor.
Ranch hands (Brian Bonds and Brandon Wilde) soon discover their trusted tractor won't start and domineering Fredrick has little patience for excuses. Its payday again and Fredrick is less than satisfied with their performance on the field, its time to make it up with a load yielding performance on his big dick.
Fredrick pushes the guys down to face fuck innocent Brian and Brandon then rips their pants down to have his way with their pink holes. Brandon makes it up to his angry boss by climbing the ladder in the barn and warming up his hole with a ranch hoe.
The guys switch from circus fuck to train to both of them swallowing all the loads. Paychecks are earned but Uncle Fredrick forgot there are eyes everywhere on the Ridge Family Farm…Join them!
We cannot display this gallery
Jacob Peterson gay porn scenes at Falcon Studios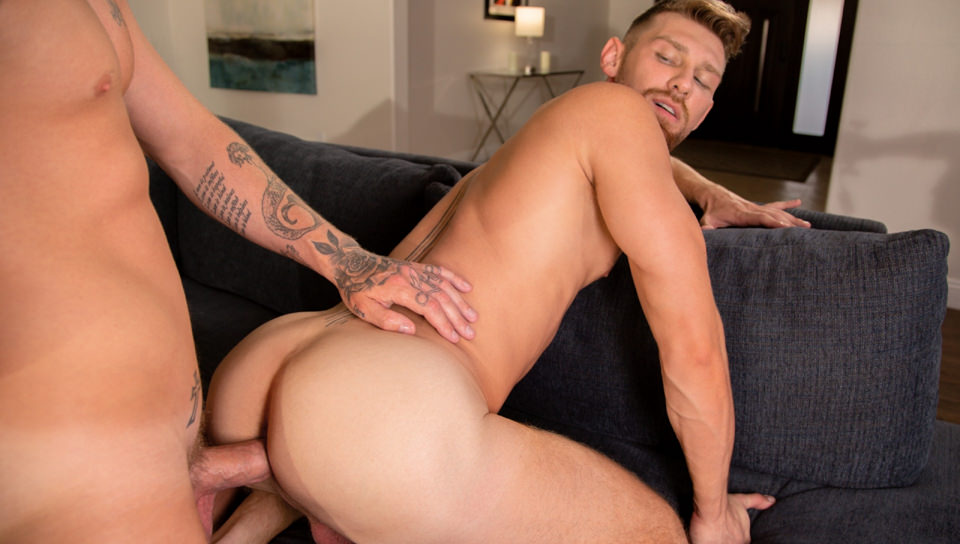 Two blond studs, Josh Moore and Jacob Peterson are hanging out and getting hot and heavy on the couch, getting each other revved up while making out and rubbing each other's hard bulges.
Soon, Jacob is on his knees and takes out Josh's hard dick from his shorts and swallows every uncut inch down his throat. After gulping down Josh's dick, Jacobs buries his face in the pillows, giving Josh's tongue direct access to his tight, pink hole.
Josh laps up the smooth crack with nice, wet strokes as he rims Jacob, preparing him for his thick, bare cock. With Jacob's hole thick with spit, Josh slides his girthy member deep into Jacob's backside.
Jacob bites the pillow and takes every thrust from Josh's uncut, raw pole before climbing on top to take every inch of Josh for a ride.
Josh has other plans and wants to take it to the table so he can pound away at Jacob's hole missionary until Josh erupts his hot creamy load all over Jacob's ripped abs, followed by a rim job to help Jacob add his hot jizz to the mix all over his own body..Join them!
We cannot display this gallery
Jacob Peterson walks alone towards the bachelor party bus he took to the club with his buddies. The driver, Alex Mecum, lets him in and asks, 'Where are the guys?' 'They're out having fun,' Jacob replies, clearly feeling left out.
Alex joins Jacob in the back of the bus to keep him company, and Jacob shows Alex some pics he took on his phone, including one of Jacob's buddy Ryan Rose getting his dick sucked in the club. When Alex hands Jacob's phone back to him, he leans in for a kiss, and Jacob reciprocates by grabbing Alex's bulge.
Opening his fly, Alex pulls out his huge, thick, throbbing erection, and Jacob uses his tongue to provide expert oral service. As they strip down inside the party bus, Alex reveals his ripped body and furry chest; Jacob shows off his smooth swimmer's bod.
Wrapping his lips around Jacob's uncut meat, Alex eagerly swallows every inch of it. After getting his dick sucked, Jacob turns around and gives Alex the chance to taste his sweet hole. Rising to his feet, Alex uses the tip of his cock to tease Jacob's tight hole, then presses in until his cock is balls deep.
After pounding Jacob's ass doggy style, they move to a seated position with Alex on the bench and Jacob riding him. Alex picks up speed, stretching Jacob's hole with every thrust. Putting Jacob on his back, Alex grinds his dick into Jacob's sweet spot. Grabbing his cock, Jacob strokes until hot, white cum overflows from his foreskin.
Alex jerks out a massive load, shooting multiple ropes through the air and drenching Jacob's chest and cock with spunk…Join them!
We cannot display this gallery
Locked out of their 'Desert Getaway' rental house, handsome Jacob Peterson and sexy Jonah Fontana have an hour to kill while they wait for their friends to return. Their attraction for each other is clear and with time on their hands, they don't waste a minute.
With the beautiful desert landscape as their backdrop, Jacob Peterson and Jonah Fontana press their lips together in a passionate kiss and fall back onto the outdoor lounge chair. Jonah peels off Jacob's shirt, revealing ripped, washboard abs, and then undoes Jacob's fly.
Jacob's thick, uncut cock springs to attention, and Jonah wraps his lips around Jacob's meaty tool. The two strip naked under the hot desert sun, and Jonah plants his scruffy face into Jacob's crack.
After lubing up Jacob's ass with spit, Jonah slaps his dick across Jacob's butt, then inches his shaft inside his hole. With Jonah pounding away, Jacob's balls sway and his giant cock bounces with each satisfying thrust.
Ready to switch it up, Jonah gets on his back and invites Jacob to hit it. Jacob spreads Jonah's legs wide for a deep, sensual penetration. Jonah savors every minute of it, and jerks his big cock in time with Jacob's thrusting.
A move to doggy style lets both studs show off their tight muscle while they fuck with abandon. Jonah reclines back to receive a massive facial from Jacob, the thick, white cum dripping down his bearded chin.
Jonah jerks out his own load onto his washboard stomach, and the two share a final kiss in the fading desert light…Join them!
We cannot display this gallery
Two hot, athletic studs stand toe-to-toe and cock-to-cock. The striking Ryan Rose and irresistible Jacob Peterson caress each other with intense passion. It's not long before scruffy Jacob gets to his knees and gives Ryan a spit-dripping blowjob, gargling on his entire shaft.
Ryan returns the favor and deepthroats Jacob's long, uncut cock and nibbles on his tons of foreskin. Things heat way up when Jacob bends over and exposes his hairless hole and invites Ryan's tongue inside. After a sopping wet rim job, Ryan stuffs his meat into Jacob's eager fuck-hole and pounds him doggie-style.
Jacob's in his sexual groove, hard as a rock and he wants more, so he turns the tables flips Ryan on his back and snakes his hefty cock into Ryan's extra-eager hole. The energy intensifies and Jacob keeps thrusting in and out of Ryan's ass until Ryan sprays his load all over his washboard abs.
Jacob pulls out and adds his spunk…Join them!
We cannot display this gallery
[gallery_master theme="masonry" source_type="selected" ids="492″ gallery_type="extended" layout="grid" show_title="show" show_desc="hide" height="160″ width="200″ border_style="2px solid #000″ margin="10px 10px 10px 10px" padding="10px 10px 10px 10px" title_color="#000″ desc_color="#000″ lightbox="enabled" order_by="random"] [/gallery_master]
When Jacob Peterson auditions for a job as a private dancer, Jimmy Durano tells him, 'Your job is to make me cum.' Jimmy likes the overall package, but Jacob needs coaching, so they trade roles.
Jimmy strips to his jock strap and begins to demonstrate. His smooth muscles glint and ripple, And his body language is but a single word: seduction. Jacob squirms awkwardly, wanting what he sees, but unsure whether to touch.
Jimmy makes the decision easier by displaying a massive, curving erection hard and ready. He grabs one of Jacob's furry pecs and nods for him to suck.
Now Jimmy wants Jacob's tight, firm ass, starting with a deep, wet rim job that leaves Jacob panting, and his hole lubed and relaxed to take a big, fat cock. Jimmy jumps on top of him, forcing Jacob to the ground, skewering him all the way in and out.
Now, Jacob sits on Jimmy's cock, leaning back and closing his eyes in some private cum fantasy, then dismounting to eat Jimmy's huge load. He's done his job, and they enjoy a hot make-out session…Join them!
Republished by Blog Post Promoter