All gay porn videos and gay porn pics of Jackson Cooper.
Hair Color: Brown
Sign: Unknown
Eye Color: Brown
Dick Size: 7 inch dick
Height: 5'9″
Cut / Uncut: Cut / Circumcised
Weight: 165lbs
Sexual Positions: Versatile
Jackson Cooper gay porn scenes at Next Door Studios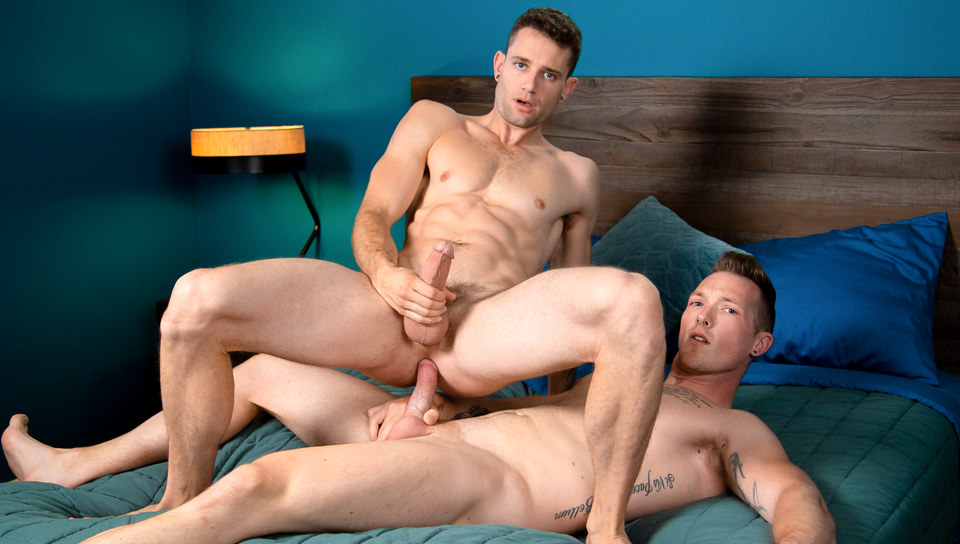 No lines. No set-up. No words spoken between Quin Quire and Jackson Cooper. Just their natural lust for each other on full display, as these two hot bodies collide.
Quin's insatiable desire for Jackson's cock is only matched by Jackson's desire to feed it to him, and so the two make a perfectly matched pair. There's not much more to say, so let's all just watch the fireworks…Join them!
Jackson Cooper saw everything Mark Long was doing in the barn with those local boys, and though it turned him on to see what Mark had under his overalls, it also made him more than a little jealous.
By the time Mark has tracked him down, Jackson is far from the farm and fully worked up.
Mark doesn't really understand why Jackson is so mad, so he comes clean with the truth, exposing his feelings and risking that Mark won't reciprocate them.
But such is the risk you take when bet the farm on love…Join them!
New acquaintances Dante Colle and Ryan Jordan have stolen away to a secret spot to engage in a little private time while the rest of the pool party carries on without them.
Dante can't wait to see if Ryan is telling the truth about the size of his package.
He quickly finds out Ryan is no liar, but what he doesn't realize just yet is that there is a spy watching from behind them, who also is very interested.
When Dante finally sees Jackson Cooper stroking his cock from the blind corner, he invites him over.
After all, two is a good time, but three is a party.
Jackson's about to find that out the hard way…Join them!
no images were found
Johnny B thinks he's alone in the house, so he busts out his phone to dial up some porn and begins to fondle himself. Little does he know, step-brother Jackson Cooper is hidden in the closet spying on Johnny.
When he emerges, the brothers find out they've both been hiding in the closet, and now that their secret is out, Jackson sees no reason not to take advantage of the situation.
Johnny is game, so the two of them keep it in the family and engage in a little brotherly bonding.
The only question is, will they be able to bust before their parents come home, and how long can they keep their family secret?…Join them!
With his car broken down in the rain, David Rose is lucky that Jackson Cooper is home and willing to let him come inside to dry up. Or maybe it's Jackson who is the lucky one. It's not like hot, fuckable strangers break down on your doorstep every day.
Jackson offers him some dry clothes to change out of, but with David already stripped of his wet ones, the two of them decide to take advantage of the situation. Jackson wraps his arms around David to warm him up, pressing his cock against David's ass as he kisses down David's back and makes his way to his knees to suck David off.
David spreads his legs as Jackson deep throats his cock, then he flips David around and slides his cock deep inside the stranded stranger. David takes the cock willingly as he grips the oven handle with every thrust, and once Jackson has sufficiently warmed him up, they switch up, giving David a turn to have his way.
Jackson climbs on top of David's dick, riding it with his legs spread on the kitchen floor as David's cock fills him up. They stand and David fucks Jackson on the counter top, pounding him harder and harder until Jackson shoots his load all over himself.
David continues to pound Jackson's hole until he's about to climax, pulling out and emptying his huge load all over Jackson. Cum covered, they realize it's already long past sundown, and that David might as well stay the night. No arguments here…Join them!
With a week long break ahead of them, old high school buddies Donte Thick, Jackson Cooper and Carter Woods look to reunite and rekindle their school day get togethers with a little bit of the 3 Rs: rest, relaxation, and some really good fucking.
Despite their distance, when the three of them get together, it's just like old times. Jackson still has that edible ass that Donte loves to feast on, and Carter still knows how to fuck Donte just right.
In fact, as the three of them fuck and suck, then cum onto and into one another, it's as if they never parted ways. And what better way to spend your vacation than catching up with a few of your best fucking friends?…Join them!
Upstart employee Jackson Cooper is aiming for the upcoming promotion, but his boss, Dalton Riley, isn't tipping his hand as to who will get it. Jackson reiterates his qualifications and Dalton thanks him for the discussion, assuming that's the end of it.
Jackson is ready to leave, but something inside him tells him to push his luck, so he turns and tells Dalton he'd like to show him why he thinks he's qualified for the position. Confused, Dalton watches as Jackson lowers himself to kiss him. Dalton tells Jackson he's his boss, and Jackson says he promises not to tell, eyeing the bulge in Dalton's pants.
Dalton closes his office door and throws Jackson onto the table, stripping out of his clothes as Jackson shows him just how much he wants the job. Spreading his legs wide, Dalton plunges his rock hard cock bareback in Jackson's waiting hole, fucking him as Jackson strokes his cock.
Jackson shows his versatility as Dalton fucks him all over his office, before seeding his hole. Cum covered and rock hard, Jackson stands up and feeds his load to Dalton. As he swallows the last drop, Dalton tells Jackson he'll definitely consider his special qualifications…Join them!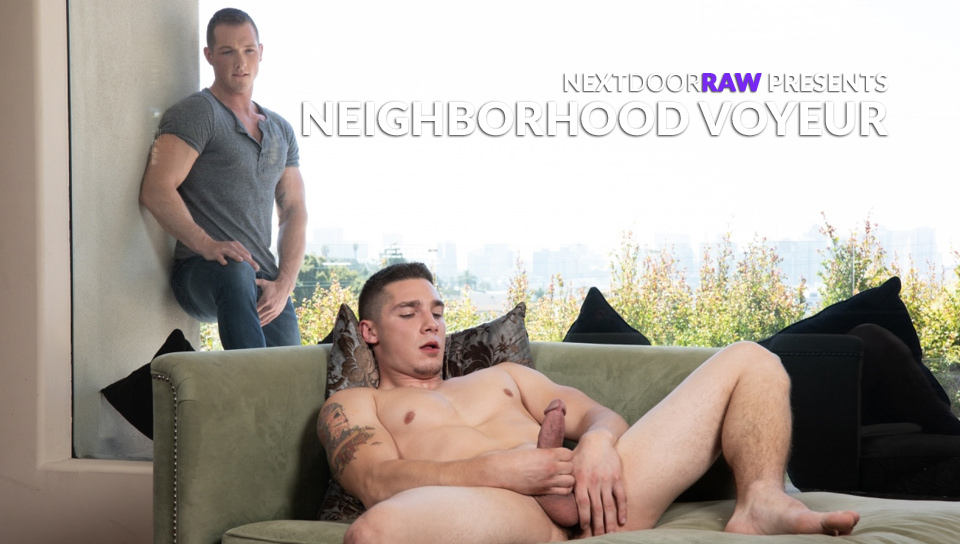 Watching his neighbor jack off in his living room, voyeur Jackson Cooper begins to fondle himself through his jeans. What he doesn't realize is that Spencer Laval can see his reflection in the mirror, and that this little show is all for Jackson's benefit.
As he finally realizes Spencer can see him and his willingly showing off, Jackson makes his way to the door and lets himself in, telling Spencer he hopes he doesn't mind. Spencer tells him he obviously doesn't, and Jackson makes his way over to Spencer, where Jackson unleashes all his fantasies, kissing Spencer and making his way down to his cock.
He takes it into his mouth and realizes that it's even better than he fantasized, especially when Spencer bends him over and inches his cock deep inside Jackson's hole. Spencer fucks Jackson raw all over the couch from behind, from beneath, from the side and Jackson's rock hard dick tells Spencer he's about to cum.
Spencer hovers over him as Jackson shoots his load all over his ripped abs, and when Spencer sees all that jizz, he's ready to burst, pulling out and blasting Jackson with his nut as the two of them fall onto each other in a sweaty and cum-stained mess on the sofa.
Looks like this is one neighborhood watch that doesn't need any more members…Join them!
Jackson Cooper gay porn scenes at Next Door Buddies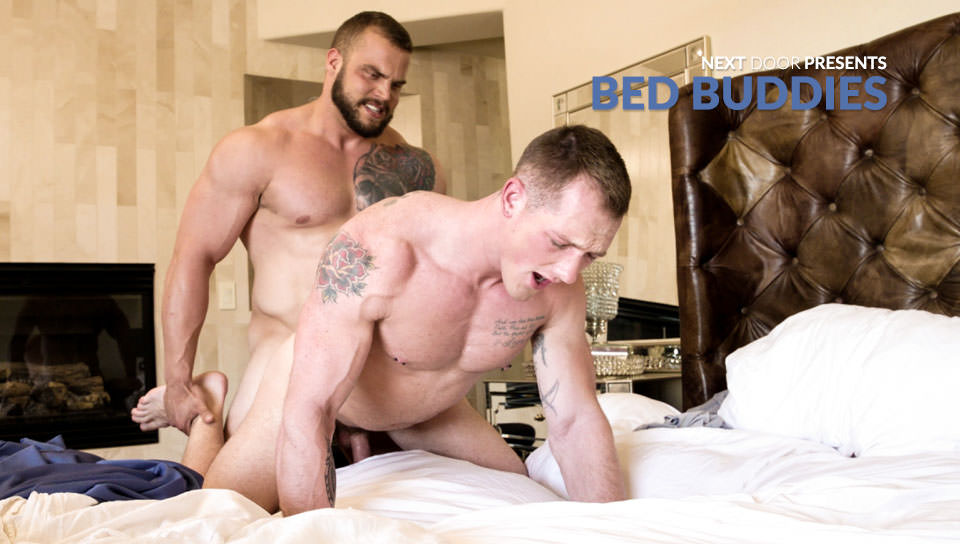 When Dax Carter checks on buddy Jackson Cooper, he finds him struggling to move his bed. Jackson's been upstairs all afternoon, and Dax is a little surprised to find that he hasn't made any progress.
He asks Jackson if he wants some help and the two of them tag team the move, but as soon as they start, Jackson tweaks a muscle in his back. Ever the good friend, Dax tells him to take off his shirt and begins to rub Jackson's aching back.
Jackson notices that Dax gets a little chubby in his pants and asks Dax if he wants to take off his shirt too. Dax does so, and Jackson runs his hands all over Dax' swole chest. The bulge in his shorts grows harder as Dax lays Jackson's half-naked body down on the bed, removing his shorts.
Jackson doesn't stop him, so Dax proceeds to help himself to Jackson's cock, taking it in his mouth before downing it in one gulp. Jackson moans from the sensation as Dax gives him some sloppy good head, and when Dax asks him to return the favor, Jackson is more than willing.
Once Dax is nice and hard inside Jackson's mouth, he tells Jackson to bend over and then slides his raw cock deep inside his roomie's hole. Jackson takes the pounding willingly, as Dax has his way with him.
Dax enjoys fucking his roomie but wants to see if Jackson gives as good as he takes it, so they switch up and Jackson positions himself behind Dax, sliding up beside him as he enters from the rear. Dax spreads his legs wide as Jackson has his way with him, fucking him hard from behind until Dax is ready to nut.
Dax is close, but Jackson is still a ways off, so he asks Dax to fuck him hard one more time. Dax stands and spreads Jackson's legs as wide as they'll go, then proceeds too long dick Jackson in missionary as Jackson strokes his rock hard cock.
He spits his load all over himself as Dax pulls out and empties himself into Jackson's hole. Cum filled and tired from a day of heavy moving, Jackson asks Dax if he thinks the bed is fine where it is.
Dax smiles and says it seems to be doing a good job…Join them!
Jackson Cooper gay porn scenes at Icon Male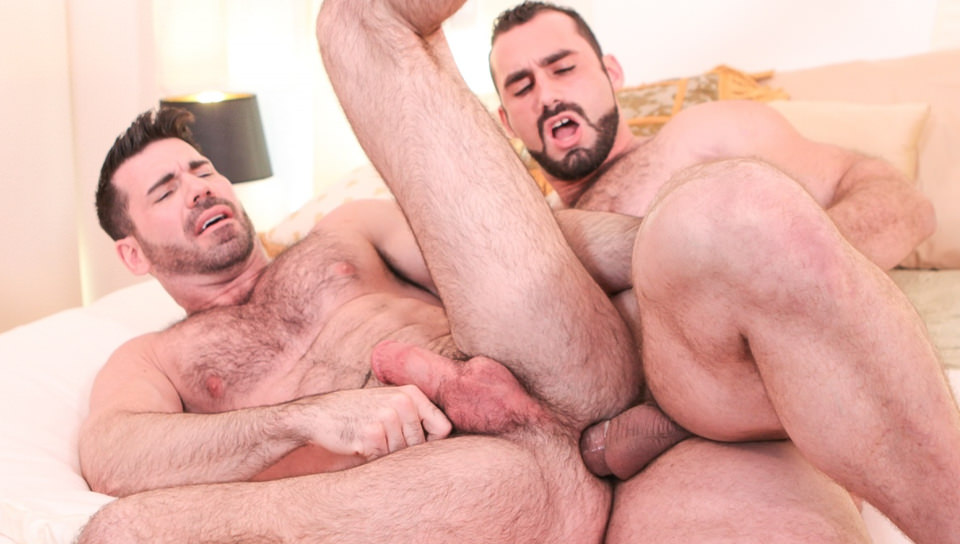 Couple Billy Santoro and Jackson Cooper engage in a steamy yet passionate love making session. They pound each other asses, sharing wet kisses and deep dick sucking.
Going all in with ass licking too. Their cocks are hard and they want to cum. There is nothing they aren't willing to try when it comes to fucking each other.
Watch these two studs get down and dirty like never before…Join them!
Jackson Cooper scenes at Next Door Twink
It's tough for a young man growing up without a solid father figure. It's a good thing sweet Jackson Cooper's mom is together with Damien Michaels A now. Jackson sees Damien as such a strong, mature guy. What Jackson doesn't know about Damien, is that he used to hook up with a few of his fellow frat buddies in college.
Now, as Jackson has just been caught by Damien, masturbating to gay porn, Jackson feels he should open up to Damien about some feelings he's recently been having. As Jackson explains to Damien that he might be attracted to guys, Damien's ears perk up and his dick begins swelling.
And when Jackson explains that he's more interested in older guys, Damien comes up with an idea. Damien tells Jackson that what he's feeling is normal and ok. He swears he won't tell his mom, and brings Jackson in for a hug. But as the hug turns into something more, Jackson realizes his wildest fantasy is coming true.
They start off with some passionate, deep kissing. Jackson moves down Damien's body, unbuttoning his shirt, and kissing all over his chest and stomach. Then Jackson decides to see what a dick tastes like for the first time. Damien guides him in his exploring.
Then Damien returns the favor by slurping on Jackson's stiff, virgin cock. What a sensation! Jackson can't believe Damien is naked and sucking on his dick. After some 69ing, Damien has Jackson sit on his dick and ease It into his super tight hole. It's not easy at first, but Jackson works up his pace and can't believe how good it feels!
See this learning experience for yourself and find out what happens when a sweet boy finally finds a loving fatherly figure…Join them!
Republished by Blog Post Promoter