All gay porn videos and gay porn pics of Tristan Hunter.
Hair Color: Brown
Sign: Unknown
Eye Color: Brown
Dick Size: 8 inch dick
Height: 5'9″
Cut / Uncut: Cut / Circumcised
Weight: 150lbs
Sexual Positions: Versatile
Tristan Hunter gay porn scenes at Next Door Raw
Hungry Dalton Riley is hard and throbbing just thinking about having his tight hole rimmed. While on display and stroking himself, he invites sexy Tristan Hunter to join him for a hot and steaming session at the bath house. They're about to do more than just rim this hole…Join them!
Tristan Hunter gay porn scenes at Next Door Studios
Fresh and alluring Tristan Hunter is late, late, late but lucky for him horny Anthony Moore is more than happy to… pick him up.
Enamored, Anthony plans for a different kind of ride and takes a detour to his home so that he can 'let the dog out.'
Before they know it, Tristan is totally blowing off his plans, and Anthony…Join them!
Tristan Hunter gay porn scenes at Icon Male
What a way to wake up with your buddies mouth on your morning wood.
Tristan Hunter knows how to take care of a dick and Zak Bishop's got a good one.
The two young hot men have a fuck in suck session until they're both covered in cum…Join them!
Tristan Hunter gay porn scenes at Falcon Studios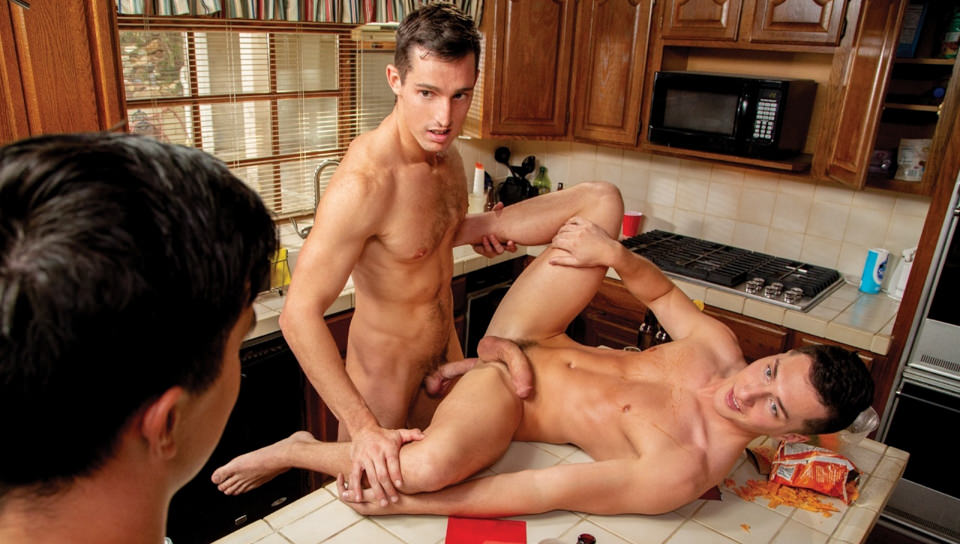 Steven Lee and Tristan Hunter get their official invitations to the fraternity, and when they arrive, Trevor Miller is there to teach them what being a frat brother truly means. Trevor gets off on watching his pledges do exactly as he says.
After commanding Steven to pour syrup on Tristan's ripped body and go down on Tristan's extra thick dick, Trevor reaches into his pants and grabs himself. Steven likes to please and does everything he's told to do by the frat leader.
Not only is Steven pleasing himself and Tristan, he's gaining the favor of Trevor, who can get him everything he wants. Steven is craving more and bends Tristan over the kitchen counter to open his ass up with his tongue.
When he can sense that Tristan is ready for his big dick, Steven slides inside his fellow pledge and pumps away with his raging raw hard-on, stretching Tristan wide. With Trevor still watching and beating off next to them, Steven picks up the pace and pounds a panting Tristan even harder.
Steven hits just the right spot with his frenzied fucking and makes Tristan blow his load all over his own toned stomach. When Steven sees Tristan's thick jizz everywhere, he pulls out and adds to the mix with a massive load of his own all over Tristan's already dripping-wet body.
Will their display of obedience be enough to convince Trevor to allow them into the brotherhood?…Join them!
Tristan Hunter gay porn scenes at Men.com
Boyish-looking, athletic Tristan Hunter just got hired to be the new nanny for muscular Tristan Jaxx, and his wife. Hunky Tristan Jaxx works from home, and occasionally comes down to make sure things are running smoothly.
Tristan finds his hot, new "manny" in his jockstrap, with his ass cheeks out cleaning the counter. He's both shocked, and turned on as his massive meat quickly rises.
It doesn't take much convincing for the straight stud to give in to his curiosity, and sexual desire before his wife comes home….Join them!
Tristan Hunter gay porn scenes at Hothouse
Tristan Hunter changes out of his singlet after wrestling practice and hits the bathroom. He runs into coach Alex Mecum at the urinal who tells him he's going to need to work harder to make the cut.
Tristan says that he'll do anything it takes to make the team as he drops to his knees to take Alex's thick shaft down his throat. With Tristan's lips wrapped around his cock, Alex bends over to cop a feel of Tristan's big dick.
Alex likes what he sees and bends the stud over to eat his ass. Tristan loves Alex's tongue planted up his ass and soon he's begging for Alex's massive cock to stretch him out even more. Alex really wants to let Tristan on the team, so he slides his pole into Tristan's eager hole.
He plows away as his dangling balls slap back and forth on Tristan's ass. Alex gets deeper in the hopeful athlete when he splays the young wrestler out on the bathroom floor next to the urinals to plug his ass even harder.
With Tristan's legs in the air, Alex pulls out and shoots a massive creamy load all over Tristan's worked out body and big balls. Alex shoves his jizz-covered cock back inside Tristan and pumps away until Tristan gets his turn and cums hard.
When it's all over, Alex pulls out and slips his dick into Tristan's mouth for him to lick clean…Join them!