All gay porn videos and gay porn pics of Maxx Monroe.
Hair Color: Brown
Sign: Unknown
Eye Color: Brown
Dick Size: 8-inch dick
Height: 5'9″
Cut / Uncut: Cut / Circumcised
Weight: 165lbs
Sexual Positions: Versatile
Maxx Monroe gay porn scenes at Men
Sexy big muscle hunk Pierce Paris and hairy-chested young stud Maxx Monroe make out kissing passionately on the bed.
With their hands all over each other, they undress until they are both in just their tight sexy underwear.
Maxx lies down on the bed with his hand in his undies as Pierce slides his huge thick dick deep into his young throat making him gag as it hits home.
Then the two horny studs 69, sucking each others' hard dicks making loud sucking noises as they both deepthroat cock.
Pierce then forces his massive thick uncut cock deep between Maxx's tight ass cheeks until his rock-hard cock is balls deep with his balls slapping against his butt.
Maxx turns over to get fucked even deeper in doggy style before riding the top on the bed, but these guys aren't done yet.
Pierce puts Maxx up against the mirror to fuck him from behind while looking into his eyes, and their reflection is so hot that Maxx cums all over it.
Pierce pulls out and shoots all over his man's round ass….Join them!
Maxx Monroe gay porn scenes at Black Godz
Sexy young white stud Maxx Monroe is standing there in his wrestling singlet admiring the sleek black body of Bama Romello.
Maxx runs his hands down Bama's chest and arms and back making sure he's relaxing into his massage.
Bama slides his tight skimpy underwear down just enough so that Maxx can get his oily palms into his ass crack.
Maxx is already turned on and his young cock is getting hard and tenting his crotch.
He spins Bama around and kneels taking his big black cock into his mouth and sucks it right back till it hits the back of his throat and Bama's balls hit his chin.
Bama then returns the favor parting Maxx's slightly hairy ass cheeks getting his tongue into his hot young hole.
He then lays underneath Maxx and pumps his throbbing huge dick deep into Maxx's tight ass hole, making him moan loudly.
They switch positions a number of times with Bama pressing his big black cock further and harder.
This proves too much for Maxx and he sprays cum all over his stomach and chest. Bama pulls out and blows a huge cum load emptying his balls over Maxx before fucking his cum back in Maxx's freshly fucked hole….Join them!
Maxx Monroe gay porn scenes at College Dudes
Maxx Monroe takes a study break with Michael Boston, joining Michael on his bed as they collapse against each other and make out, Maxx itching to get into Michael's pants.
Pulling Michael's underwear off, Maxx takes Michael's prick in his mouth and sucks it good before climbing back onto the bed and letting Michael return the favor.
They 69 next, Maxx's big dick filling Michael's mouth while Maxx rims and teases Michael's hole.
These boys take their time enjoying their oral as they taste every intimate place on each other, Maxx unable to get enough of that delicious ass before fucking it bareback.
Michael presses his face into the sheets as Maxx fucks him slowly, that cock splitting his tight ass open as Maxx pushes every last inch inside, filling him to the brim.
Michael turns onto his back and spreads his ass open for Maxx who pushes inside him again, fucking him hard, deep, desperate to cum as Michael moans underneath him.
Reaching down for his dick, Michael jerks himself until he blows his load and Maxx pulls out and sprays Michael with his salty jizz!…Join them!
Maxx Monroe gay porn scenes at Extra Big Dicks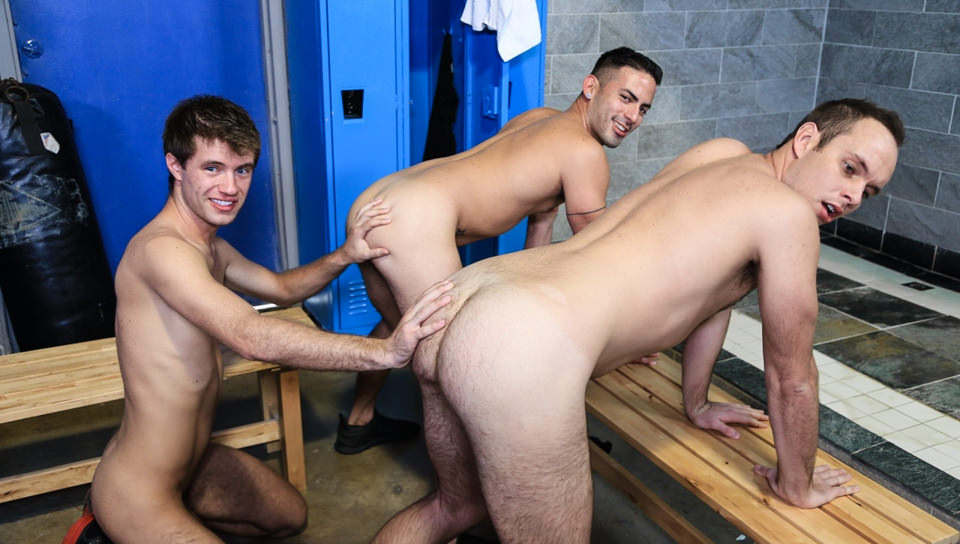 Cesar Rossi and Devin Adams are in the locker room discussing the twink they saw in the gym and the fact that he obviously has a huge cock hanging between his legs from what they could see through his shorts.
While chatting Maxx Monroe walks into the locker room and starts undressing for the shower. As he turns around, both Cesar and Devin are amazed at the huge cock hanging between his legs.
After some knowing glances and obvious desire, they are soon sharing Maxx's huge cock between their mouths. They both do their best to deep throat all 8.5 inches of Maxx.
Maxx then sucks them and then turns his attention to their asses as he rims them both. He then takes turns fucking both of them hard and deep. Maxx continues to fuck Cesar until he explodes all over himself.
Cesar then sucks Maxx's huge cock again until he cums all over his chest…Join them!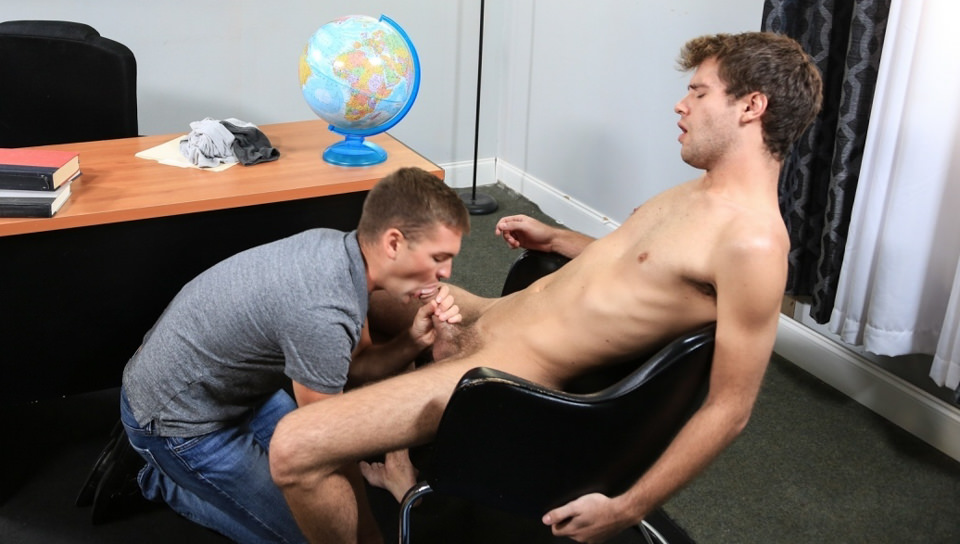 Conner Mason is in his office when his student Maxx Monroe comes in. Conner is concerned because he has noticed that Maxx has been distracted and very fidgety in class as of late.
Specifically, he has noticed that Maxx keeps tugging and playing with his huge cock through his clothes. The entire time Conner is talking to Maxx, he is tugging on his cock.
Conner offers to see if there is a problem and to help Maxx. As soon as Conner sees how big Maxx's cock is, he drops to his knees and starts sucking it.
Maxx then moves to playing with Conner's ass and at his request, he begins fucking his Teacher right on his desk.
Maxx fucks Conner all over the desk leaving it sweaty and messy once they both blow their heavy loads…Join them!