All gay porn pics and gay porn videos of Dominic Pacifico.
Hair Color: Black
Sign: Unknown
Eye Color: Brown
Dick Size: 8-inch dick
Height: 5'7″
Cut / Uncut: Uncut / Uncircumcised
Weight: 165lbs
Sexual Positions: Versatile
Dominic Pacifico gay porn scenes at Cum Fu
Phallos' slave and minion, Shen Powers has come to earth to scout the offense and power of the Gayvengers.
The American Hero, Dominic Pacifico drags him into a shabby back alley and goes down on his thick alien cock.
Dominic pins the alien slave against a post and opens his smooth tan ass with a nimble tongue.
Just when he's got him groaning for more, Dominic presses his massive cock into the throbbing wet hole.
The superhero takes the alien invader with sheer American brute power, and Shen begs for more.
He rides the patriotic cock for all its worth, beating his dick mightily and grinding into the star-spangled stud.
Venturing through the far reaches of space must get pretty boring because Shen is positively starved for cock.
Ass full of American Hero, Shen sprays a thick sheen of sperm across his chest, takes to his knees while Dominic milks one out.
A juicy dribble splatters Shen's face, but is he loosened up enough to provide the answers Dominic is seeking?
Shen dashes away before any of the top-secret plans for domination are revealed.Join them!
Dominic Pacifico gay porn scenes at Fisting Inferno
Stuffing raw poultry with chef Dominic Pacifico is putting some dirty thoughts into his assistant Josh Mikael's mind.
After filling up a gaping bird for a cooking demonstration, Josh exposes his furry ass to the chef in hopes that he is in the mood to stuff something else.
After complimenting Josh's big hungry hole, Dominic uses his fingers and hard cock to fill him up.
Dominic barebacks Josh's soon-to-be gaping ass as Josh begs the chef to give him more.
When rawing him simply isn't enough, Dominic finally satisfies his horny assistant by stuffing his entire hand into his eager hole.
Wearing only a cock ring and leather boots, Josh climbs onto the counter to ride Dominic's clenched fist.
Dominic holds his arm steady as a grateful, gaping Josh bobs up and down on his thick forearm.
For only a moment, the chef removes his hand from Josh's ass to admire the man's wrecked hole.
Dominic shoves his fist back inside of Josh to continue the anal destruction before the hairy assistant shoots a load of sticky cum out of his cock.
The pleased chef exclaims that he finally has enough gravy for his stuffing.Join them!
Dominic Pacifico gay porn scenes at Icon Male
Sexy tattooed young stud Zak Bishop and bearded muscle hunk Dominic Pacifico are in a rush as they open the front door of their house whilst they make out kissing passionately.
Zak in his tight shorts and sneakers follows Dominic upstairs to the bedroom, where they strip off their clothes and quickly get down to sucking each others' big erect dicks.
Zak swallows hairy stud Dominic's huge cock gagging on it as it hits the back of his throat.
Dominic returns the favor blowing young Zak's big thick dick making him moan with pleasure.
With Zak braced on the bed in doggie-style position Dominic forces his massive erection between Zak's ass cheeks entering his hot hole and pressing home balls deep.
Zak moans loudly as he feels Dominic's thick dick moving inside him, Zak pushes his ass, backward getting Dominic's hung cock deeper and harder inside his hole.
With Zak on his back with his legs in the air, Dominic bareback fucks his hole rampantly firing his raw dick repeatedly into his tight bubble butt asshole like a power drill.
They switch up positions a few more times each allows Dominic to dominate Zak's asshole bringing them both closer to orgasm, but then he relents slightly to stave off cumming just a little bit longer.
As Zak's moaning starts to increase he cries out in ecstasy as Dominic cums inside him, pulling out briefly then fucking his cum back inside.
This is all too much for young Zak whose ass has taken a right bareback pummelling as he shouts out just before he sprays a huge volley of cumshots all over his abs.
Both sexy dudes lie back in each other's arms, their sexual mores sated for now….Join them!
Dominic Pacifico gay porn scenes at Men.com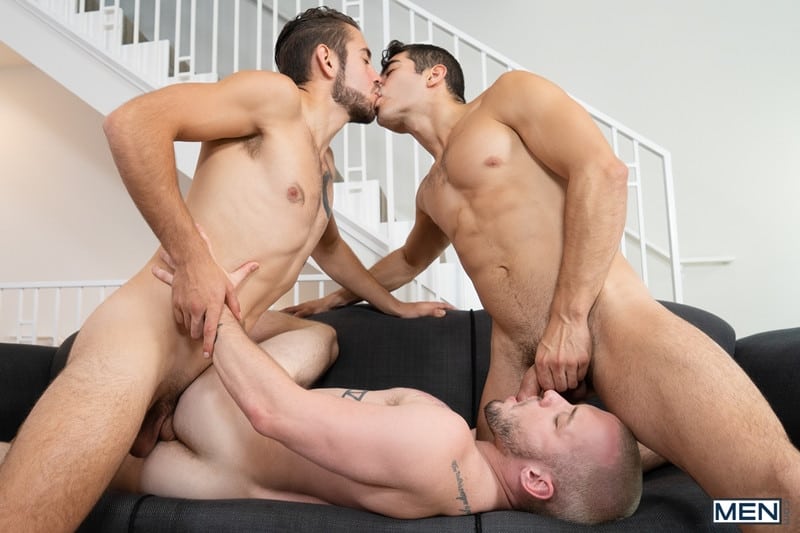 Tattooed, hunk Dante Colle still can't get rid of his everlasting erection, and he has a birthday party to attend. What is he going to do? He decides to stuff it in his pants and heads out. Once there, the guys notice something is off with Dante, and begin probing him until his rock hard, hung cock is revealed. Atheltic Cazden Hunter, blond-haired Colton Grey, muscular Dominic Pacifico and chiseled Marcus Tresor all have one thing in mind now, and that's to get the party really started with some hot group sex….Join them!
Connor Halstead and Dominic Pacifico reenact the retelling of one straight man's story of his first time getting it on with another man…Join them!
Dominic Pacifico gay porn scenes at Noir Male
Hot muscle dude Dominic Pacifico is relaxing on his bed with an early evening Martini. He's waiting for black muscle stud DeAngelo Jackson to discover his secret lair.
DeAngelo cannot resist Dominic's available bubble butt ass, which is there for the taking. The two men kiss and caress each other before they swap blowjobs. DeAngelo can't wait to get his big black cock into Dominic's tight man hole.
The fucking is intense and both sexy men end up covered in each others jizz…Join them!
Dominic Pacifico gay porn scenes at Next Door Ebony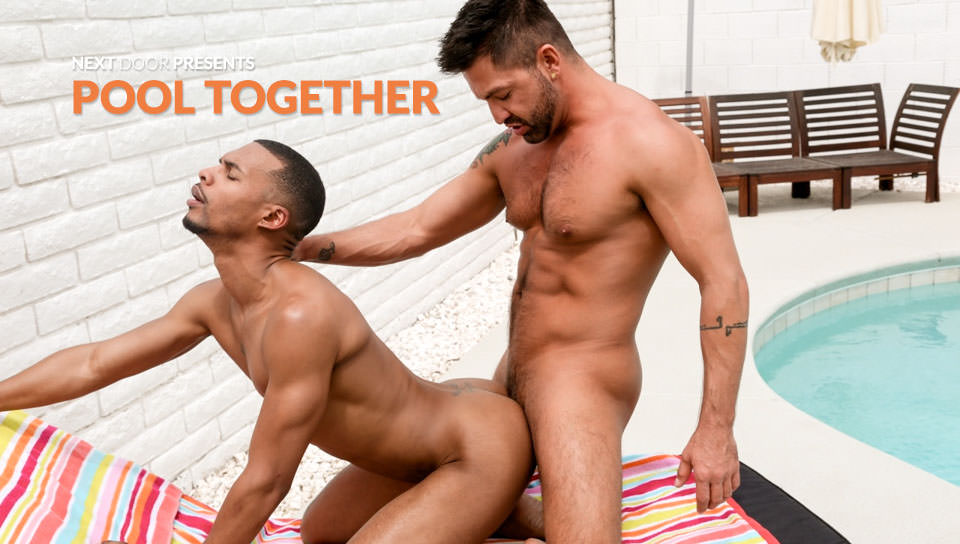 As Jacen Zhu suns himself by the pool, he can't help but fantasize about the guy cleaning the pool in front of him. Dominic Pacifico is a handsome, muscle-bound stud, and when he sees Jacen checking him out and rubbing himself down in anticipation, it doesn't take him long to get with the program.
He makes his way over to Jacen's lounge chair and instantly opens his shorts to let Jacen have a taste. Jacen deep throats his rock hard dick, gagging himself with Dominic's meat rod. Dominic returns the favor, bending down to suck Jacen off, and arching him up to eat his ass.
He tongues Jacen's hole before standing him up against the fence to pound him from behind, hard dicking Jacen in a standing doggy before throwing him down onto the lounge to finish the job. As Jacen strokes himself off, Dominic continues to pound Jacen missionary, before both mutually spitting their loads all over each other's chests.
Glistening in the sunlight, both guys are cum covered and sweaty, ready to take a dip in the pool and do it all over again…Join them!
Dominic Pacifico gay porn scenes at Extra Big Dicks
Dominic Pacifico and Jace Chambers are both cleaning up their gym locker room/shower area and having some small talk with each other. Dominic asks Jace to tell him what happened with Bryan and Jace asks if he really wants to know. Dominic wants to know if Bryan was better than he is as a bottom. Jace reassures him that he is the best.
Jace then asks if Sean has a better cock than he does and Dominic assures Jace that his is the best. The two then begin kissing and soon their cocks are out and they are sucking each other. Jace rolls Dominic up on his back and begins rimming his ass deep and hard.
He then fucks Dominic is a few positions proving to each other that they really do have the best sex. At the end they agree as a couple that in the future, rather than hooking up with others alone, they will do it together…Join them!
Jace Chambers is cleaning up the workout area and Dominic Pacifico is coming in to get ready for his client. Based on Jace's quick answers to his questions, Dominic suspects that something might have happened earlier. Jace leaves and as Dominic is getting things ready, Sean Duran shows up for his session.
Dominic helps him put on his boxing gloves and the two hit the bag with Sean hitting it hard. After a little while, Sean asks Dominic where his boyfriend is and Dominic tells him that he went home. Sean asks if they are open with each other and makes a move on Dominic.
Dominic does not resist and soon Sean has Dominic's pants down and he is rimming his ass up against the punching bag. Sean has his face buried deep in Dominic's ass slurping and licking that sexy round ass. After rimming Dominic for a few minutes he then starts to fuck him up against the punching bag.
Dominic has his arms wrapped around the bag as Sean plows deep and hard into his tight ass. Sean can't get enough of that ass so he pulls his hard dick out and gets back on his knees to rim that sexy ass once again. He spreads it wide so his tongue can get that hole even wetter.
Sean then begins to suck on Dominic's thick hard cock taking it deep into his mouth. Dominic then rides Sean's throbbing cock on the bench sliding up and down his hard shaft while stroking his own hard dick.
Balls deep in that tight ass Sean flips him onto his back and fucks him until he pulls out and shoots his warm cum on Dominic's cock and balls.
Sean then sucks Dominic until he cannot hold back and he shoots a big load all over Sean's face and mouth…Join them!