All gay porn pics and gay porn videos of Hugh Hunter.
Hair Color: Brown
Sign: Unknown
Eye Color: Brown
Dick Size: 8-inch dick
Height: 5'10"
Cut / Uncut: Cut / Circumcised
Weight: 185 lbs
Sexual Positions: Versatile
Hugh Hunter gay porn scenes at Manalized
Studs that are inked and muscular like Jon Shield and Hugh Hunter keep to their kind.
They started off by smooching each other all over before Hugh dropped his pants.
Jon swooped at the opportunity to suck on cock before Hugh grabbed him and took control of the sucking.
Jon didn't expect things to get so rough so soon but liked it nonetheless.
He thought of repaying Hugh by spreading his legs for a juicy rimjob.
Hugh grew horny from the affair and went after Jon's crotch to blow dick.
After that, they were ready to bareback harder than ever. Hugh bent over and doggy style began.
The raw banging picked up momentum until Hugh had an idea of riding like a cowboy.
Jon's thrusts soon made Hugh spill his load before he did the same.Join them!
Hugh Hunter gay porn scenes at Lucas Entertainments
Big daddy Hugh Hunter and stepson Gio Forte are holidaying in Fire Island and they realize that they have plenty of interests in common.
On the water's edge, big hairy muscle hunk Gio slips his huge raw cock deep into Hugh's tight muscled bubble butt.
Then they switch with Hugh pumping his 8.5-inch dick into Gio's hot asshole.
The sexy muscle guys flip-flop bareback fucking till both men are on the edge of orgasm.
First to blow is Gio spraying his hot muscle cum across his abs and chest. He's quickly followed by Hugo who blows his cum load all over them both before fucking his cum back into Gio's hole….Join them!
Hugh Hunter gay porn scenes at UK Hot Jocks
Handsome and studly, Hugh Hunter certainly has a presence in the locker room. He sits down and we chat and laugh, talking about his life in NYC. From our conversation you'll see he has the life of a regular big city dwelling guy, likes to spend time with his man, having fun and going out as well as being cuddled up on the sofa.
Though we know he's no regular guy, he's a smoking hot monolith of a man, with the charisma and sexual prowess to match. Deep breathing and shirt stripping, Hugh gets down to it and get's out his impressive torso. Tweaking his nipples and grabbing his crotch, running his shovel like hands over the tight blue leggings.
Sex is in the air and it's on that hot contorted hair-lip that he pulls when he gets a certain sniff of himself or flexes a particular muscle, you know it's good. Down to a multi coloured jock he bends over exposing his hugely impressive huge ass and stuffs a few fingers up there, groaning deeply as he does.
Putting on a muscle pumping, thick cocked wanking, jock strap sniffing display of hot manliness. Getting on the floor his whole body tenses up, reaching the point of no return and busting a big load…Join him!
Hugh Hunter gay porn scenes at Icon Male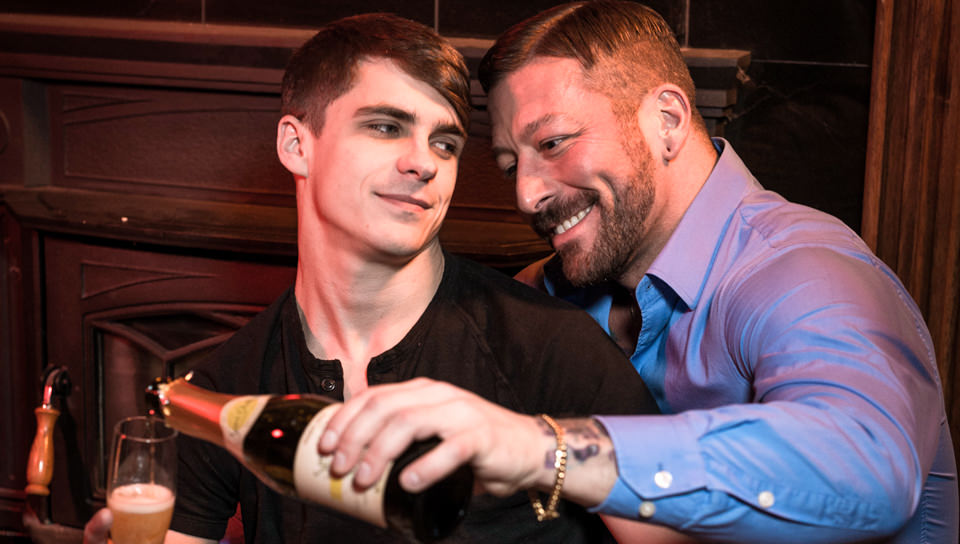 After being ditched by unfaithful lovers, Kory Huston and Hugh Hunter find comfort in each other. They begin joking around with whip cream which leads to them licking it off each other's bodies.
Before they know it, they're all over each other sucking cocks and fucking hardcore on the couch. Misery loves company but revenge is so much sweeter…Join them!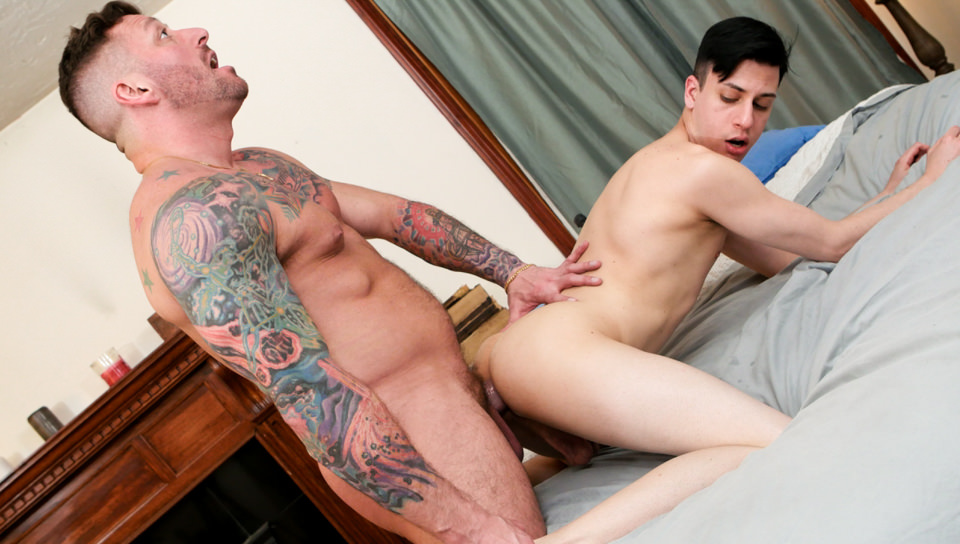 Sexy twink Shane Omen seduces Daddy Hugh Hunter who fills him up with his monster cock until the young teen is screaming with pleasure and pain…Join them!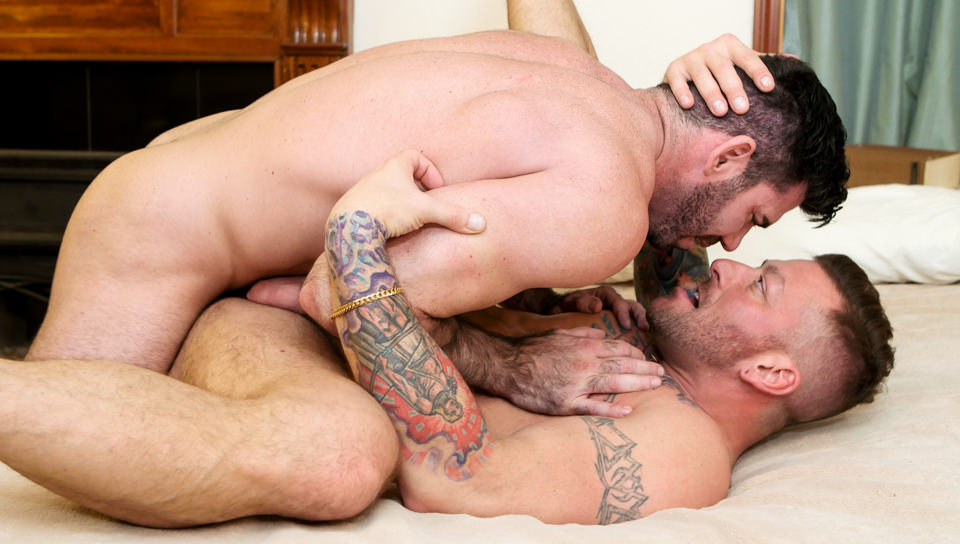 Older, muscular Daddies Hugh Hunter and Billy Santoro seek solace in each other's rock hard bodies and Hugh's massive monster cock makes hairy, hot Billy forget about the twink who broke his heart…Join them!
Hugh Hunter gay porn scenes at Dominic Ford
Real-life husbands Hugh Hunter and Dolf Dietrich visited me on Fire Island and couldn't wait to work out in my gym. But almost immediately they started fucking. While they have appeared together before, Hugh has never fucked Dolf in a scene before! Watch as these two husbands go at it raw…Join them!
Hugh Hunter gay porn scenes at Bareback That Hole
A song from a Broadway musical claims "there ain't nothing in the world like a big black man." We'd have to agree. More importantly, Hugh Hunter also agrees.
The tattooed muscle hunk daddy is paired with bald and tattooed Leo Donato, who slobbers all over the white man's fat cock and slurps on his cum-laden pink balls. After worshiping Hugh's cock and balls, Leo spins him around and devours the hairy ass presented.
Leo makes a meal out of the scruffy hunk, from the pink puckered starburst to Hugh's cock and balls, before teasing him by rubbing the length of his big, fat, engorged cock against Hugh's ass.
The two switch places and Leo ends up on his back, ass up in the air, with Hugh rimming and tongue fucking his twitchy brown hole as if he were eating out pussy. Hugh clearly knows what he's doing as Leo gets lost in pleasure, moaning and sighing and adding a little something extra as he talks dirty in Spanish.
The way Hugh eats out Leo will set your tongue to wagging and make your mouth water, especially as Leo keeps muttering, enticing Hugh to continue his expert rimming.
Hugh slides that fat slab balls deep inside Leo and starts bareback fucking his sweet brown ass, sending Leo into even more Spanish dirty talk. The two soon switch it up, flip fucking bareback, with Hugh on his back, legs spread wide to take the full, raw onslaught.
In the end, after they've blown big juicy loads of jizz, they let us know EXACTLY how the felt during their scene…Join them!
Hugh Hunter gay porn scenes at Naked Sword
Greedy-ass bottoms never want one big dick; they need two big dicks at the very least. And that's just what they get in Dark Alley's Tag Team Breeders, a collection of five scenes featuring dirty sluts who want their asses plowed by two sexy, sweaty men and their huge cocks all in one sitting. Starring: Adam Russo, Cutler X, Dolf Dietrich, Dylan Hyde, Hugh Hunter, Jackson Fillmore, Justin Case, Leon Fox, Mario Cruz, Matt Stevens, Max Cameron, Owen Hawk, Sean Duran, Simon Santana.…Join them!
These nasty men have a bareback obsession that needs to be quenched and we've got the right mix of muscular studs who are willing to offer up their holes for a raw pounding.
These sexual champions stuff solid cock into their mouth whilst hands and fingers explore furry flesh, peachy butts and twitching holes.
They can't keep their hands off of each other and it's not long before they come together for an all-out bareback-fest full of messy blowjobs, wild threesomes and non-stop raw fucking that will always end in a huge, sticky explosions.
Nine different guys but all with one sexual goal, to give and take a fat, raw cock. Starring: Alessio Romero, Alex Mason, Brad Kalvo, Hugh Hunter, Jackson Fillmore, Marcos Mateo, Matt Stevens, Ray Diesel and Stephen Harte.…Join them!
Hugh Hunter gay porn scenes at Fisting Central
Covered in his signature tattoos, Logan McCree is harnessed, and restrained. He's led by leash and bridle by Hugh Hunter wearing only a butcher's apron.
Hugh slaps and teases Logan's hard, horse-hung cock and goes down on it, spitting all over his meat and sucking it hard. Hugh lays Logan on the bed and attaches nipple clamps from a suspension in the ceiling pulling his nipples taut.
If that wasn't enough, Hugh chains Logan's feet to the bed and proceeds to bring a table of sounding rods bedside and carefully selects the perfect tool for Logan's dick hole. As Logan strokes his foreskin over the head of his cock, Hugh keeps sliding the rod in and out of Logan's dick slit.
With the sound tied inside Logan's cock, Hugh uses a blow torch to melt candle wax that's suspended from the ceiling, letting it drip down until Logan is covered in hot white wax…Join them!
Hugh Hunter gay porn scenes at Extra Big Dicks
Ian Levine is a tech geek and he is on his last call of the day. It seems like a quick easy fix so why not top by and help this guy out before he calls it a day.
Ian arrives at Hugh Hunter's house and he is eager to have his computer fixed. While Ian is on the computer trying to figure out what's wrong a web page pops up of a Gay porn website which embarrasses Hugh a little bit but Ian doesn't care.
Ian finds the problem and in a matter of minutes the computer is fixed and he is ready to head out the door. Hugh is right behind Ian as he follows him to the door.
Ian opens it up and Hugh closes the door not letting Ian out. Hugh stares him down and tells him to get on his knees and start sucking his cock.
Ian doesn't know what to say or do at this point but he can feel his cock twitch and his heart beating faster as Hugh starts to unbutton his shirt. Ian feels the connection and just rolls with it.
Hugh undresses him and starts to suck his cock which sends Ian over the edge and he drops his guard fully. Hugh dominates Ian at the door face fucking him and eating his ass out.
Once they have had their fill of cock and ass Hugh takes him to another room and fucks him with his big dick. The boyish nerd look is what Hugh loves the most as he moans and grunts fucking his smooth tight ass…Join them!