All gay porn pics and gay porn videos of Ace Era.
Ace Era is perfection. He's tall and muscular, with amazing skin and a face you just want to kiss. His cock is always ready for action and his perfect bubble butt is always begging for more cock to be in it.
Hair Color: Brown
Sign: Unknown
Eye Color: Brown
Dick Size: 7 inch dick
Height: 6'2″
Cut / Uncut: Cut / Circumcised
Weight: 165lbs
Sexual Positions: Bottom
Ace Era gay porn scenes at Hothouse
JJ Knight is at Dr. Ace Era's office for a routine physical. As the hunky doctor performs his check-up, the sexual chemistry between the two becomes evident as their eye contact intensifies.
When Doctor Ace has JJ lie back on the table, the doc is in for a surprise when JJ's boner pops out of his pants. Ace does a thorough check of JJ's big full sack and soon pops his own cock out of his scrubs as he gets to work sucking on the stud's mighty rod.
Ace lets all the doctor/patient rules fly out the window when the patient becomes the aggressor. JJ bends the doctor over the exam table and slips his big, thick dick deep inside Ace's open, throbbing asshole.
JJ needs to see how much more the doctor can take and rolls him over to get a deeper plow. Ace's hole feels amazing wrapped around his cock and the longer he drills, the closer he gets to giving the doctor a close-up sperm count.
When Ace sees that JJ is about to blow, he gets on his knees under the hunky stud and opens his mouth wide.
JJ blows a geyser of semen into the doc's wide-open mouth and when his mouth is full, the doctor blows his own load all over the floor and onto his scrubs.
Even though JJ is perfectly healthy, the doc decides he's going to need a follow-up appointment very soon…Join them!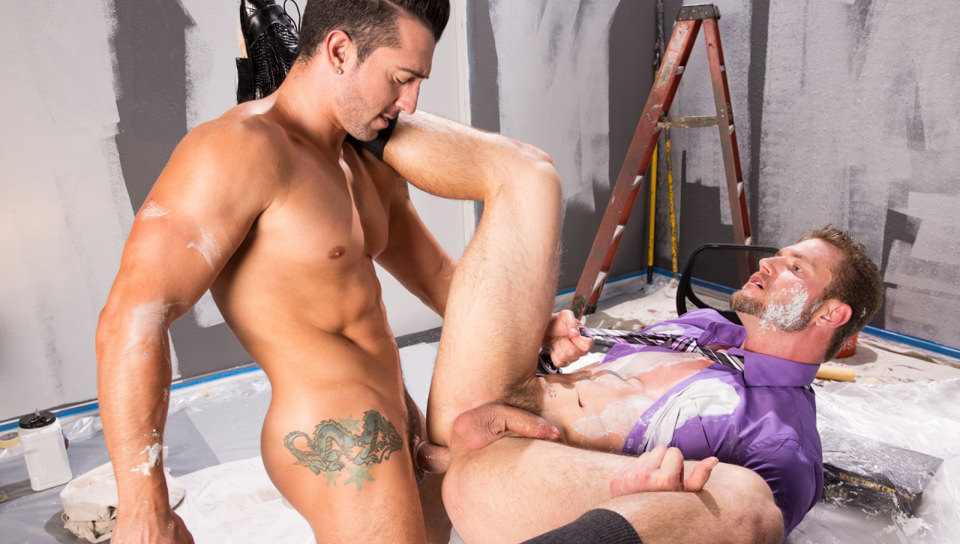 Jimmy Durano should have finished painting the office already, but he's barely halfway done. Jimmy's boss, Ace Era, is furious with him, but Jimmy doesn't give a fuck: he shows Ace what he thinks of him by rolling a giant stripe of paint across Ace's expensive dress shirt and tie.
Ace is so mad he tries to fight Jimmy, but Jimmy has the upper hand because he knows how to subdue his blustering boss. Grabbing the back of Ace's head, Jimmy pushes Ace's face into his crotch.
Whipping out his dick, Jimmy slaps it across Ace's lips, and since Ace is such an eager cock whore, he can't resist opening his mouth and allowing Jimmy's meat down his throat. Jimmy strips off his shirt, revealing his perfectly smooth torso and bulging muscles.
Ace bends over a desk and Jimmy eats his ass. Paint splatters across ace's face and arms as their rampant connection gets more and more intense. Jimmy strokes his hard, uncut cock as he presses his face into Ace's ass.
After teasing Ace with the tip of his cock, Jimmy thrusts his thick meat inside Ace's hole. He pounds Ace with vigorous, slamming pumps, and the tattoo that says 'FUCK ME' across Ace's ass bounces with the force of the impact.
Turning over, Ace throws his right leg over Jimmy's shoulder and gets totally drilled by Jimmy's cock. The intense pressure makes Ace spill his seed, shooting it across his muscular torso.
Getting down on his knees, Ace opens his mouth as Jimmy blows his load; cum spills everywhere.
When Jimmy stands and heads toward the door, Ace asks, 'Where are you going?' 'You fucking finish the job,' says Jimmy, as he slams the used condom against the sticky paint on the wall…Join them!
Ace Era gay porn scenes at Raging Stallion
As the clippers of the 'High n' Tight' barbershop buzz in the background, Mick Stallone and Ace Era cruise each other in the waiting room. Mick unbuttons his shirt, showing off his hairy chest and tight abs. He yanks out his hard cock, and Ace eagerly gets down on his knees to perform oral worship.
Ace strips off his shirt, revealing his athletic physique. Mick guides Ace by grasping the dirty blond hair on the back of his head. Ace's waistband slips below his ass, revealing the tattoo on his butt cheeks: FUCK ME. Mick is eager to do just that. Spreading Ace's cheeks, Mick delivers a slippery rim job to lube up Ace's hole.
Ace presses Mick's face deeper into his crack, driving his tongue down into the tight center. Mick uses the tip of his cock to tease Ace's hole, then drives his fuck stick deep inside. Ace bends over a table, and Mick fucks him while standing, delivering an intense, expert pounding.
Flipping over, Ace puts his left leg over Mick's shoulder and strokes his cock, with Mick still inside of him. Ace returns to his knees and stuffs his face with Mick's meaty tool, bringing him to the point of no return: Mick spills his load across Ace's lips and onto his tongue, savoring the taste of Mick's semen.
Jerking his cock, Ace shoots his load on the floor, adding a guttural moan to his orgasm. Standing up, Ace and Mick press their lips together, sharing in the taste of Mick's cum…Join them!
Ace Era gay porn scenes at Lucas Entertainment
Stas Landon continues to move up in the business world, but he doesn't do so through hard work and determination. He's fucking his way to the top, and the new office jockey Ace Era is the next guy on his bareback bucket list. Seducing Ace doesn't take long, and before he knows it Ace is on Stas' desk taking a dildo up his ass. And after Ace is bouncing on Stas Landon's cock working for his raw load…Join them!
Devin Franco never says "no" to a beefcake, so when Ace Era makes a move on him they immediately start making out and exploring each other's bodies.
Devin gets into sucking Ace's hard dick fast, and when they sneak into an empty hotel room to be kinky, they're not expecting the resident to return. But he does, and it is Damon Heart.
If they're going to be in his room, he's going to get something out of it. Damon breaks out his arsenal of sex toys before he and Damon take turns breeding Ace in his ass…Join them!
Ace Era may be known as a power bottom (just read the "Fuck Me" tattoo on his ass cheeks). But when he sees a nice hole presented to him, of course he's going to want to stick his dick in it.
And when he sees two, he's going to flex those muscles of his and take control of the situation. Enter Lucas Fox and Sean Xavier, who both give up their asses to Ace Era…Join them!
Bulrog is a French alpha-male top that likes bossing around guys who are strong muscular men in the streets, but total bitches in the sheets. Michael Roman and Ace Era are his servants in this bareback sex encounter, and he orders them to play with each other before they both begin sharing and working on his uncut cock.
You might think a pair of two hulking guys like this is too much for any top to handle, but not Bulrog. He's man enough for both of them and has no problem staying in total control from beginning to end…Join them!
Ace Era (dressed in his sexy red onesie) has been a good boy all year and is anxiously waiting up for the erotic variation of Santa Claus, Santa Cock (taking the shape of the gorgeous Dylan James) to appear before him. Because Ace has been a good boy, it's Santa's throbbing raw hard-on that's his gift. Ace Era works hard at sucking on Santa's erection before giving up his hole for a bareback holiday pounding…Join them!
Ace Era gay porn scenes at Dominic Ford
It's the dawn of a new Era at DominicFord.com, ushered in by Ace Era and Scott DeMarco. This scene started off the way our typical Dominic Ford scenes start off: passionate, sexy and with a condom.
But half-way into the scene, Ace and Scott both said they wished they weren't using a condom. So we let them continue without one for the rest of the scene. And it just got more wild from there. After an intense round of raw fucking, Scott breeds Ace, shoves his cock back into Ace's hole, and then makes Ace clean off his dick with his mouth.
Talk about a new Era. This is very new for Dominic Ford, and we think it's only the beginning…Join them!
Ace Era makes his debut in this sexy massage scene. He's so hot that Dominic wouldn't let anyone else do this massage. He had to do it himself just to experience the insatiable sex appeal of Ace Era. This erotic massage is a slow and sensual exploration of Ace's incredible body. And it ends with Ace's exploding cum shot all over his chiseled abs…Join him!