All gay porn videos and gay porn pics of Dacotah Red.
Hair Color: Ginger / Red Haired
Sign: Unknown
Eye Color: Brown
Dick Size: 8 inch dick
Height: 5'9″
Cut / Uncut: Cut / Circumcised
Weight: 165lbs
Sexual Positions: Versatile
Dacotah Red gay porn scenes at Next Door Studios
One of the main reasons Dacotah Red loves the new pledges is that they have so much to learn about frat life, so as a big brother, he views it not only as his job, but a welcome pleasure and fringe benefit, especially when they come packing the goods like his latest newbie.
Straight pledge Jackson Cooper isn't feeling it so far, and he's about to ditch out on the whole idea when Dacotah tells him he has a lot to learn.
Jackson asks what he means, and Dacotah tells him there's plenty of fun to be had with just the guys, and the best thing about the frat life is that what happens between brothers, stays between brothers.
By the time Dacotah is done with him, he'll be more than glad he decided to take the big plunge and pledge…Join them!
One look at roofer Donte Thick has Dacotah Red creeping from his kitchen, trying to steal a peek of Donte's hot bod as he works.
Failing to see anything good from his window, Dacotah sneaks up the ladder, only to find Donte waiting to let him sneak up his pole.
Dacotah accepts the invite and joins Donte on the roof, and the temperature gets hot immediately, and not because of the sun.
Donte and Dacotah take turn deep throating each other before Dacotah takes a rooftop ride on Donte's dick, fulfilling his lust and hoping no one in neighborhood catches them…Join them!
There's nothing Donte Thick loves to do more on his weekends than get outside for a nice nature hike, so that he can take in the sights and soak in the solitude, but when he runs across Johnny Hill and Dacotah Red hidden behind a tree, he realizes natural beauty comes in many forms, and that maybe solitude is overrated.
Watching them from behind the brush, Donte gets excited at the thought of joining them, and when Johnny sees him lurking, Donte comes right out and asks the two of them if he can join.
They are more than hospitable to the idea, and in no time, the three of them spread out their blanket and get down to some serious trail banging.
Donte and Johnny take their turns having their way with Dacotah's fuckable holes, and Dacotah takes it all willingly, as the three of them fuck and suck to their hearts content, showing no concern for whoever might by watching….Join them!
Ah, to be young and in love… there's nothing better, except maybe sharing the one you love with someone else, which is something Zion Nicholas and Will Braun are very eager to try.
They're happy with one another but the temptation of straying is always there, so instead of wrestling with those feelings and letting them ruin a good thing, Will and Zion have decided to embrace their desires and invite a Dacotah Red into their bedroom for a little extra-curricular action, and Dacotah is hell-bent on making it worth their while.
He watches them from the doorway for a few minutes before joining them, and once he's in the mix, Zion and Will waste no time integrating him into their play.
Dacotah and Zion take turns pounding Will into submission, and he loves being in the middle of so much manly meat, but the deed's not done until everyone has cum, so the three of them better get to it…Join them!
With no rent money and his landlord's son threatening to evict him, Quin Quire is definitely in a pickle.
Asking why he sent his son, Quin discovers that Dacotah Red is being primed to take over his father's business, and needs to learn the ins and outs of the business, but as Quin probes a little further, it becomes obvious that Dacotah is interested in the ins and outs of something entirely different.
Discovering their shared secret, Dacotah and Quin realize they have more in common than they thought, and as Quin moves on Dacotah, kissing him on the neck and working him out of his clothes, Dacotah suddenly reconsiders Quin's eviction.
As Quin eats Dacotah's ass and readies his hole for a nice, firm fuck, Dacotah has already decided the pros outweight the cons, but when Quin fills him full of rock hard dick, Dacotah's mind is made up.
And when Quin fucks the cum out of Dacotah and then blasts him in the face with his nut, Dacotah smiles, hoping that Quin is late with his rent every month. Join them!
After getting the tour, Chris Blades is impressed with the accommodations at the bed & breakfast he's booked, but host Dacotah Red is the one who seems to be more impressed with the view, as he sizes up his latest check-in and decides to make a pass at him.
Chris asks Dacotah about his wife, but with her gone for the day, Dacotah figures the boys should play. And play they do! Chris is in awe at the size of Dacotah's candy cane as he sucks him hard before bending over to let Dacotah have his way with him. Dacotah plunges it bareback into Chris' waiting hole, grabbing him by the waist and pulling him closer as he pounds him from behind.
Once he's loosened Chris up, he takes a ride of his own, as he mounts Chris' cock and grinds on him reverse. Chris watches as Dacotah's ass envelops his hard dick, and Chris moans in approval and delight.
Ready to nut, Dacotah dismounts and flips Chris onto his back, where he proceeds to fuck the cum out of him, blasting him with a huge load of his own just as Dacotah's wife calls to say she's on her way back…Join them!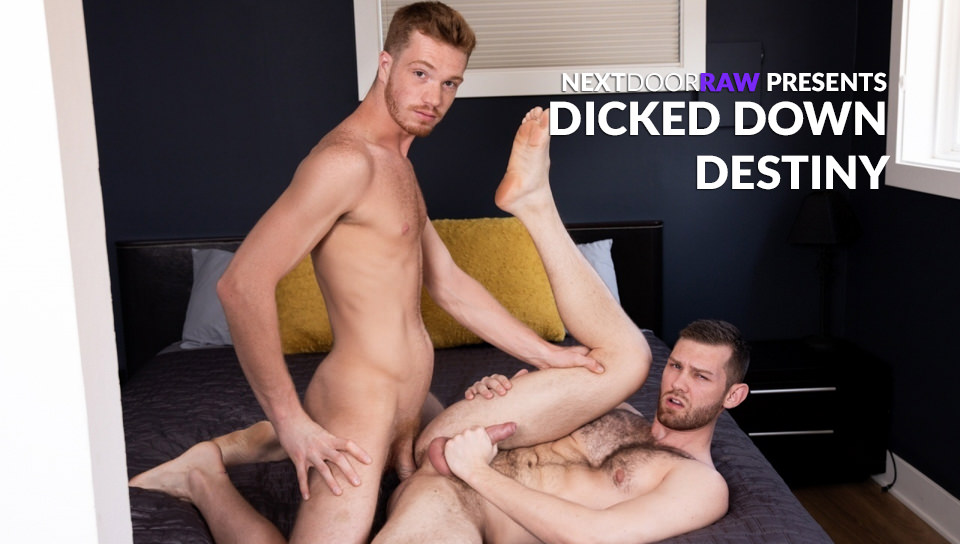 We've all been there. Caught up in a moment of horniness, taking nude selfies in the mirror and sending them off in a sext. But when Dacotah Red hits send, he unwittingly sends it to his friend, Jacob Peterson.
When Jacob receives the text, his mind quickly runs the gamut of all the things he'd like to do to that body, so he wastes no time making his way over to Dacotah's place. When he gets there, Dacotah is confused, but Jacob quickly shows him why he came over so fast.
Dacotah tells him to just delete the text but Jacob tells him he wants to experience it firsthand, so he throws Dacotah back on the bed and begins kissing him down his body. Dacotah puts up minimal resistance to Jacob's advances, and before he knows it, he's pounding good buddy Jacob on the bed.
Jacob proves he can take a dick, and Dacotah proves his pictures only tell half the story. He fucks Jacob bareback every way he can think of, and both guys work up a sweat as the fuck. Finally Jacob is ready to cum, and he tells Dacotah to fuck him as hard as he can.
Dacotah does as instructed and Jacob spits his load all over his hairy stomach as Dacotah pulls out and absolutely soaks him with a massive load. As Jacob lay covered in cum, he tells Dacotah they'll have to meet up like this again.
Dacotah agrees that wouldn't be such a bad idea…Join them!
Republished by Blog Post Promoter