All gay porn pics and gay porn videos of Dylan Drive.
Dylan Drive in his own words:"I wanted to get into this biz because it sounded fun. I like meeting new people, and I am always horny!"
BSB comments:"Dylan has the cutest face, and although he seems to keep very busy with his double major, we are glad that he could skip a class in order to come to film with us!"
Hair Color: Brown
Sign: Unknown
Eye Color: Brown
Dick Size: 7.5 inch dick / 19 cms
Height: 5'5″ / 163 cms
Cut / Uncut: Uncut / Uncircumcised
Weight: 145 lbs / 66 kgs
Sexual Positions: Versatile
Dylan Drive gay porn scenes from Extra Big Dicks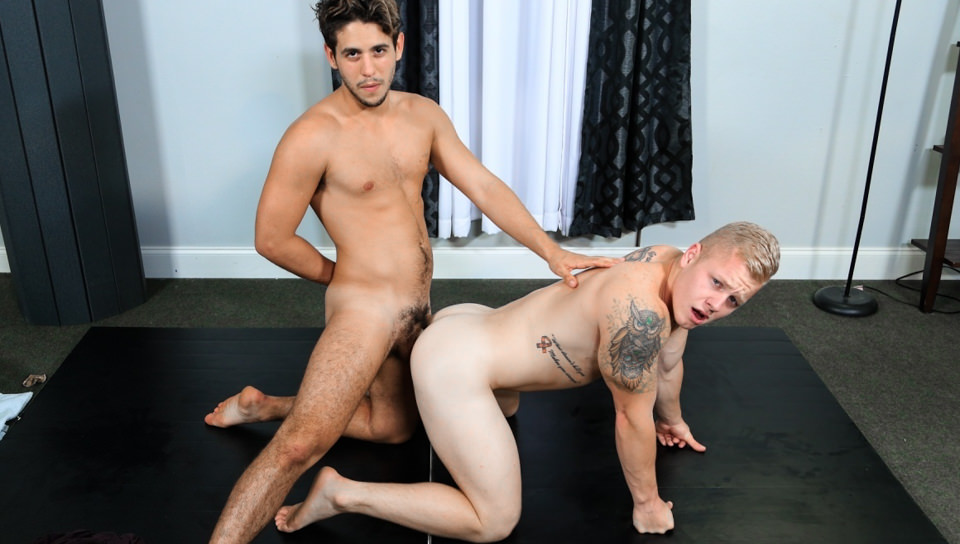 Leo Luckett is instructing Dylan Drive in a few Yoga Positions and stretching exercises. When they put their feet together and start stretching.
Dylan's big cock falls outside the side of his shorts and he is obviously getting aroused because he is leaving a pre-cum trail from the end of his cock to the exercise mat.
Leo cannot resist when he sees it and after stroking it for a bit, he starts deep throating Dylan's big cock. They then move into a 69 position and Dylan starts rimming Leo's beautiful bubble butt.
Once his ass is nice and wet Leo lowers himself onto the massive cock and rides him long and deep. Dylan then takes advantage of Leo's flexibility and he pile drives his cock deep into Leo's eager ass.
They fuck in a couple more positions and Leo then shoots his load all over himself and Dylan does the same…Join them!
Dylan Drive gay porn scenes from College Dudes
Dylan Drive and Todd Haynes are all over each other, kissing and touching and undressing as they press their bodies together and make out.
When they're naked and Todd's huge cock is revealed, Dylan gets on his knees to get a taste, sucking on Todd's meat and licking his balls.
Todd gives Dylan's cock a work over next, wrapping his lips around Dylan's shaft and massaging it with his mouth until Dylan pulls Todd toward him to kiss before they take things to the next level.
Todd lies back on the bed and Dylan climbs onto his lap, straddling Todd's erect cock as he lowers his ass onto it, stretching his hole around that thick member as he slowly starts to ride it.
Todd spreads Dylan's ass with his hands and fucks him, flipping Dylan onto his back to get even deeper into that tight little hole.
As Dylan gets his ass filled with Todd's long cock, he plays with his own dick until he jerks his cum out all over his stomach.
He sits up and helps Todd shoot his load as he licks and sucks Todd's cock and then lets him nut all over his chest…Join them!
We've got two horny guys, Dylan Drive and Jude Michaels, ready to bust a nut, but as horny as they may be they know how to take their time and enjoy each other.
They make out and rub those hard cocks together before Jude is on his back on the bed getting his long shaft sucked by Dylan as Jude pushes his big dick deeper down Dylan's throat.
Jude gets a good taste of Dylan's fat cock next as he goes down on him, rubbing his balls as he sucks his cock and plays with his own throbbing member.
Jude gives Dylan some more oral as he bends him over the bed and eats his ass and then gets his own rim job from Dylan when they swap places and Dylan licks Jude's hole, fingering it before he lubes up and pushes his fat dick into it.
As Jude moans for more Dylan gives it to him hard and deep, shoving every inch of his hard cock into Jude's tight ass.
Jude turns over onto his back and takes Dylan's cock from that position as he drives it even deeper, fucking him while Jude jerks his own prick until he nuts and then takes Dylan's cum all over him…Join them!
After Juan Carlos and Dylan Drive spend a few minutes making out with each other, Juan gets quite the surprise when he gets on his knees and frees Dylan's hard erect dick from his pants.
His big dick springs upright, to attention and Juan takes it in to the back of his throat, sucking Dylan's big dick and balls and then standing up and letting Dylan get a taste of him next.
Dylan leans forward and captures Juan's prick between his soft lips, taking that cock deep down his throat as he gets Juan hard and then lies back on the bed, waiting for that ass.
Juan sits his tight hole on Dylan's member but it takes him some time to stuff that massive cock in his ass, taking it nice and slow as his ass stretches around Dylan's fat dick.
When it's all the way he rides it, taking every inch of that impressive cock up his ass while he bounces up and down on Dylan's lap until they switch position and Dylan spreads Juan's legs and buries his dick between them while Juan plays with himself.
Dylan fucks him balls deep in his tight ass hole, fucking Juan until both guys are stroking out a huge load of cum…Join them!