All gay porn pics and gay porn videos of Manuel Skye.
Manuel Skye has joined the cast of Lucas Men as a new Lucas Entertainment model. He's currently on location in Puerto Vallarta, Mexico, filming his first set of scenes. You'll see a lot more from Manuel in the coming months.
Hair Color: Brown
Sign: Taurus
Eye Color: Brown
Dick Size: 8 inch dick
Height: 5'8″
Cut / Uncut: Uncut
Weight: 170
Sexual Positions: Top
Manuel Skye gay porn scenes at Manalized
Sexy older muscle dude Manuel Skye is dreaming about sexy young blonde dude Leo Luckett.
Manual is feeling super horny and this shoots into overdrive when he catches a glimpse of Leo's young athletic body.
Leo gets his phone out to start recording their hot sex.
These two started kissing and groping on the bed, sucking each other and moaning from excitement.
Manuel being the dominant one and more experienced, quickly took control of Leo's ass and ate it with his big tongue.
His huge cock was more than ready to smash Leo from behind, and Leo took it like a champ.
The whole room echoed from bareback smashing, in various positions from doggy to riding.
Leo was first to cum as his anus was probed deep and satisfying.
Manuel quickly followed, cumming all over Leos yummy balls, but he kept fucking him for a bit, showing just how horny he really is…Join them!
Manuel Skye gay porn scenes at Cocky Boys
Real married couple Alex Mecum and Carter Dane open up their relationship to their first-ever threesome on camera with sexy older guy Manuel Skye. Lucky Carter gets the lion's share of the pleasure as he is penetrated by two big cocks.
The hot trio gets straight down to it, sucking each others' cocks, and exploring their muscular bodies. Manual moves into pole position, sucking down hard on both guys' dicks at the same time.
Carter gets excited by Manuel's boldness and he moves to sit on his face while blowing Alex. Carter then spins around so that he and Manual are 69'ing. Alex spots Carter's pert ass hole and moves in for the kill, together with Manual rimming his husband and getting him all lubed up.
Manual is first to poke his huge dick deep into Carter's hot hole. Alex joins him in spit roasting both Carters' holes. Alex gets his big cock sucked balls deep and then Alex and Manual swap places so that Alex is now fucking his hubby. Carter's body pulsates with the excitement of having two dicks.
Manual is first over the edge as he delivers a full powerful load spraying cum into Carter's mouth. Manual then fucks his cum back into Carter as his ass is also pummeled by Alex's thick dick. Carter with two dicks in his ass can then hold off no longer and he cums all over Alex's hairy six-pack. He's quickly followed by Alex whose orgasm is intensified by Manual sucking the cum out of him.
The hot trio falls into each others' arms in a moment of sheer ecstasy…Join them!
Manuel Skye gay porn scenes at Masqulin
Welcome to cards night where the sexy guys are playing poker. Manuel Skye hosts the boys while sitter Jake Nobello keeps the little ones safe upstairs.
While Drew Dixon and Markus Kage are plying their cards right they are waiting for young cum slut Jake to get off so they can fuck him and unload more than their winnings.
Jake's little tight butt is about to be the bottom end of a Daddy Gangbang…Join them!
Bossman Manuel Skye keeps a close eye on his employees, particularly on their crotches. Unbeknownst to them, he has hidden cameras placed under the desks of all of his male employees. He enjoys the various views from his own desk while discreetly stroking his rod, but today he's in for a real show; compliments of his sexy employees Damon Heart and Teddy Torres.…Join them!
Manuel Skye gay porn scenes at Falcon Studios
It's a windy, stormy night in Fort Lauderdale when dealer Manuel Skye joins Roman Todd in the hot tub. Roman's ready to make a transaction, but he wasn't expecting Manuel to put the moves on him and expect more than the cash.
When Manuel takes Roman's cock in his mouth, Roman knows he's going to have to give it up to close the deal. The two studs move it to the bedroom where Roman takes over sucking on Manuel's thick, uncut dick. With Roman's lips wrapped around Manuel's cock, he takes it to the next level by bending the tatted bad boy over to rim his ass.
Roman can't get enough of Manuel's dick in his mouth and the two 69 on the bed until Manuel is ready to fuck. Roman bends over to take every inch of Manuel's raw cock deep inside his body. It's a tight fit but Manuel manages to slide it all the way in.
The hung stud plows away on Roman's hole bareback until Roman decides to sit on the big dick. Manuel keeps pumping hard as Roman sits and takes every inch from the horny stud. After planting his dick deep into Roman's ass, Manuel is ready to unload.
He rolls Roman onto his back and plugs away until he fucks the cum out of Roman's throbbing cock. Manuel loves seeing Roman covered in cum and takes a taste of his customer's fresh jizz. With Roman's load on his tongue, Manuel pulls out to blast Roman's smooth hole and balls with a creamy load of his own.
When all is said and done, Manuel licks up all of the remaining cum and finishes Roman off with a cum-filled kiss and a stash of weed…Join them!
Manuel Skye gay porn scenes at Reality Dudes
Why miss out on an opportunity to get some quick and dirty action? Manuel Skye and Kit make the most of their time while waiting for a massage by blowing each other right in the waiting room.
Manuel and Kit keep getting more and more bold, taking things to the next level while staff and patrons remain oblivious…Join them!
Manuel Skye gay porn scenes at Lucas Entertainment
The Lucas Men shoot their loads in the second part of the studio's gay bareback group action! Lucas Entertainment brings you one of its hottest and sweatiest gay bareback orgies to date!
Starring amongst the guys sucking and fucking in this seven-man group fuck-fest are Alexander Volkov, Riley Mitchel, Rafael Carreras, Manuel Skye, Andre Donovan, Edji Da Silva, and Andrey Vic.…Join them!
Manuel Skye, an alpha-daddy extraordinaire, shows his boys Sean Xavier and Jeffrey Lloyd what it means to please a man. Sean uses his backside to the fullest in this encounter: Manuel oversees as Jeffrey fucks Sean up the ass. Once Sean is good and opened up, Manuel moves on in and fucks him raw…Join them!
If only Manuel Skye's white-collar colleagues knew what he was up to after hours. Manuel is a true professional in the office, but when he gets home to his stepsons, he turns into a total sex pig. Dakota Payne is about to learn about his stepdad's fetish for bondage and domination: Manuel breaks out the ball gag, cuffs, and toys to turn Dakota into his own living sex doll. One of Manuel's other boys, Blaze Austin, joins them for the fun, too…Join them!
Sometimes we have the privilege of finding alpha men who truly love taking control of a hungry fag bottom and turning him into a personal sex object.
Here we have two: Viktor Rom and Manuel Skye, and when Klim Gromov is thrown to these two ravenous wolves like a piece of raw meat, one wonders just how exhausted the bottom is going to be after his mouth and ass have taken so much sodomizing action…Join them!
Ruslan Angelo's youthful appearance and slim, tightly muscle body have had Manuel Skye's eye for a long time.
He wants to take Ruslan and make his a cum-dripping whore, and Ruslan is more than willing to give into Manuel's alpha-top desires.
Manuel Skye and Ruslan Angelo are both very flexible and gymnastically inclined, so they show off just how flexible they can get during sex…Join them!
Manuel Skye returns to show off his muscle-daddy dominance, this time teaming up with Damon Heart to own the ass of Aaden Stark.
No hole is left untouched when both Damon and Manuel ram their cocks down Aaden's throat and fuck him up the ass raw until they shoot their loads…Join them!
Manuel Skye gay porn scenes at Kristen Bjorn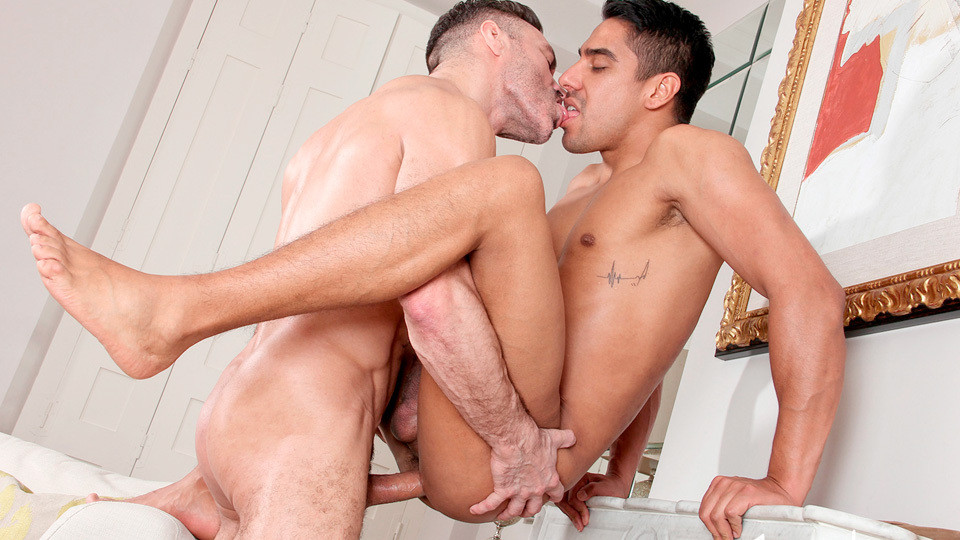 Salvador Mendoza and Manuel Skye have been making plans to hook up, but for some reason it never works out, but today they have made the best possible plan, no plan.
Things work out perfectly as the guys get together and begin to enjoy each other's sculpted, muscular bodies. Salvador drops to his knees and takes Manuel's lengthy cock into his mouth and begins to worship it.
As much as Salvador gags on this massive cock, he never stops his attempts to pleasure Manuel. Flipping Salvador around, Manuel darts his ever-probing tongue in and out of the hot Columbian's furry ass.
Manuel gives Salvador's ass a thorough tongue bath before hoisting him up onto the mantle and ramming his throbbing cock deep inside of his raw, wet ass.
At this angle Manuel is able to go as deep as he wishes and Salvador grins in utter delight as his ass is filled with complete pleasure. Manuel then takes a rather acrobatic approach next as he spreads his legs the full length of the sofa back and consumes Salvador's meaty cock.
With his legs still spread far and wide Manuel lowers himself onto the sofa as Salvador lowers his ass onto his raging hard-on. Salvador grinds his ass down hard and deep on that hot cock and pleasures himself with each thrust.
Flipped again, Salvador in on his back as Manuel drives his cock deeper and harder into his ass. Salvador can withhold no longer and erupts his huge, thick load of cum up into the air.
No sooner has the last drops of cum flown forward from Salvador's cock that Manuel whips out his cock and unleashes a volcanic eruption of creamy cum all over Salvador's smooth thighs.
Sometimes the best possible plans are no plans at all…Join them!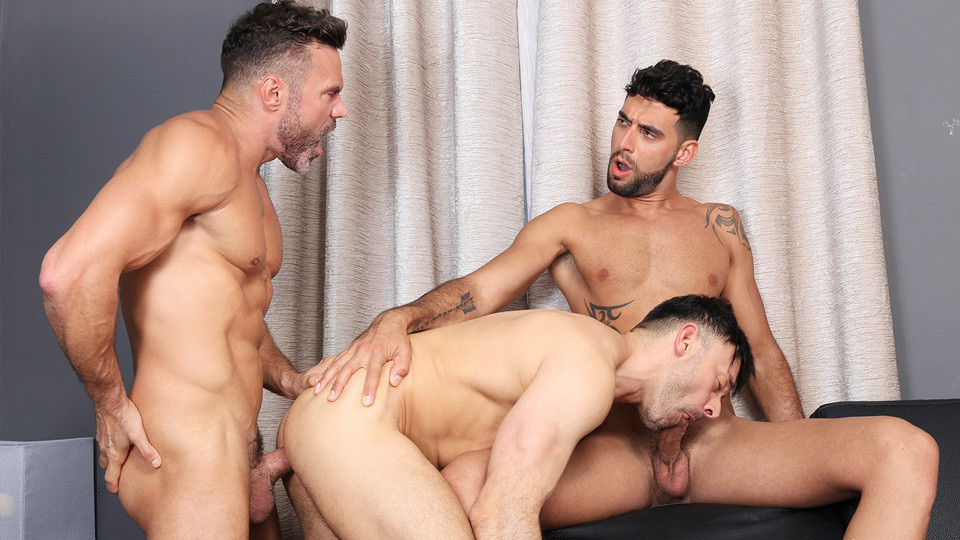 Mick Stallone has told Manuel Skye about this hot new guy that he has been fucking with, Leonardo Lucatto. Manuel invites the guys over to share their new-found friend.
The guys begin disrobing and releasing their huge, meaty, uncut cocks. Each cock offering up its own personality and abundance of pleasure.
Leonardo is the new guy in the group and wants to make a good impression and does so by devouring Manuel's hefty cock all the way to the base and balls, while Mick works over Leonardo's upturned cock.
Manuel moves to the center of attention as Mick licks and tugs on his low hanging balls with his lips and tongue as Leonardo continues sucking his cock with such zeal.
While Manuel and Leonardo move into a hot 69 position, Mick comes in from behind and tongue fucks Leonardo furry ass hole.
With Leonardo maintaining his "all 4's" position Manuel comes in from behind and rams his raw cock deep into his wet ass, while Mick forces Leonardo's hungry mouth down onto his throbbing cock.
The assault on Leonardo's ass and mouth are nothing short of pure pleasure for Leonardo. This 69 position for Leonardo proves to be to his benefit as Mick and Manuel tag team his hot, raw ass.
All the cock swapping has ramped up Leonardo's pleasure level to the ultimate of pleasure as his creamy load of cum begins to spew forward. As his cock flows with cum his ass is still being rammed deep and hard.
Manuel and Leonardo move back into a 69 position, but this time Manuel has his legs spread wide open as Mick plunges his cock deep within his ass.
With Mick's cock fucking his ass and Leonardo's cock in his mouth, Manuel rips off a huge load of cum that coats his sculpted abs.
Leonardo is so turned on by all the hot action and by his new-found fuck buddies that he unloads another load of cum, this time into Manuel's waiting mouth.
Mick can withhold no longer as his hot load of cum erupts from the huge mushroom head of his cock and glosses Manuel's hot ass…Join them!
Manuel Skye gay porn scenes at Raging Stallion
Rikk York is smoking a cigarette next to a barrel fire in a seedy alleyway. He isn't wearing anything but a leather vest and big black boots. Dirty muscle daddy, Manuel Skye, approaches the hung stud and rubs his cock through his jockstrap as he gives Rikk a peek at his giant, meaty sack.
The two muscled up hunks start making out and rubbing beards until Rikk squats down and takes Manuel's big boner down his open throat. Manuel's low hanging balls swing between his legs as he face fucks Rikk's greedy mouth. Rikk needs his hairy asshole serviced and spreads his cheeks to let the daddy get all the way into the pink with his fingers and long, experienced tongue.
Leaning back, Manuel savors Rikk sitting on his throbbing pole. Manuel takes over and pounds the stud's hairy bubble butt, stretching him to the limits. Rikk bounces and grunts as every last inch of the monster cock goes in and out of his tight body.
Spreading his legs as far as they'll go, Rikk lies back as Manuel stands above him and keeps a relentless steady pace of thrusting his pelvis deep into the hairy hunk. After all the ass reaming, the guys jack their cocks together.
Manuel is the first to let loose and shoots a whooper of a load that hits his own face and sticks in Rikk's big, black beard. They kiss and share Manuel's load as Rikk's dick oozes thick, white cum into his hand and all over his fuzzy crotch.
Manuel rubs the sticky jizz into Rikk's hairy chest and they continue kissing and swapping cum as they rub their drenched bodies together…Join them!
Last call at the cruise bar has cum and gone, and with the patrons gone, the bar staff is free to do as they please. Barback CJ Phillips leans against the bar with his ass in bartender Manuel Skye's face, and he sucks eagerly on CJ's tight hole.
Spreading CJ's butt wide, Manuel uses his tongue to fuck CJ's ass. When CJ's hole is nice and wet, Manuel stands up and pounds him doggy-style. Their balls bounce in rhythm with their intense fucking. Laying down on the bar, CJ puts his right leg over Manuel's shoulder, giving him access to the sensitive depths of CJ's hole.
Stroking his cock, CJ blasts his abs with thick, hot cum. Pulling out, Manuel lets loose with an enormous load, shooting multiple arcs of cum through the air and landing them on CJ's chest…Join them!
Manuel Skye gay porn scenes at Men.com
After catching his fiance in flagrante delicto, Gabriel Phoenix hasn't stopped running, staying the night with men he finds on the dating app Grid. Unaware that Leander is using the app to try to track him down, Gabriel accepts a request from handsome businessman Manuel Skye to share his hotel room.
No longer trying to be faithful, Gabriel kisses the sexy silver fox all over and sucks his cock, before being surprised by Manuel's request to sit on his face.
Manuel fucks Gabriel's tight hole till he cums, then leaves his own hot load on Gabriel's hairy chest and abs. But when Leander knocks on the door, Gabriel isn't ready to stop running…Join them!
Manuel Skye is next in line to sample his stepson's delicious boyfriend River Wilson.…Join them!
William Seed and Jessy Bernardo catch Manuel Skye jacking off to them fucking. Manuel doesn't want any trouble
and tries to run off but they soon catch up to him and a hot threesome is the only way to remedy the
situation. These studs drill and suck away, working themselves into a hot outdoor frenzy…Join them!