All gay porn pics and gay porn videos of Justin Dean.
Justin Dean is new to us, but he's been doing porn on and off for about 5 years, and although he's not a true broke straight boy, Justin is here by request of many of his fans. This 24 year old is originally from Virginia but now lives and works in Florida, spending his time working as a server at a restaurant when he's not doing porn. Despite his strong social media following and popularity these days, it wasn't always easy for Justin to fit in and he used to be bullied as a child, but he works to overcome the insecurities that experience left in him as he gets older. In his free time, he likes to have fun, hang out at the beach, and be with friends. We're eager, and we know you are too, to see what this stud can bring to our BSB set!
Hair Color: Brown
Sign: Unknown
Eye Color: Brown
Dick Size: 8 inch dick
Height: 5'9″
Cut / Uncut: Cut / Circumcised
Weight: 165lbs
Sexual Positions: Versatile
Justin Dean gay porn scenes at Broke Straight Boys
Bobby Owens and Justin Dean have been in porn for about the same amount of time, and these experienced guys are ready to show you what all those years of cock sucking and ass fucking has taught them.
A few kisses while Bobby strips down, and Justin is all over that cock, taking it in his mouth and sucking it as Bobby moans above him, watching his prick disappear into Justin's wet mouth.
Justin gets his own prick sucked next as Bobby goes down on him, pulling his lips up and down that shaft until his own throbbing cock can't take it anymore and he seeks relief in Justin's sweet little ass.
Pushing into him, Bobby fucks Justin from behind, his bareback dick balls deep in Justin's ass as Justin closes his eyes and feels that cock deep inside him.
Flipping Justin over onto his back, Bobby spreads that ass again and fucks him some more, pumping harder and faster as Justin's own hand strokes his cock as he gets pounded raw.
Turning Justin around so he's on his knees, Bobby wraps a hand around Justin's neck as he fucks him, pressing their bodies together as Justin claims that ass, his balls slapping against Justin's taint.
Justin flips onto his back again, hand wrapped around his own cock as he strokes out a nice and then lets Bobby shoot his cum all over his face, getting a taste of it as he licks the remains off Bobby's pulsing cock…Join them!
Justin Dean is more than a little excited to be sitting next to sexy newbie Buddy Wild, and he's eager to get his hands on that body so we won't stand in his way any longer. Justin reaches out and runs his palm across Buddy's smooth chest, leaning in for a kiss as he tweaks Buddy's nipple and then lets his wandering hand find Buddy's cock.
Pulling Buddy's pants off, Justin wraps his warm mouth around that big dick and sucks it good, pulling the thick shaft in and out of his mouth as Buddy hardens between Justin's soft lips. Buddy tastes Justin's sweet prick next, sucking on his member before climbing onto the bed with Justin and 69ing, but when they've both had their fill of cock Buddy's ready to take that dick.
He lowers himself onto Justin's pulsing prick, riding him reverse cowboy as he leans around to kiss Justin before Justin turns him over and pulls him to the edge of the bed, fucking him raw from behind. Buddy plays with his dick as Justin pounds him but Justin can't contain his orgasm any longer as he pulls out of Buddy's tight hole and nuts all over it, entering him again to fuck him some more.
As Buddy takes that dick he moans and strokes his own cock, letting Justin give him some head before he cums in that sweet mouth…Join them!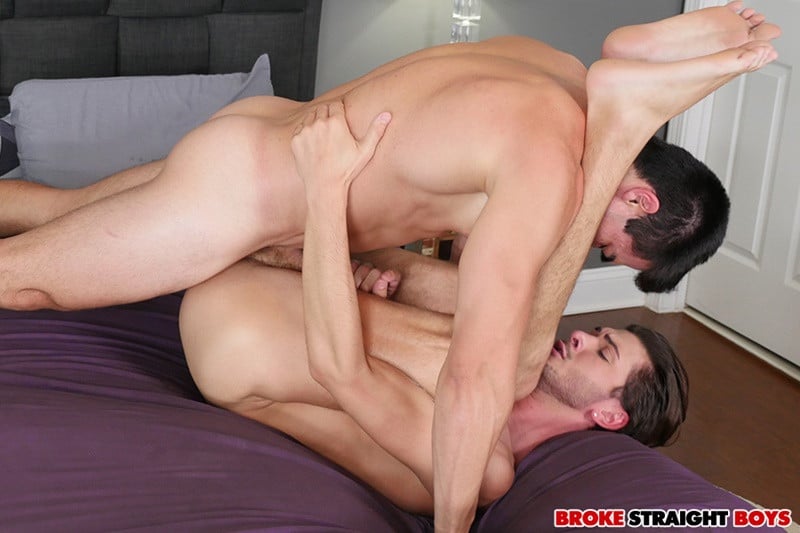 Axel Kane and Justin Dean look very sexy together, and it only gets hotter once they start making out, Justin kissing Axel deeply before planting kisses all the way down Axel's chest to his big cock.
Taking that dick in his mouth, Justin sucks it, feeling it grow harder on his tongue as his pulls his lips up and down that shaft. Justin pauses to undress himself, joining Axel on the bed again and giving him a quick massage, running his hands over Axel's thick muscles before leaning in to capture Axel's cock in his mouth again.
Axel reaches around to finger Justin's ass as he gets sucked off, but when Axel's throbbing dick is ready for ass he pulls Justin toward him and pierces his hole with his bareback cock.
Placing a few smacks on Justin's ass, he drives his cock into it, fucking him hard as he climbs onto the bed and holds himself over Justin, filling him up with his prick as he pounds into him.
Justin takes every inch of that hard dick, playing with himself while he gets barebacked until he cums all over himself and lets Axel feed it to him.
Axel gets a few more deep thrusts into Justin's tight ass before pulling out and shooting his load across Justin…Join them!
When Cage Kafig and Justin Dean pair up, they don't spend too much time with small talk, preferring to get right to it as they lean in and start kissing.
A little make out time and these guys are undressed with Justin's mouth wrapped around Cage's long shaft, sucking that sweet cock until Justin offers up his ass to Cage's big dick.
Cage enters Justin, bareback and hard as fuck as he pounds him and makes Justin moan with each deep thrust. He turns Justin over and fucks him from behind, going fast and hard as Justin's perfect little ass bounces with each of Cage's hard thrusts.
Justin turns over and lies on his back, legs spread as Cage fills him up with his big cock again and gives it to him raw while Justin strokes his own prick fast and hard until he shoots his load all over himself.
That doesn't stop Cage who keeps fucking him for a bit longer before he just can't take anymore of that tight ass and pulls out to unload his cum across Justin's chest…Join them!
Justin Dean gay porn scenes at Icon Male
Young priests Michael Delray and Justin Dean confess their masturbatory secrets to each other in Justin's bedroom, which leads to a round of mutual masturbation followed by explosive sex between the two hung studs…Join them!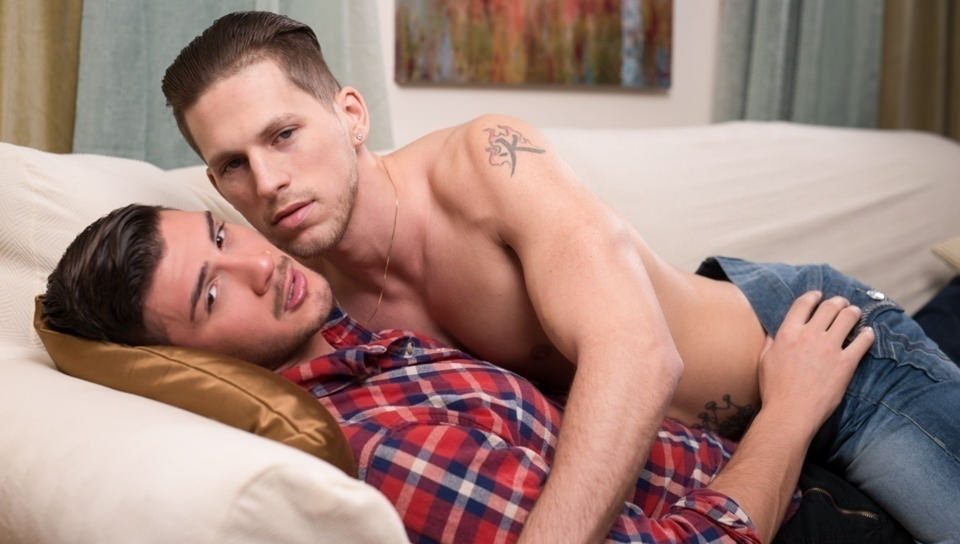 Justin Dean decides to be a little sneaky and texts his roommate's boyfriend Roman Todd. He tells him to come over, once Roman comes over Justin explains that his girlfriend is in Mexico and is having a lesbian affair.
Roman is confused and upset by the betrayal. Justin immediately takes the opportunity to seduce Roman by telling him he has a crush on him. They start making out on the couch passionately.
Sucking each other's huge hard dicks. Then slamming each other asses. Who needs a cheating girlfriend when you can get dick this good from her hot roommate…Join them!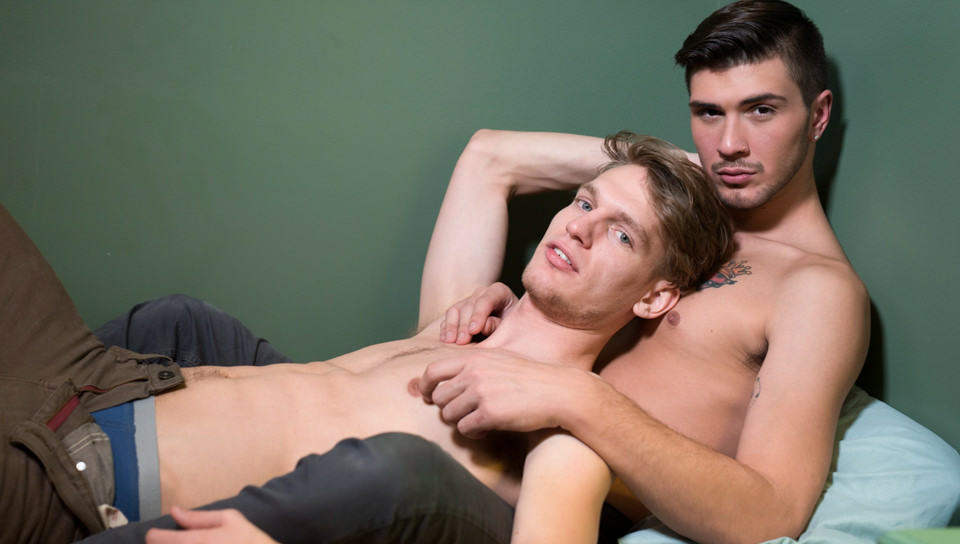 Justin Dean and Zack Grayson are sharing a room in college. Justin was nervous about having to share a room with someone he doesn't know, but to his surprise he actually enjoys Zack's company. He is actually quite the perfect guy. It's too bad he's straight and has a girlfriend.
One night Zack comes home and tells Justin that he got dumped. Justin explains how he's there for him emotionally and physically. Zack confesses how he's been curious about what it would be like to fuck a guy. They start kissing which leads to sucking each other's dicks then, finally, some hot fucking.
Once Zack bursts into climax he realizes he will not be going back to women ever again…Join them!
Justin Dean gay porn scenes at Cockyboys
Jay Mercer and Justin Dean are brand new models here at Cockyboys and these two can't wait to get it on. Both guys are totally into kissing and Justin goes so far as to say if you're not willing to make out with him you can forget fucking him. It turns out Jay is an above average kisser so things get started on the right foot.
They head out back to get things started and Justin is quick to strip off Jay's pants and take his thick cock cock in his mouth. Bobbing his head up and down the length of Jay's shaft as his new buddy sits back and enjoys the ride. Jay isn't going to let Justin have all the fun and starts sucking Justin's own sizeable cock. He comes up for air and the two kiss a little more before Jay asks, "You want me to eat your ass?" Needless to say, Justin sticks his ass in the air and is treated to a first class rim job.
It doesn't take long before Justin is begging to get fucked so Jay lubes up his dick and shoves in Justin's ass with a grunt. He fucks Justin doggy style before pushing him flat on his belly so he can keep pounding that ass from a new angle. The camera is right there to capture every detail as Jay's beautiful cock stretches Justin's hole and drives this handsome young twink crazy with pure pleasure.
Justin tells Jay he wants to ride him so Jay lays back on the bench as Justin sits on that dick. He bounces up and down on that tool to maximize the pleasure for both of them and before you know it Justin is close so they change positions one more time. Justin on his back so Jay can see every inch of his smooth body as he shoots his load. A couple of thrusts later and Justin is grunting and groaning as he lets loose an enormous load that paints his stomach with piping hot jizz.
Jay pulls out just in time to shoot his own load and their duplicate loads make a sticky mess all over Justin's smooth twink belly. He leans in the two make out a little before Justin says, "You fuck as good as you kiss!"…Join them!