All gay porn videos and gay porn pics of Carter Woods.
Hair Color: Brown
Sign: Unknown
Eye Color: Brown
Dick Size: 7.5 inch dick
Height: 6'2″
Cut / Uncut: Cut / Circumcised
Weight: 165lbs
Sexual Positions: Top
Carter Woods gay porn scenes at Next Door Buddies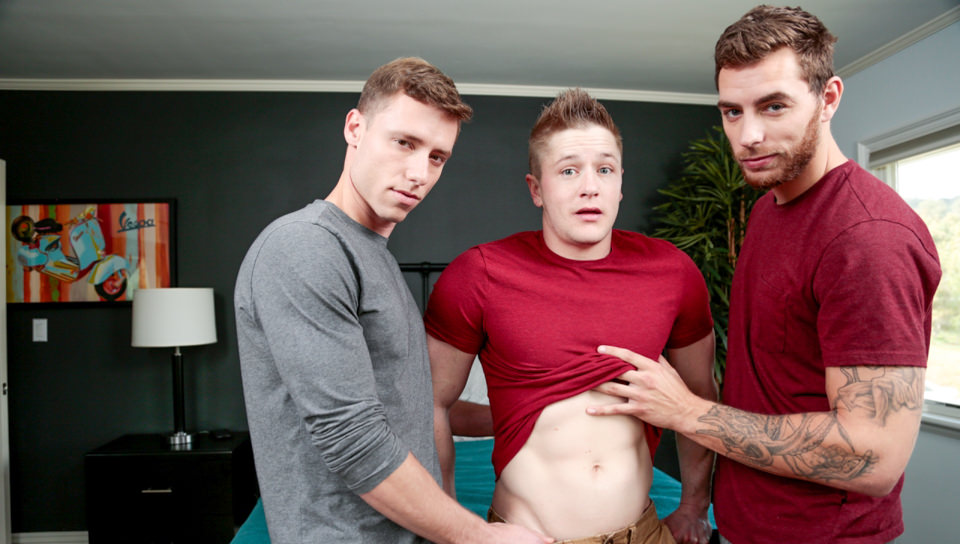 With his girlfriend talking crazy shit about wanting to dominate his hole, Chris Blades turns to his boys for advice.
Being the good friends that they are, they tell him they'll break him in first so he knows what to expect.
Chris decides it's worth a shot and before he knows it Justin Matthews and Carter Woods are taking turns holding him down and sucking his dick.
Justin takes off his pants and shoves his dick down Chris' throat, before Carter decides Chris' true initiation should begin immediately.
He lets proceeds to pound Chris all over the bed, trading off with Justin as the two of them have their way with Chris' tight little hole, giving him an experience that his girlfriend won't easily replicate.
At least Chris always knows where he can get it properly from now on…Join them!
With a week long break ahead of them, old high school buddies Donte Thick, Jackson Cooper and Carter Woods look to reunite and rekindle their school day get togethers with a little bit of the 3 Rs: rest, relaxation, and some really good fucking.
Despite their distance, when the three of them get together, it's just like old times. Jackson still has that edible ass that Donte loves to feast on, and Carter still knows how to fuck Donte just right.
In fact, as the three of them fuck and suck, then cum onto and into one another, it's as if they never parted ways. And what better way to spend your vacation than catching up with a few of your best fucking friends?…Join them!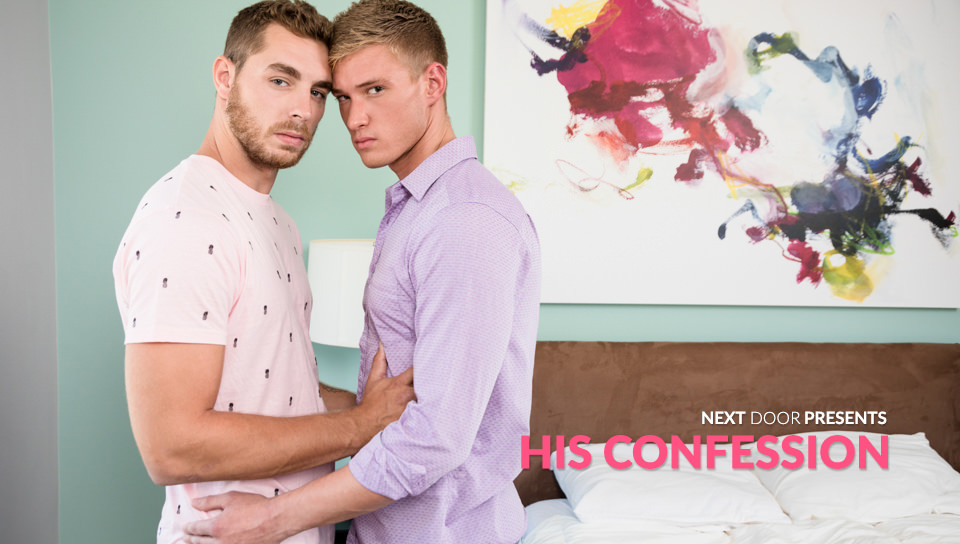 When Jayden Lawrence confides to Carter Woods that he thinks he's gay, he worries how Carter will judge him, and what Carter will think. Luckily for him, he and Carter have been friends for a long time, so not only is Carter understanding and sympathetic to Jayden's feelings, it turns out he's been secretly harboring the same feelings for years.
And now, with Jayden in front of him confessing, Carter seizes the opportunity to express his lust for Jayden. Jayden seems nervous, even as Carter slowly seduces him out of his clothes and works his way down Jayden's body, but when Carter wraps his lips around Jayden's dick and begins to suck him off, Jayden's worries melt away and he instantly feels like he made the right choice.
And when Carter slides his rock hard dick into Jayden's virgin hole, Jayden lets out a moan that signals his approval. Carter proceeds to fuck Jayden all over the room- against the bed, on the bed, up against the window.
Jayden is ready to cum just as Carter pulls out and blasts him, and as soon as he feels Carter's hot jizz spray his hole, he launches a massive load onto the floor, spraying like a hose as he quivers in post-orgasmic ecstasy….Join them!
Carter Woods gay porn scenes at Next Door Studios
They say you can take the boy out of the country but you can't take the country out of the boy, and Spencer proves that old adage true.
But they also say you can never go home again, and Spencer Laval is testing the merits of that when he reunites with old drinking buddy Carter Woods.
Many a country nights Spencer and Carter have spent drinking under the stars, and things got out of control more than a few times, but that was a long time ago.
Carter's married, and Spencer has his big job in the city now. They once had a very passionate fling, but both guys have matured and moved on. Right?…Join them!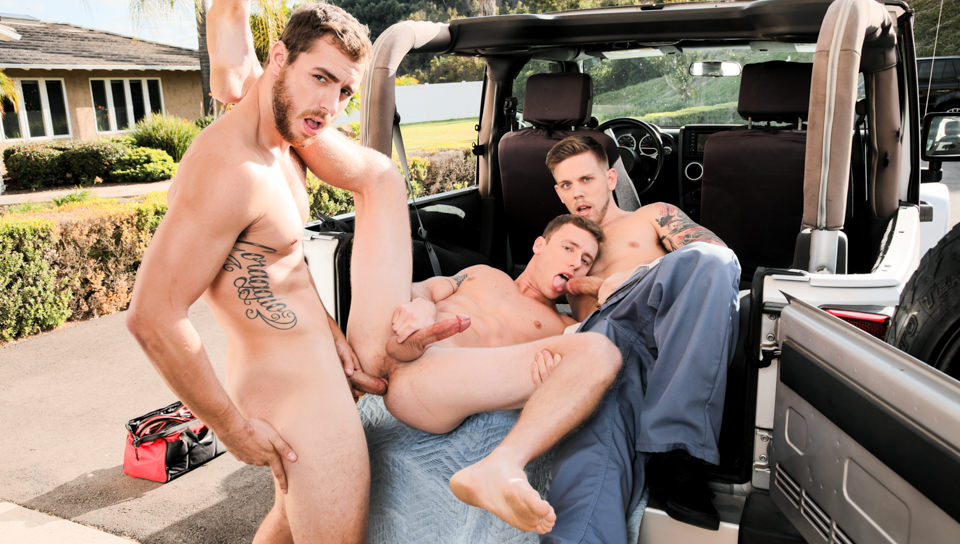 Time has a way of changing things, and that's certainly the case for Justin Matthews, who finds himself in a pickle with his auto mechanic.
Justin appears to be quite a bit short for the necessary work, but as fate would have it, the shop is run by none other than old high school classmate Carter Woods.
Carter and Justin have some history, as Justin used to have a crush on Carter and he knew it. But now, as Carter's eyes what Justin has become, suddenly the tables are turned, and it's Carter who might want a taste.
He asks Justin how open he is to creative financing, and Justin looks puzzled, but when Carter unzips his coveralls, Justin understands.
He looks over at Carter's assistant, Steve Rickz, and the three of them agree this is the best solution, so Justin gets down on his knees and gives them a full-service lube job with his mouth, before bending over and letting Carter dip his stick deep inside his hole.
Carter pounds Justin like a piston as Steve gags him from the other end. When Carter has had his fill, they rotate and assistant Steve gets his turn to ride the Justin express. Carter eyes Justin as he fills Steve with his rod, and decides before he nuts, he's gonna fulfill an old fantasy of his.
He bends over and tells Justin to fuck the cum out of him. Justin, surprised, wastes no time.
He plunges his cock deep inside his old high school crush and proceeds to pound him as Carter jizzes all over the pavement below.
Justin's throbbing head swells as he gets closer and closer, finally pulling out and blasting Carter with his load, before shoving aside to let Steve finish off the job. Steve steps in and gives Carter one last load for good measure.
The three of them laugh and Carter tells Justin to stop by and make another 'payment' next week…Join them!
When Chris Blades showed up for his interview at the non-profit, he did so because he wanted to give something back to his community, but when Carter Woods sees the new recruit, he thinks Chris' back could be put to use a little more selfishly.
He asks if Chris is the kind of guy who will jump on an opportunity and Chris nods, so Carter tells him he's got an opportunity for Chris to jump on. True to his word, the new recruit is willing and able, showing plenty of first day initiative as he finds his way into Carter's pants and pulls out his hard dick.
Chris strips down naked and gets on his hands and knees, sucking Carter off as he strokes himself. Carter tells him he's definitely inclined to give him the position, and Chris asks which one.
Carter then bends him over the desk and proceeds to raw dog Chris from behind, fucking him hard from behind as Chris shows just how much back he has to give. By the time Carter fucks the cum out of him, Chris proves he's the right guy for the position, and as Carter nuts all over him, he asks him how soon Chris can start.
'I thought we already started,' Chris laughs…Join them!
When Markie More shows his crew the video bottom boy Dante Martin made requesting a few well-hung studs to come over and take advantage, the three of them immediately feel a stirring in their pants. Just watching Dante beg for the dick has these three guys fantasizing.
Luckily for them, Dante isn't just talking, and when he makes his way over to Markie's place and finds Johnny Hill and Carter Woods are already naked and waiting, he dives in face first, drowning himself in men.
The three of them have their way with Dante's holes, shoving cocks into whichever one is available, and to Dante's credit, he relishes every moment of it, letting each of them fuck his hole bareback and taking all of their loads one after another.
When it's finally his turn to bust, Dante has earned his relief, and when the three of them see the size of Dante's nut, it's obvious how much of a turn on it was for him, prompting all of them to make arrangements for a second coming…Join them!
Scott Finn's home life is pretty much a jail cell. Between overly strict parents and his lustful forbidden urges, young Scott is trapped in a routine that has him looking for answers, so when home owner Carter Woods finds Scott sneaking a smoke in his backyard, he doesn't run him off.
Instead, he invites him in for a beer and a talk, and as they converse, Carter finds out Scott doesn't have a girlfriend and may not really want one. When Scott excuses himself to pee, Carter decides maybe all Scott needs is a little adult mentoring… someone to show him the ropes, so Carter follows Scott into the head.
Once there, he can tell Scott is nervous, but when he sees what Scott is packing, he realizes it would be a waste to let such and opportunity pass him by, so he makes his move on Scott, telling him he'll make a man out of him in not time.
Scott seems excited at the prospect, and as Carter boldly reaches down and begins to stroke Scott's dick, Scott's excitement becomes physical, and his rock hard cock tells Carter everything he needs to know about moving forward.
Carter has his way with Scott, coaching him as he sucks his first dick, then showing him how it's done as he sits him down and returns the favor. Scott is already pushing past his limits when Carter bends him over and slides his raw cock deep inside Scott's virgin ass.
He works it in slowly at first, gradually working him faster and faster, until he's pounding Scott all over the restroom. Moving to the bedroom, Carter lays Scott out on his back and proceeds to fuck the cum out of him.
Scott lets his load fly as Carter keeps pounding away, and he pulls out just enough to blast Scott's fuckhole with his jizz, before shoving it back inside for another go round…Join them!
Republished by Blog Post Promoter