All gay porn videos and gay porn pics of Cade Maddox.
Hair Color: Brown
Sign: Unknown
Eye Color: Blue
Dick Size: 8 inch dick
Height: 6′
Cut / Uncut: Cut / Circumcised
Weight: 165lbs
Sexual Positions: Top
Cade Maddox gay porn scenes at Icon Male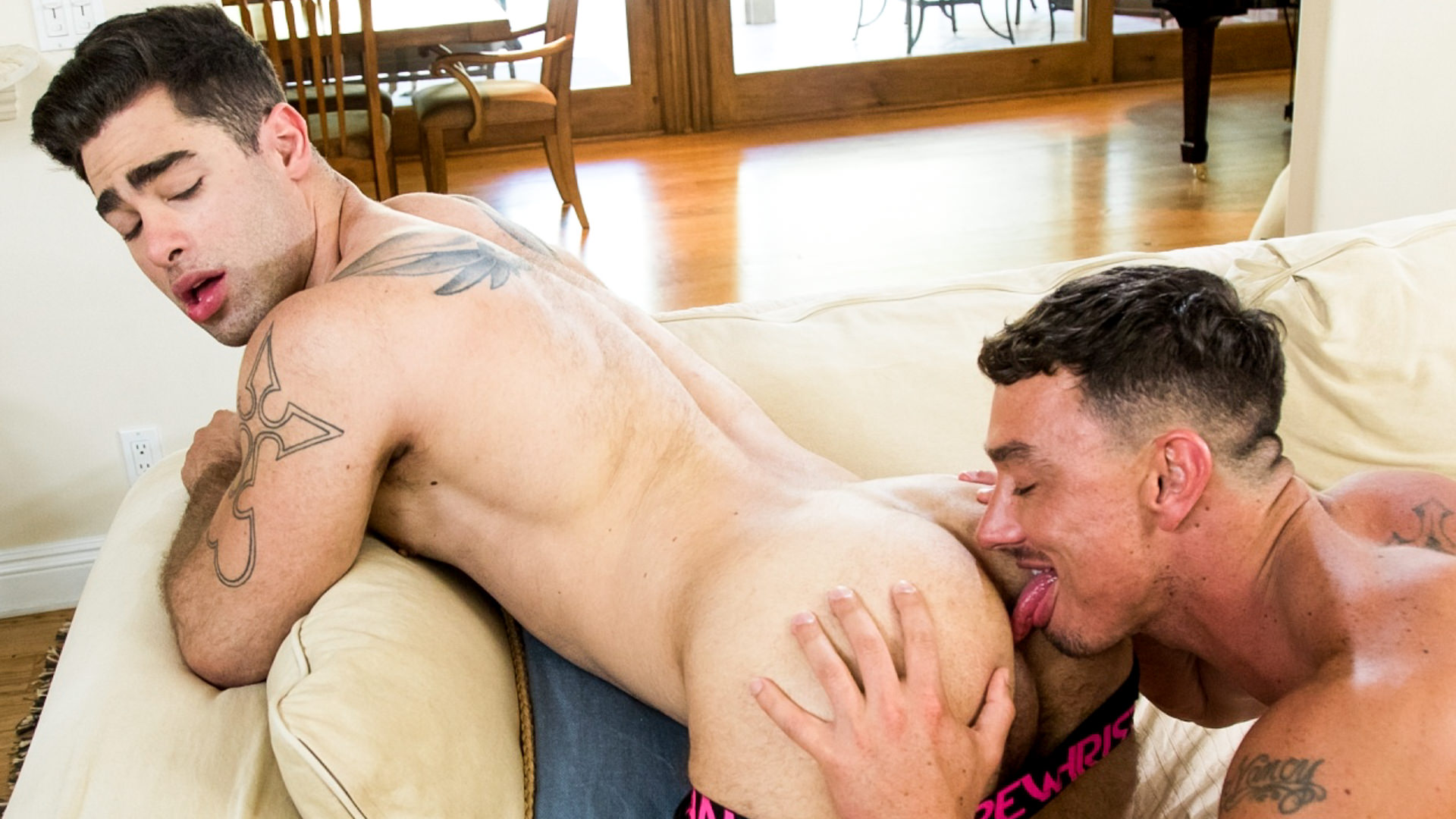 Musclebound superstar Cade Maddox and young Latin hottie Lucas Leon are perfect together.
Cade is dominating with his thick muscles and his giant cock. Lucas is a willing cocksucker and takes every inch down his throat.
Cade loves the taste of Lucas his ass before he shaves every inch up there with extreme pleasure…Join them!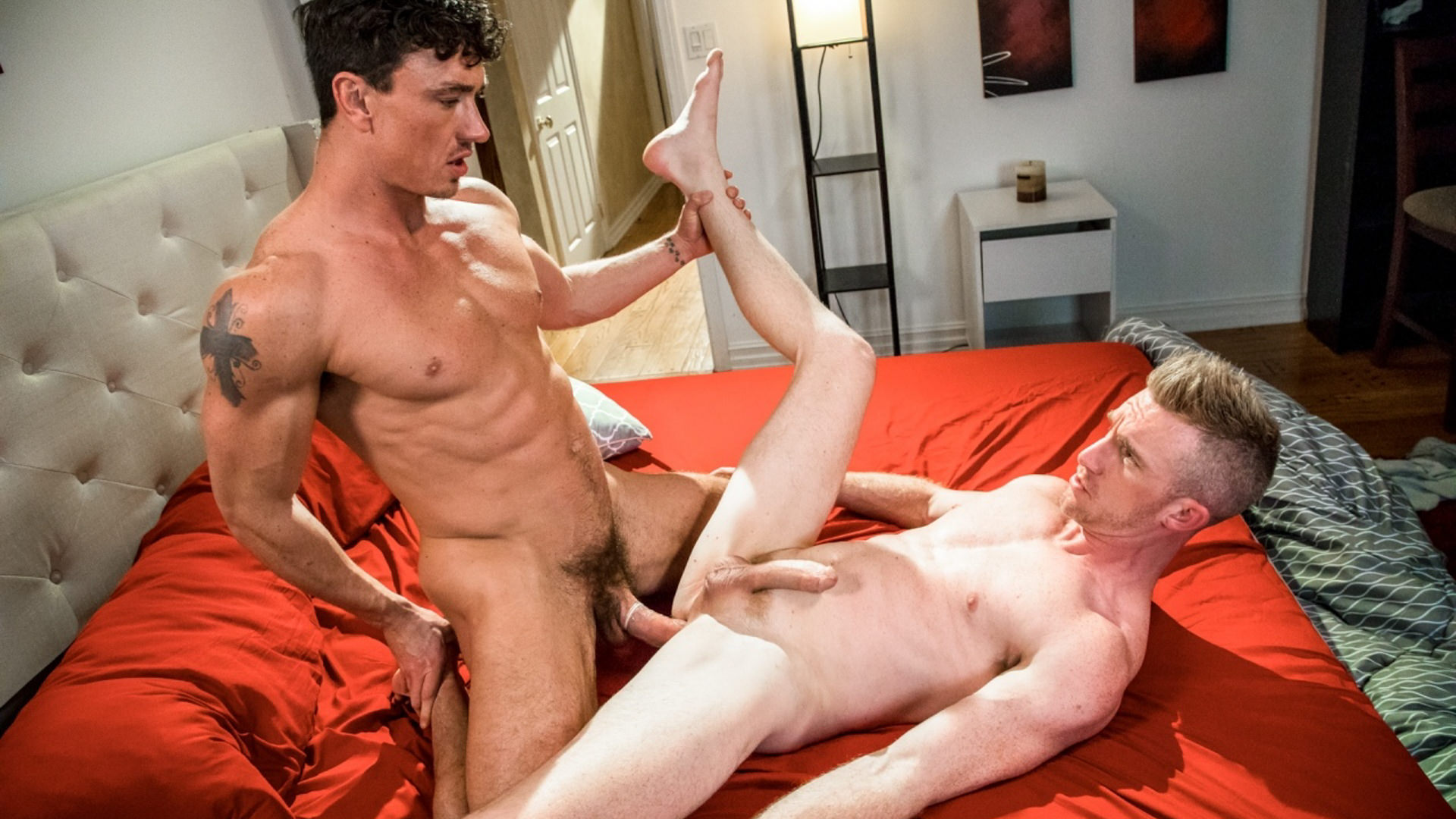 It turns out that creepy Cade Maddox is obsessed with his step brother Nick Fitt and his plan has been to get at him all this time.
After watching Nick sleep, Cade makes his move on Nick and his pent-up passion is finally released.
Nick giving into his desires lets Cade have his way with him.
Sucking each other's cocks and devouring each other's assholes, Cade takes his aggression out on Nick's firm white ass.
The obsession is real and these sexual dynamo's will show you Just how real it is…Join them!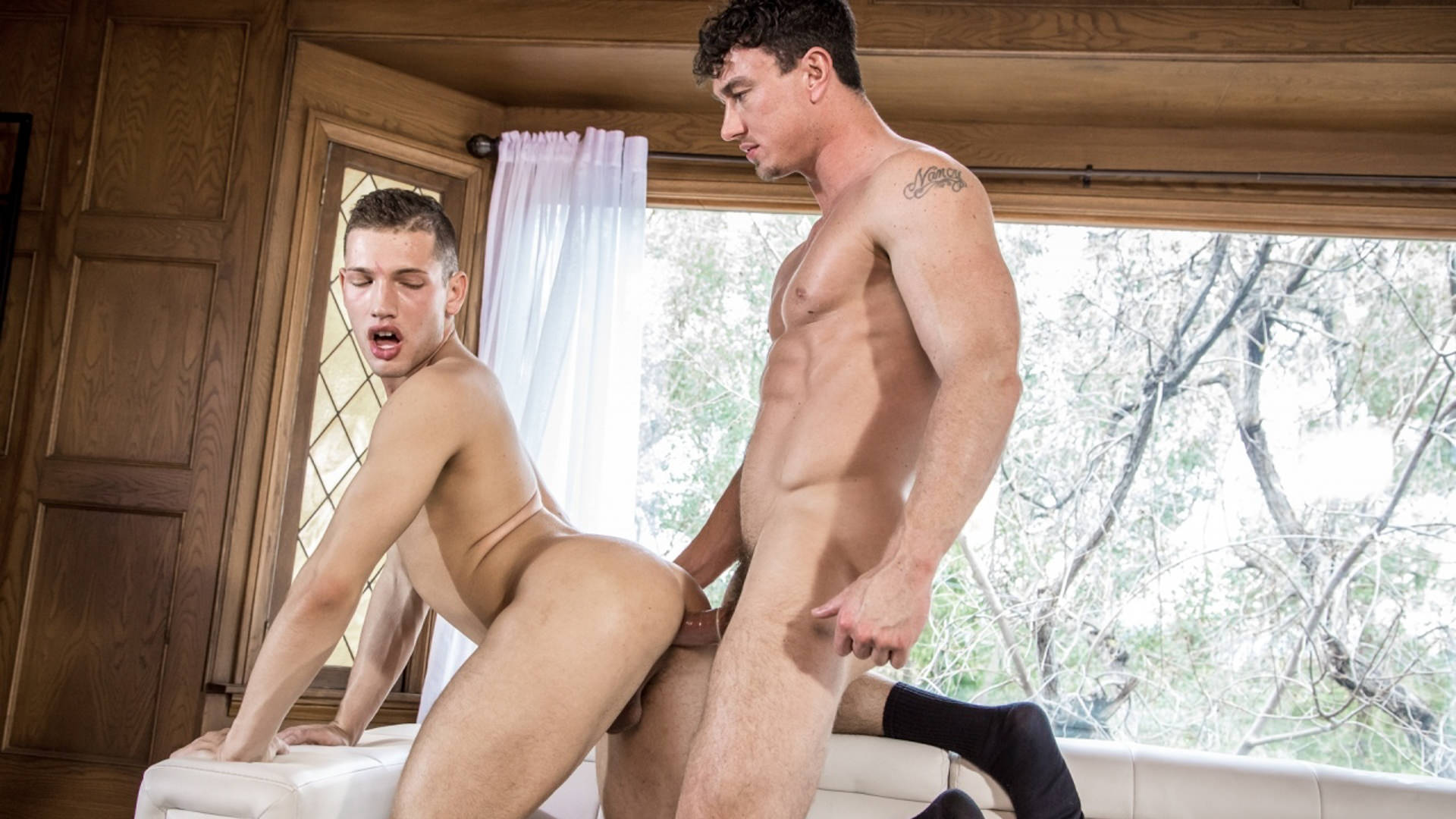 It turns out that brother Cade Maddox has a little bit of an obsession problem. After a small freak out, he takes out his frustration on his step brother, newcomer Hunter Smith. Hunter is an insatiable bottom that takes every inch of Cade's huge dick.
After worshiping cock and ass these two sexual beasts fuck like rabbits and shoot massive loads!…Join them!
no images were found
When life takes as unexpected turn, Cameron Taylor, finds himself moving into Cade Maddox's place for a while. That is until Cameron confesses his intense feelings he has for him. They share intense kisses, following with steamy sex! This is cum filled passionate at its finest….Join them!
Things get heated when handsome Michael Delray and Cade Maddox get together. This is relentless steamy sex. Where both of their cocks will not stop until they are exploding with cum! This is a scene you do not what to miss…Join them!
Cade Maddox gay porn scenes at Falcon Studios
When Cade Maddox comes down the stairs and notices his sexy pool boy, Kuper, cleaning up, he steps outside and gets in a lounge chair. Turned on by Küper, Cade starts rubbing his cock that's already bulging thru his speedo.
When Küper notices the throbbing meat, Cade signals him inside to the couch. Without hesitation, Küper heads straight for Cade's thick cock with his lips. Cade feeds the willing pool boy his meat, making Küper gag on his thick pole.
To show his appreciation, Cade puts the Küper's cock in his mouth while continuing to stroke his dick. Küper gets on all fours on the couch to give Cade total access to his hairless hole. Cade spreads Küper's cheeks and gets to work with his fingers and tongue, opening up the pool boy's ass.
When Cade has Küper's hole nice and prepped for what's to come, he picks the stud up and carries him to the bedroom. Once on the bed, Cade takes a few more licks on Küper's hole before sliding his bare cock into the willing stud.
On his back with his legs in the air, Küper grabs ahold of his cock and strokes it while Cade works the hole over with his cock. Switching positions, Küper rolls over and takes Cade's meat doggy-style…Join them!
While Cade Maddox is naked and shaving his face, Damon Heart comes in and starts to caress Cade's chiseled physique. Damon quickly works his tongue down Cade's body until he's on his knees.
Turning Cade around, Damon's lined up to meet Cade's massive dick. Without hesitating, Damon opens wide and engulfs Cade's swollen member down his throat – all the way down to the base.
After Damon has had his fill of cock in his mouth, he leads Cade to the bed and bends over to give Cade total access to his raw hole.
Cade dives right in and works his tongue in and around Damon's eager hole, getting it prepped for what's to come. Damon is eager for more, so Cade stands up and drills the hunks hungry hole with his bare, stiff dick.
Damon reaches back to lock lips with Cade before Cade pushes his head down and drills his meat in deeper. Damon wants to see just how deep Cade's cock will go and gets on top of the ripped hunk to ride his cock bareback.
He keeps a steady stroke on his own meat while riding Cade's thick pole. Proving he wants it all, Damon gets on his back with his legs in the air to give Cade full control to pound his prostate.
As Cade stretches his hole out to the max, Damon lets out a powerful shot of thick ropes that land all over his abs.
The sight of Damon wearing his own load sends Cade over the edge and he dumps his cum onto Damon's spent hole before shoving it back in..Join them!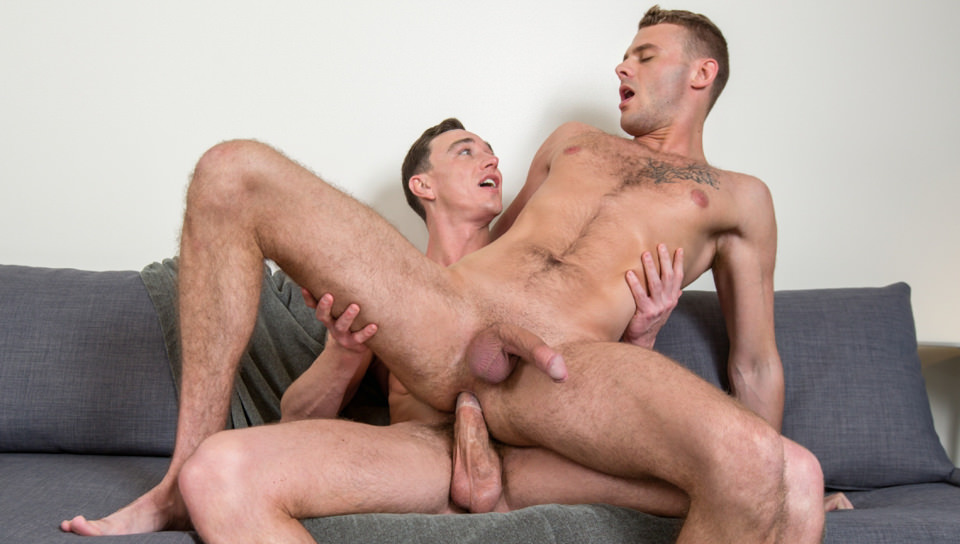 Dave Slick is a real estate agent showing Cade Maddox a new place in San Francisco that Cade can't really afford. In hopes of getting the price down, Cade offers his services and reaches into Dave's pants to discover an extra-large and throbbing dick just waiting to get serviced.
Cade gets down between Dave's legs and takes him into his mouth. He works the giant pole down to the base and takes it all the way down his throat. With a backdrop of the Bay behind them, the two studs get naked and Dave catches a glimpse of what Cade has to offer.
He can't help himself and takes Cade's big monster in his mouth. It barely fits down Dave's throat but he has an idea of where it will be a better fit. He lubes Cade's thick dick up and takes a seat, riding it as deep as it can possibly go.
Cade pounds away from behind as Dave jacks his own big rod until Cade wants a better view of his hunky real estate agent. Cade flips the stud onto his back and continues his relentless pounding until Dave shoots a giant load that flies out onto his chest and runs down his side.
Cade can't hold off any longer and pulls out to blast Dave's face and add to the pool of cum that's covering Dave's body.
Hopefully that will get Cade the deal to afford the second best view in the Bay next to Dave's tight ass…Join them!
Cade Maddox gay porn scenes at Hothouse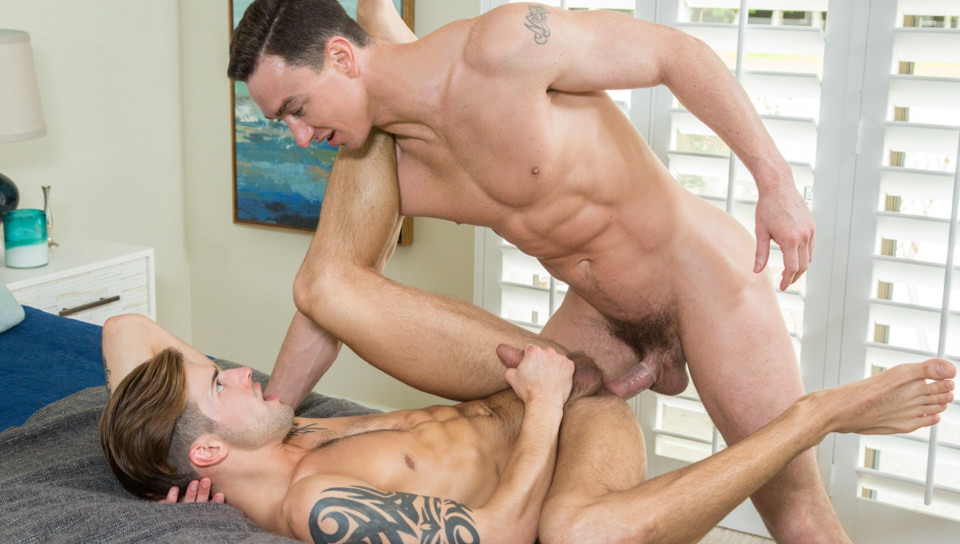 Casey Everett shoulder starts getting sore after he does a few laps in the pool. For a quick fix, he goes to sports therapist Cade Maddox, whose cure for every ailment is a nice stiff cock up the ass. When Casey sees what his therapist has to offer, he instantly drops to his knees.
He wraps his lips around Cade's extra thick dick and lets the stud ream his face with cock. Cade is hard as a rock when he bends the young swimmer over to open his hairy hole with his tongue. After getting Casey loosened and lubed up, Cade knows that it's time to feel Casey from the inside.
Cade sticks his dick into Casey's ass as Casey begs for the stud to fuck him harder. Cade obliges and picks up the pace as he continues pummeling Casey from behind. 'Wanna ride my dick?' Cade asks. Casey happily hops on top to bounce up and down on the thick pole.
Casey takes control until Cade is ready to take over one last time. Cade flips Casey onto his back and goes deep, hitting the perfect spot inside Casey until he fucks the cum out of his dick and onto his ripped abs.
Cade keeps pounding until he pulls out and unleashes a thick fountain of jizz onto Casey's face that lands in his mouth and drips down…Join them!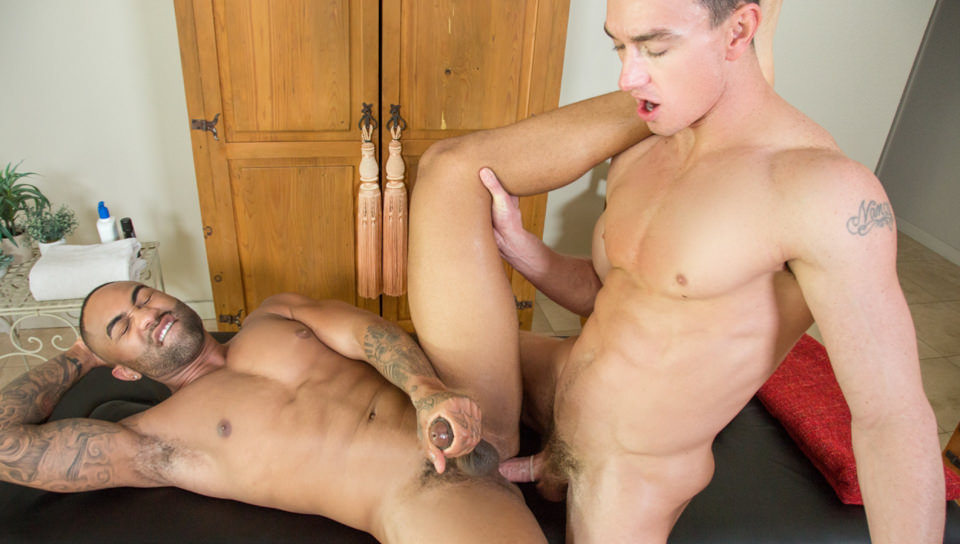 Remy Cruz is sore from his intense swim routine and seeks the help of sports therapist, Cade Maddox. Remy hops on the massage table and Cade gets to work on an alternative healing method by going in through Remy's fuckable asshole.
He shoves his tongue deep inside the muscular swimmers backend until both of them have raging boners. Cade can't help but to take a taste of Remy's giant cock and as he does, Remy feels the need to do the same.
The therapy seems to be working and after taking Cade's giant cock down his throat, Remy is ready to take it deep in his ass. He eagerly bends over the massage table and waits for Cade to enter his hole.
Cade slides easily inside and pumps away on Remy's tight ass until he's ready to bust a nut. Cade pulls out and positions himself in front of Remy's mouth and drains his balls all over Remy's begging face.
With Remy covered in his load, Cade leans over and sucks Remy's cock until Remy explodes in his mouth. Cade takes the mouthful of cum, and feeds it back to Remy with a passionate, jizz-filled kiss…Join them!
Cade Maddox gay porn scenes at Reality Dudes
Cade Maddox and Gabriel Isaacs can't seem to catch a break when it comes to satisfying their "public needs".
After being caught twice, they find a little corner to finally get it on. The two waste no time going down on each other's big dicks before Cade decides to plunge his massive cock deep inside Gabriel's tight ass.
The rest will definitely leave you wanting more…Join them!
Republished by Blog Post Promoter