All gay porn videos and gay porn pics of Bruno Bernal.
Hair Color: Black
Sign: Unknown
Eye Color: Brown
Dick Size: 7 inch dick
Height: 5'5″
Cut / Uncut: Cut / Circumcised
Weight: 165lbs
Sexual Positions: Versatile
Bruno Bernal gay porn scenes at Raging Stallion
Bruno Bernal, Papi Suave, and Max Konnor are all naked and making out rubbing rock hard bodies together when Bruno decides to service the other two studs' cocks with his mouth. It's no easy feat, since both dicks are massive, but Bruno makes them fit all the way down his throat. The guys even cram both thick dicks in Bruno's face at the same time.
Bruno is already in complete ecstasy but knows he wants their cocks deep up his ass. When the studs switch it up, Max gets on his back to let Papi suck him off while Bruno sits on Max's face to get his asshole lubed and opened up. Bruno is ready to have Max's uncut monster destroy his eager ass and he hops on to ride every inch that Max can slam into his tight hole.
Papi joins in on the action and takes his turn pounding Bruno's talented backside. He slides in deep and fast, hitting Bruno in all the right spots. Max wants one last turn on Bruno and slips inside again to fuck the cum out of the tatted stud.
When Max sees all the thick, white jizz covering Bruno's stomach, he pulls out and shoots his own thick load on Bruno. Papi is the last to add to the mix and shoots a massive load, leaving Bruno a wet, sticky mess…Join them!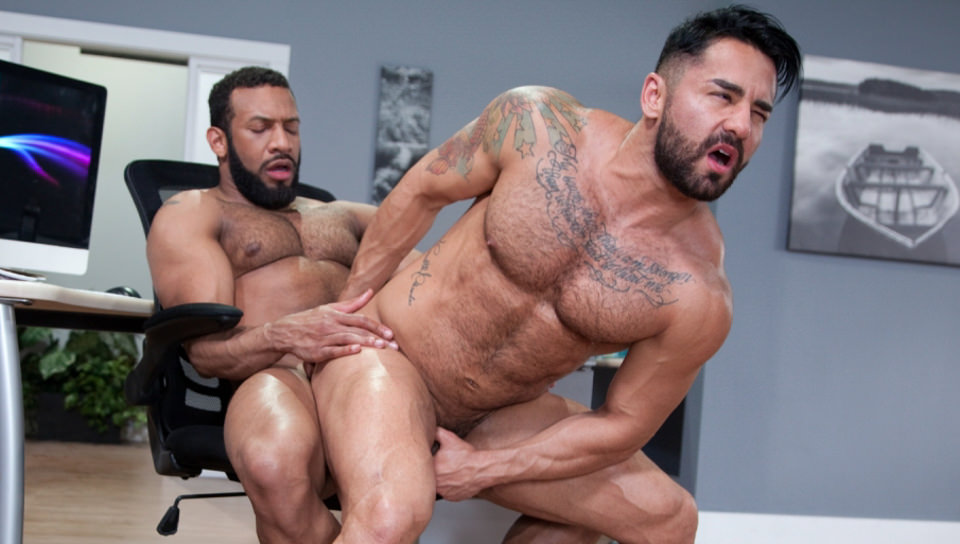 Jay Landford catches his employee, Bruno Bernal, driving for 'Rideshare' on company time and threatens to fire Bruno. Eager to save his job, the guilty hunk drops down to suck his boss's giant, uncut cock.
It's a tight fit but Bruno manages to get the whole thing down his throat. As Bruno sucks away, Jay gets the stud out of his clothes and bends him over to eat his tight ass. Jay gets in deep with his probing tongue to open Bruno up.
When Jay senses that Bruno is ready to take on his massive cock, Jay stands up and sticks his monster deep into his employee's asshole. Jay fucks him hard, making Bruno moan out as Jay stretches Bruno's hole to the max. Bruno wants it deeper so Jay sits back in the office chair to let Bruno ride his pole.
'Fuck me all the way to the sack!' Bruno yells out as Jay slips deeper into Bruno's gaping hole. Bruno is on a mission to blast his load and keeps riding Jay until his cum spills out of the tip of his cock and onto the floor. 'Keep fucking me!' Bruno commands!
Jay continues to pound his ass so hard, Bruno shoots another load at the same time Jay pulls out to cover Bruno with jizz. Looks like Bruno gets to keep his job after all!…Join them!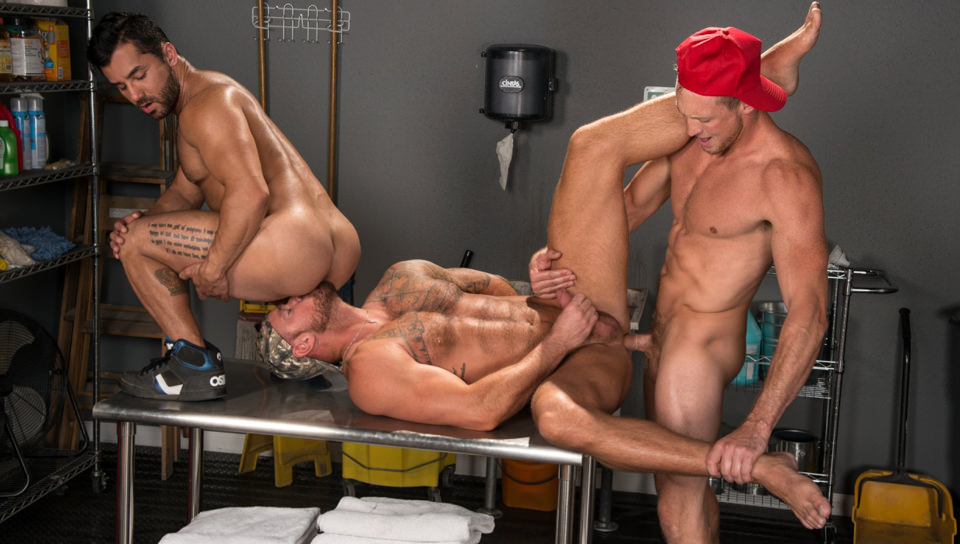 Michael Roman and Pierce Paris are right-wing Americans at the 'Gun Show'. They run into Bruno Bernal who doesn't quite fit into Michael and Pierce's idea of what an American should look and act like.
After chanting 'build the wall' to Bruno's protests, the two country boys take him to a back room and throw him to the ground as they unzip their pants and whip out their big thick cocks. Bruno loves the idea of getting the two hicks' dicks down his throat and he opens his mouth for Michael and Pierce to stuff his face.
Bruno complies with every one of the demands from Pierce and Michael and even sucks on their hairy, sweaty assholes to make the guys think they're dominating everything he does. Bruno is having the last word by getting his face used like a hole for the two hot studs to double fuck his mouth at the same time.
It's a tight squeeze fitting all that meat in his face at once, but Bruno manages to get the job done. The rednecks want to take their fun to the next level and shove Bruno into a utility closet. Michael needs Bruno's tight hole wrapped around his massive cock and he bends him over a table to stuff his asshole balls deep while Pierce takes control of the front to complete the spit roast.
With all of Michael's raves about Bruno's tight ass, it's time for Pierce to get a feel and he slips his massive rod deep inside Bruno's well-worked butt. With all the big cock and ass fucking action, Michael wants to see what all the fuss is about and offers up his own ass for Pierce to destroy.
Bruno sits on the gun toter's face while Pierce works his buddy from behind. Michael moans out for Pierce to fuck him harder and Pierce takes the challenge. He pounds as hard as he can until his big stick finally puts Michael over the edge and he blows a massive load all over his own hairy abs.
Once Pierce sees that he's done the job of getting his buddy off, he pulls out and dumps his own load all over to mix with Michael's pure white jizz.
Bruno finishes off in Michael's mouth then grabs their clothes, flips them off, calls them 'fucking assholes' and leaves the two rednecks alone and naked to 'make America great again' on their own in the closet…Join them!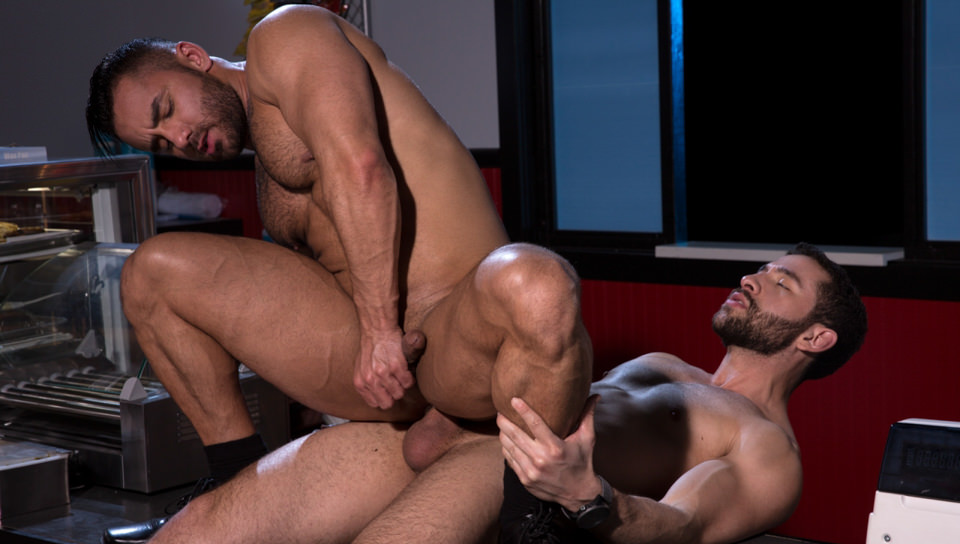 Lucas Allen is cleaning up the restaurant at the end of the night with Bruno Bernal. It doesn't take long for the workers to ditch their closing duties and rip each other's clothes off behind the counter.
Bruno hits his knees and is met with Lucas' fat, uncut dick. Gobs of spit drip from Lucas' cock as Bruno works down to the base. Bruno bends over the counter and opens up his ass for Lucas to toss his salad. With spit for lube, Lucas pushes his massive meat deep into Bruno's buns.
Bruno grips the cash register as Lucas works Bruno's his open hole. Lucas sits up on the counter so Bruno can ride him. Bruno bounces on his co-workers tool until his load rockets across the counter.
Lucas strokes his cock until his load oozes onto his thigh…Join them!
As Ryan Cruz sweeps the floor, Bruno Bernal sits in the 'High n' Tight' barbershop's waiting area, fixated on Ryan's ass. When Ryan comes over to ask Bruno what he's looking for, it's clear that what Bruno really wants is Ryan.
As they make out, Bruno unbuttons Ryan's jeans and grasps Ryan's thick cock. Pushing Bruno down on the couch, Ryan pulls down Bruno's pants and dives face first into his round, firm ass. As Ryan grinds his beard into Bruno's crack, Bruno helps by fingering his asshole with Ryan's spit.
Getting down on his knees, Bruno wraps his lips around Ryan's uncut cock. Ryan puts his hands behind his head, showing off his furry pits, bulging biceps, and pierced nipples. Bruno coats Ryan's cock in a thick layer of spit, prepping to feel it inside him.
When Ryan lies down on the ground, Bruno sits down on his cock. Bruno's muscular legs and six-pack abs flex as he grinds Ryan's cock deeper and deeper into his ass. Ramping up the intensity, Ryan fucks Bruno on a table that's at just the right height.
Bruno tosses his left leg over Ryan's shoulder, and Ryan pummels Bruno with an intense onslaught of thrusting. Bruno jerks his cock until he busts his nut all over his torso. Leaning back, Bruno hangs his head off the edge of the table and opens his mouth to receive Ryan's load.
With his cock just inches above Bruno's open mouth, Ryan strokes out a massive blast of cum: multiple giant ropes that drench Bruno's face and chest…Join them!
Jeff Powers is a sporty jock from the East Coast who likes to take an 'active' role. Bruno Bernal is a furry, Brazilian hunk who loves to get his brains fucked out by tattooed studs. Since they're a perfect match for each other, they can't wait to get started. Beginning with deep kissing, Bruno quickly moves so swallow Jeff's lengthy, hard cock.
The veins in Jeff's cock stand out as Bruno gets it wet with spit. With Jeff seated in a sturdy chair, Bruno lowers himself down on Jeff's cock, using his thick legs to go for an intense ride. Jeff stands Bruno up on his feet and fucks him from behind, and Bruno bends forward to take Jeff's dick as deep as possible.
Jeff's lean, hairy body drips with sweat as he pounds the hell out of Bruno's juicy booty. Laying flat on his back, Bruno puts a leg in the air as Jeff pile-drives his cock into Bruno's hole. As Jeff picks up speed, Bruno strokes his cock until he ejaculates with a burst of cum across his hard abs.
Jeff shoots a series of enormous ropes that land right on Bruno's cock and balls…Join them!
Their tongues intertwined, Colton Grey and Bruno Bernal let go of their inhibitions and submit to the pull of their heightened sexual arousal. Colton's huge cock and heavy balls are irresistible to Bruno, who falls on his knees and inhales Colton's throbbing member.
Colton leans back, savoring the sensation and showing off his six pack abs and colorful tattoo. Reaching for Bruno's ass, Colton works a finger into Bruno's hole, foreshadowing what is to come. Colton repositions himself behind Bruno and shoves his face into Bruno's ass.
As he works his spit into Bruno's hole, he tugs on Bruno's balls to increase the sensations. With Bruno's hole lubed up, it's time for them to raise the stakes. Bruno sits on Colton's cock and goes for a hell of a ride, using his thick, muscular legs to raise and lower himself on Colton's girthy tool.
As he starts thrusting up into Bruno from below, Colton's big balls bounce and slap against Bruno's ass. Moving to missionary position, Bruno puts his left leg up in the air so Colton can pummel his hole with maximum penetration. The intensity of their sexual chemistry increases as their fucking becomes more and more energetic.
With Colton pounding his g-spot, Bruno strokes out a viscous load that splashes across his leg. Grabbing his cock, Colton lets loose with a massive stream of cum that saturates Bruno's torso…Join them!
Tattooed Brazilian hunk Bruno Bernal strokes Jason Vario's massive, uncut cock. Slick precum appears on the tip of Jason's cock, and Bruno smears it across Jason's sensitive head. Sinking to his knees, Bruno takes Jason's massive member in his mouth and sucks passionately.
Cupping Jason's balls, Bruno drenches Jason's meat with slick saliva. With Jason's sexual energy running wild, he bends Bruno over, slips his tongue between Bruno's ass cheeks, and presses deep into Bruno's tasty hole, lubing it up in preparation for fucking.
Jason's cock twitches as he rims Bruno's ass. When Jason slides in, Bruno gasps at the intense pleasure of Jason's huge meat. Sweat glistens on their bodies as their high-energy fucking leads them both to a state of intimate connectedness.
Throwing Bruno on his back, Jason pounds Bruno in missionary position, and Bruno's high-top sneakers press against Jason's sweaty chest. When he's ready to cum, Jason jerks his cock and loose with an enormous blast of cum that arcs through the air and hits Bruno in the face.
Opening his mouth, Bruno catches a few drops, then licks up the cum that landed on Jason's leg. Standing up, Bruno jerks himself off as Jason sucks on Bruno's nipples. Bruno's load explodes and mingles with the massive load that Jason shot.
They taste each other's cum and make out in erotic pleasure…Join them!
Sun-kissed hunks Bruno Bernal and Scott Demarco are thirsty for each other. Their lips lock and they explore one another's chiseled physiques. Bruno, the Brazilian power-bottom, descends to his knees and takes a mouthful of Scott's fat cock.
After the hot hummer, Bruno gives his lips a rest and bends over exposing his hole for Scott to power rim. Now, Bruno's ass is fully lubed with saliva, and Scott doesn't waste any time driving his girthy meat into Bruno's waiting man hole.
Bruno spreads his ass wide to give Scott full penetration. Landing cock blows hard and deep, Scott hits all of Bruno's spots. They switch it up again, but the pounding doesn't stop, and Bruno is screaming uncontrollably as Scott's drilling sends the load out of Bruno's cock and onto his abs.
Scott pulls out of Bruno's stretched hole and adds his creamy spunk to the mix…Join them!
Republished by Blog Post Promoter