All gay porn pics and gay porn videos of Brent Corrigan.
Hair Color: Brown
Sign: Unknown
Eye Color: Brown
Dick Size: 8 inch dick
Height: 5'9″
Cut / Uncut: Cut / Circumcised
Weight: 165lbs
Sexual Positions: Versatile
Brent Corrigan gay porn scenes at Falcon Studios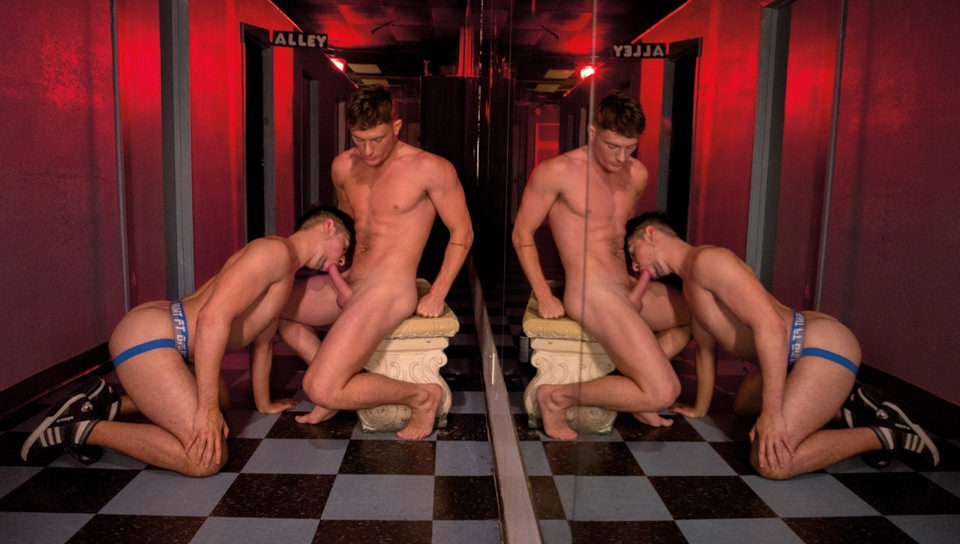 Brett Dylan is cruising the halls of the sex club when he happens to walk by Brent Corrigan. There's no question that Brent is ready for some fun, so Brett drops to his knees to take Brent's hard dick in his mouth.
The dick tastes so good that Brett can hardly control himself as he continues to work the shaft and head up and down. Brett makes sure to give special attention to Brent's balls as well.
Brent is so horny that he needs a taste of Brett's delicious bubble butt. He spreads the cheeks apart to get in deep with his tongue. With each lick, both studs grow hornier and soon, Brent decides to taste what Brett's front side has to offer.
Brent sucks on Brett's throbbing cock, taking it deep as he jacks his own rod. Brett loves the feeling of Brent's lips tightly wrapped around his swollen dick, but he's not going to leave without the one thing he craves most.
Brett gets back down in front of the hung stud to finish what he started. He keeps a bobbing up and down until he gets the cum reward he craves the most in his cock-hungry mouth.
Brent's load on his lips puts Brett over the edge and he polishes the floor with his own thick ropes of cum…Join them!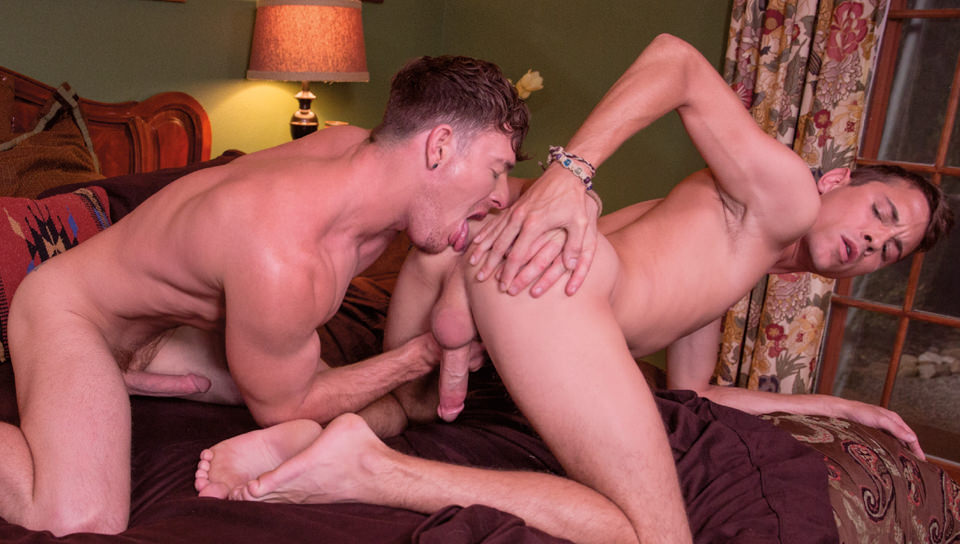 Brent Corrigan finds Osch Weldon playing his guitar on the patio and instantly locks lips with the musical hunk.
They quickly move it to the bedroom where they rush to get each other out of their clothes. Brent takes charge and tells Osch to suck his swollen member.
Osch happily does as he's told and bends down to give Brent what he wants. When Brent's cock is at full capacity, he decides to open Osch's smooth ass with his tongue.
It's exactly what Osch needs to get ready for Brent's giant dick as he moans out and begs for more. Brent heeds Osch's wishes and slips his dick deep into the hunky stud's ass.
Brent pumps hard and long until Osch wants it even deeper and rolls over onto his back.
Brent gets back inside to finish the job and humps the stud beneath him until Osch groans a final grunt and lets out an eruption of warm cum all over his toned, hunky body.
Brent won't be left out of the action and pulls out to spill all over Osch's trimmed crotch.
The two studs collapse together onto the bed and kiss as they bask in the afterglow of their afternoon fun…Join them!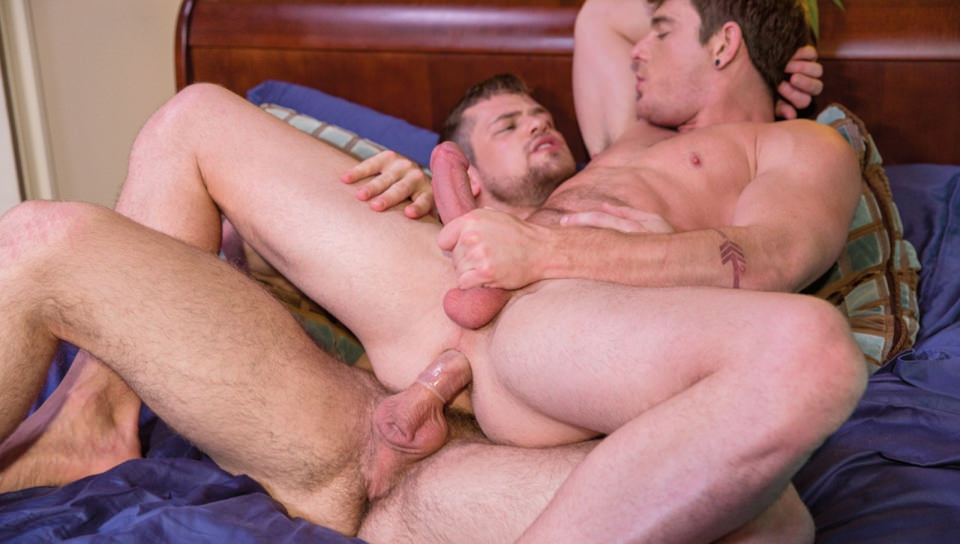 It's another crazy night in New Orleans. The crowds are out, the bars are full, and everyone is ready for a good time, including Brent Corrigan and Kurtis Wolfe.
The two studs don't waste any time getting back to their room and shedding all their clothes. Before Brent's underwear can hit the floor, Kurtis has his mouth wrapped around the jock's hard dick.
After sampling what Brent has to offer, Kurtis spreads Brent's legs wide open and goes in to taste his smooth, tight hole. Kurtis has a love of servicing men and doesn't miss an inch of Brent's shaft, balls and ass.
Brent doesn't want to be left out of the taste-testing action and gets Kurtis hard by offering up his warm, wet mouth. Kurtis is so turned on by the whole experience that he can barely contain himself.
He gets Brent's butt lubed up and then slips his giant dick deep inside the moaning stud. Brent loves the feeling of being stretched and rides Kurtis, taking the hard dick as deep inside of him as it will possibly go.
The two hung jocks switch up their positions, and after a sustained pounding, Brent announces his intent to blow and lets it rip. After seeing Brent shoot, Kurtis is ready to join the ranks and unleash on Brent.
He gets the stud into position and releases all of his inhibitions over Brent's perfect bubble butt…Join them!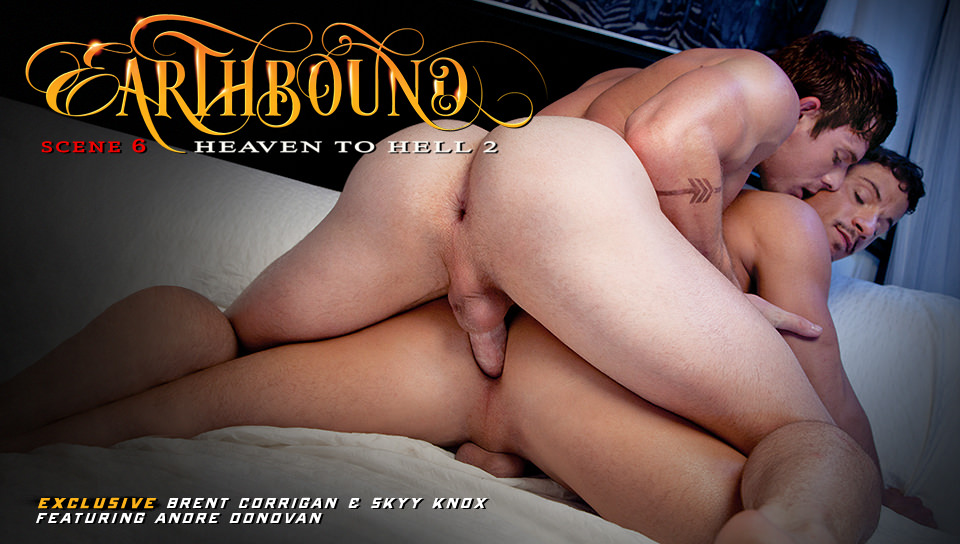 Rogue (Skyy Knox) was a sex slave, but he turned his back on his master, The Devil and became Earthbound. After stumbling into a crowded bar, Rogue finds his personal angel: Lucky (Brent Corrigan), an angelic gogo dancer.
It's true love at first sight, and the power of their love frees Rogue from his enslavement by the Devil. Rogue, overwhelmed with gratitude, kisses Lucky passionately. Removing their clothing, Lucky wraps his lips around Rogue's huge cock.
Switching places, Rogue slathers spit along the shaft of Lucky's cock, then uses his fingers to probe inside Lucky's tight hole, then gives Lucky a taste. Lucky throws his legs in the air, and Rogue presses his face between Lucky's ass cheeks.
Flipping places, Lucky reciprocates. Sliding his tongue along Rogue's crack, then rubbing his cock right down the center. Slowly at first, then picking up speed, Lucky starts fucking Rogue doggy style. Their hard muscles flex and bend as they grind their bodies together.
As Lucky lays back on the bed, Rogue uses his powerful legs to raise and lower himself on Lucky's hard cock. Standing up by the side of the bed, Rogue drives his hard member into Lucky. The incredible sensations of Rogue's cock inside him gets Lucky ready to blow.
He strokes his cock and cums into Rogue's mouth, who then snowballs it back to Lucky with slow, tender kisses. Kneeling over Lucky's face, Rogue shoots his load right into Lucky's open mouth…Join them!
Lounging by the pool, Brent Corrigan waits as Topher DiMaggio approaches. Topher knows what he wants and goes for it right away, wrapping his lips around Brent's thick cock. He sucks on Brent's balls and fingers Brent's tight hole.
Standing up, Topher pulls out his meat and offers it to Brent to suck on. With his expert deep throating skills, Brent is eager and up to the task. Their toned bodies glisten under the warm sun as Brent gets on all fours and shows off his ass.
Topher goes in for a rim job, slicking up Brent's tight ass with his spit. He pushes the saliva down Brent's hole with his thumb, then thrusts forward with his cock, penetrating Brent's ass. They move from doggy style to a sit fuck, with Brent riding Topher's hard meat.
Brent's dick bounces against Topher's washboard abs. Brent starts jerking his cock in rhythm with Topher's thrusting, and he shoots an extra thick load across Topher's tanned, toned stomach. Topher picks Brent up and lays him down on his back.
Stroking himself, Topher unleashes massive ropes of cum that splatter across Brent's muscular torso. They press their lips together in slow, passionate kisses, sinking down into the poolside lounge chair…Join them!
Bike messenger Griffin Barrows makes a delivery to an apartment and is star struck when he realizes his client is famous San Francisco app developer Brent Corrigan. Brent is impressed that Griffin got across town during rush hour in only 24 minutes.
'If you have another package you'd like me to deliver,' says Griffin, 'I'd be happy to do that for you.' 'Let's see if you can impress me again,' replies Brent. They hurriedly strip off their clothes and start making out. Griffin uses his mouth to service Brent's huge, hard cock.
Brent returns the favor with long, deep, sucking on Griffin's tool. Brent bends Griffin over, parting his fuzzy ass cheeks and diving in face first. The slick spit makes it easy for Brent to slide his cock along the crack of Griffin's ass, and the temptation is too much to resist.
He plunges his meat into Griffin's hole, and Griffin angles his ass up towards Brent, loving every second of it. Relocating to the couch allows Brent to sit down and have Griffin climb on for a ride. As sweat glistens on Brent's shoulders, a switch to missionary allows him to penetrate deep into Griffin's tight hole.
With Brent still inside him, Griffin blasts his ripped abs with ropes of thick cum. As Brent jacks his cock, Griffin gets on his knees and opens his mouth to catch every spurt of hot spunk. After seeing how great Griffin is at riding a bike, and at riding a cock, Brent tells Griffin about a special club that he should definitely check out: 'Urban Spokes'…Join them!
Brent Corrigan slips into a luxurious soaking tub; as he relaxes, his cock swells and hardens. Jason Maddox, Brent's masseur, begins the bodywork session with firm strokes along Brent's muscled backside. The round, meaty cheeks of Brent's ass are irresistible to Jason, who's fingers reach into Brent's tight hole.
With his right hand, Brent reaches out and fondles the growing bulge in Jason's pants. Loosening his belt, Jason let's his pants fall to the ground, and Brent leans in to swallow Jason's rock hard cock. Climbing up on the table, Jason plunges his face into Brent's crack, driving his tongue deep into his client's fuck hole.
As he rims Brent's hole, Jason uses his hand to stroke Brent's cock. With massage oil for lube, Jason drills his meat into Brent's ass, Brent moans with pleasure as Jason's low hanging balls slap against him. Turning the tables, Jason gets on the table and opens up for Brent to fuck him in the ass.
After Brent delivers a thorough pounding, they flip once more, and Brent uses his strong legs to fuck himself on Jason's stiff rod. The intense pleasure on Brent's prostate is so great, he shoots a gigantic load over Jason's torso.
One huge blast goes past Jason's head, and the rest puddles on Jason's ripped abs. Standing up, Brent expertly jerks Jason's cock until Jason blows his load, dripping globs of thick, white cum everywhere…Join them!
Republished by Blog Post Promoter