All gay porn pics and gay porn videos of Austin Wolf.
Hair Color: Light Brown / Blonde
Sign: Unknown
Eye Color: Brown
Dick Size: 8 inch dick
Height: 6'4″
Cut / Uncut: Cut / Circumcised
Weight: 235 lbs (91kg)
Sexual Positions: Versatile Top
Nationality: American
Sexual Orientation: Gay
Austin Wolf gay porn scenes at Falcon Studios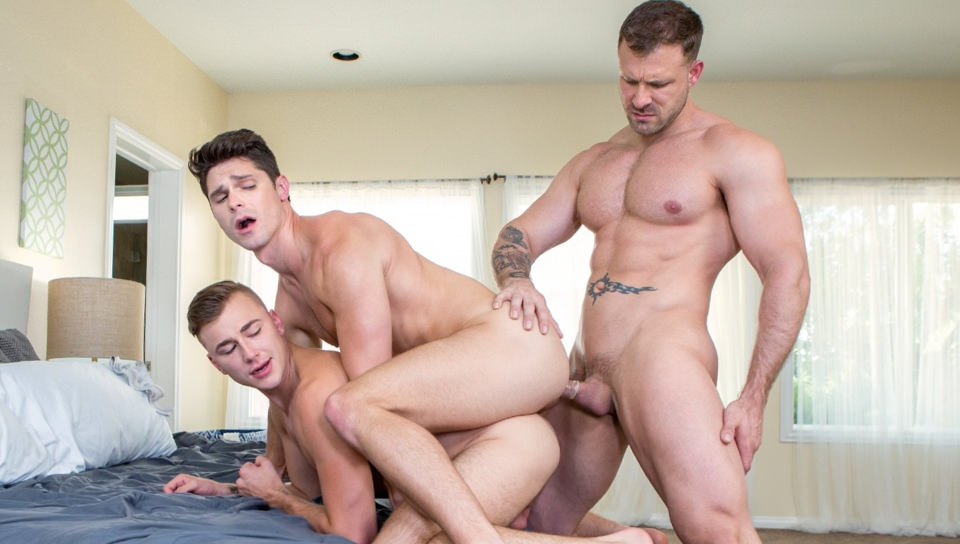 Devin Franco is alone and horny when he goes into Austin Wolf's dirty laundry for a sniff of his used jockstrap. He's abruptly interrupted when Austin comes in with a new guy, Zander Cole. Devin hides in the bathroom and becomes the voyeur when Zander gets down between Austin's legs to start servicing the hung stud.
It doesn't take long for Devin to get discovered and Austin invites him to join the fun. Austin wants to sample each of the studs' insatiable bubble butts and stacks the guys up with their holes exposed. He samples Devin first before he takes a turn with Zander, giving each of them equal time with his swollen cock.
Zander is hungry for dick and opens his mouth to take Devin down his throat as Austin keeps pounding him from behind. Austin's appetite for ass takes over once again as the guys line up to take turns getting plowed from the horny muscle-hunk. Devin is the first to give into his urges and lets loose with a giant load as he rides Austin's cock.
Austin doesn't want to leave anyone out and gives Zander the same favor by sliding his dick inside the ripped hunk one last time. With Austin pounding his hole, Zander unleashes on his own hard body.
The sight of the two muscle studs blowing their loads is all it takes for Austin to finish up the threesome when he lets loose in both Devin and Zander's open mouths that the guys share with one final cum-soaked kiss…Join them!
Austin Wolf gay porn scenes at Naked Sword
It's the ultimate fight, everything's on the line and these fine athletic studs will do anything they can to finish off their opponents.
They're jacked up, they're hot as hell and they're horny as fuck, they're, TKO Total Knockouts.
They will fuck you until you beg for mercy and throw in the towel. Nick Foxx directs eight relentless, horny studs who punch, grapple, wrestle, suck, and fuck their way to mixed martial arts victory.
Ian Greene is the up and comer vying for the win against Ryan Rose, but Ryan's USMC training gives him the upper hand over Ian and his tight ass.
Austin Wolf asserts his solid, massive body in dominance against Josh Conners, claiming his prize with a no-holds-barred fuck.
Trenton Ducati imparts some pro tips upon Alexander Gustavo, winning the fight and giving Alexander a hands-free cum shot.
Micky Jr takes a beating from Sean Zevran, bending over to take Sean's cock doggy style and receiving a load to the face.
Watch the excitement, intensity, and heavy action as the studs of 'TKO Total Knockouts' fight for the sexual dominance…Join them!
Austin Wolf gay porn scenes at Raging Stallion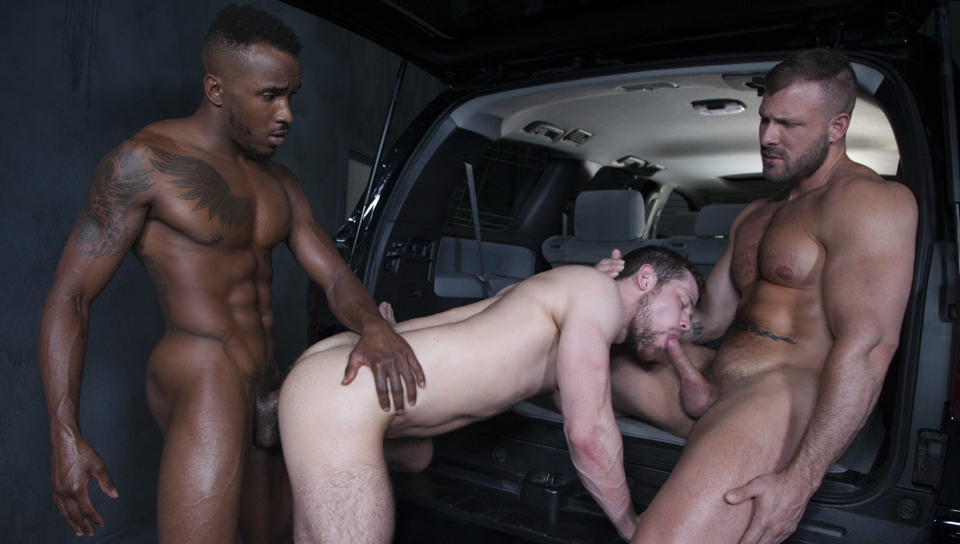 Kurtis Wolfe and Pheonix Fellington start getting dirty in the back seat of Austin Wolf's, 'Rideshare'. Kurtis goes down on Pheonix as Austin drives and watches them in the rear-view mirror. Pheonix wants to return the favor, and sucks Kurtis' thick hard-on.
Austin wants in on the action and takes the guys to his garage where he unbuckles his belt and offers up his thick dick. That makes Pheonix hungry for more cock so he gets to work servicing both hung studs, alternating cocks down his throat. Kurtis is so turned on that he needs a dick in his ass.
He bends over to let Austin penetrate him as he sucks on Pheonix' giant cock. After getting throbbing hard, it's time for Pheonix to have his turn using Kurtis' hole. He switches spots with Austin and takes his place behind Kurtis, stretching him like he's never been stretched before.
Pheonix wants it all and soon he's riding Austin's big dick as Kurtis sits on the driver's face. The three studs switch it up one last time to give Kurtis some ass time as he slips inside Pheonix to pound his hole hard. Pheonix' tight ass works Kurtis to a frenzy and the hairy stud pulls out to shoot his load all over Pheonix' smooth back.
When Pheonix feels the warm cum on his skin, he turns around and feeds Kurtis a load, who opens wide to catch it on his beard and tongue. When Austin sees all of the cum flying, he pumps the jizz from his dick as his hunky passengers lick his body and help him finish up…Join them!
Austin Wolf and Adam Avery are the last ones in the locker room. Shoulder pads and cleats add bulk and height to Austin's massive physique. He sighs as he sits near Adam on a bench in the locker room. They make lustful eye contact and grab their crotches.
Austin pulls the cup out of his jock strap, then yanks the whole thing off and offers his hard cock to Adam, whose knees instantly hit the deck. Austin's cock and half his scrotum disappear with Adam's first oral lunge.
Palming Adam's head, Austin proceeds to face-fuck him relentlessly. Austin ups the ante, finger-fucking Adam's mouth at the same time, with four fingers.
Relaxing Adam's eager hole for a beefy fuck, Austin drills and wets it with his tongue, then he strokes and slurps on Adam's nut sack and engorged cock. Austin's thumb continues the job of stretching Adam's hairy and hungry hole.
A sit-fuck lets Adam set the pace of accommodating Austin's major meat. It escalates into a wild ride of multiple positions and deep, rapid pounding that adds the smell of cum, of which Adam swallows every drop, to the ripe locker room aroma…Join them!
Austin Wolf gay porn scenes at Hothouse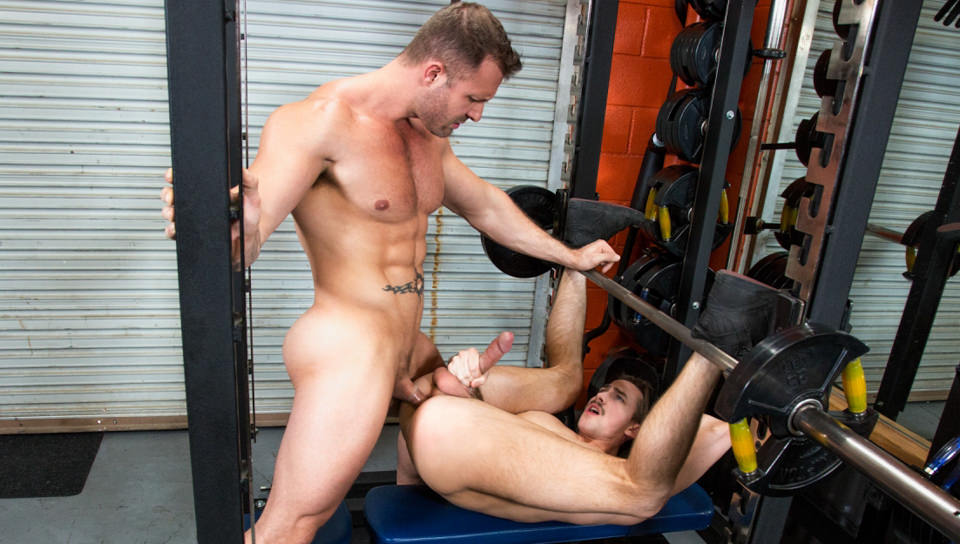 Jack Hunter is lifting weights in the gym when Coach Austin Wolf stops by to check on him and offer a little bit of workout advice. The testosterone from the heavy lifting gives Jack a throbbing hard-on and Austin steps in to help relieve Jack of his dilemma.
His cock is absolutely massive, but Austin manages to get it down his throat with ease. Austin sucks away as he rubs his own dick until he's equally hard. Jack wants to return the favor and gets on his knees to pleasure his ripped coach.
When Austin is at full mast, he tells Jack that he has one more thing to show him and bends him over the weight bench. Jack has never been fucked before but wants to do everything it takes to please the coach. Austin slides his fat, hard cock deep into Jack's tight hole and immediately picks up the pace to slam him harder.
Jack loves the new sensation of having a cock up his ass and wants it to go even deeper. He rolls over onto his back as Austin mounts up and plunges him deep and fast until he fucks the cum out of Jack's big cock.
The sight of Jack's dick and chest glistening with cum is all that Austin needs to pull out and cover Jack with even more cum.
Jack opens his mouth wide and lets his coach shovel their milky mix onto his hungry tongue…Join them!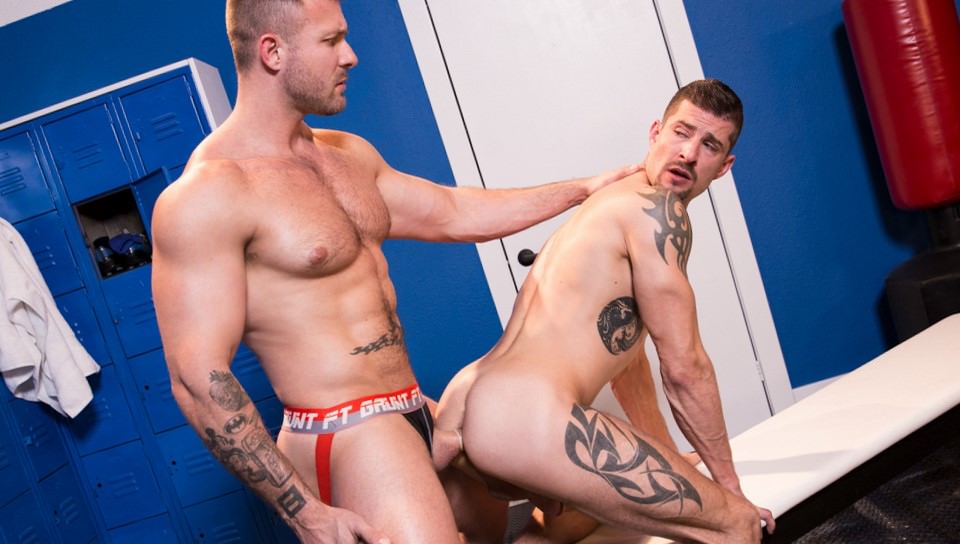 Baseball practice is over and back in the locker room, Austin Wolf is sitting on a bench watching Sean Maygers strip off his sweaty jockstrap.
Austin approaches Sean and gets him into submission on his knees as he presents his bulging package. Sean knows he's way past third base and gets hard almost instantly as he reaches into Austin's pouch and finds a big, thick dick.
Austin reams Sean's wet throat and when both studs can't possibly get any harder, Austin bends Sean over to eat his ass. He opens up the begging jock with his tongue and fingers to get him ready for his thick slugger.
Sean can't wait to have Austin inside of him and opens wide for his teammate to do his thing. Austin enters Sean's from behind and cuts right to the chase with a rough and constant pounding that leaves Sean's dugout wrecked.
Sean wants it even harder and after climbing on top and riding the muscle stud, he lies back on the bench to let Austin drill his hole one last time.
With Austin still sliding in and out of him, Sean blasts his load all over his own glistening abs. Austin is ready to cum too and pulls out to blast one out of the park.
It's a home run that leaves the two athletes shuddering, panting and wet with sweat and sperm…Join them!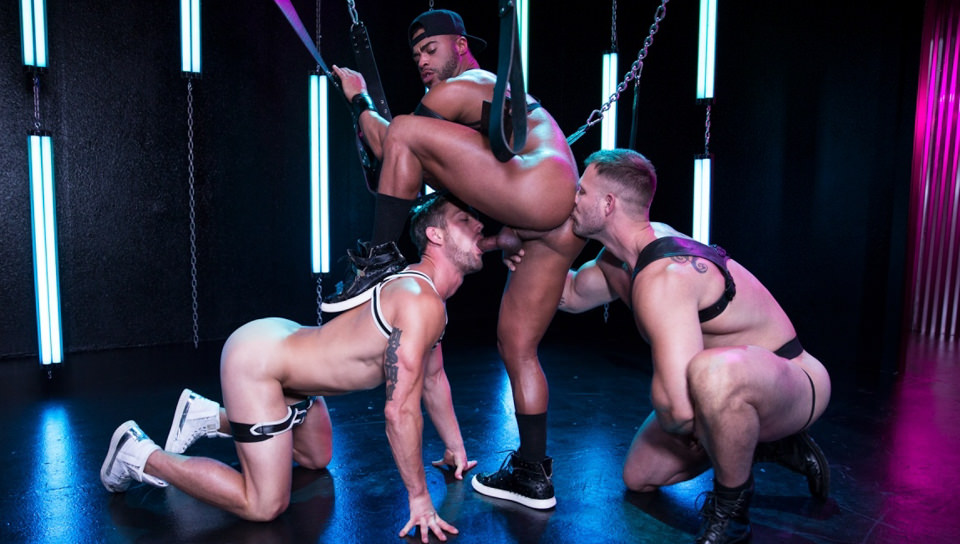 Micah Brandt is hanging out in the sling waiting for someone to come along and make some action happen. Ryan Rose enters through the door and the two muscle studs start making out.
As they kiss, Austin Wolf joins the fun and makes himself the main attraction as he takes his place between the two horny hunks to round out the threesome.
It's not long before Micah and Ryan give into their temptations and get on the floor to suck on Austin. When Austin is rock hard, he bends Micah over the sling and plants his cock deep inside his bubble butt.
Ryan takes his place in front to suck Micah's dick. Ryan can only hold off for so long and after watching Micah get plowed, he steps in to take over and fuck the stud.
Austin refuses to be left out of the action and makes Ryan take his fat cock from behind. Before the action is done, Ryan makes sure his hole gets some attention and lies back in the sling to let the other two studs tag team his ass.
Micah and Austin plow Ryan's sweet hole until all three studs let go and cover Ryan's cock with seed.
Micah is thirsty and doesn't let it go to waste. He licks every last drop of all three men from Ryan's sticky hot body…Join them!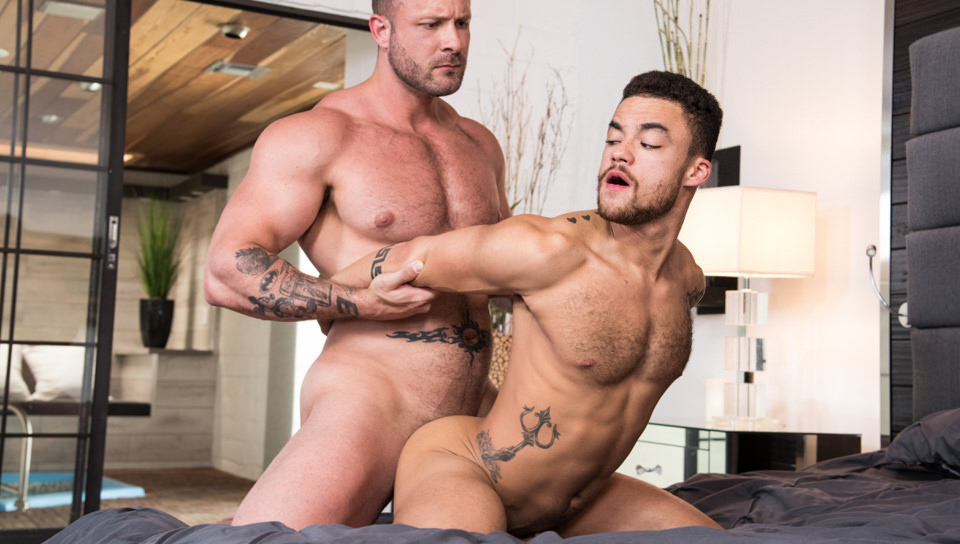 During breakfast at their modern mansion, Alex (Austin Wolf) is with his handsome husband, Tony (Beaux Banks). As Tony fiddles with his laptop, he discovers a blackmail email exposing Alex's seedy triste with Derek.
The email includes the full video and provides instructions on how to get the video back. Tony reassures his husband that the two of them are in this together. He's turned on by the video and wants to show Alex that he can fulfil all of Alex's fantasies, kissing him as they begin peeling off their clothes.
Tony gets on his knees and takes Alex's giant dick in his mouth and down his throat. When Alex is at full mast, he grabs the back of Tony's head and face fucks him as Tony gags and spits and jacks himself off. Alex can't resist fingering Tony's perfect little ass and gets him on the kitchen counter to lick his hole.
Alex loves every second of it and buries his face as deep inside Tony's ass as he can go. After one more extreme face fucking session, the couple moves to the bedroom where Alex can't wait to slide his wet cock deep inside his husband.
Alex gives in to his instincts and pounds the living hell out of Tony in almost every position they can fit on the bed. After Tony has been pounded into submission and is ready to dump his load, the two hunks lie back on the bed and jack off until their cocks ooze cum everywhere.
After the bliss, Alex devises a plan to use The Fixer, who he pays to solve problems like this, take care of the blackmail situation, but Tony has other ideas about how to take care of the situation…Join them!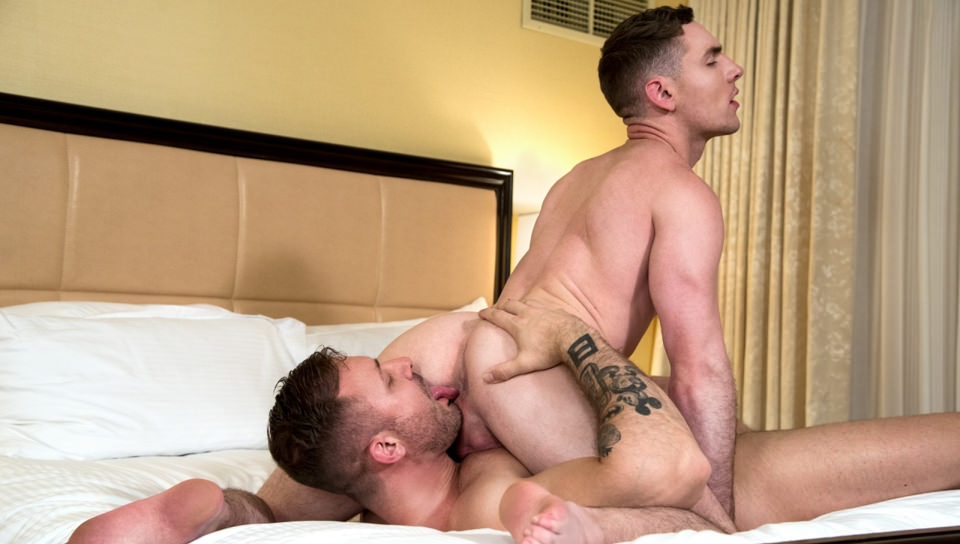 Fane Roberts sets his sights on Austin Wolf at The Ready Bar. He approaches his target without a moment's hesitation and whispers in Austin's ear to meet him in a hotel room. Austin heads upstairs and finds Fane ass up in bed and ready for Austin to have his way.
Fane is ready to get down to business and helps the stud out of his clothes as they make out and rub each other's hard bodies. Austin wants to get the action going and fingers Fane's tight smooth hole before Fane sits on his face.
Fane can feel Austin's big cock straining against the fabric of his pants so he reaches in and pulls it out to take a taste. Fane needs Austin inside him and bends over to offer up his body for Austin to enter. Austin can't wait to get inside and slides his rigid cock deep into the fit jock's asshole.
Once he's inside, he picks up the pace and pounds Fane with a frenzied urgency to get the job done. Fane's hole takes a beating with every thrust from the muscle stud's pelvis. Austin's cock feels so amazing going in and out that it makes Fane want to nut.
Austin will do anything it takes to help Fane along and pulls out to suck his nuts as Fane jacks off and explodes all over his own perfectly fit body. When Austin sees Fane in the throes of pleasure, he needs to get off immediately.
He stands over Fane and jacks his hairy rod until it erupts all over Fane's open mouth and satisfied face. 'Leave the money on the nightstand' and 'It's been a pleasure doing business,' are the last words spoken.
Wait a minute…who's the hustler here?…Join them!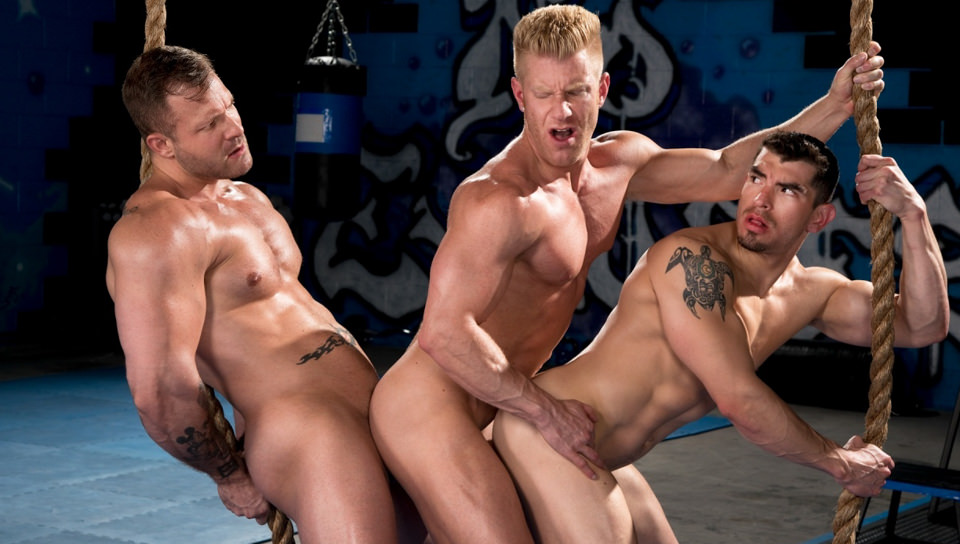 Austin Wolf is training Johnny V and Jeremy Spreadums at the gym. He has them doing all the regular things to stay in shape like climbing rope, doing chin-ups and lifting weights. Austin pats them on the ass with every good rep.
All the physical contact and exposed muscles gets the threesome ready for fun and they peel off their shirts as they kiss and feel each other's boners through their gym shorts. Jeremy can't take the suspense of what the other cocks must taste like and he gets on his knees to suck off his two gym buddies.
He takes turns slurping on each of their growing cocks and gets the guys ready for more action. Austin is horny as hell and wants to explore more of what Jeremy has to offer. Austin has Jeremy bend over, and like a true trainer, tells Jeremy what to do as he fingers and licks his client's fuzzy hole.
Jeremy gets on the ground and spreads his legs wide open to let both Johnny and Austin rim his ass. Once the guys have Jeremy's hole nice and opened up with their tongues and fingers, Austin crams his thick cock inside Jeremy's back door.
Johnny doesn't want to be left out of the fun and takes his turn with Jeremy when Austin steps aside to let him have a turn. The muscle studs tag team Jeremy's asshole as they pile drive the young jock. Johnny hops in the middle of the sandwich to fuck Jeremy as he gets his hole plunged from his trainer.
The three horn dogs form a chain with Johnny in the middle getting the best of both worlds until all three are ready to blow. Jeremy lies on the ground with the two other studs above him. Johnny lets loose and drains his balls all over his buddy, slathering his nipples with cum.
The trainer is the next to go and lets loose all over Jeremy's face before Jeremy finally gives himself the go ahead to get the relief he needs all over his own muscled-up body.
The three spent hunks writhe on the floor with their cocks dripping as they kiss and bask in the afterglow of the benefits of a healthy workout…Join them!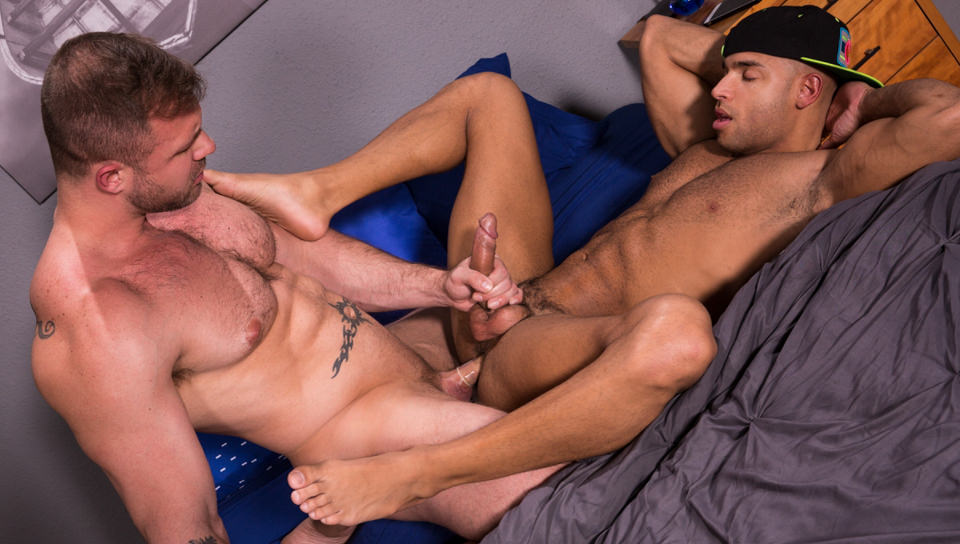 Austin Wolf is getting ready for a night out with his buddies and decides to hop in the shower. While he's lathering up, his roommate, Sean Zevran, enters Austin's bedroom and goes through his nightstand. Sean helps himself to some cash and finds Austin's used jockstrap.
He gives it a sniff and throws it in his other pocket just as Austin comes back from getting clean. Austin can't believe his eyes and is livid with what he's just witnessed. Sean knows he's in trouble and without lodging a protest, gets on his knees.
Austin drops his towel to reveal an already rock hard dick that he shoves inside his roommate's face. Sean sucks on Austin's big dick and gags as Austin rams it down his throat. The ripped stud bends Sean over the bed and licks his smooth asshole to get him nice and opened up.
Austin slips his fingers inside the dark skinned muscle jock before he slides his throbbing cock deep inside. He fucks the hell out of a moaning Sean, who is loving every inch of Austin's big pole. They go from doggy to missionary, and as Austin pumps away, Sean's big balls pull tight to his body and he unleashes squirt after squirt of creamy white jizz.
The sight of Sean spraying his own tight abs makes Austin ready to blow. He pulls out and blasts his DNA all over Sean's dripping wet cock, mixing their cum together in a sticky pool of gooey goodness. Austin thinks Sean has learned his lesson, but if that's the punishment for a bad deed, then Sean will be back in to steal more of Austin's stuff very soon…Join them!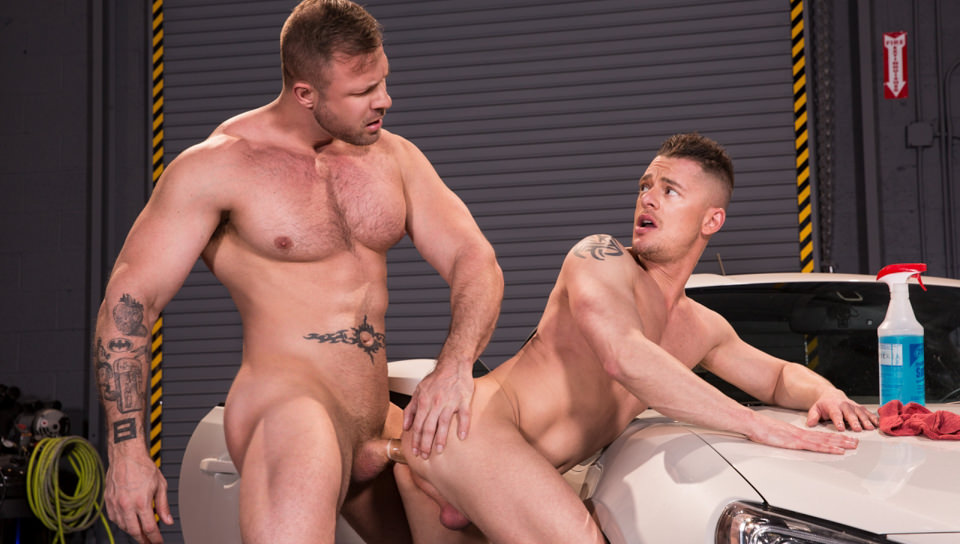 While washing the windshield on a client's car, lustful apprentice Rex Cameron gets 'Overpowered' by muscle mechanic Austin Wolf, who quickly takes control of the situation. Working together on the car, testosterone in the air is making for a steamy setup.
The burly mechanic walks straight over to his co-worker and pushes him down on the cars hood and pulls Rex's jeans to his ankles. Rex lifts one leg up on the spotless sports car to give Austin total access to his willing ass. With his tongue as his tool, Austin lathers up Rex's hole with thick spit.
Austin drives the action and takes a break from probing Rex's hole with his tongue to get Rex on his knees to service his fat fuck stick. More than willing to service his superior's cock, Rex takes Austin's cock down his throat to the base until he gags on it.
When Austin has had enough of Rex's warm mouth, they move to a sliding workbench and Rex slams his ass on Austin's dick. With his cock deep inside Rex, Austin reaches back and stuffs a finger in his hole to give Rex the ultimate stretch.
They move it back to the car and Rex continues to take a rough pounding while on top of the car. As Austin keeps drilling his fuck hole, Rex shoots a thick load onto his smooth abs.
Austin unloads on Rex's thigh and wipes it up to give Rex a taste and finish with a cum drenched kiss…Join them!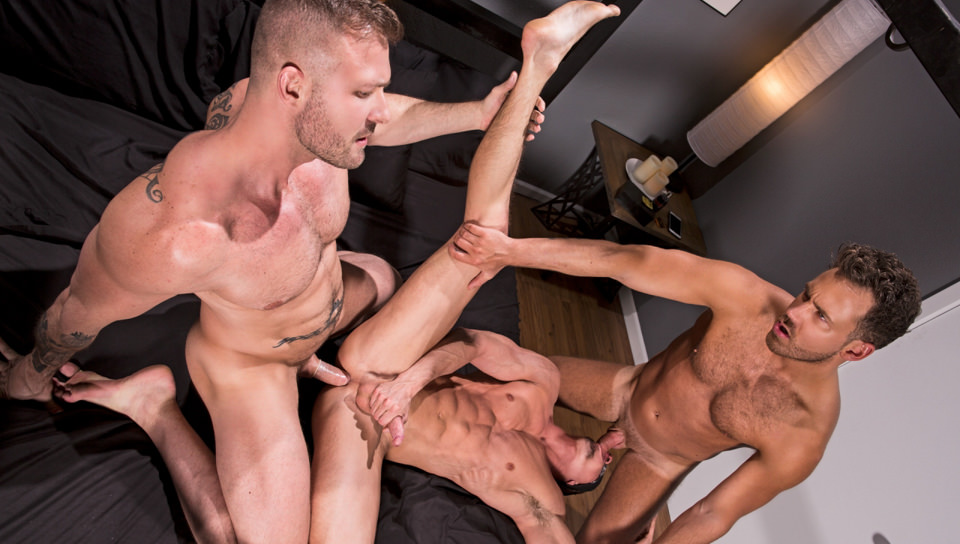 Blindfolded and sprawled onto the bed doggy-style, Skyy Knox eagerly awaits his anonymous stuffing. Beefy stud Austin Wolf sneaks in from behind and dives straight into Skyy's hairless fuck hole, lathering Skyy's ass with spit.
After prepping Skyy's hole, Austin hits record on his phone as he pushes his fat member into Skyy's ass. Starting off slow, Austin picks up speed hooking Skyy by the mouth with his finger as he drills his eager center. Austin invites his friend Logan Moore to have a turn while Skyy is still blindfolded.
Austin films Logan having his turn then joins in taking turns pounding their unknowing bottom. The Skyy's surprise, Austin reveals his double-cock secret by feeding him his cock while Logan stuffs him from behind. Not opposed in the slightest, Skyy takes every single thrust as the hunks take turns on his holes.
With Skyy on his back and Austin pumping his hole, Logan oozes a thick load onto Skyy's face and mouth. Austin feeds Skyy the creamy spunk until Skyy blows his load onto his washboard abs. When it's Austin's turn, he tweaks his nipples and drips his load into Skyy's awaiting mouth.
Covered in cum, Skyy removes his blindfold and is pleased with the revelation of his unknown fuckers…Join them!
Horned-up Dorian Ferro meets ultra-ripped muscle stud Austin Wolf and instantly shoves his tongue into Austin's mouth. It doesn't take long before Austin has Dorian bent over fingering his hole as Dorian deep throats his hefty knob.
When it's Dorian's turn, he bends him over and burrow's his scruffy face deep in between Dorian's ass cheeks. Austin taps on Dorian's hole with his fingers, and maneuvers his tongue around the outside making Dorian reach back and hold Austin's head in place.
Everything gets hotter when Austin pulls his cock out of Dorian before plowing into him full force. Dorian gyrates to make sure Austin in in as deep as possible. To keep things hot, they switch positions so Dorian can ride Austin's cock with no abandon.
Dorian unleashes his load onto Austin's thigh and gets bent over once more to let Austin blow his thick wad all over Dorian's ass and hole…Join them!