All gay porn pics and gay porn videos of Aspen.
Hair Color: Black
Sign: Aries
Eye Color: Brown
Dick Size: 8.5 inch dick
Height: 5'8″
Cut / Uncut: Cut / Circumcised
Weight: 186lbs
Sexual Positions: Versatile Top
Aspen gay porn scenes at Next Door Studios
Bored with their mundane sex life, Aspen suggests he and partner Jamie Steel try something a little more adventurous, as suggested by their therapist.
It seems Aspen has a bit of a domination fetish that he's not indulging, and it's having an effect on his overall happiness.
Aspen has gone ahead and taken the liberty of ordering some toys for the two of them, and he anticipates an experience that is much more in his wheelhouse.
What he didn't envision was how much Jamie would enjoy being the sub, but as Aspen spanks away and chokes Jamie's throat with his hard on, Jamie just gets rock hard and begs for more.
Aspen could really get into this sort of partner, and he shows it by giving Jamie the hardest fuck of his life.
Jamie returns the favor by letting Aspen do whatever he wants with him, and the two of them are both surprised by how much it turns them on, as evidenced by the huge loads they both shoot.
Looks like this won't be the last rough encounter between the two of them…Join them!
Aspen gay porn scenes at Extra Big Dicks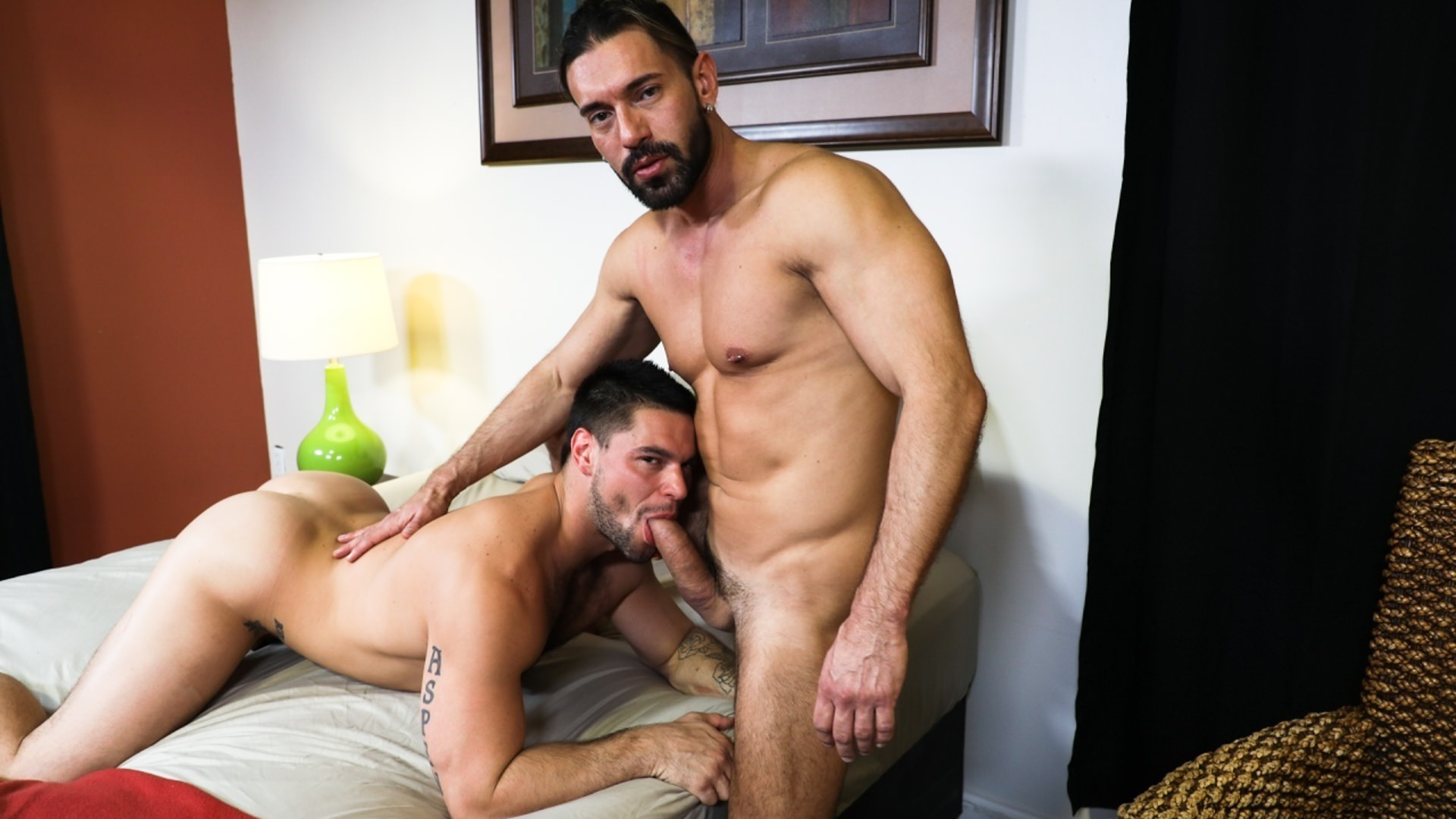 Aspen is finally ready to give up his ass to Alexander Garrett and he has been preparing by keeping a butt-plug in his ass all day. He is face down ass up when he calls Alexander into the room.
Aspen starts out sucking Alexander's big uncut cock as Alexander plays with the butt-plug in Aspens ass. Once he feels he is ready, Aspen begins by sitting down on Alexander's cock and taking it deep into his beefy ass.
Alexander then bends Aspen forward and fucks him from behind deep and hard as Aspen begs for his big cock. Aspen then lies on his side and Alexander continues to drive his cock deeper into his ass. Alexander Garrett then open's Aspen up and for the first time ever, Aspen shoots his cum with a cock inside his ass.
Alexander then pulls out and shoots his load all over Aspen's cock and balls…Join them!
Aspen gay porn scenes at Men.com
Chiseled hottie Vadim Black loves working in the auto body shop, and being surrounded by greasy men all day.
His horny juices get so revved up at the mere thought of leather and metal. Hung and ready to fuck, he takes full advantage of beefy hunk Daxx Carter and ripped, cute Aspen as they swap spit and blowjob duties in this hot threesome….Join them!
Aspen puts on a strip show for Cliff Jensen who soon finds himself stripped down and fucking Aspen's eager hole…Join them!
Casey Jacks gets Aspen to play a little game that eventually leads to his ass getting rimmed just the way he likes it…Join them!
Tobias may be out of the game after a rugby "injury" but he's still got game and the ability to get Aspen's cock in his ass…Join them!
Jacob Durham has a plan to get into Aspen's pants: a threeway with a chick. Only it was never going to be a threeway. As they wait for their female companion to return, Jacob helps Aspen get ready for her return by stroking and sucking his cock…Join them!
Aspen gets Noah Jones to pretend he's his boyfriend in an effort to get rid of an annoying date. Aspen gets to kissing and sucking to prove they are an item. The date leaves; but now that Noah is all hot and bothered he can't let Aspen go without finishing the job…Join them!
After bonding for some time, Aspen and Dalton Briggs are growing closer and closer. It comes as no surprise when Dalton moves in for a kiss during a playful pillow fight, declaring his love for fellow hooker Aspen. The guys finally explore each other's bodies, leading to a steamy fuck with Dalton stretching Aspen's tight ass with his monster cock…Join them!
Aspen is interrupted while beating off by horny peeper Brandon Wilde. He's pissed but still horny. Seems Brandon will get his wish with an angry Aspen forcing him down on his dick. A face-fuck gets Aspen's hot cock deep down Brandon's throat, lubricating that cock with plenty of saliva to jam into his tight asshole for a rough fuck in the kitchen…Join them!
Spying on the neighbors is never a good idea—unless it ends with a dick to suck and an ass to fuck. Unable to get off to anything, Aspen turns to street-watching for hot girls—but it's Luke Adams he spies through his binoculars.
At first, Aspen is embarrassed to be caught by Luke, but this changes once Luke's lips are around his fat cock. He finally finds relief in the tight chambers of Luke's asshole, first fucking it with his tongue before plunging his boner deep inside…Join them!
Aspen provides an important service as a licensed sex surrogate. When Marcus Ruhl's husband can't be around for a while he hires Aspen to take care of Marcus' sexual needs.
Marcus is hesitant at first but he soon has Aspen's huge dick deep in his throat and hole…Join them!
Republished by Blog Post Promoter