All gay porn videos and gay porn pics of Richard Buldger.
Hair Color: Brown
Sign: Unknown
Eye Color: Brown
Dick Size: 8 inch dick
Height: 5'9″
Cut / Uncut: Cut / Circumcised
Weight: 165lbs
Sexual Positions: Versatile
Richard Buldger gay porn scenes at Next Door Casting
You wanted him back and he came back. Justin Weston is ready to move on to the next stage and today he's with Richard Buldger who will be giving him the BJ of his life.
Justin is a little nervous but Richard isn't and he can't wait to suck on that big dick. Richard dives right in and Justin loves the feel of a mans mouth for the first time. He doesn't want to cum to fast so our agent gives him a couple breaks or we wouldn't get enough footage.
They stroke their cocks when Richard isn't blowing him and soon enough Justin is blowing his warm load all over his own chest with Richard right behind him. Our casting agent does and exit interview with Justin to get all the juicy details.
If you want him back again lets hear it…Join them!
Richard Buldger gay porn scenes at Active Duty
Enjoy this compilation of Active Duty Favorites: Big Dicks. Starring: Markie More, Richard Buldger, Donte Thick, Quentin Gainz, Elye Black, Marc Montana, Princeton Price, Johnny B II, Zack Matthews, and Spencer Laval.…Join them!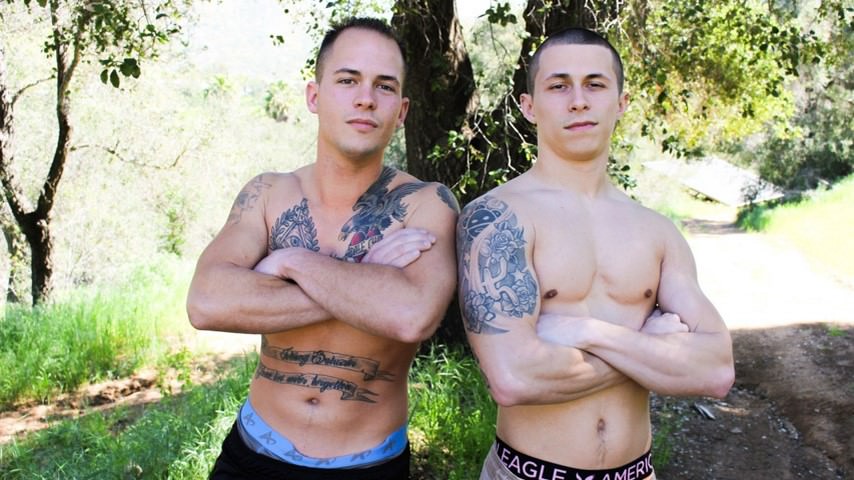 In AD fashion they kick back on the bed rubbing their cocks until Richard Buldger wraps his eager mouth around Bradley Hayes' thick throbbing dick.
Bradley is in bliss as his big dick gets serviced until Richard flips those legs up and buries his face into that amazing smooth hole of his.
He licks him deep making Bradley squirm with amazement. Richard bends that sweet ass over and Bradley pushes his thick dick into him until he is balls deep.
He pumps and thrust that tight ass as Richard moans and groans.
Bradley uses him to his full advantage as he positions him in many formations until he is on his back where he gets the cum fucked right out of him.
Bradley pulls his raw cock out and strokes his warm nut out onto Richard's bare chest…Join them!
Elye Black is the first to begin sucking some hard cock and he takes Richard Buldger's fat dick all the way down his throat. He loves to gag on cock and Richard face fucks him good and hard.
Richard wants some dick in his mouth as well so the boys switch it up and Elye lets him wrap his warm wet mouth around his throbbing cock. Elye was the first to suck but this time Richard is the first to get his dick in that tight sweet ass of Elye's.
Richard slowly pushes into him spreading his tight ass wide open and slowly Elye's ass relaxes and takes all the girth and length. Once all the way in Richard pounds that tight ass while Elye strokes his own dick.
Elye can only take his ass being fucked for so long so Richard offers his tight hole up and bends over for him. Elye slowly pushes in with his long hard cock making Richard squirm with pleasure. Elye takes that ass to town fucking Richard all over the bedroom.
Elye's balls are full and he pulls his bare cock out of Richard and shoots his warm load all over Richards cock as he strokes it.
Richard uses Elye's cum as lube as he strokes his nut out all over himself…Join them!
Richard Buldger sits in the middle between the two and watches them get hard and once Alex James is ready he wraps his eager mouth around his big hard dick. Today is John Hawkins' first time and he watches on as the other two enjoy.
Alex loves to have his cock gagged on as he pushes Richard's head down as far as it will go. Richard is in big boy heaven as he switches from the two sucking and stroking their big hard cocks. He can't believe how big they are in all formats. Alex is the first to bend Richard over as he slowly pushes his big manly dick deep into his tight little ass.
While Richard is getting fucked by Alex, John is fucking Richard's face hard and deep. Richard can barely take a breath in as he gasps for air. John is next to pound that ass which is now ready for his big long cock.
He pushes in quick making Richard squirm but he can't run away as John grips his hips and pulls him back fucking him harder and harder. Richard's mouth is once again full of dick as Alex face fucks him while John is still pounding away.
Richard gets man handled by these two giants until they take turns busting their big loads all over his eager smooth chest…Join them!
They are already in bed rubbing their cocks and talking about MMA. Soon after they take their clothes off and start jacking each other off. Two hard dicks with another soldier hand on it sliding up and down before the real action starts.
Richard Buldger can't keep his eyes off Cole Weston's big dick so he leans in and wraps his mouth around his hard dick. As Richard begins sucking on Cole's hard dick he becomes super excited and soon enough they both are 69ing and their mouths are stuffed.
The chatter back and forth with their mouths full but they keep gagging and deep throating each other to see who is doing it the best.Richard tells Cole to fuck his ass and Cole is game for it as he bends Richard over and pushes his hard cock deep into Richard's tight ass making him moan with pleasure.
He pounds him hard and fast making his balls slap and soon after moves him onto his side where he continues to pound away. Cole flips Richard onto his back and lets him stroke his cock fiercely until he nuts all over himself.
Cole sees all the warm cum and soon pulls his cock out and releases his built up balls. Cole rubs all the warm cum into Richard's Buldger skin as they both head to the showers….Join them!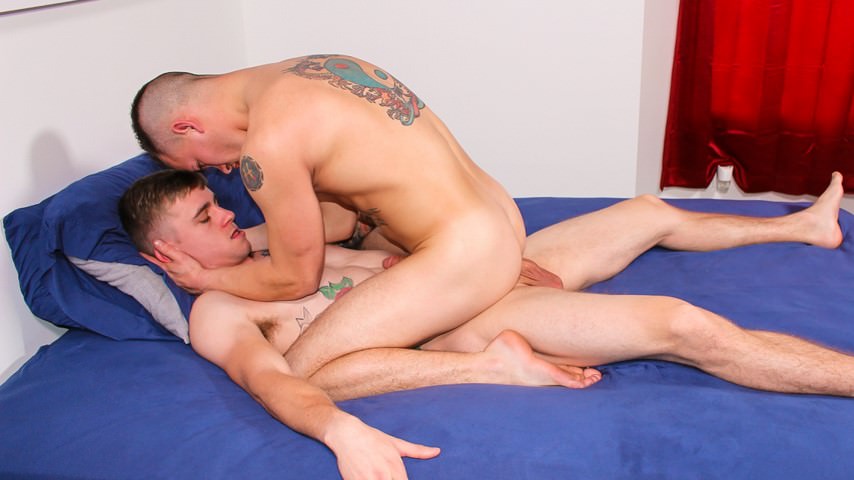 We have another heart pounding amazing scene today with two of our favorite vets who have worked together before but it was in a hot steamy three way with Quentin Gainz. Ryan Jordan and Richard Buldger are back for some one on one action and OMG is this one sexy, hot fucking and deep pounding scene.
These two hear throbs begin in our classic relaxation mode where they become comfortable with each other. They slowly awake their big dicks by stroking them and rubbing them. Once Ryan sees that sexy thick cock his mouth is all over it taking every inch of Richard deep inside his eager mouth.
Ryan loves to be gagged and Richard does just that by fucking his face and making Ryan's mouth leak out gobs of spit. Richard doesn't stray away for the dick and now he's gobbling up Ryan's dick deep in his mouth. He loves to feel balls resting on his chin as he licks and sucks on every inch of that long cock.
Ryan being the dominate soldier he is tops the fuck out of Richard deep and hard. He has to start out slow though easing Richard into it with that big dick of his. Ryan moves his hips slow and steady and once Richard's tight ass opens up that's when Ryan doesn't hold back as he fucks him hard and fast.
Finally after all the sexy passionate fucking and ball slapping these two studs stroke their loads out onto Richard's smooth chest drenching him with ample amounts of creamy hot cum…Join them!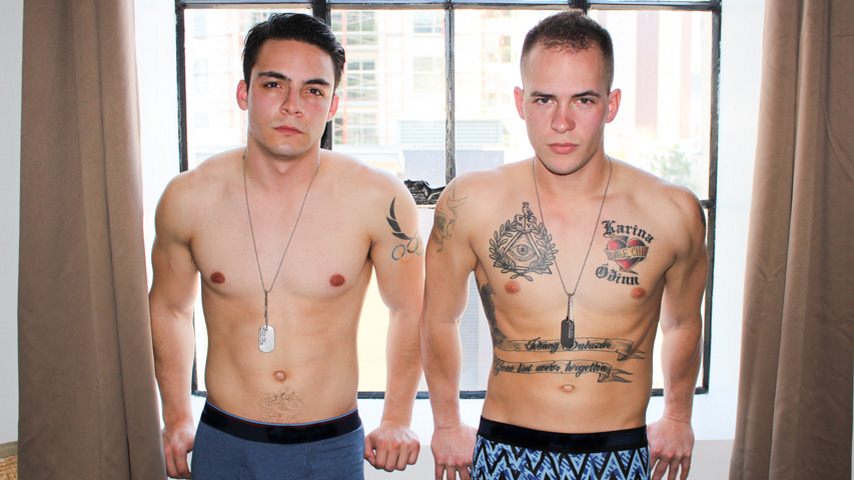 We got a sweet surprise for you today. We welcome Rix back to the war room and he did such a great job showcasing his skills in his solo that we brought him back as fast as we could so fast that his first scene is days away from going live.
He will be with one of our newest vets Richard Buldger who has just a mere two scenes under his belt but he has proven his worth in the fog of war. Rix is still fresh so Richard takes the reigns by sucking his big dick.
Once Richard has him warmed up and comfortable in his new surroundings he stands up and has Rix suck on his fat cock. Rix can't believe how thick it is and this is his first time having another man's dick in his mouth.
Richards's veiny cock is stretching out Rix's mouth but that's ok because Rix will be stretching out Richards's ass very soon. Rix is ready for his new position as he pushes into Richards's ass for the very first time. He can't believe how tight and great his ass feels as it wraps around his throbbing cock.
Rix has him bent over the bed ball slapping him as Richard gets fucked hard. Richard eye fucks the camera as Rix's raw cock penetrates him. Richard slowly slides down Rix's hard shaft taking every inch deep into him. He slowly builds momentum on his new poll and before you know it he's riding that dick like a pro.
Rix isn't one to relinquish control so he grabs Richards's hips and starts to thrust deep and hard up into Richard. The moment we have all been waiting for has finally come and Rix is the first to blow his load all over Richards cock and balls.
Richard uses some of Rix's creamy cum to stroke with as he beats his nut out and with one last stroke he shoots a thick load all over himself…Join them!